Creating custom data fields and organizing those fields into a form is a breeze!
The Account Owner, Admin(s), and Department Admin(s) for your account can create and edit Custom Fields and Forms if you have a Standard, Professional, or Enterprise plan.
How to Create a Custom Field
Select Settings.

Click on Custom Fields and Forms.

Make sure the circle on the line "manage your" has the Custom Fields boxed marked.

In the blank Field line, type in the name of your choosing.

Select +new.

A box will pop up: Check the enable box to enable the Field (if it's not already checked).

Choose a Field type from the drop-down menu.

Select Save.

Choose Done.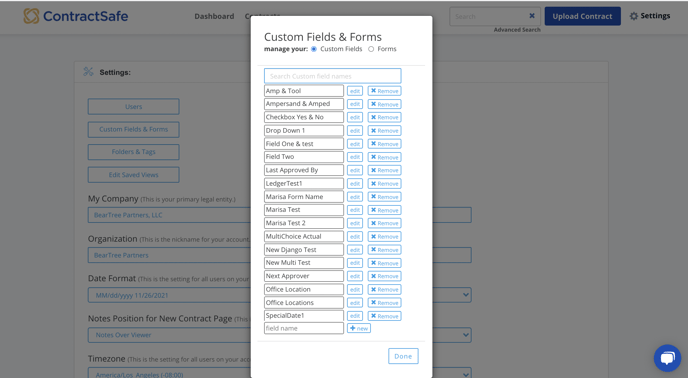 Quick Video Guide
How to Create a New Form
Mix and match Standard Fields and Custom Fields to present them all together in one place.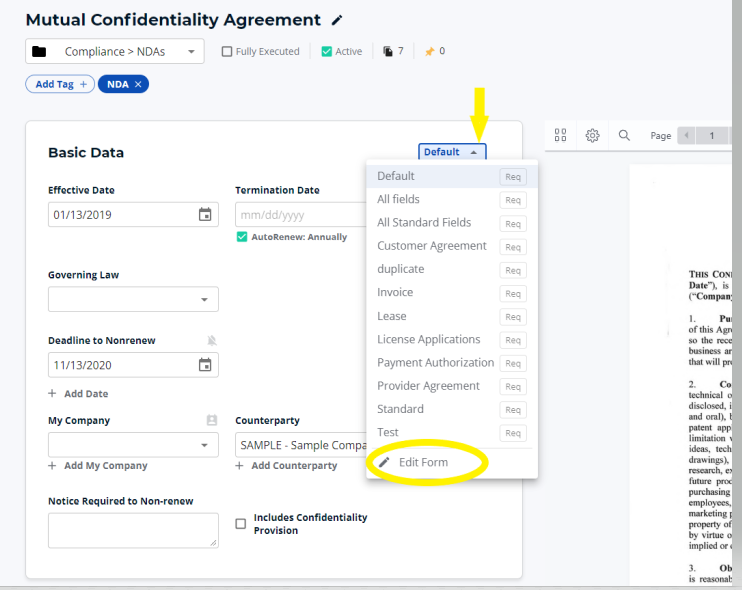 Select the dropdown menu on the Form.

Choose Edit Form.

From the Edit Form dropdown menu, select + Add Form

Enter the name you would like for your form.

Click Add.

Customize your Form accordingly.

Select Save.
How to Edit Custom Fields That Are Included on Forms
Select a contract from the Contract Page.

Click on the three dots from the More menu, located at the upper right of the page.

Choose Edit Form from the drop-down menu.

From the top of the pop-up box, choose which Form you'd like to edit.

Drag and drop different sections to manage your Forms. You can even change the Labels of the sections!

To delete sections, click each "x."

To add Custom Forms or Standard Forms, just select the Form you'd like from the right-hand side. The Fields that have not already been added to the Forms will show up. Drag and drop any Field you'd like over to the left where you want it.

Select Save.

Go back to the Contract Page to view your new sections. If your Form does not automatically show up, select it from the drop-down menu in the General section.