Want to add contracts from DocuSign to ContractSafe? When you set up this integration, contracts can be sent directly to ContractSafe after being completed in DocuSign.
In order to integrate DocuSign with ContractSafe, you will need to have Administrative access to both applications. Or know someone who does!
You will also need a Professional subscription with DocuSign in order to set up this integration.
How it Works
The Standard DocuSign integration connects your DocuSign account to ContractSafe so that any time a contract reaches the fully executed stage with DocuSign, the contract is pushed automatically into ContractSafe as a new contract. It's an easy way to make sure you get all your contracts into your central contract repository! Sometimes in large orgs certain teams (we're looking at you Sales!) are not always great at sending in their signed contracts.
Enable DocuSign in ContractSafe
Log into your ContractSafe account
Select Settings, and then Security & Integrations
Enable DocuSign

Move the third toggle to the right so it turns green.

Select Generate to generate a webhook URL.
Copy the URL for use in your DocuSign app.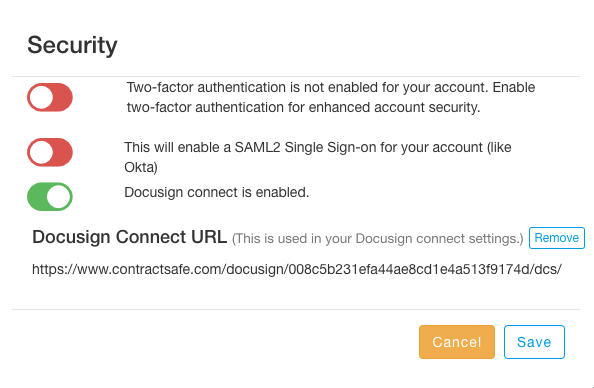 Configure DocuSign
In your DocuSign Admin account, select Settings
Select the Connect page found under Integrations



Note: Sometimes the Connect option isn't listed in DocuSign, even though you have Admin rights. If you don't see it listed, you will need to call your DocuSign rep and ask them to turn this on for you because the Connect feature must be part of your plan.

Select Add Configuration and then select Custom

Provide a name for the integration, such as ContractSafe, and Paste the URL that you copied from Step 5 above into the URL to Publish field.

Fill out the remainder of your settings to resemble the screenshots below.

The data format must be set to Legacy





Select Add Configuration and you're all done!