IP Whitelisting is a way to restrict access to your ContractSafe account to only approved IP addresses that you specify.
You might already be familiar with the term 'Blacklisting', which involves restricting access to specific entities or individuals for a variety of reasons.
In ContractSafe, you can do the opposite, called 'Whitelisting', which lets you grant access to the application to only specific, approved IP addresses that you know to be trustworthy.
What's an IP Address?
Short for Internet Protocol, it is a unique string of numbers that identifies a device on the Internet or a local network.
So how do you set up IP Whitelisting in ContractSafe?
Note that only admins in the system can enable IP Whitelisting and add approved IP Addresses
First, head to your Settings page and click on Security & Integrations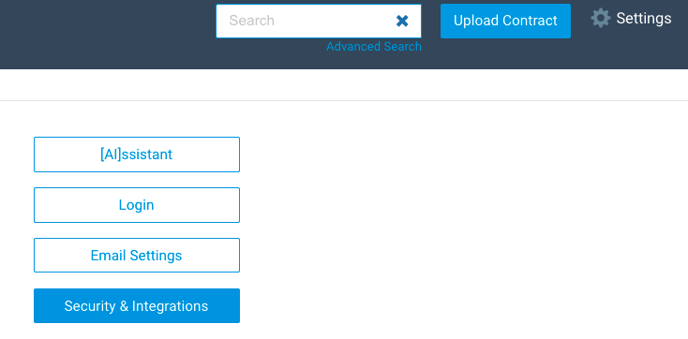 At the bottom of the list, flip the toggle for IP Whitelisting to enable it for your ContractSafe account

You must have at least one IP address specified when this is enabled (otherwise, nobody could access your ContractSafe account!)
To add an IP address (such as your own), click on IP Whitelist, enter the approved IP address and click +Add. Once you've added all approved IP Addresses, click Done at the bottom.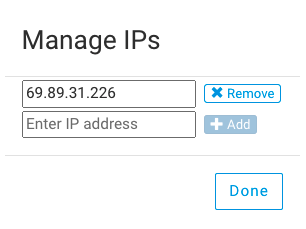 That's it! You've successfully updated your list of approved IP addresses that can access ContractSafe. Note that any new users may need to have their own IP addresses added to this list in order to use the system. Please reach out to us at support@contractsafe.com with any questions!
Unsure how to find your own IP Address?
On a Mac:
Apple menu > System Preferences > Network > Select either WiFi or Ethernet
Your IP address is a string of numbers and dots under the connection status
On a PC:
On the taskbar, select Wi-Fi or Ethernet icon > Choose your Network > Select Properties:
Your IP address is listed in Properties next to IPv4 address