FAQ for Productivity Package
What is the Productivity Package?
The Productivity Package is an account add-on that includes an integrated E-signature feature, an Approval feature, and the ContractSafe [AI]ssistant.
[AI]ssistant
The [AI]ssistant is our AI tool that searches for and pulls key information from uploaded contracts. The extracted information is presented for your review, and then entered into the appropriate fields upon acceptance.
E-Sign
The E-signature feature, in partnership with HelloSign, allows you to send draft documents out for signature via email with just the push of a button. Signed documents with a complete audit trail will replace the unsigned copy in the system, and the copy will be saved for reference in the Attachments section.
Approvals
Using the Approval feature on a contract or document is easy! All you have to do is just select who you want to approve the contract in the drop-down list. You can select as many approvers as you want, as well as decide whether you want everyone approving at once or if you want to set an approval order
Intake Forms
Provide instructions and request data when users upload contracts with Intake Forms. Admins can create different forms for uploading various contracts to capture important data, assign a folder, apply tags, and more every time a contract is uploaded through an Intake Form!
How do I get the Productivity Package?
If you already have [AI]ssistant, Approvals, E-Sign, or Intake Forms, then your account has access to the full Productivity Package. To turn on any of these features, any Admin level user on your account can go to the Settings page and select AI and Workflow Options.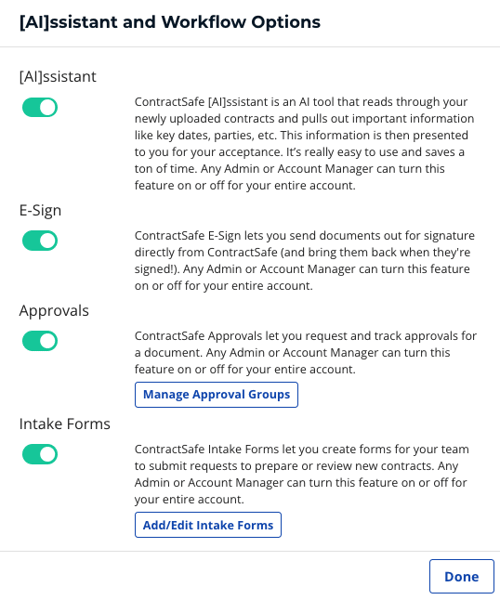 If you do not currently have the Productivity Package, you can contact Sales or Customer Success to ask for it to be added to your account.
What is the cost of the Productivity Package?
The Productivity Package is a 35% add-on to your main subscription. Please see our pricing here.
Can I pay for E-sign, Approvals, Intake Forms, or AI separately?
The four features are bundled together. However, you can opt to turn on one or the other and not all four.