Have a contract and need to get sign-off? Need to set up some basic workflows? ContractSafe Approvals have you covered. Send approval requests via email and track status with ease.
Here at ContractSafe we are all about keeping things simple and easy to use. Having used a lot of broken and complicated approvals, we wanted to make sure our approvals are quick, clear and useful. This article will give you a step-by-step guide to how to use the ContractSafe Approval feature.
Setting Up Approvals
First, in order to use the integrated Approval feature, you need to have a subscription to the Productivity Package. This package includes unlimited e-signatures with HelloSign, the ContractSafe [AI]ssistant and ContractSafe Approvals. If you have a subscription, any Administrator or Account Manager on your account can turn on Approvals on the Settings page, in the section on the right marked AI and Workflow Options.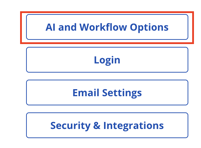 this will bring up a toggle to enable Approvals. Make sure the toggle is switched to Green/On:

And that's all you need to get started! This will add a new button on the Contract Page to Approve a contract, as well as some new Filters for tracking:

Approvals: Sending out for Approval
Requesting approvals for a contract or document is easy! Just click on the Approve button when you are on the Contract Page for the contract you want approved. This will pull up the following menu: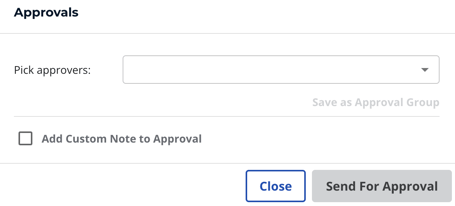 All you have to do is just select who you want to approve the contract in the drop down list. All ContractSafe Users will be listed (only Users of ContractSafe can approve a contract as the approval happens in our system). You can select as many approvers as you want, as well as decide whether you want everyone approving at once or if you want to set an approval order: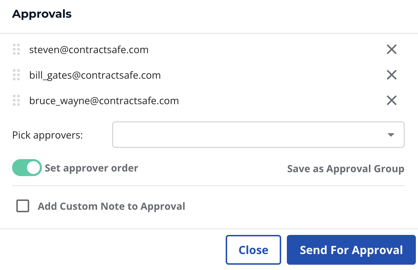 You can even decide if you just want a generic request or if you want a Custom Note to be added. Once you're ready, just click Send for Approval and off they go.
Approval request emails will be repeated every 3 days until action is taken.
Note: If you don't set an Approval Order, everyone will receive the approval request email at once, with a link back to ContractSafe to approve the contract. If you set an Approval Order, only the first person will receive an email initially, and the next person in line will only receive their email once the first person has signed, and so on.
Approvals: Signing Off (or Rejecting) a Request
When you request an Approval, the approver will receive an email from Approvals@ContractSafe.com, with a link to take action:

They will also have a new Section on their DashBoard where they can access any pending approval requests:

Once they click on either the link in the email or the link on their DashBoard, they'll be taken to the Contract Page, which will now have a box at the top for Approval:
They can fill out info on the Contract Page if needed, or read through the contract. When they're ready, they can click to Approve or Reject, which will bring up a confirmation and the opportunity to leave any comments. This will then move the process forward (Approve) or send it back to the requestor (Reject) with an update on the status change.
Note: Once an approver rejects a contract, anyone who has signed already, or in the case of no Approval Order requested, all other approvers will receive a notice that the contract has been rejected for approval and the Approve process will be stopped.
And that's it! Once it's either Fully Approved or Rejected, the requester will be notified. If it's approved, then you can just click on Sign as a next step and set it up for execution!
Reporting
You can run reports on Approvals, Rejections or Pending requests. These filters are all turned on once you activate the Approval feature: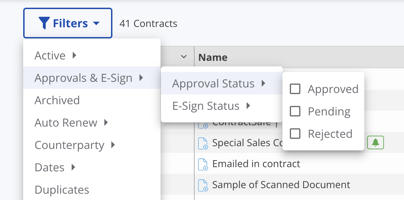 These reports can also be automated to be sent out if you want.
Pre-Set Groups
If you have a standard approval process, when you set up the approvers (more than 1), Administrators and Account Managers have the option to save it as an Approval Group. This feature makes it very easy for your team to quickly select a group of people to approve a contract. Just click on the Save as Approval Group link after you select the names for approval: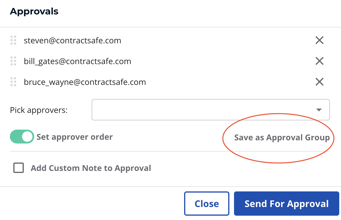 Then type in the name of the Group and they will be saved as an option for the future:

Any changes to Approval Groups (edits, deletions) can be done on the Settings section for Approvals by clicking on the Manage Approval Groups section.