It's easy to edit your Contracts List to see the fields you'd like to see as columns in the order you'd like. And keep in mind that these changes are only for you. They don't apply to any other users on your account.
(1) Start by selecting Actions and then Edit Columns.

(2) From here you can select the fields you would like displayed as columns and arrange them in any order by dragging the tiles on the right up/down. That's it!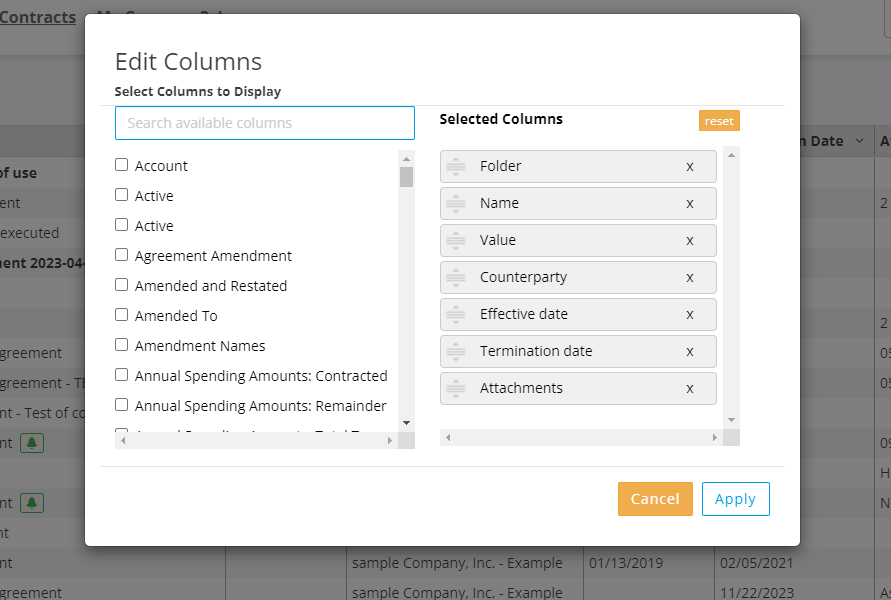 Pro Tips: You can also change the order of your columns directly on the Contract List by dragging and dropping them as you'd like. Just grab the header (Column label) and move it.
Once you have customized the Contracts List to your satisfaction, you can then save it as a View. In the past, users have always had the power to customize their Contracts List, but each user was limited to just one customized Contracts List display. Now, you can create as many Views as you like, each displaying different fields. You can then toggle between all your Saved Views depending on what you are looking for! Click here for more information on creating Saved Views, and here for more information on switching between different Saved Views.
You can also access the Edit Columns dialog box (shown above) in Settings.