You can track as many dates as you need to! Whether it's a one-time date for a staff outing contract or the same three events for every sales contract you are entering over and over again, we make creating Custom Dates easy.
In the Dates & Reminders section, Effective Date and Termination Date fields have been automatically created for every contract. You can add as many additional dates as you would like such as Custom Dates.
Custom Dates are one-off dates that are entered for individual contracts. For example, if a contract calls for a customer visit on 6/30/22, then that contract is entered as a one-off Custom Date.
Adding Custom Dates and Reminders
In the Dates & Reminders section, select +Add Date to enter a new event and date.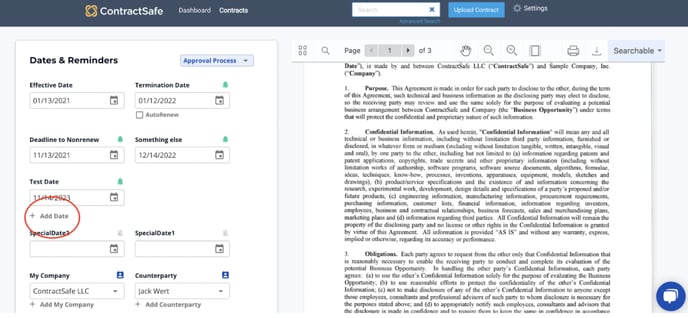 A dialog box will open where you'll be able to type in a Label name and choose a Date either by typing it in or selecting one from our calendar.
From here you can also add reminders that may include a set number of days before the event or a specific date for when you want those reminders to start. Select if you want the reminder to repeat by checking the Repeat box. Enter a number to specify how many days out you'd like the reminder to repeat and choose from one of two Repeat options:
Have a date repeat. You can set a Custom Field as a Date Field to add or move that individual Custom Field. A Date Field can be set to repeat every year until the contract ends, repeat four times, or repeat until a certain date.
Choose an Alert to not just go out one time, but to repeat a few more times such as 90 days ahead of time AND THEN every two weeks until turned off or the date is reached.
This section includes additional functionality that you can select based on your preferences:
Check a box to include the contract.
Check a box to add a Custom Message which will open a box for your message.
Choose Recipients. Include your email or other emails to enable email reminders.
Select Add to save your changes. The bell icon will be green to indicate reminders are set up for this date. The forward symbol will be green to indicate a repeating date. This reminder will only apply to the contract you are working on.
Demo ⤵️
Using the Bell Icon to Adjust, Edit, or Turn Off Reminders

Need to change or set a new Reminder? Simply click on the bell icon anytime. Any date field other than the Effective Date has the bell option to adjust or edit a Reminder.
When you click on the bell icon, a window will pop up where you can edit each field. To turn off a Reminder, just click on a green icon and the bell will turn off. Adjust your terms accordingly and select Update.