Want to capture information from DocuSign and use it to populate fields in Contractsafe? Or automatically assign a DocuSigned contract to a specific folder in ContractSafe? This article shows you how to do this.
Note: You will need to have Administrative access for DocuSign. Or know someone who does! Your DocuSign-ContractSafe integration should already be enabled (here's a guide to doing this).
Login to DocuSign
Go to the Admin portal by clicking on your image in the top right corner and then selecting Go to Admin.
Select Document Custom Fields, which is under Signing and Sending.
Identify the fields you would like to capture in DocuSign and pass to ContractSafe. See Exhibit A below for a list of available fields.
Create the Document Custom Fields you want to use. Here's a DocuSign guide with details on this process. Note: Make sure the Document Custom Fields are shared. You can also set the format of the field (dropdown, text, currency, etc.), and pick a default entry. See Exhibit B below for an example.
Once they are created, you and your DocuSign users can add any Document Custom Field to any DocuSign contract to be signed. For example, you can use FolderName to capture during signing the Folder the contract should be saved to in ContractSafe. You can setup this field as a dropdown to match your list of Folders. Or you can just specify the entry for certain documents (including PowerForms) so these signed contracts are always saved to the same Folder. See Exhibit C below for an example of the FolderName field being applied to a contract.
That's it! Once these fields are setup and are being used in DocuSign documents, the data will automatically be saved with the contract in ContractSafe when using our DocuSign-ContractSafe integration.

Exhibit A: List of available fields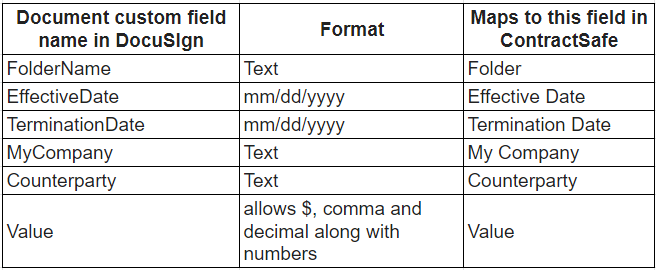 Exhibit B: Example of a Document Custom Field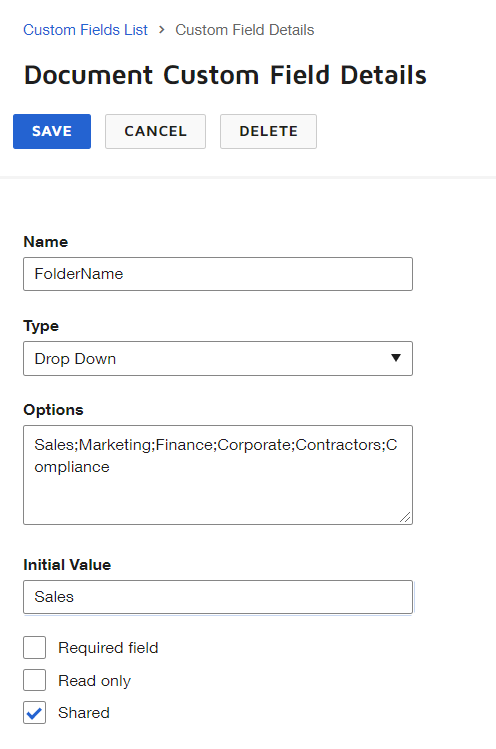 Exhibit C: Applying a Document Custom Field