You can now customize User Permissions by folder!
Need to give a user different roles per folder? Introducing complex Permissions! (Note: This feature is only available for the Professional subscription and higher.)
Complex Permissions enables you to customize Roles per folder. For example, you can give a User (or Group) the role of Standard for one folder and Read Only in others. This means the user could moditify data in the folders that they have a Standard role and would not have that capability in the folders where they have a Read Only role.
How to enable Complex Permissions (only Admin and Account Managers can enable complex permissions)
1. Under Settings select Users
2. Toggle the "Complex Permissions" on:

How to assign complex permissions:
1. Select the User's permission

2) Select the PrimaryRole - This will be the role applied to all folders the user has permission to, EXCEPT where complex permissions are given: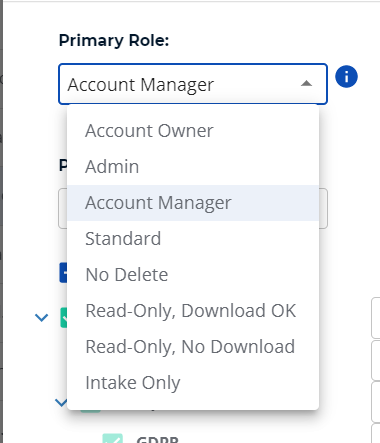 3) Select the exception folders AND the role for those specific folders (the folders that the user should have a role different than their primary role). This can be applied in main folders and subfolders: