There are many ways to upload documents into ContractSafe
Getting your contracts or important documents uploaded into your ContractSafe account is quick and easy!
1) Direct Upload
Add Contracts Button - Login and select Add Contracts at the top of any page in ContractSafe and then select Choose a Folder to select a folder from the menu. Next, choose the contract you want from your computer or drop it into the box where indicated.
Drag and Drop - Just drag a contract or document into a Folder on the Dashboard, or into the box that opens up after you select Add Contracts. Done!
2) Email-in
Email contracts directly into your account (our favorite). Your account's email address is shown in the Add Contracts pop up window. You can also find your "Email In" Address in your Email Settings. Any email attachments sent to this address will automatically be uploaded into your account. Add Folder= at the end of your email subject line to have ContractSafe automatically assign the folder.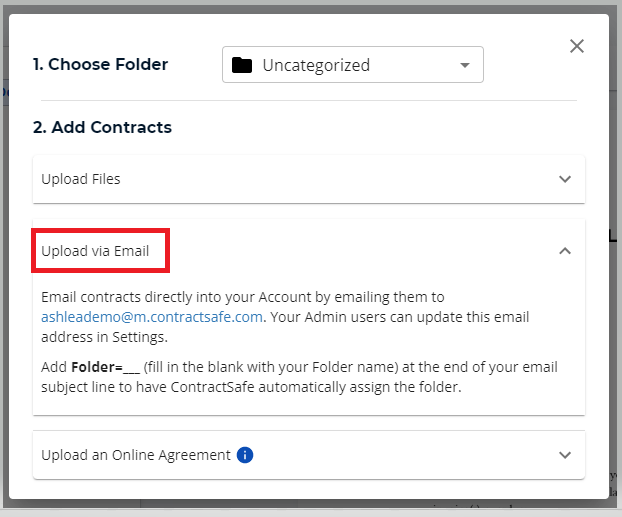 3) Integrations
You can easily send documents from your existing repositories, e-signature platforms or document management systems like DocuSign, Zapier and Salesforce. (Other integrations can also upload documents into your ContractSafe account, including our full Rest API. Please reach out to support or you Customer Success Manager to inquire on further integrations with the ability to upload contracts.)
4) Online Documents
You can now get those online documents like terms of use, privacy policies and other documents housed on websites into your ContractSafe account. Just copy the URL of the document and paste it into the Add a URL space under Add Contracts and hit Save. An easy way to add online documents to your ContractSafe account for searching and tracking purposes!