Someone has invited you to use ContractSafe. Now what?
ContractSafe makes it easy to:
- Find what you are looking for quickly, even within scanned documents
- Make sure you are reminded of key contract dates
- Create easy reports with the information you need
- Collaborate with your co-workers
This guide will help you quickly upload and set up your first contracts.
You can get more help by selecting Support under the User Icon at the top of every ContractSafe page (top right). You can also click on the bottom right speech bubble to talk chat with someone. Or feel free to contact ContractSafe directly via chat on the site or at support@ContractSafe.com.
Let's get started!
1. Set up your password and log into your ContractSafe account
You received an email invitation from ContractSafe to create a user account. Click on the link in this email to set your password. For security reasons, invitation emails expire after 24 hours. If your invitation has expired, please ask your account administrator to re-send you the invitation.
2. Upload a contract into your account
There are two ways to upload contracts into ContractSafe,
(A) Login and manually upload them by dragging and dropping them on to the Folder you want them in on the Dashboard, or by selecting Add Contracts at the top of any page and manually uploading them where indicated; or
(B) Email contracts directly into your account (our favorite!). Your account's email-in address is shown at the bottom of the Add Contracts dialog box (See below). Any email attachments sent to this address will automatically be uploaded into your account.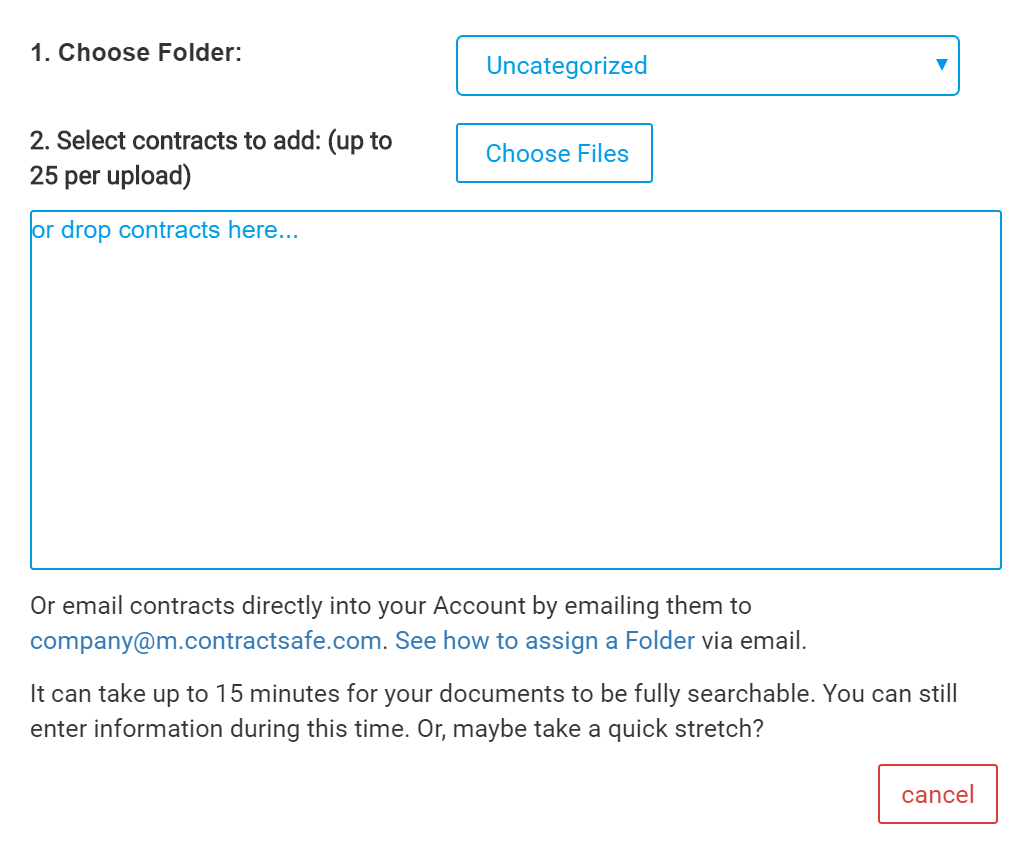 [Pro tip: If you have a scanner that can send out email, you can add your ContractSafe email address to the scanner, and then scan and send contracts directly into your ContractSafe account!]
3. Find your newly uploaded contract on your Contract List
After logging in, select Contracts at the top of the page to access your Contract List. This is where all your contracts are listed. Newly uploaded contracts will appear at the top of your Contract List and will be highlighted. Select a contract (by clicking on it) for more detailed information on that specific contract.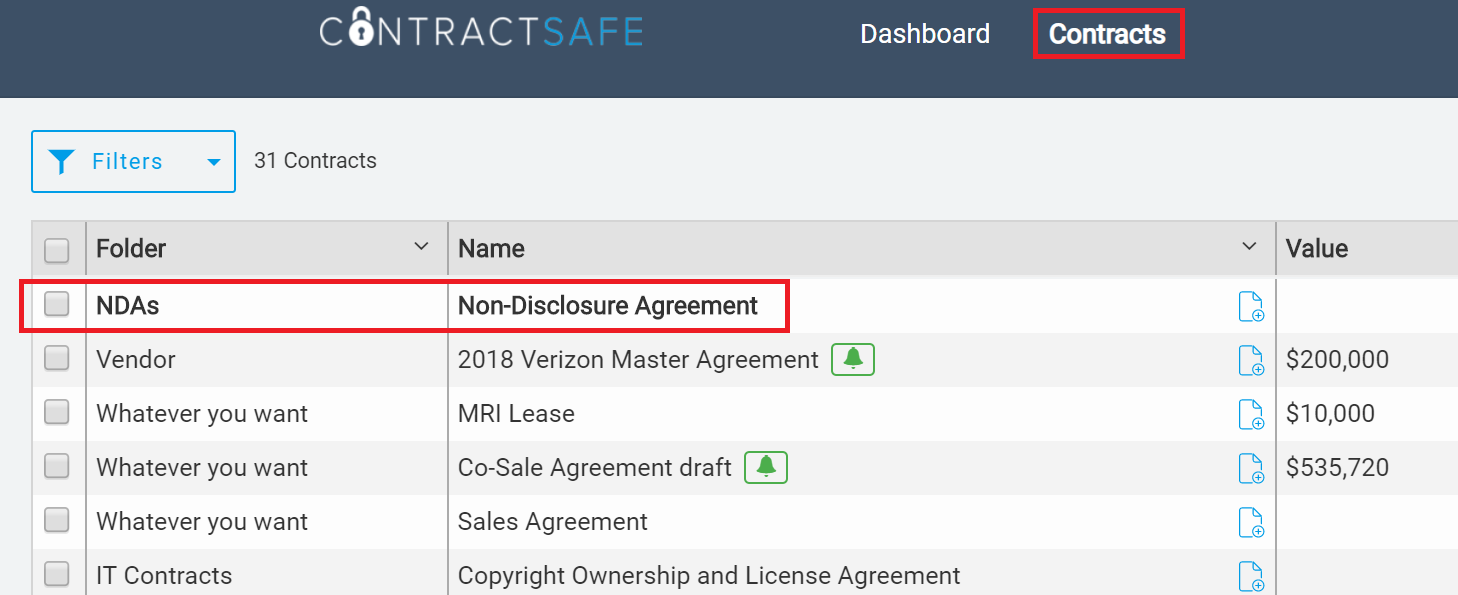 [Pro tip: You can also use the search bar at the top right of any page to find any contract with a quick, Google-like keyword search.]
4. Enter any information you want to track on the Contract Page
From the Contract List, select the newly uploaded contract. If your subscription includes [AI]ssistant, our AI tool, you'll be guided to accept and automatically add key contract data. If not, you will go directly to the Contract Page where you can enter and see all the key information for the contract and the contract itself in the Viewer at the bottom of the page (See image below). Enter the contract Name in the first field and select the appropriate folder under Folder. If you don't see the Folder you'd like, one of the Admin users for your account can add more Folder options.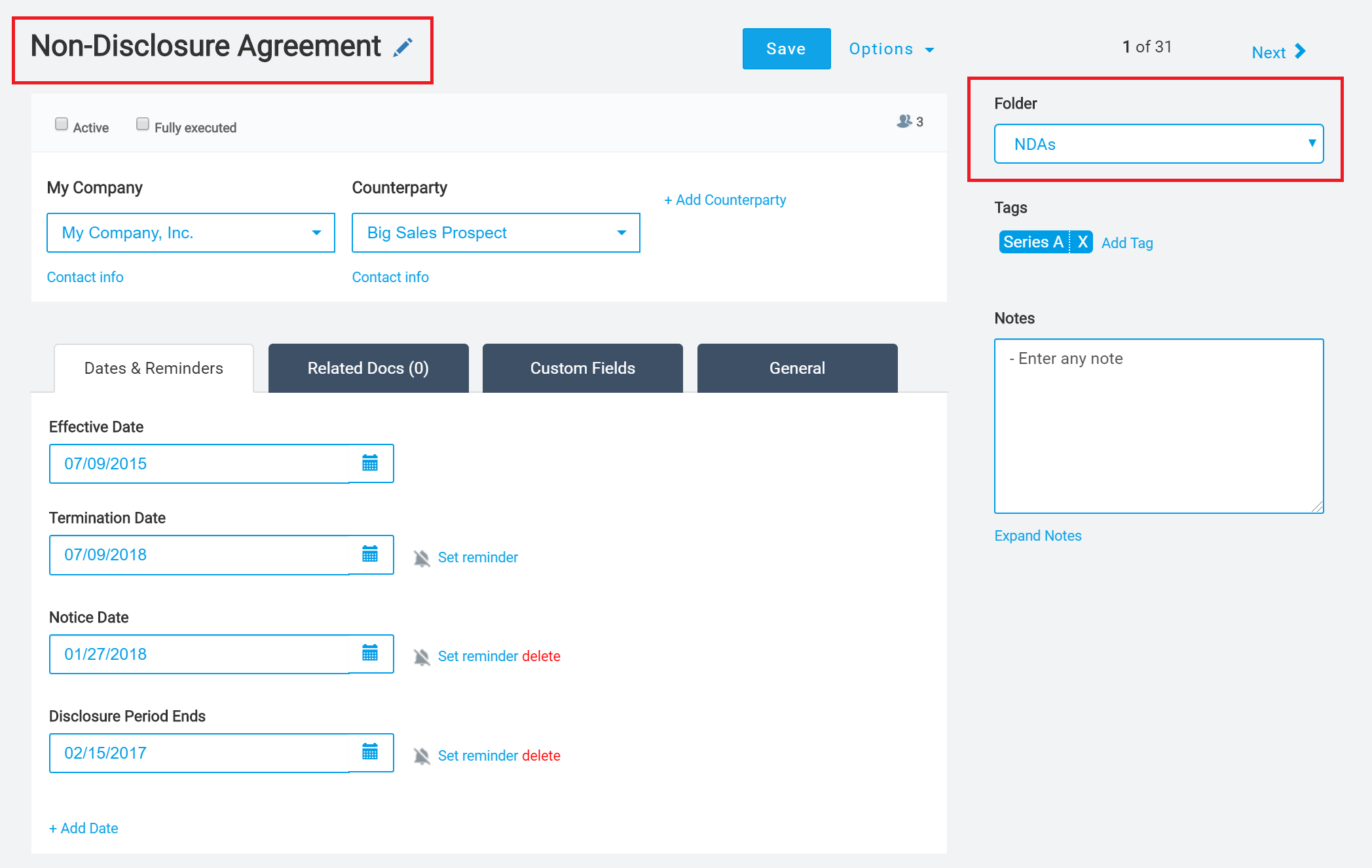 You can also add any other important information, like Parties, Value, Account and Tags.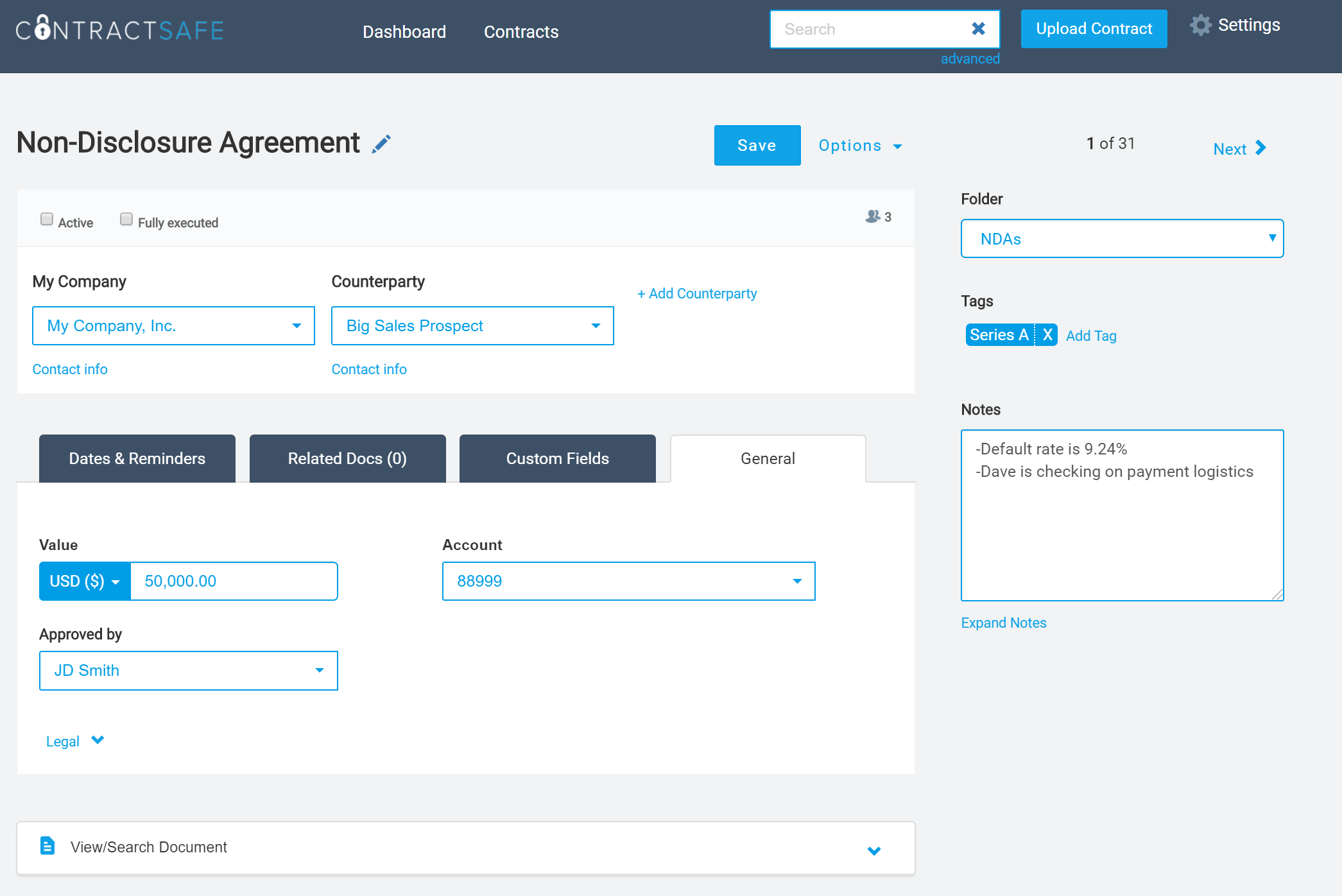 5. Enter the Effective Date and Termination Date
Enter the Effective Date and Termination Date where indicated. You can also choose to Set reminder. This will open a new dialog box (See image below) where you can:
A. Select whether the contract has an auto-renew provision, and
B. Easily set email reminders in advance of the Termination Date.
6. Create and share custom Saved Views
Now that you've uploaded your contracts, it's time to configure how they are displayed on your Contracts List.

Don't you get tired of your Contract List being over-cluttered with a dozen columns that bombard you with unnecessary details? Well, Saved Views allows you to customize the display of your Contracts List to show only the most pertinent information. You can toggle between different Views on your Contract List depending on what details you want to focus on when looking at your contracts.

You can also find all your Saved Views (the ones you created and those that have been shared with you) on your Dashboard.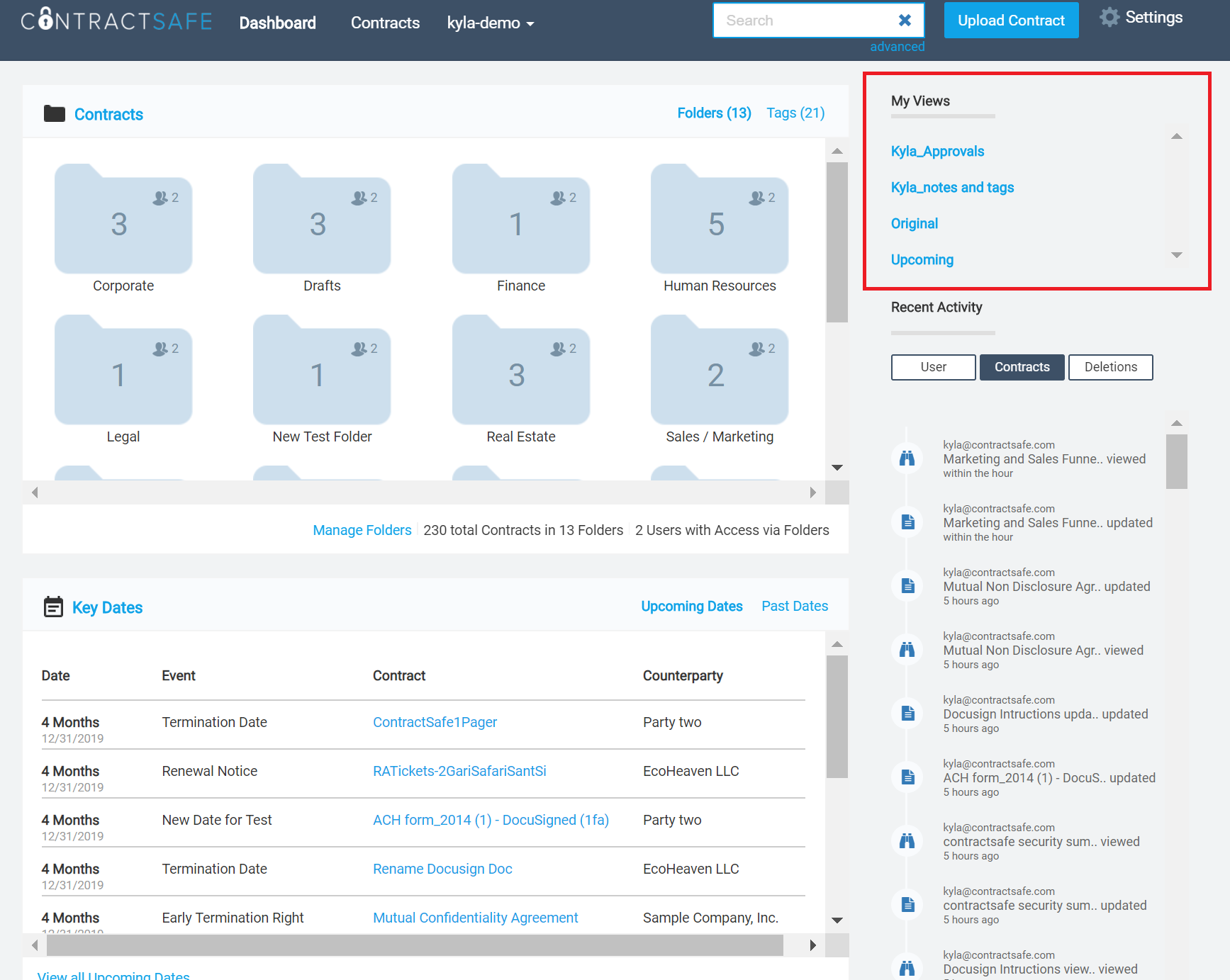 What's more, if you are an Account Manager or Admin, you can make sure your whole team is on the same page (literally!) by sharing your View with everyone or just specific users. And you can even have all the information in a View emailed out on a regular basis (or just one time) as a Scheduled Report -- simply set the date, choose who gets it, and your report will go out automatically.
[Note: Saving Views, Sharing Views and Scheduling Reports are all available at the Standard subscription level and above.]
And that's it! With these six easy steps you'll have your contracts set up and ready to go. You'll get email reminders in advance of the contract termination, so you'll never be surprised by a contract ending, or renewing! And you'll have this information available to you and your colleagues for quick reference whenever and wherever it is needed.