While Theron initially had concerns about the ease of implementation, ContractSafe's Customer Success team made sure deployment was simple and quick. The team assisted JourneyApps with the creation of unique identifiers for each contract, which helped to create a systematic approach to document storage and retrieval. According to Theron, employee adoption has been strong.
Since implementing ContractSafe, JourneyApps has saved thousands of dollars and hundreds of hours by streamlining contract management. With ContractSafe, the company's finance, legal, sales, and management teams can all collaborate on contract reviews. No team is left out of the loop, regardless of location. Effective search tools and advanced optical character recognition (OCR) technology make it easy for employees to find the exact document they're looking for and reduces the amount of time teams spend manually searching for documents.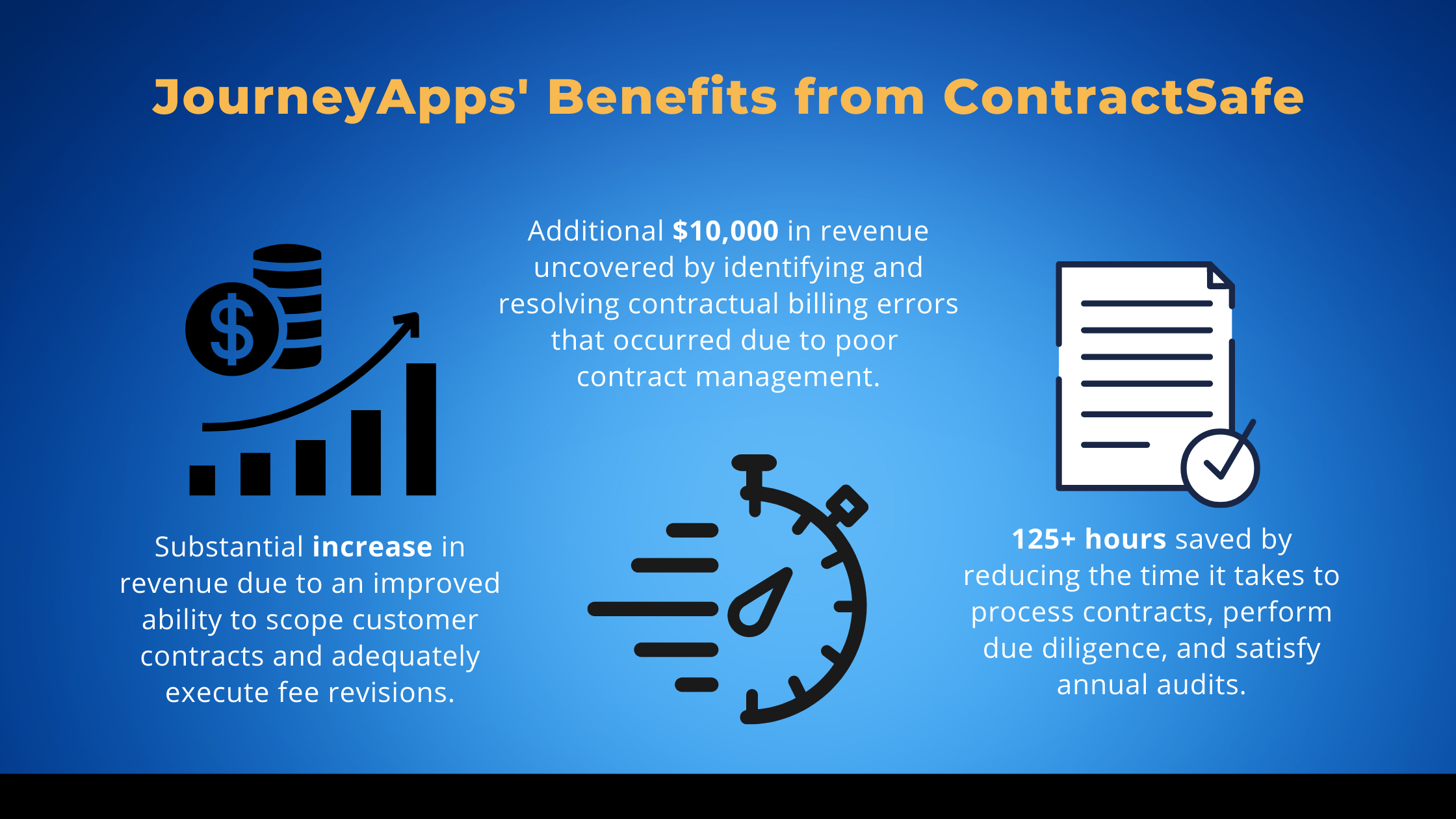 After shifting from manual processes to ContractSafe, JourneyApps has benefited from:
A substantial increase in revenue due to an improved ability to scope customer contracts and adequately execute fee revisions.
An additional $10,000 in revenue uncovered by identifying and resolving contractual billing errors that occurred due to poor contract management.
More than 125 hours saved by reducing the time it takes to process contracts, perform due diligence, and satisfy annual audits.
Additionally, the use of ContractSafe's unique contract IDs has also allowed JourneyApps to tie revenue and expenses back to specific contracts and create a more holistic view of overall business performance across the entire enterprise. ContractSafe has become a key part of JourneyApps entire customer lifecycle—from billing and SLA management to account management and sales.
Had JourneyApps not selected ContractSafe, Theron said the company would not have been able to scale areas of the company that heavily relied on executing custom contract terms. In addition, it wouldn't have been able to automate its internal billing system – a process that has saved the company thousands of dollars.
Regardless of size, all companies must effectively manage contracts. Effective contract management tools can help organizations generate more revenue and pay for themselves in resource savings. When companies trust ContractSafe to streamline document management, they're able to save time, increase visibility, and ensure safety.