It shouldn't be easier to find the answer to 'Who is the smartest person in the world?' than it is to find a certain piece of data in a contract. Unfortunately, for many tasked with managing an organization's contracts, this is the case — even for those using contract management software.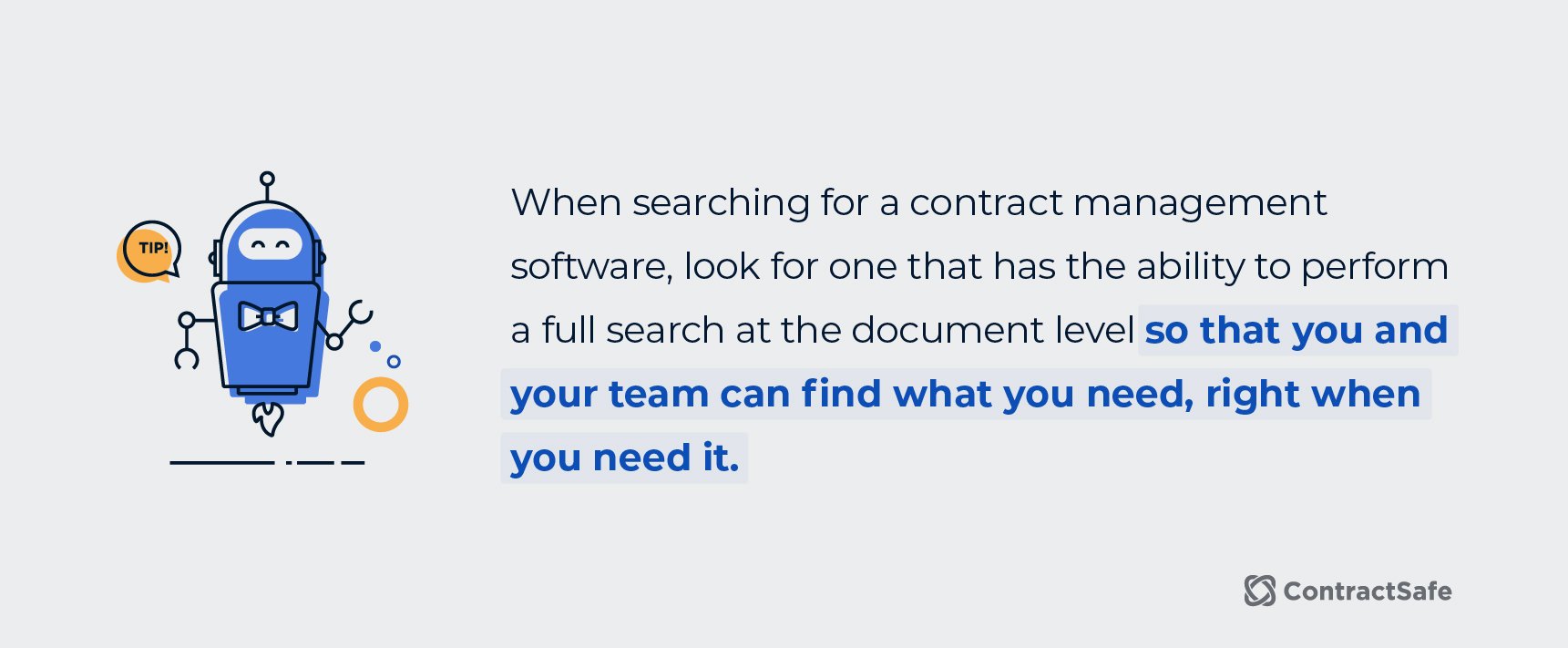 During the research phase of your contract management software purchase, the fact that a software can only search for previously tagged information may not seem like a big deal. And not having the ability to perform a full search at the document level may not seem all that important during the demo. But the first time you need to find something you didn't have the foresight to know you'd need to be able to find? Well, good luck.
Not all contract management software is created equal. Choosing a system that offers full visibility into contract data can mean the difference between having to say:
"I have to dig for that. Let me call you back tomorrow;" or, "Let me search for that quick while I have you on the phone."
You don't have to be the smartest person in the world to figure out which of these options leads to a better outcome. Let's dig into how the right system can streamline locating, tracking, and analyzing contract data so you and your team can find what you need, right when you need it.
Standard Search: Asking (and Crossing Your Fingers)
When it comes to contract management software, there are features that virtually every system offers. One standard is search functionality.
We all know that searching and finding are two entirely different activities, especially in contract management. Searching often involves a frustration-fueled deep dive into an abyss of information, while finding involves actually locating what's needed. Standard search functionality is often limited and requires a perfect orchestration of tagging, labeling, naming conventions, and filing to work.
Translation? If your team doesn't load, label, and store each document with careful precision, succeeding at the 'finding' part of the search equation won't be in the cards for your team.
Advanced Search: Finding with Confidence
As frustrating as standard search capabilities are, there is hope! The right contract management software features advanced search functionality that's a true game-changer.
Optical Character Recognition (OCR)
Having the ability to search previously tagged items is table stakes — we've already discussed that. But taking it a step further to deliver intuitive, accurate, and fast advanced search capabilities is what we're all about at ContractSafe.
Optical Character Recognition (OCR) — sometimes referred to as text recognition — is a technology for extracting data found in images, PDFs, and scanned documents. In short? OCR turns printed documents into text that a machine can search and humans can find.
ContractSafe's contract management software not only leverages OCR technology to enable advanced search capabilities, it also empowers users to immediately search for key terms within their contract database as soon as files are uploaded (unlike other systems with delayed OCR search functionality).
Plus, because of OCR, there is no need to assign filters or labels while uploading documents. The advanced search is so intuitive that users can find items within and across documents for important clauses, terms, and even individual people.
If you're looking for something online, you turn to Google. When you need to find something within a contract or document, you turn to ContractSafe.
Contract Data Management: Streamlining for Efficiency
The ability to find the information you need — when you need it — is vital for contract management efficiency. Safeguarding and administering that information is where contract data management comes in.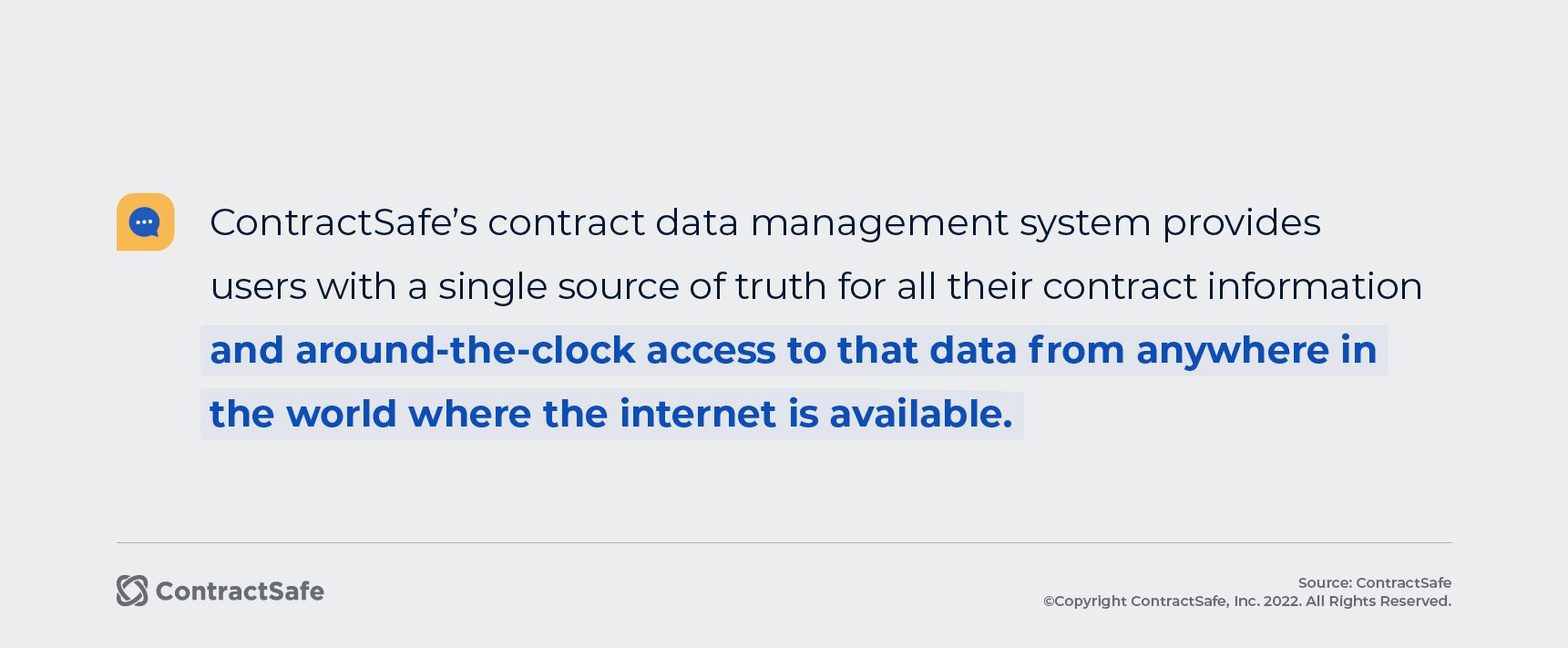 As a contract data management system, ContractSafe provides users with a single source of truth for all their contract information and around-the-clock access to that data from anywhere in the world where the internet is available.
Built on Amazon Web Services (AWS) for best-in-class hosting and reliability, ContractSafe offers top-notch security through encryption, vulnerability testing, and malware and virus detection. In addition, ISO 27001-, PCI DSS-, and SOC 2-certified data centers keep payment information and other sensitive data safe.
Founded by attorneys who were frustrated with subpar contract management systems, ContractSafe is committed to accessibility and simplicity in a market saturated with complicated and expensive "solutions." Accessibility and simplicity unite in the following features designed to streamline the administration of your organization's contract data:
Folders and Tags
Folders and tags are tools within ContractSafe to help store and manage documents.
ContractSafe users can apply unlimited tags to a document. While no longer necessary for performing a search (thanks, OCR technology!), tags are useful for grouping and organizing documents.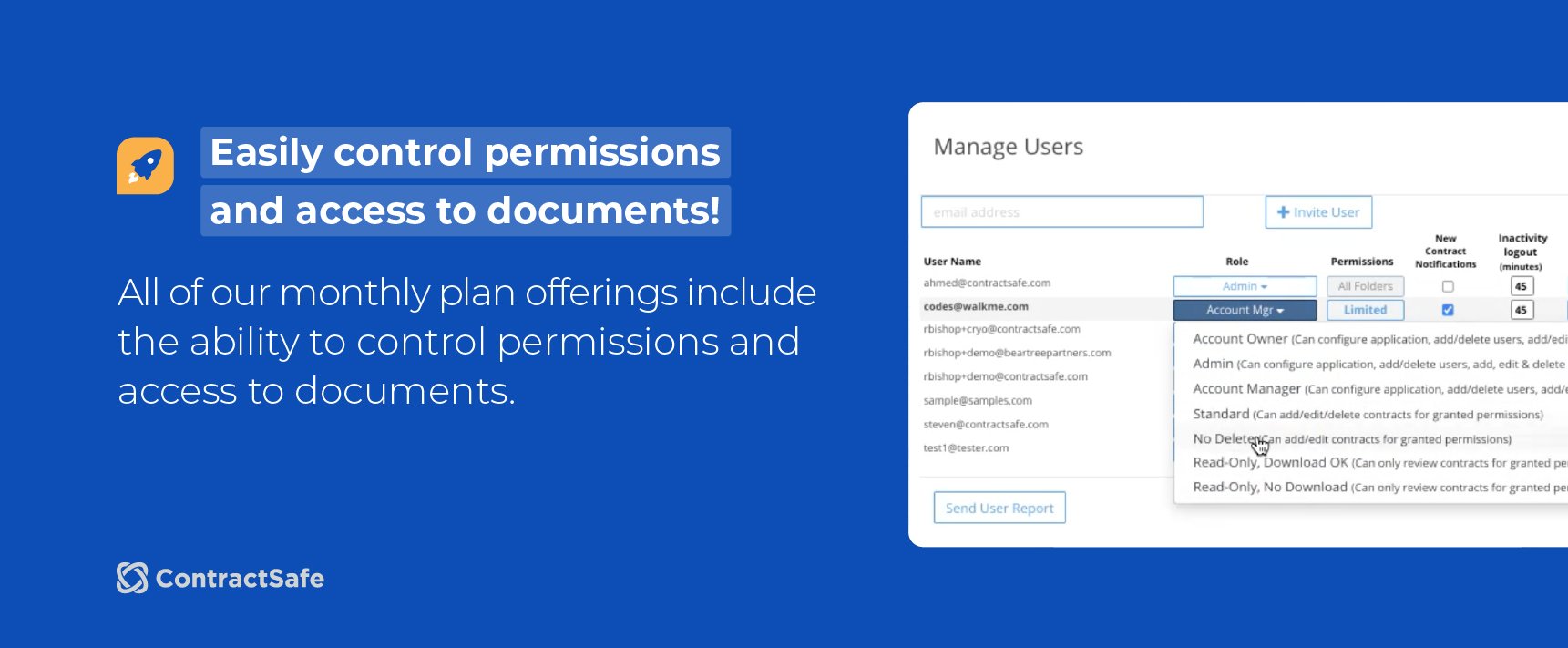 That organization goes one step further with folders. Regardless of which monthly plan you choose, you will have the ability to control permissions — or access to documents — with the folders functionality. Store contracts in corresponding folders where permissions can be granted to individuals in varying degrees.
This benefits organizations in many ways, including security and compliance. You can't have Suzanne from Marketing accessing Mark's HR personnel files — not unless you want a potential lawsuit on your hands (or at a minimum, some office drama).
Dashboards
All these great things you want to keep track of? Well, they're all neatly displayed on your customizable dashboard, featuring several sections that provide an at-a-glance view of folders, key dates, recent activity, and more.
ContractSafe plans include individual user dashboards that can be customized based on user preferences.
Sorting and Filtering
Searching for something is easy with ContractSafe and because search can be applied to any filtered result, any report can be searched upon. Talk about saving time and frustration!
Annotations
Coming soon to your ContractSafe portal…annotations! The newest ContractSafe feature will uplevel your team's reporting game. Users will be able to highlight text as an annotation within the document and link to tags for easier contract data reporting.
When another user views the document, they will be able to click on a tag annotation and jump directly to the linked text.
Alerts and Reminders
Alerts and reminders are not groundbreaking features. In fact, nearly every contract management solution offers some form of them. You probably know the type of alerts and reminders we're talking about. The kind that only function inside the software application and the kind that is usually missed because the user has to log in to actually receive the message.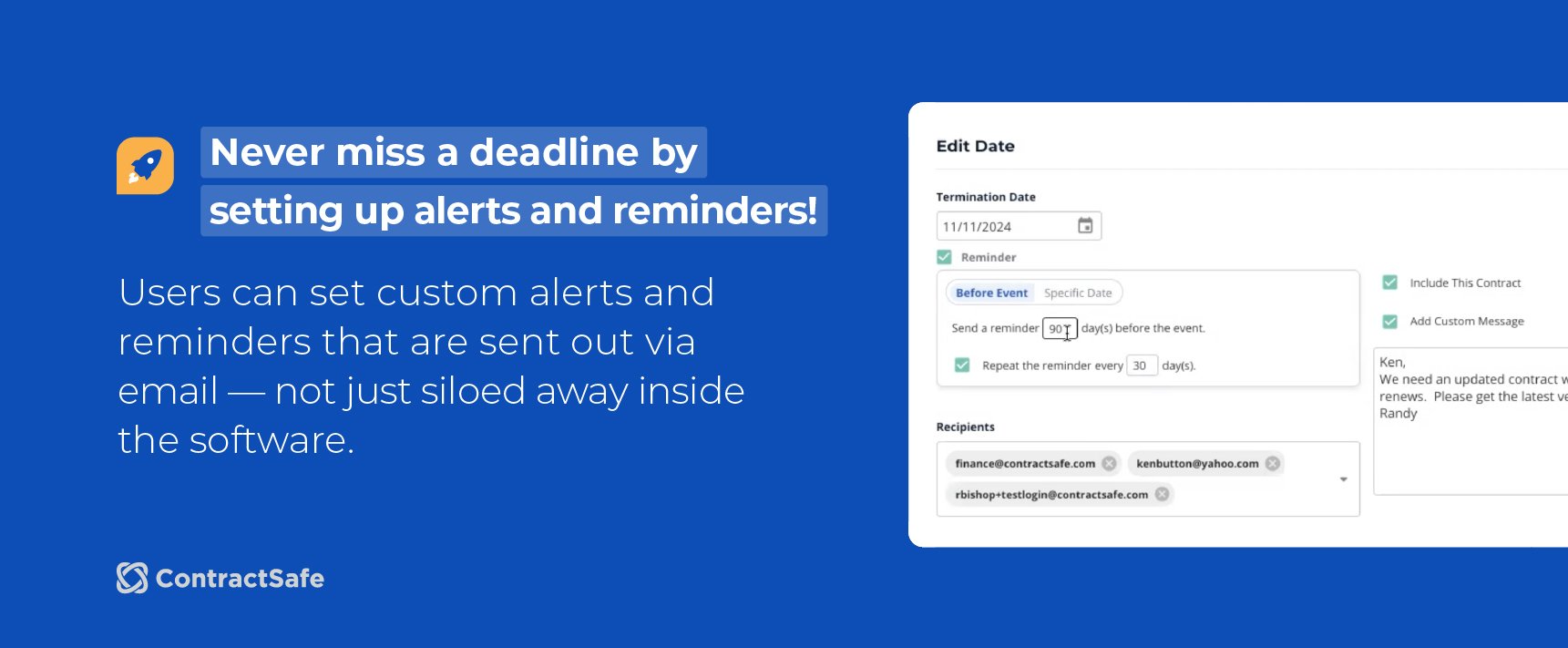 ContractSafe's alerts and reminders have turned what was once a source of frustration into a spring of well-informed teams that miss fewer deadlines and get more work done. Users can set custom alerts and reminders that are sent out via email — not just siloed away inside the software.
Supporting Documentation
When you think of contract management software, contracts are probably the first thing that comes to mind. But contracts aren't the only sensitive data companies need to keep safe. Scopes of work, non-disclosure agreements, and intake forms are just a few of the many documents that can benefit from being stored in a secure repository.
ContractSafe supports the storage, management, and tracking of any document — contract or otherwise.
Contract Data Management Made Easy
Finding what you need in a contract when you need it shouldn't be hard. Which is why ContractSafe was born: to provide simplicity and accessibility in contract data management. With ContractSafe's intuitive solution, users can search — and find — anything in any document at any time.
With monthly pricing starting at $299, ContractSafe delivers an intuitive, easy-to-navigate user experience along with advanced search capabilities — all without the expensive sticker price.
CTA: Ready to streamline your search for, and management of, important contract data? Sign up for a free trial today to see firsthand how ContractSafe can help you find what you need – when you need it.