You already know how important it is to keep on top of contracts. As a healthcare facility, getting contracts properly signed and implemented is essential to staying in business. Perhaps even more important? Making sure your facility understands the importance of healthcare contract compliance and knows how to perform an audit.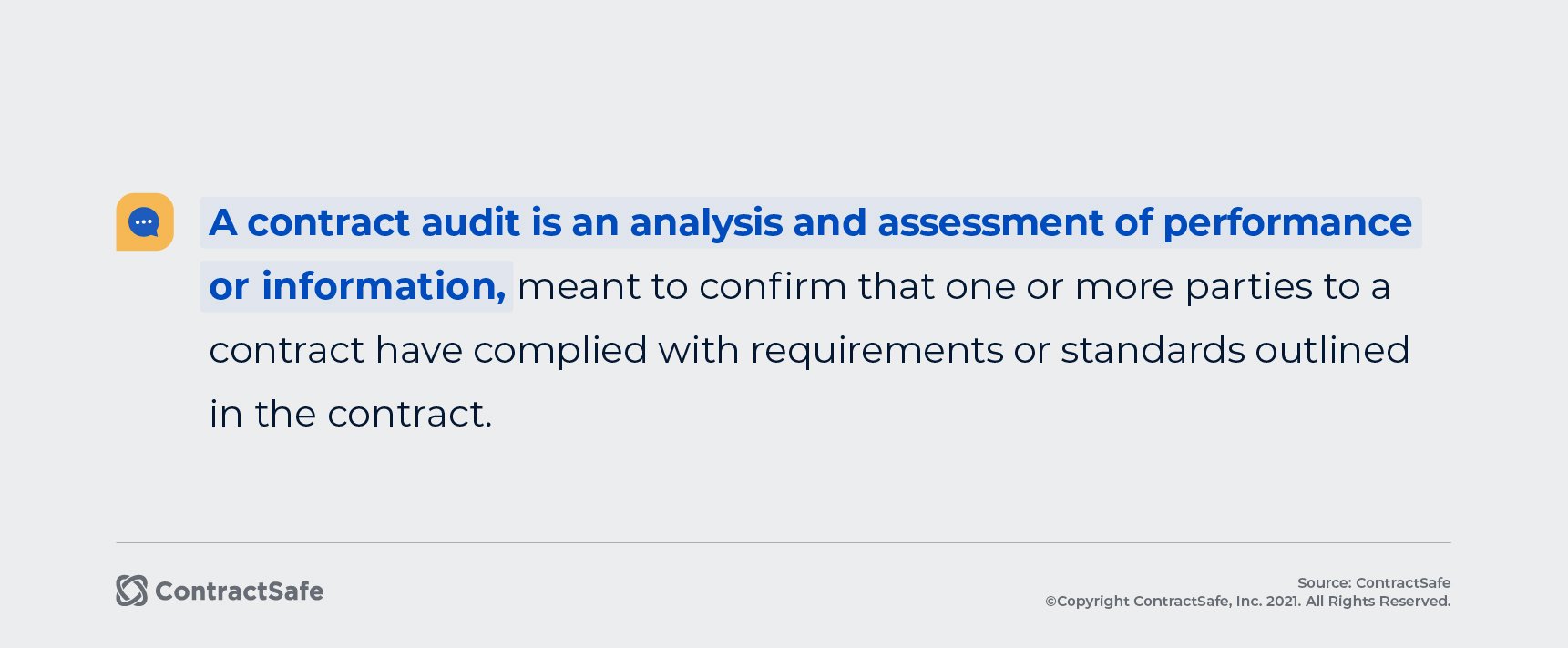 But first, what is a contract audit? A contract audit is an assessment of performance or information, meant to confirm that one or more parties to a contract have complied with requirements or standards outlined in the contract. In other words, a contract audit simply seeks to examine how the terms of your contracts are or are not being fulfilled in practice.
While contract audits are not required by law, they will help you stay compliant, which offers several benefits to any healthcare organization.
4 Benefits of Healthcare Contract Compliance
If you want to keep your healthcare facility in business, contract compliance is a must. Not only can it help you avoid several risks (including potential litigation), healthcare contract compliance has plenty of other benefits. Here are a few:
1. Boost Contract Performance and Cost Containment
By following healthcare contract compliance best practices, you'll have a better understanding of contract deliverables, rates, and deadlines. Monitoring a project's progress will be easier, and you'll always be in-the-know when it comes to agreements with vendors. Staying informed is part of running a successful business, and staying compliant with contracts is one of the best ways to do it. By staying on top of these agreements, you'll know whether or not the vendor is performing the work they've agreed to. The result? A steadier cash flow, fewer costly delays, and peace of mind knowing you're money is being well spent.
2. Earn Trust with Partners and Vendors
One of the best ways to build trust with your vendors and with other businesses? Contract compliance and management. Partnering with other partners during an audit and sharing information can help increase transparency while building long-term relationships with vendors.
3. Protect Against Legal Trouble
The last thing any business needs is legal trouble. This is especially true for healthcare providers. Keeping contracts organized and compliant can help your facility avoid potential legal issues. Without a system in place for contract compliance, you could be asking for trouble. For example, inaccurate billing, timesheet falsification, inaccurate study results, and more can lead to fraud claims. Fines and lawsuits are also a possibility.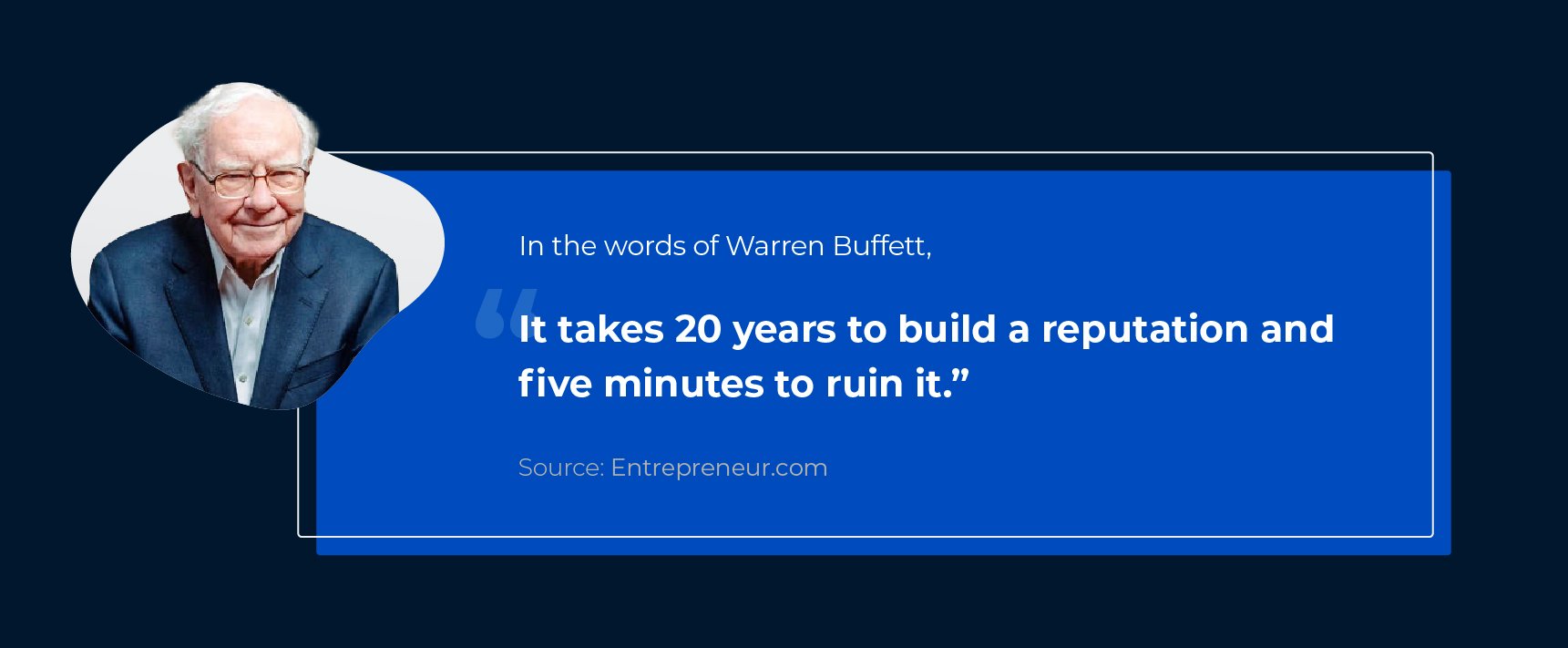 By staying compliant with all healthcare contracts, it will be easy to identify any issues early on. And you might just be able to stop them from becoming large, legal, public matters that may damage your business's reputation and finances.
4. Improve Business Operations
Anytime you perform a contract compliance audit, you'll probably find new information about your business operations. It could be overspending in some areas, redundancies or practices that are slowing down progress, completely unnecessary expenses, and more. Audits might even uncover billing inaccuracies that can be addressed with your finance department—saving you money and legal trouble.
These audits give you a better understanding of your business and any potential challenges so that in time, you can take steps to improve your business operations.
How to Perform a Contract Compliance Audit
Planning and performing an audit can seem overwhelming at first, especially if your business hasn't done one in a while. The specifics of your audit will partially depend on your scope and goals, but these tips apply to most contract compliance audits and can help you perform yours.
Step 1: Determine Your Goals, Timing, and Scope
What is your goal for the audit? Is it to get a better understanding of your company's contractual obligations? Is it to identify areas of non-compliance, billing inaccuracies, and to better understand internal controls? Or is it something else?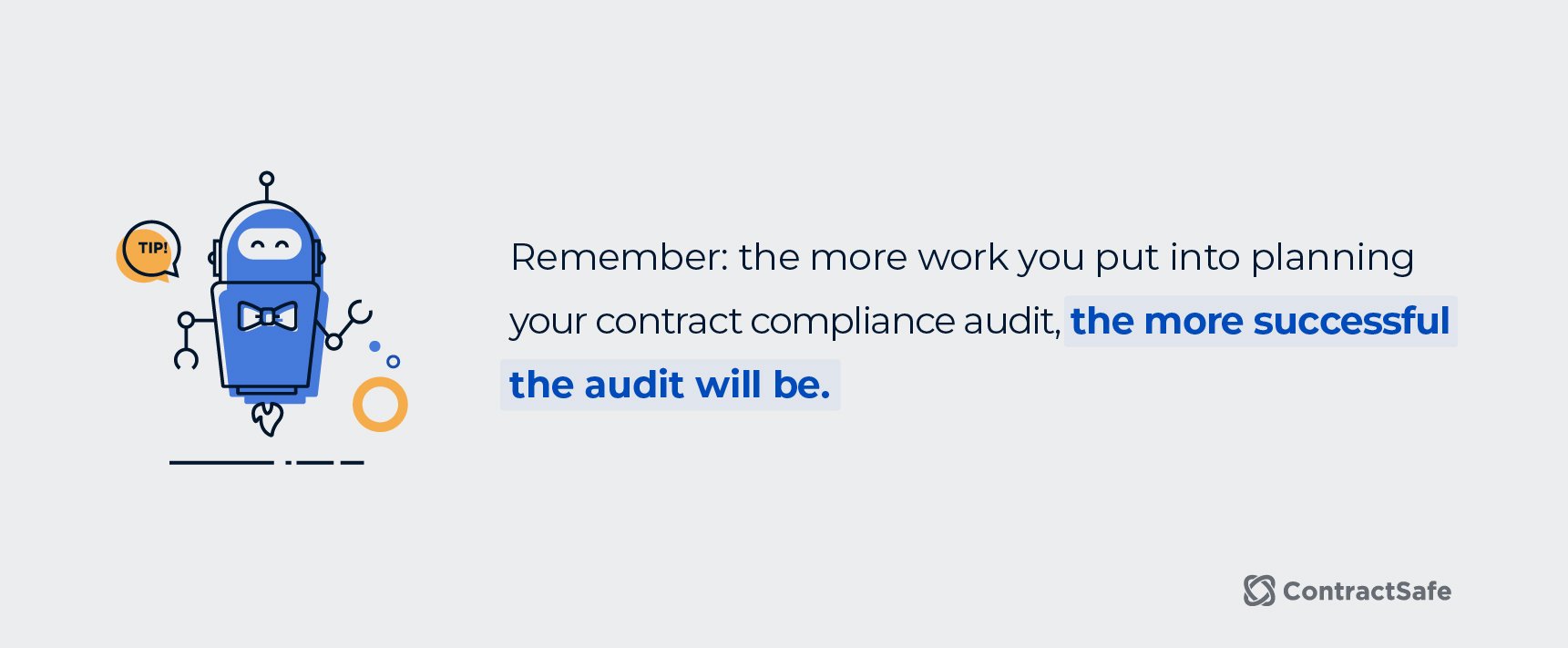 Once you figure out what the goals of your audit are, write them down. As part of this step, you'll need to identify which contracts are being audited and why. Determining what you hope to learn from the audit will help define the overall process. It will also help the team members performing the audit.
Timing is another important factor that needs careful thought and planning. An audit, particularly of all of your healthcare contracts, can be a time-consuming process. You'll want to make sure the audit doesn't coincide with other major projects—including your tax and budgeting season. Remember: the more work you put into planning it, the more successful the audit will be.
Step 2: Put Together an Audit Team
As you plan the audit, you'll also need to build a team to perform it. Figure out the roles and responsibilities of each team member, and focus on filling any gaps.
While it's important to have audit team members who are well-versed in the inner workings of your business and your contracts, you might decide to hire a professional auditor to handle the bulk of the process. A professional has the advantage of being skilled and experienced in performing audits, so they can often plan and execute an audit more quickly and more thoroughly than your own internal team.
Whether it's a few key people to supplement a professional auditor, or an entire in-house team, be sure to consider the time investment that team members will need to dedicate to the project. That way, you won't be overwhelming someone with auditing responsibilities on top of an already hefty workload.
Step 3: Get Your Contracting Party Involved
Your audit team will include members of your business and perhaps a hired auditing professional, but you'll need additional connections to facilitate an effective audit. This means you'll need the cooperation of the third parties on the contracts that are being audited.
Getting this cooperation starts with establishing an open line of communication with each party. Reach out to each individual and explain the reason for the audit. Audits often elicit a negative response in people, so be sure not to sound accusatory. Instead, frame the audit as either a standard practice or an effort to improve future contracts and enhance the relationship between your business and the third party.
Provide as much information as you can about the help you'll need from them. Explain the types of details you'll be examining, and ask about the best way to contact the third party with questions and clarifications. Demonstrating that you value the third party's time and want to establish a communication strategy that works for everyone can help start the audit on the right foot. A cooperative third party can provide you with valuable information about contract discrepancies, missed milestones, and other details that can make your audit more accurate—so be sure not to skip this important step.
Step 4: Focus on Key Audit Areas
When performing your audit, make sure you focus on key factors that can inform how well your contracts are working, while also identifying issues with contract compliance:
Negotiation: Review your contract negotiation process, including the staff who are involved and the departments within which the negotiation takes place. Look for holes that may have occurred as staff have left or moved into other positions and identify any barriers that are slowing or otherwise restricting the negotiation process.
Execution: Consider how the contracts are executed and managed. Evaluate your methods for storing and accessing the contracts, as well as how your business adheres to management and reporting requirements.
Reporting: Look at how your business has been reporting the progress and work that takes place under each contract. Is this information accessible to the teams that need it, including your sales and finance teams?
Compliance: Evaluate the compliance issues that have surfaced as a result of the audit. Look into whether your business has failed to comply with financial or performance obligations in any contracts. If you find these issues, thoroughly research the circumstances that caused them to occur.
Step 5: Create Detailed Reporting
Before the audit is completed, the audit team will need to summarize their findings in a report. That report will serve multiple purposes. You might present it to stakeholders to create transparency and build trust in the business. Or you might review the report in detail to assess the effectiveness of your current contracts and determine where any changes need to be made.
Collecting your audit reports creates documentation of the efforts you're taking to ensure contract compliance. These reports could become important if you ever face legal consequences. Reviewing previous years' audit reports can also help you to develop future audits and improve your overall auditing process.
Put That Reporting to Use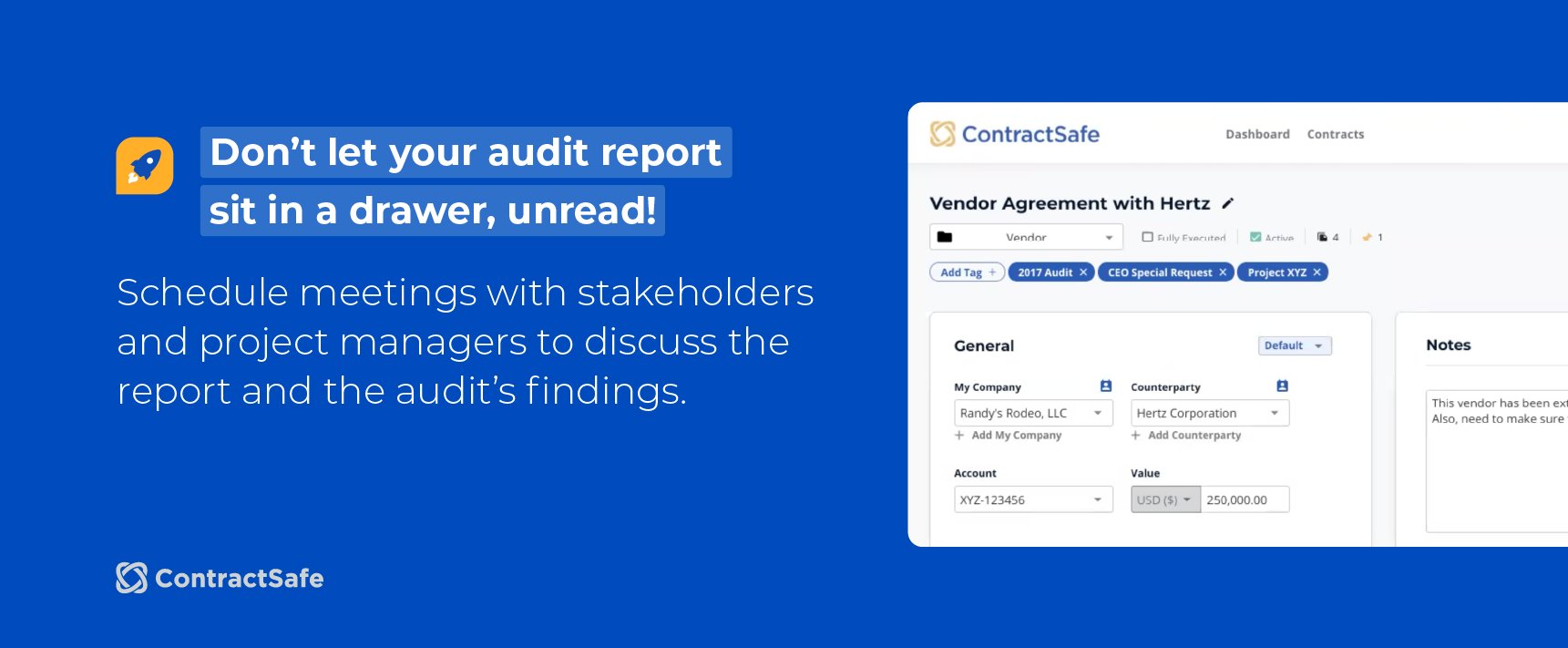 Don't let your audit report sit in a drawer, unread. Schedule meetings with stakeholders and project managers to discuss the report and the audit's findings. Audits are only valuable and worth the time investment if you then do something with the information that you get from them. An audit can help you to identify improvements and changes that may be needed, so it's important to take deliberate steps to make sure those changes are addressed.
Consider Changes to Your Contract Management System
Your contract management system plays a key role in how well you are able to prepare, execute, and then manage your contracts. With better, more detailed, and more automated contract management, you can improve contract compliance rates and get more out of your relationships with vendors and other third parties. If your audit determines that your contract management system is falling short or not meeting your business needs, it might be time to change to a new system that can truly support your business.
Subscribe to our blog to learn more about contract management for your healthcare business.