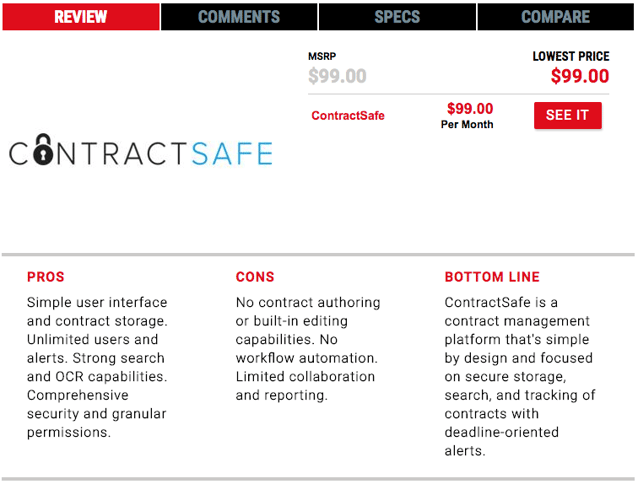 ContractSafe was included in PC Magazine's The Best Contract Management Software of 2017 review. And...drumroll please...we were selected as the best option for companies looking for a smart and secure repository to easily store and organize their contracts!! Here are some of the highlights from the full review:
"What you...get is a straightforward user experience (UX) that's a breeze to navigate and search through, with custom filters and tags. You also get all the related data, documents, deadlines, and alerts you need for each contract in the system."
"It's among the easiest contract categorization and management features we tested."
And, our personal favorite:
"ContractSafe isn't trying to manage the entire end-to-end contract creation, revision, and management life cycle. The platform is focused on making contract storage and tracking simple and secure, with great search and customizable categorization, and that's what it does."
PC Magazine understood that not everyone has the need or the time and budget for a complex full lifecycle contract manager. For most companies, the big win is finding a powerful yet simple way to:
Find what you're looking for quickly
Organize things easily
Get reminders
Give your team a solution that's easy to use
All with great security. If you're not a customer yet, check us out!