Introduction
On average, companies lose 9% of their revenue due to poor contract management.
It's true. According to International Association for Contract & Commercial Management (IACCM) research, companies are losing, on average, nine percent of their revenue due to poor contract management.
We're all guilty of thinking we are the exception to the rule. "It can't happen to us — not our company." But we can't all be exceptions, can we?
If your job involves managing contracts, you already know the value of contract management software. Without it, you're left handling contracts manually, worrying about what may fall through the cracks, and wasting a whole lot of time in the process.
That's right… you get all the responsibility for managing the contract process but none of the tools to help you do it easily! We get it. Unfortunately, not everyone in your organization fully understands your struggles. That's why we're here to help!
This guide to calculating return on investment (ROI) from contract management software will help you make the case for implementing a better system for your company to manage contracts — and it includes an easy to use ROI calculator so you can quantify the actual value based on your own company's data in order to make a truly compelling business case to the leadership at your organization.
It's not just about how contract management software will make your life easier, it's also about why it makes financial sense for your organization. Our goal with this guide is to give you advice that is simple, practical, and easy to understand.
So, are you ready to get the key decision-makers at your company on board with signing up for contract management software? Great. Let's get started!
ROI in a Nutshell
ROI, or return on investment, measures what you get back compared to what you put in. Put another way, for every dollar you spend on an investment (e.g., a software solution) what net benefit did you gain?
Here's a simple example of how to determine ROI.
Let's say your son buys a baseball card for an original investment of $10.
Time passes. When your son is a teenager, he needs cash for gas. He does some research online and finds out that the baseball card is now worth $30.
Therefore, he made $20 in profit.
His ROI is the $20 profit divided by the original investment of $10.
For some crazy reason, ROI is typically shared as a percentage, so you need to multiply by 100.
$20 (profit) / $10 (original investment) x 100 = 200%. This is the ROI. Not bad!
Or, as the powerlifters often say at the gym, "Gains, bro. Gains."
The Brass Tacks of Contract Management Software ROI
Before calculating the ROI of contract management software, we first need to answer a more fundamental question: what's the cost of doing nothing (CDN)?
(Yes, CDN is a real acronym!)
Determining CDN leads to some important questions about your operations, including:
What are the costs of doing contract management the way it's being done today?
What is working?
What is absolutely not working?
When determining CDN it's important to consider:
Time You Spend
How much time do you currently spend managing contracts? The most obvious cost in managing contracts is time. Try to estimate how much time it takes you and your team to complete the following tasks:
Searching for contracts (or for items within contracts — e.g., "force majeure")
Making contracts available to others
Sending email reminders about contract milestones or other key events
Keeping track of expiration and renewal dates via spreadsheets
Monitoring contract obligations and ensuring compliance
Reporting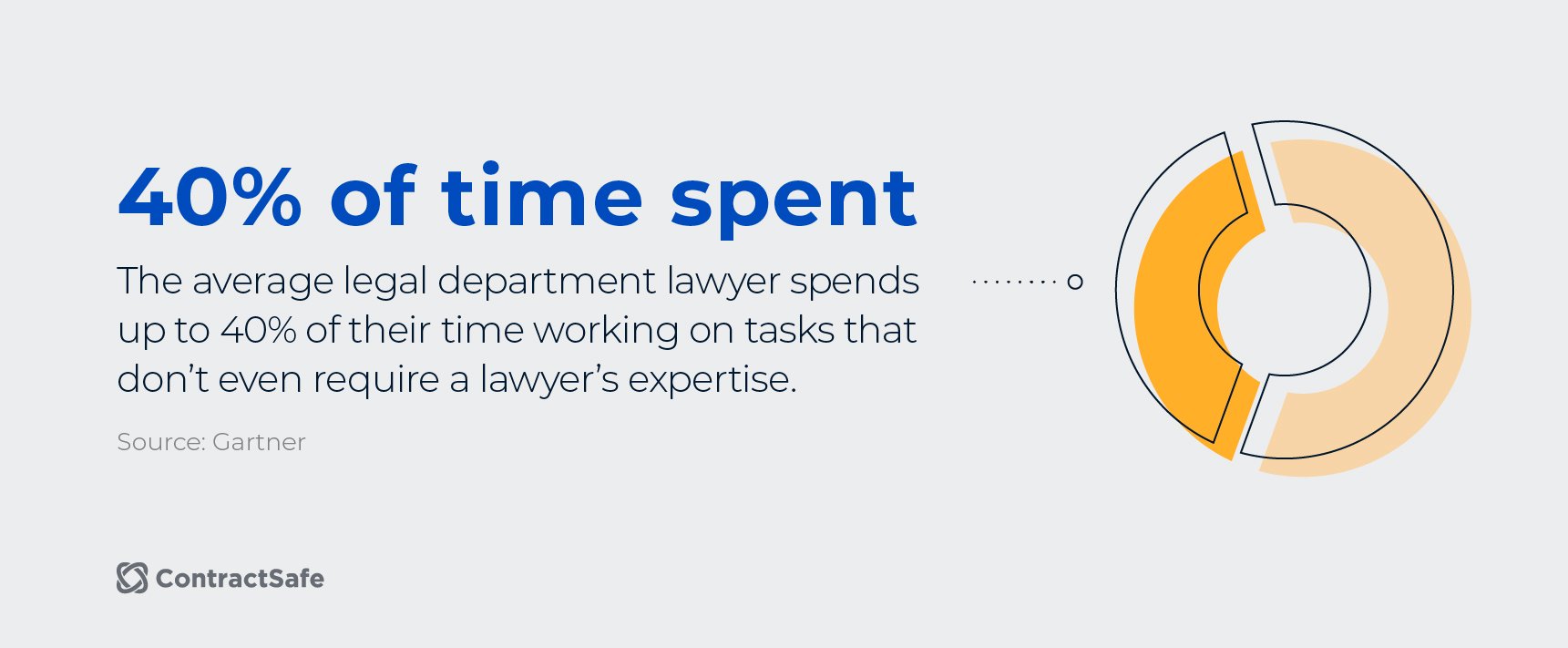 Time Others Spend
Now let's consider the percentage of time other members of your team dedicate to contract management.
The average legal department lawyer spends up to 40% of their time working on tasks that don't even require a lawyer's expertise — and this includes a lot of contract work that could be handled (or prevented) with contract management software.
Whether you have an in-house legal team or hire outside counsel, manual processes and human error often lead to wasted time, and wasted time leads to lower productivity and high costs.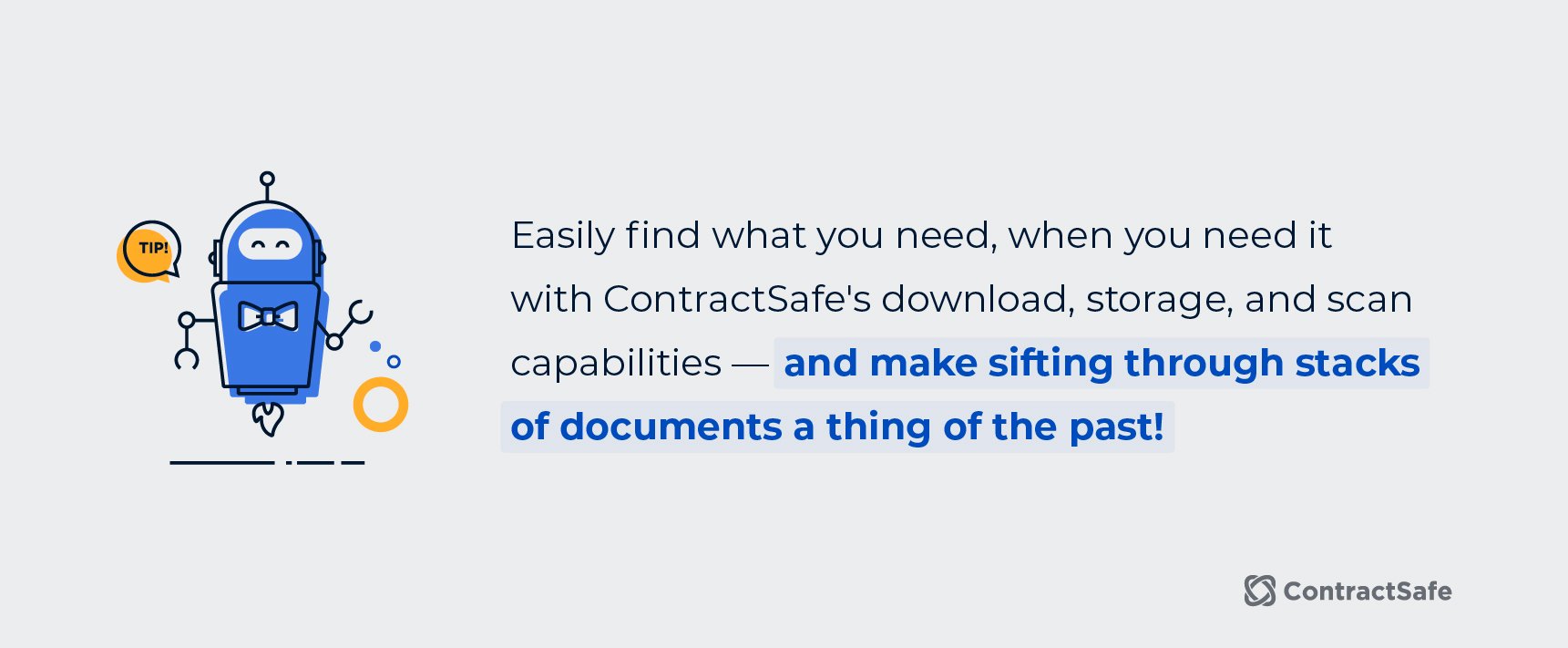 Prevention Tip: ContractSafe's download, storage, and scan capabilities make sifting through stacks of documents a thing of the past. Now, with just a few keywords, your team can find what they need, when they need it.
When considering how much time other people on your team spend dealing with contract management tasks, you'll want to be sure to include folks working in these departments:
Legal
Sales
Procurement
IT
Operations
Human Resources
Administrative Support
You'll need to think through these various departments to consider who is doing what and what business triggers initiate the task they are doing (as it relates to dealing with contracts).
Is organizing contracts and following up on aging accounts taking someone away from their main job? If it is, consider how a contract management software can help.
Who is responsible for sharing contracts out to internal and external contacts? Without permission capabilities, the job of managing and protecting access to sensitive contracts can become a full-time job. This is why so many companies opt to invest in a contract management software that simplifies the job of setting user roles and permissions.
Cash: Making Money vs. Saving Money
The bottom line is that you need to demonstrate how green the grass (and cash) is on the other side of the contract management software fence. First, we looked into the time aspect, and time is money, so bravo. But there are other ways you can connect the benefits of contract management software to actual cost savings for your company.
Let's consider both revenue expansion and cost savings:
Revenue Expansion
Tally up how many customer contracts you currently maintain? Let's say you have 100 customer contracts in play.
Out of that total, 40 are set to automatically renew, while the remaining 60 will require some level of targeted intervention from your team.
You're not worried about this because your sales team members are rock stars. They average a renewal increase (i.e., upsell) of $2,500 — which also explains why they have their own celebratory Slack channel.
Unfortunately, 40 of your customer contracts have automatically renewed, leaving little room for your sales team to work their magic.
As a result, your company will miss out on up to $100,000 in possible upsell revenue — all because some of your contracts auto-renewed under the cover of night. This happens all the time with legacy contracts stored away on single-file servers and managed via Excel spreadsheets.
But we're not here to criticize. We're here to optimize. So, if contract management software can help retain just a percentage of this $100,000, it would be well worth the investment, right?
Cost Savings
Now that we've identified a direct pathway to expand revenue, let's consider cost savings. How can we limit business expenses? One way is by examining your vendor contract renewals.
For the sake of example, let's consider a company that has 50 vendor contracts,10 of which are set to automatically renew.
If the average renewal increase per vendor contract is $2,500 — a fair number considering companies like Salesforce hike their prices 7% every year — then those 10 auto-renew contracts you're set up with will amount to an additional $25,000 in vendor agreement expenses when they auto-renew.
In just four years, those sneaky charges would wind up amounting to north of $100,000 in costs that could have easily been avoided or mitigated with contract management software.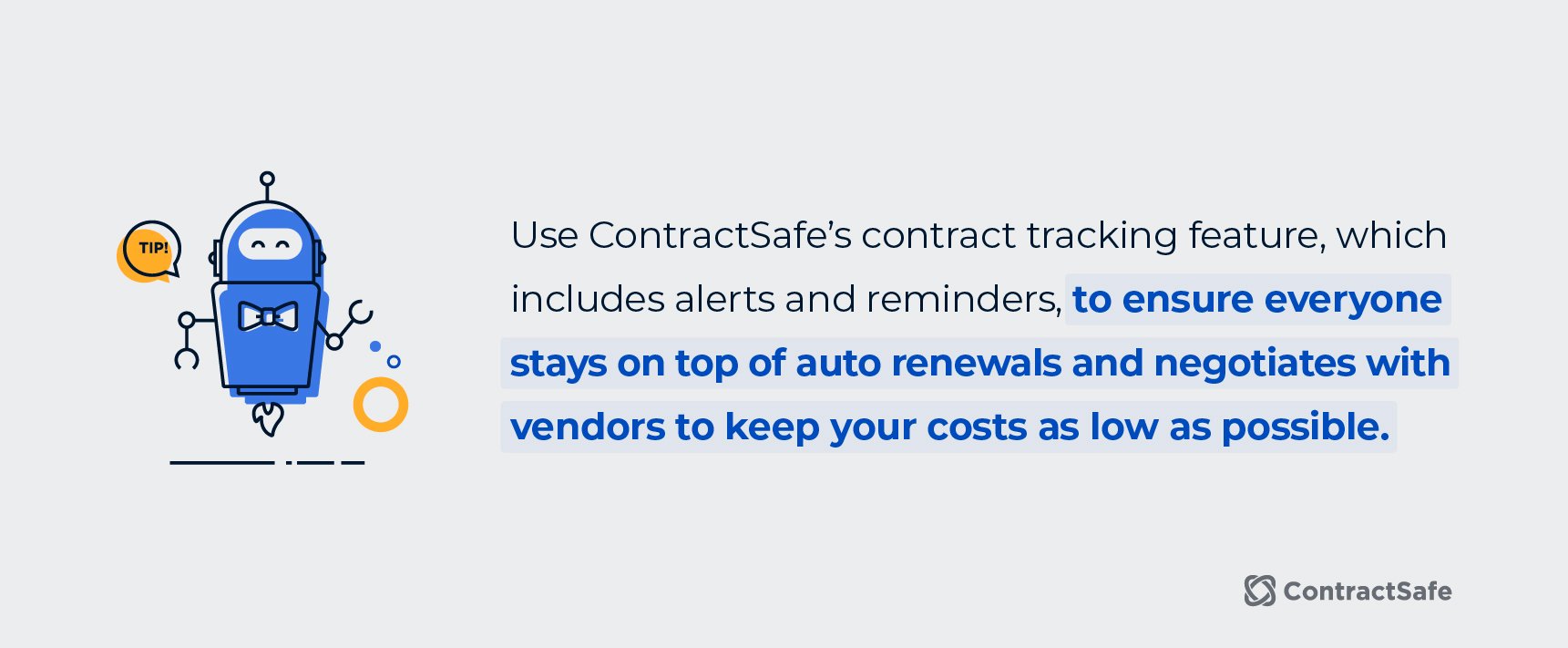 Prevention Tip: ContractSafe comes with a contract tracking feature that include alerts and reminders so you ensure that everyone — from sales, procurement and legal, to IT and beyond — are able to stay on top of auto renewals and negotiate with vendors to keep your costs as low as possible.
Use the Calculator to Determine ROI for Your Contract Management Software
Now that you've taken the time to consider how contract management software can save you, your team, and your company time and money, it's time to put those ballpark figures into action.
And since we know that mathematical formulas are fun for about .01% of the population, we put together this convenient ROI calculator.
With just a few custom inputs based on your specific company, you'll be able to quickly determine the potential ROI that can be realized simply by implementing a contract management software system.
To get the exact ROI on your contract management software, here's all you need to know:
Number of active contracts
Number of people touching contracts
A general sense of how much time is spent managing contracts
That's it. Simply plug those numbers in and let the calculator do all the hard work for you!
A Calculator to Help Prove Contract Management Software ROI
Try it for yourself. Save a copy of our calculator and start proving ROI today!
The fastest path to expanding revenue opportunities with existing customers, decreasing vendor-related expenses, and reducing the amount of time wasted due to handling contracts manually is to eliminate inefficiencies with an automated tool for everyone on your team.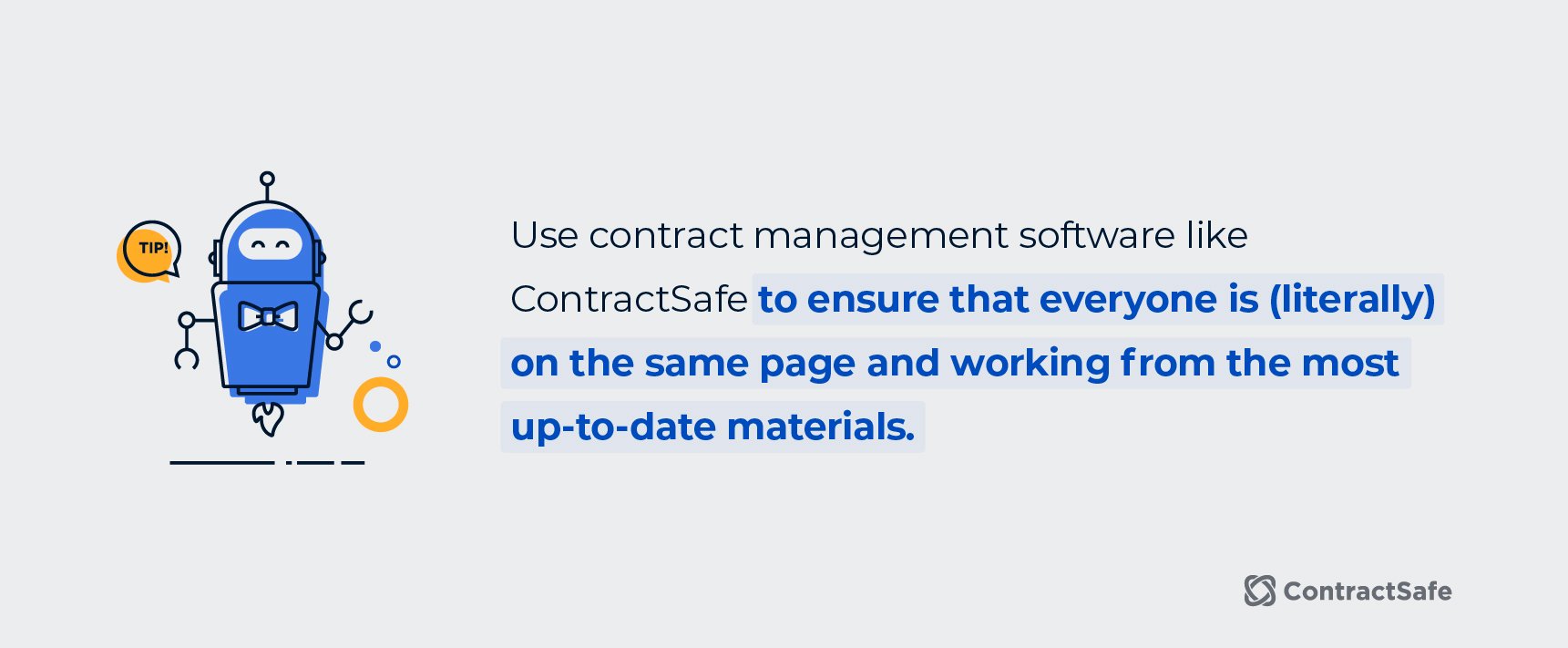 Prevention Tip: ContractSafe ensures that everyone is (literally) on the same page and working from the most up-to-date materials. This safeguards your legal team's hard work so that it doesn't have to be redone.
Conclusion: Contract Management Software Benefits Your Entire Team
Contract management software provides major benefits to everyone on your team — from finance and procurement, to paralegals and admins:
Find anything in any contract in seconds with Google-like search functionality
Never miss a key contract date again with intelligent alerts you can customize
Keep your documents safe and easily accessible in one place with a secure and scannable repository
Restrict and give the right access to people on your team with full control over permissions and roles
Stop worrying about data breaches and malware with active security and data protection
Integrate your current tech stack with thousands of seamless integrations available including DocuSign, Salesforce, and Zapier
Get the help you need when you need it with unlimited support from ContractSafe's top-rated customer service team
Schedule time for a demo today and we can explore all of ContractSafe's time and money saving features together, as well as talking through a pricing plan that makes sense for your team — so you get exactly what you need and none of the extra bells and whistles you don't need.