As an in-house general counsel, you have a lot to keep tabs on — from new and changing laws (and how best to navigate those laws) to contract renewal opportunities.
In this article, we'll cover how contract alerts and automation can make it easier for legal teams to provide additional revenue opportunities through better renewal positioning, capturing price increase opportunities, and highlighting the most favorable contracts to renew.
We'll also cover the risks and financial costs that come with managing contract renewals manually and share solutions to help you avoid those risks.
Ready to get started? Let's dig in!
Creating a Contract Renewal Strategy: 5 Tips
World Commerce & Contracting research shows that on average, companies lose 9% of their total annual revenue due to costs related to poor contract management. This 9% is comprised of missed opportunities during the contract management process, especially during the contract renewal phase.
For example, many companies offer discounted rates of up to 50% off for the first year of service. With the right automatic renewal setup, you're guaranteed to capture that increase in revenue on renewal. Without it, relying on the manual tracking of key contract dates and terms could lead to those discounted rates rolling over and becoming a costly oversight.
Remember: Every renewal is a chance to reassess a contract and search for opportunities to save money or increase revenue. Keeping the following tips in mind can help you optimize your contract renewal strategy for maximum results.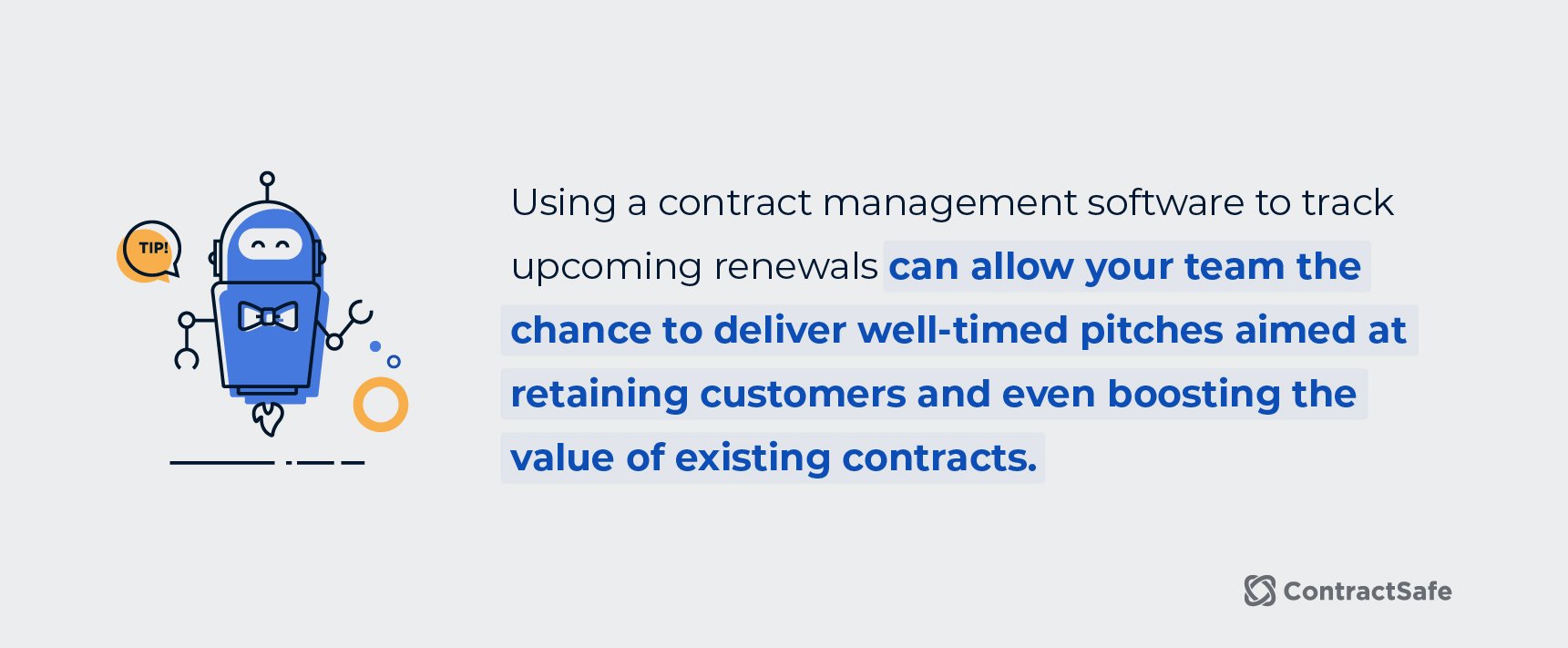 1. Leverage every renewal opportunity
Not having ample time to review the contracts your company intends to renew before the renewal date can negatively affect your bottom line. A renewal period is the best time to renegotiate terms, conditions, and even costs. Not properly tracking or missing contract renewal deadlines is akin to leaving money on the table. This applies to vendor contracts as well as client or customer contracts. When considering client or customer contracts, bear in mind that:
It costs

6 to 7 times more

to acquire a new customer than to retain an existing one.
Companies can increase revenue by

25-95%

by boosting customer retention by just 5%.
Using a contract management software to track upcoming renewals can prepare your team the chance to deliver well-timed pitches aimed at retaining customers and even boosting the value of existing contracts.
2. Negotiate from the strongest position
Staying up to date with contract renewal deadlines means you can strike while the iron is hot. Tenacity and persuasion will take you far in contract renegotiations, but timing is everything.
The contract renewal period is open season for renegotiation. A discussion between the two parties — whether about terms or termination — is often expected and even welcomed.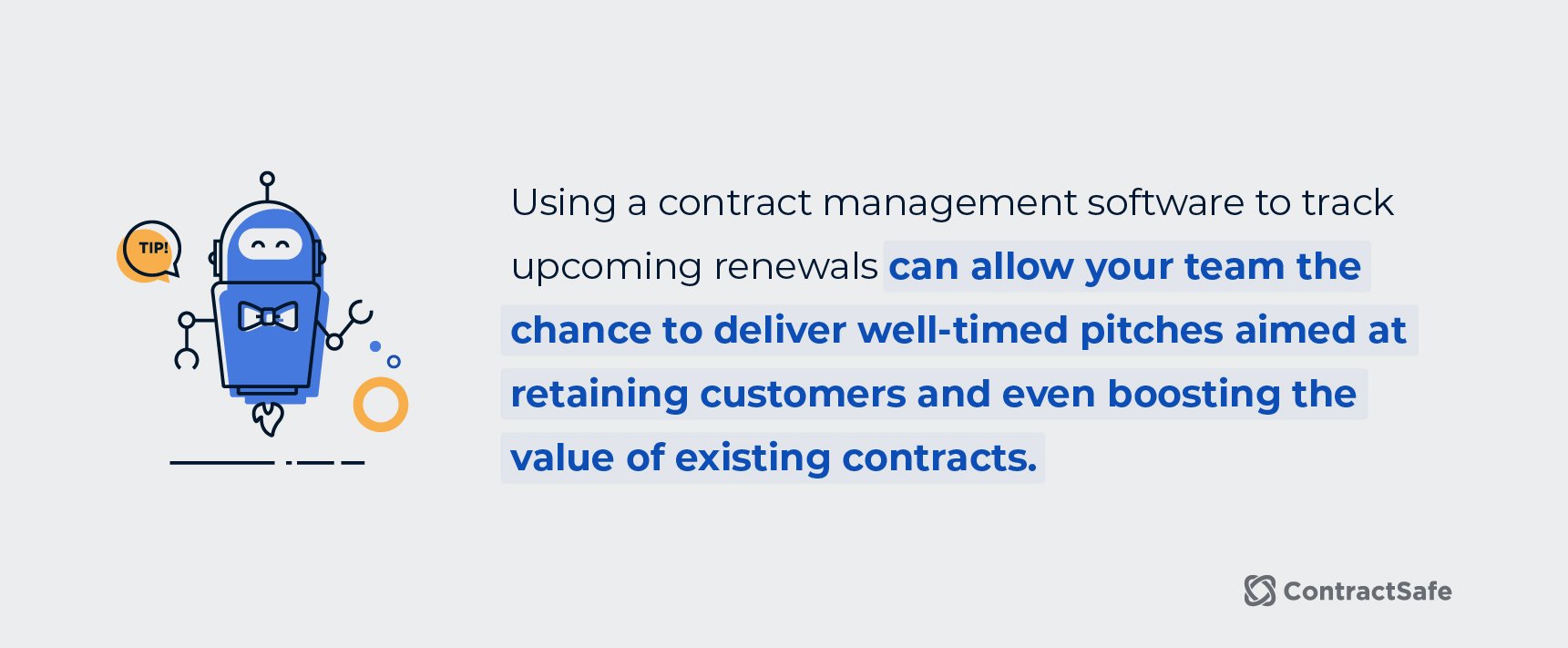 It's best to set a plan of action in place weeks or months in advance of a contract deadline. Plan ahead to conduct a thorough review of the contract terms in light of your company's current needs and progress. A contract management software (CMS) solution that keeps track of any date you choose — and will alert you as far ahead as possible — is essential to ensuring your team has plenty of time to review contracts in a strategic light.
If your company has grown significantly over the course of the contract's initial term, you'll be better positioned to renegotiate.
3. Involve the right people in the right ways
Accounting and finance, IT and human resources, sales and purchasing…the number of people and departments involved in the lifecycle of a contract is enough to make your head spin. Combine that with the acute attention to detail required to create, negotiate, execute, maintain compliance with, and renew hundreds of contracts — it's enough to make you lose your head.
You don't have the time to waste hunting down interdepartmental feedback, and sifting through and replying to interoffice emails — all while playing gatekeeper to thousands of drafts and amendments.
With the right CMS — one with customizable sharing and roles features, you can see audit trails of all the changes to and views of each contract scheduled for renewal. Knowing that only the people who are supposed to access documents are able to, gives added peace of mind. In addition, a great CMS makes the contract renewal process more efficient. It can reduce rote work and free up valuable time better spent advising company leaders on legal strategy.
RELATED READ: Kick These 6 Contract Management Challenges to the Curb
4. Save time, money, and headache with automation
The contract lifecycle is full of repetitive tasks. There's the need to keep track of important contract dates and milestones, as well as considering how to make files and documents accessible to the right people, not to mention ensuring your team can locate items within a contract. The list goes on and on. And when this process is entirely (or even partially) manual — time and money is wasted. Not to mention the frustration a team experiences trying to successfully manage the process.
A secure, cloud-based contract repository complete with CMS capabilities puts you on the fast track to expanding renewal revenue by:
setting automated alerts for auto-renewal and termination dates
assigning read-only and full-access roles
converting scans to searchable text
connecting related documents to each other
collecting signatures electronically
By eliminating operational inefficiencies, you'll give everyone on your team precious time back in their workdays to focus on maximizing contract values.
5. Rinse and repeat
Repetition matters. So does having the right software. To make your contract renewal strategy easily repeatable (so it can become a true process for your organization), be sure to choose a user-friendly, cost-effective CMS that's flexible and agile enough to scale with your company's growing contract management demands.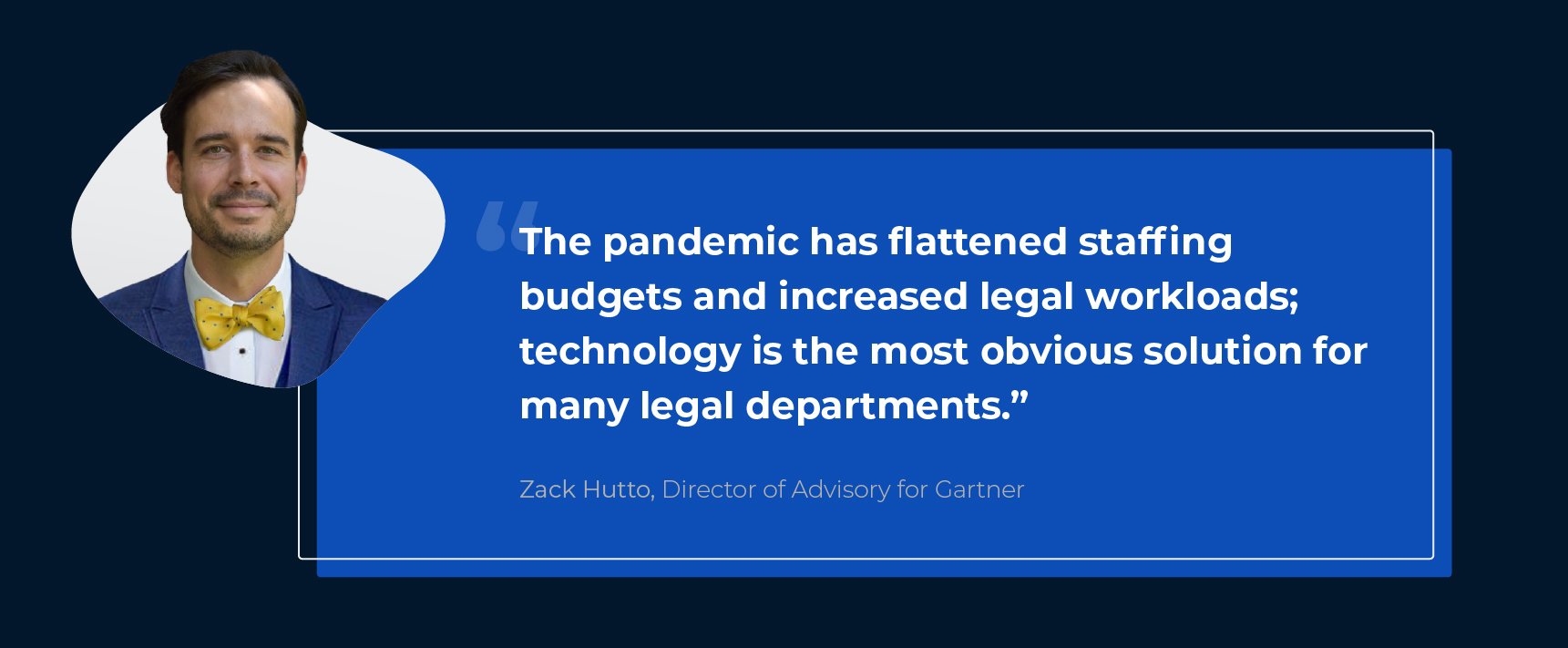 87 percent of legal departments surveyed by Gartner in 2020 anticipated their in-house full-time staff numbers to stay the same or decrease. According to Zack Hutto, Director of Advisory for Gartner, "Legal and compliance teams have rarely been frontrunners to modernize, digitalize and automate. The pandemic has flattened staffing budgets and increased legal workloads; technology is the most obvious solution for many legal departments."
ContractSafe was co-founded by a former general counsel based on an industry need for contract management technology that is easy to use, easy to manage, and affordable. With unlimited users at every price point and plans paid yearly starting at just $299 per month for up to 500 contracts, ContractSafe is, in fact, affordable.
As for being easy to use and manage, the proof is in our customer testimonials and our user ratings: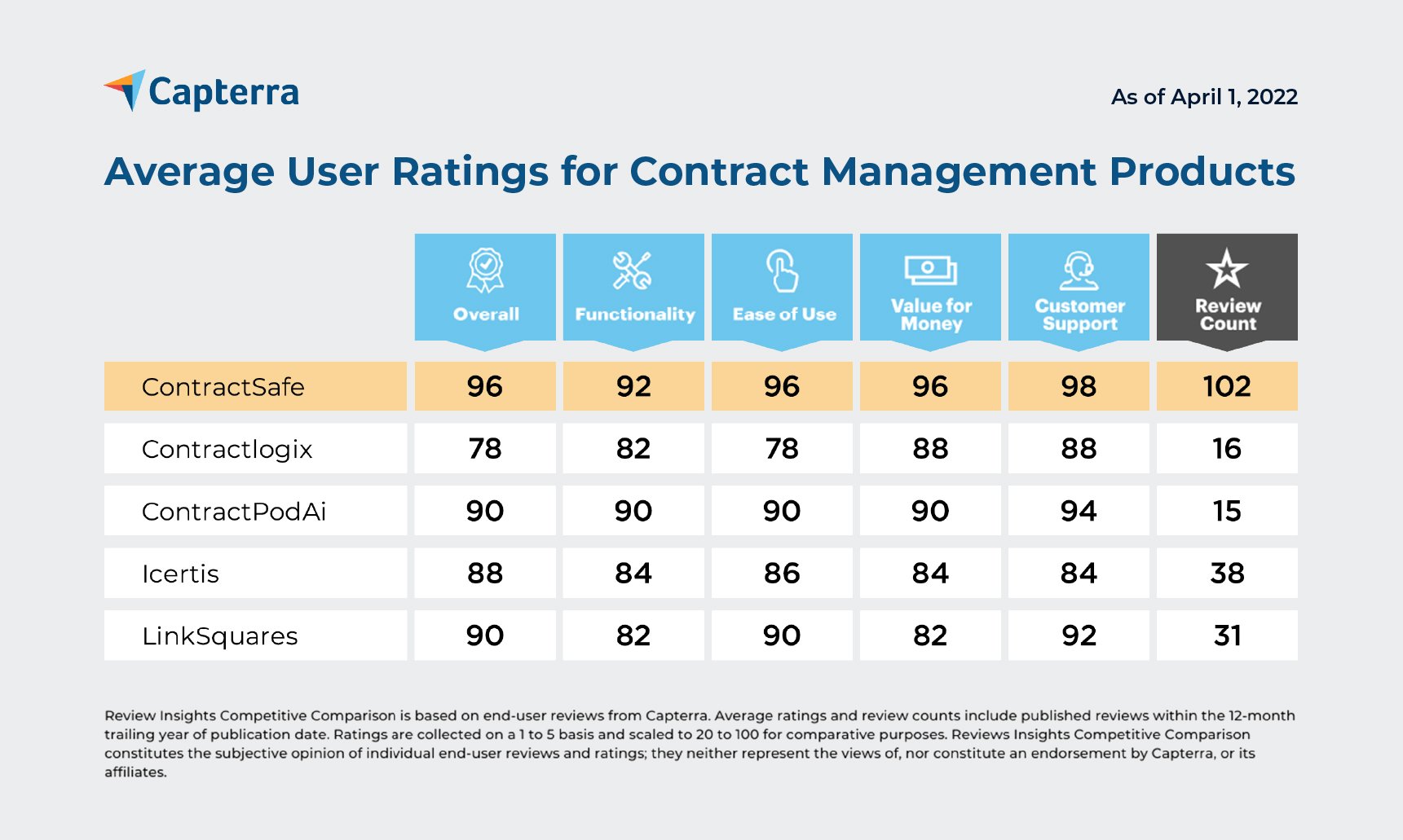 Risks of Manual Contract Renewal Management
Manually managing contract renewals isn't scalable, and it eventually causes processes to break down. As the margin of error grows, risks often manifest in the following ways:
Missed deadlines
The risks here are twofold:
With auto-renewals, your company could wind up trapped in contracts that are no longer beneficial.
For contracts scheduled to end on set dates, your company could miss opportunities to renew entirely. Both instances can result in significant revenue losses.
Preventative solution
Use ContractSafe to set up deadline reminders that automatically alert employees about contract renewal dates in time to make critical business decisions.
Last-minute reviews
Good ol' Ben Franklin said it best — "By failing to prepare, you are preparing to fail." Leaving contract reviews to the last minute requires sacrificing quality for speed, which can open your company up to costly liability.
Preventative solution
In addition to setting up deadline reminders, ContractSafe allows you to create a centralized calendar of upcoming contract renewal dates to support timely reviews.
Out-of-date versions
If the thought of a fully executed, signed contract with language that hasn't been updated in response to new regulations makes you shudder, you're in the right profession. Sadly, all it takes to make that nightmare scenario a reality is manual contract renewal management gone awry.
Preventative solution
With ContractSafe, you can easily track all your document versions to ensure everyone is referencing the latest iteration. Plus, with a full audit trail, you'll always know who uploaded the most recent version or made changes to it.
Delayed approvals
Approval and signature delays can stall the fulfillment of contractual obligations — resulting in lost revenue for your company.
Preventative solution
ContractSafe's e-signature capabilities enable signing anywhere, anytime. The best part is that you can choose to utilize the built-in e-sign functionality available with our Productivity Package or leverage our DocuSign integration (whatever works best for your team and process).
Lack of visibility
Contracts scattered across emails, shared drives, and file cabinets create compliance blindspots. They also create opportunities for data breaches.
Preventative solution
With ContractSafe, all your company's contracts are digitally uploaded and electronically stored in a single repository protected with best-in-class security protocols. You can grant access to any contract to as many or as few people as you deem necessary. Permissions can even be limited to "no-delete" or "read-only" to prevent printing or downloading.
Compliance snafus
As the volume and complexity of your contracts increase, compliance risks skyrocket. When those risks become realities, your company's reputation and bottom line pay the ultimate price (that's when the-phrase-that-must-not-be-voiced gets voiced — "See you in court!")
Preventative solution
The right CMS (ahem, ContractSafe) makes the consistent monitoring of milestones, penalties, discounts, business terms and more a breeze — empowering you to maintain compliance as your company's contract management needs grow.
Maximizing Contract Renewal Opportunities
Long story short: Missed renewals represent missed opportunities to increase revenue, and lapsed client contracts put customers back into the waters for competitors to target. By effectively tracking upcoming renewals using ContractSafe's alerts and automation, you can capitalize on each and every opportunity within your contracts.
Sign up for a free trial today to see firsthand how ContractSafe can help you boost contract renewal revenue for your company.