Contract Lifecycle Management Challenges and Solutions
Do you love motivational quotes and posters featuring adorable kittens "hanging in there"? Then you might appreciate this little gem: You can't spell challenge without change.
I mean, ponder that for a minute. It's totally true, right? And when it comes to contract lifecycle management, frequent challenges are a sign that it's time for a change.
In this article, we're discussing some common contract management pain points and solutions. Spoiler alert: Almost all contract lifecycle management challenges can be overcome by a centralized contract management system (and we just happen to have you covered there).
CLM Challenge #1. Tracking Progress
A pain point early in the contract lifecycle is slow turnaround time. Everyone's ready to sign on the dotted line, but the process drags and drags…and then drags some more.
What happened to the redlines from the client?
Why did the old version of the contract get updated with the new clause instead of the current version?
Has the legal department had a chance to review yet, or are they still working their way through the dozens of other contracts we sent their way last week?
Time is money when it comes to contracts. Every day that a contract goes unsigned, revenue is lost or a critical product isn't purchased. And we all know how quickly those small losses can add up.
When you have a centralized contract management solution in place (and by solution, we don't mean a Shared Drive), you know exactly where a contract is in this critical pre-signing process. You also have version control to make sure everyone on your team is working from the same document. Contract tracking allows you to identify bottlenecks in the process so you can come up with solutions.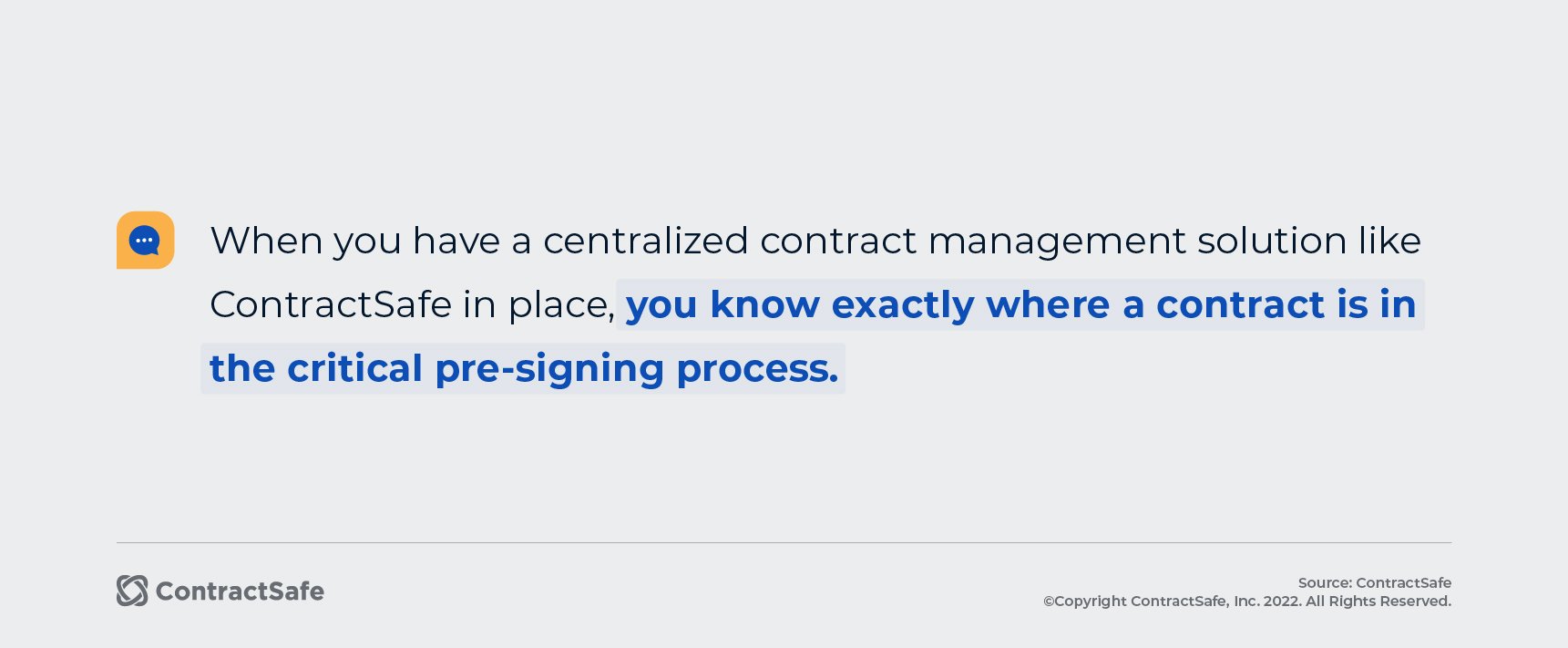 As a solution, ContractSafe specializes in the signature and post-signature phases of the contract lifecycle. So while we can't help your team track pre-signing activities, our solution does offer custom date creation and reminders — not to mention the ability for users to track as many dates as they want or need to.
CLM Challenge #2. Staying Compliant
One under-appreciated contract lifecycle management challenge is compliance. If it's your team that's not holding up their end of the bargain, it leaves you open to liabilities and fines. If it's the other side that's non-compliant, you could be losing money or paying for substandard service.
The centralization and standardization enabled by a good contract management software system makes compliance easy. You can ensure all of your contracts include the required regulatory language — and should there be any regulatory changes down the line — you can easily search and find all of the contracts impacted. A solution like ContractSafe, for example, doesn't just allow you to search important contract details — it enables you to actually find what you need, fast. This makes the due diligence process for contract compliance fast and simple for anyone on your team.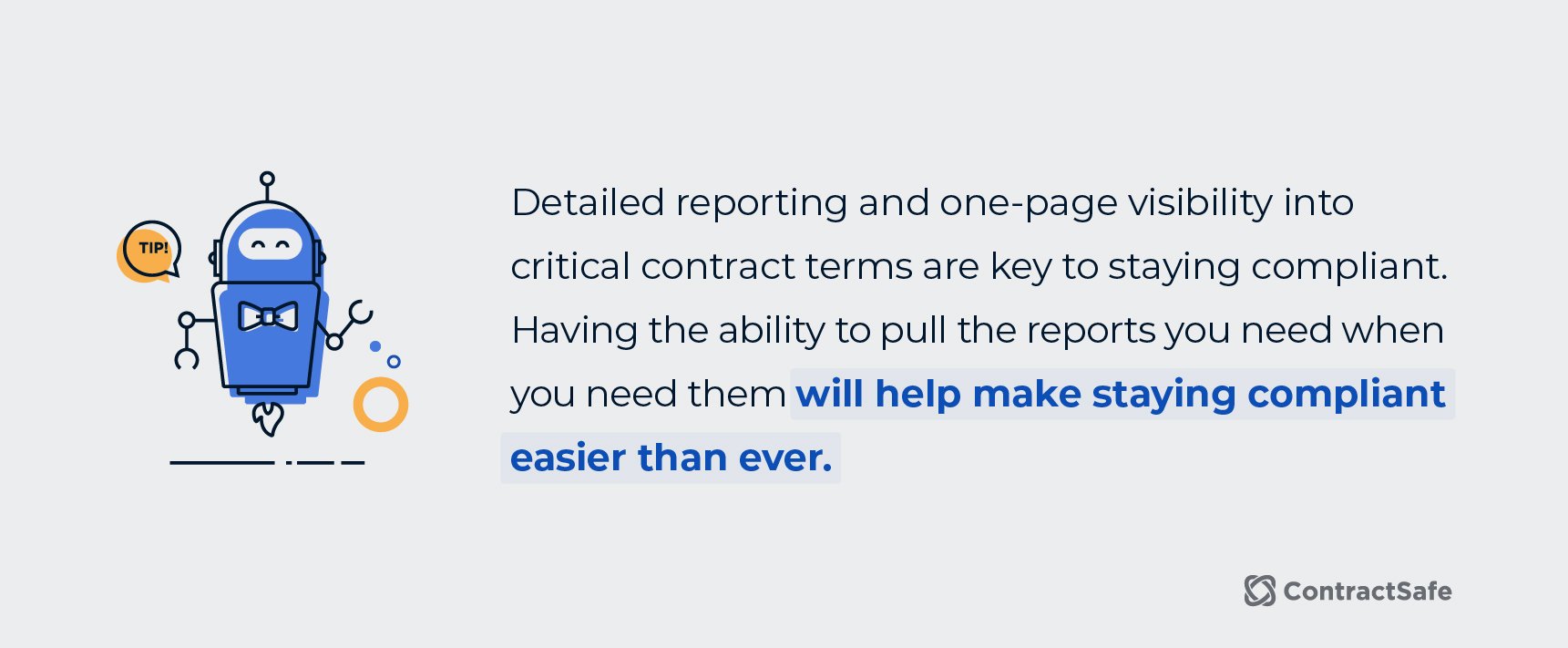 But we all know there's more to staying compliant than simply making sure everything is in one easy-to-find place. Detailed reporting and one-page visibility into critical contract terms are also key to staying compliant. Having the ability to pull the reports you need when you need them will help make staying compliant easier than ever.
Even if you're operating in several different states or countries (all with different rules and regulations), you can make your compliance team's work a lot easier with a contract management solution.
CLM Challenge #3. Remembering Key Dates
Have you ever continued to provide service for a client only to realize their contract had lapsed? Or maybe you accidentally let a contract auto-renew for a piece of software your company stopped using months ago?
As we're all painfully aware — every person who signs a contract is responsible for tracking it. And if your team relies on spreadsheets and calendar alerts to track critical dates like expirations and renewals, something is bound to slip through the cracks. After all, a team is only as strong as its weakest (or in this case, forgetful) link. And let's not forget what a cluster it can be if someone who signed that contract leaves before renewal.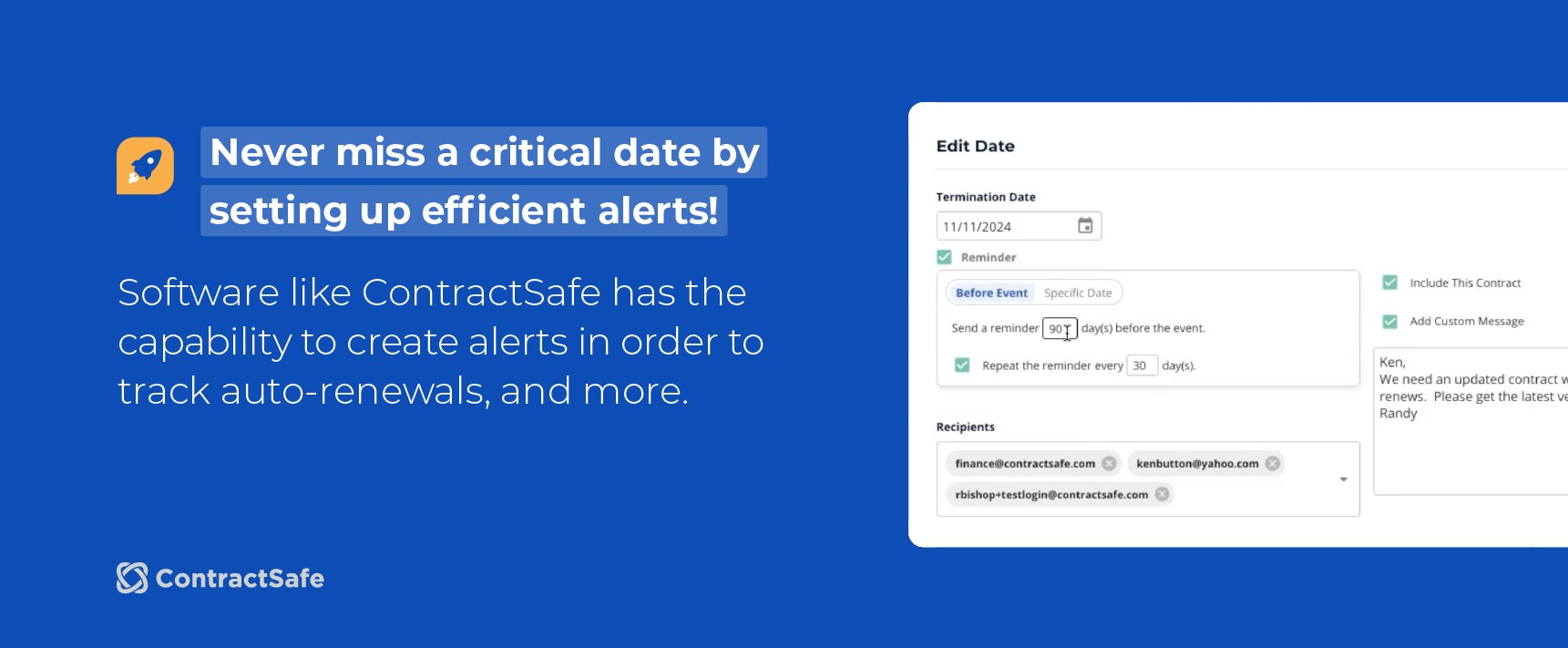 When it comes to keeping track of these important dates and making sure nothing is missed, your contract management software will pay for itself. Contract deadline reminders, auto-renewing contract tracking, and key contract date notifications keep you ahead of the game at all times. Why stay up worrying about what missed revenue or extra costs are lurking out there when you don't have to?
We understand how important this is. Which is why ContractSafe sends automated alerts directly to your email. Other systems? Well they only send alerts after you log in. Which might work if you're obsessively logging in to your contract software everyday. But for those of us with other daily priorities to juggle? Missing important dates is almost guaranteed.
Are you a planner? So are we! We also have a feature that lists all of your important upcoming dates so you can look at the coming weeks with a single click and get right to planning! You can even sort these dates by vendor, department, manager…or anything else you need to track.
CLM Challenge #4. Managing Shared Drives and Spreadsheets
There was a time when contract management involved paper contracts, manila folders, and metal filing cabinets. As technology evolved, so did contract management. For most businesses, this meant contract tracking in spreadsheets and giving access to third parties on shared drives. Where we once had manila folders, we now have Windows folders.
Was this a BIG HUGE advancement at the time? Absolutely! But do we have better options now? Heck yes we do!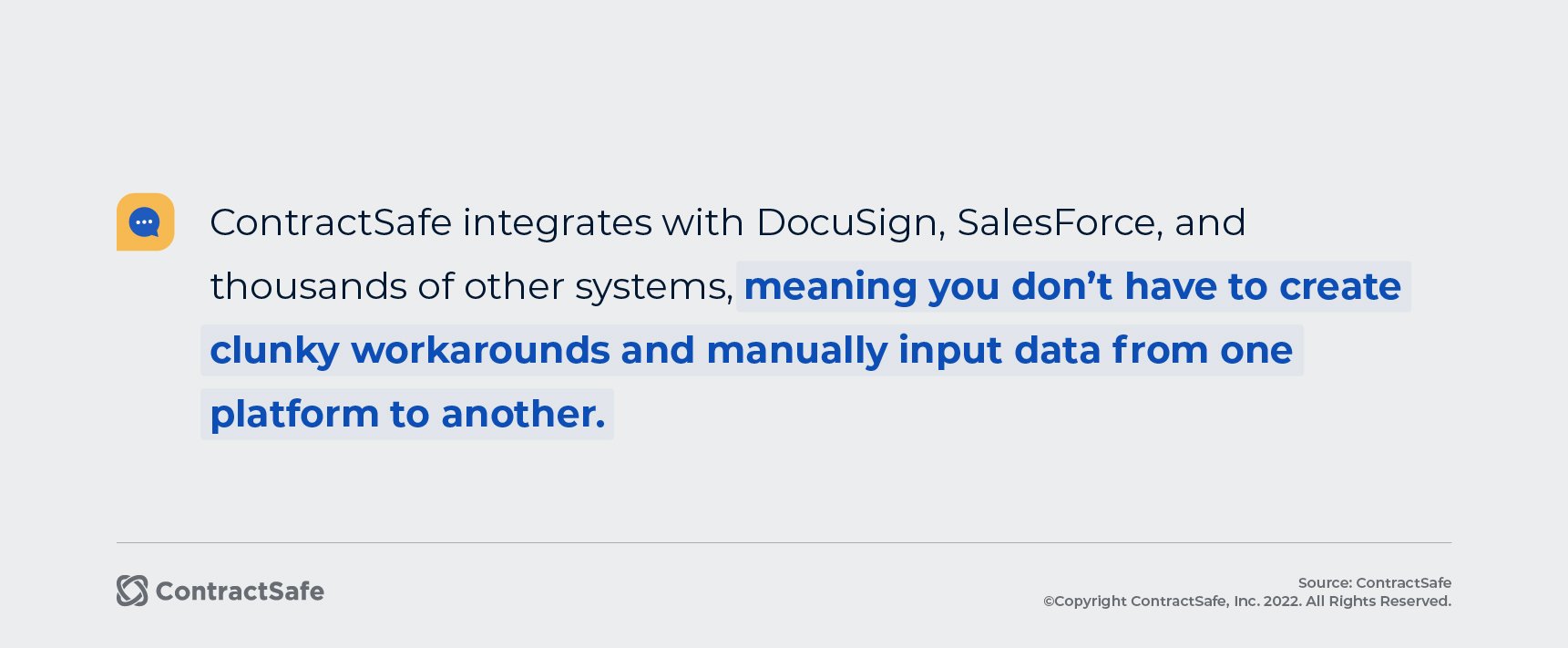 We talk to prospects every day who want to become more organized but are not sure what the right system is. Let's be honest — there are a lot of solutions out there! But one thing we hear over and over is, "Wow, those other systems I looked at are really complicated. Or complex. Or have way too many bells and whistles that I won't use and don't want to pay for
Even if you've tried a contract management solution in the past and found yourself confused by all those unnecessary (and expensive) bells and whistles like negotiation/approval workflows, built-in doc editing, and clause libraries, we have good news! Today's cloud-based solutions have changed the game. Better still, ContractSafe integrates with DocuSign, SalesForce, and thousands of other systems. Which means you don't have to create clunky workarounds and manually input data from one platform to another.
Whether your company has just a few departments or locations across the country (or around the world) a centralized, cloud-based contract management system will make work easier.
ContractSafe is consistently top-rated by actual users for ease of use. So there's no need to train team members on how to use complicated spreadsheets or advanced functions in Excel when your contract management system has an intuitive, user-friendly interface [INSERT SIGH OF RELIEF HERE].
CLM Challenge #5. Giving the Right Level of Access to the Right People
Building off this last point: let's talk about access. As important it is to make sure the right people on your team can access the contracts they need — it's even more important to ensure that access is restricted for certain people.
If your company has one location and everyone works in the office, that shared drive is probably working just fine (despite a few minor frustrations). As companies grow, restricting access becomes almost impossible to manage. And when people are working from home because of a global pandemic? Well, then you really need to make sure you're properly restricting their access.
A cloud-based centralized contract management system and repository ensures that people who are working remotely can do their jobs efficiently and continue to collaborate with coworkers. But if your system doesn't make it easy (or even possible) to assign different roles and access permissions on the individual level, then what's the point?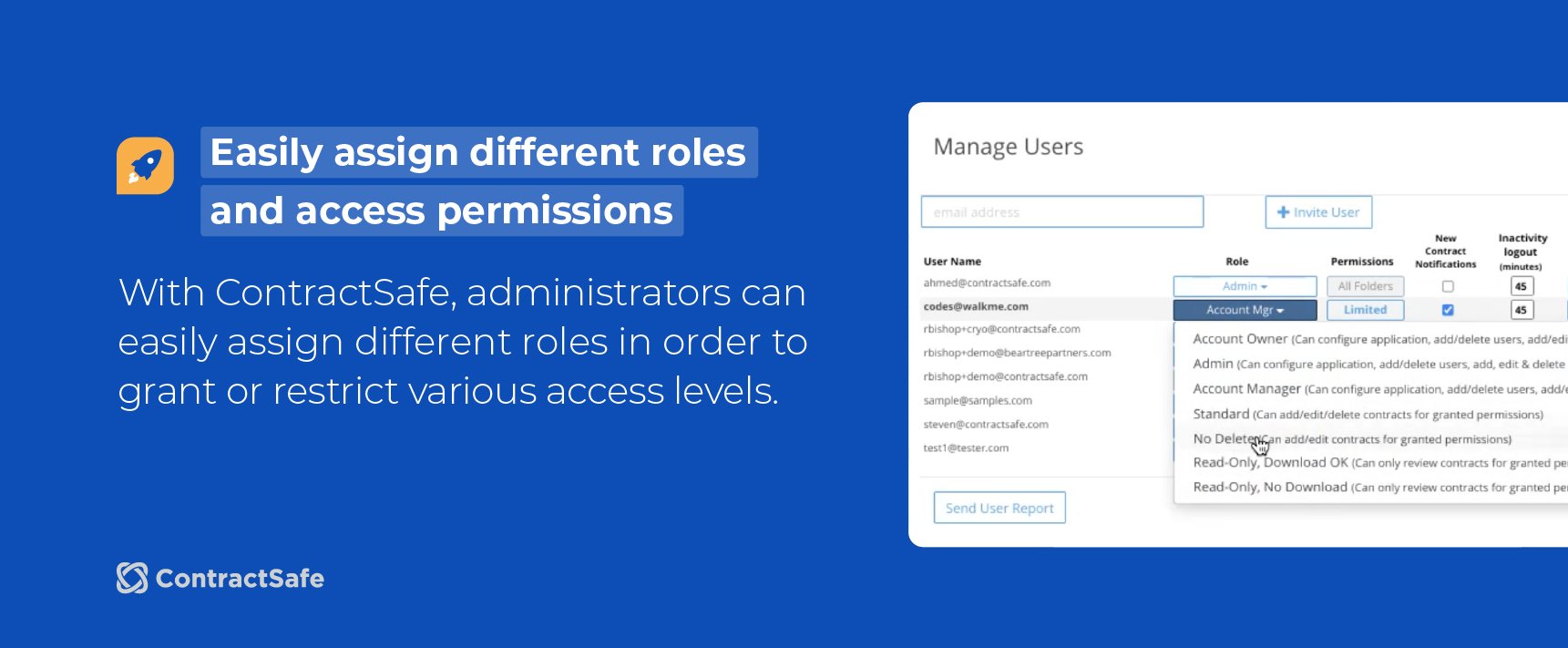 With ContractSafe, you don't need to trade cloud-based access for concerns over permissions and access levels. All of your contracts and sensitive documents are safely stored in the cloud. Administrators can ensure certain individuals have access and that others are restricted with multiple different roles and ways to share or restrict access.
Even better? ContractSafe is built on Amazon Web Services and has best-in-class security features, including encryption, malware and virus detection, and vulnerability tests.
You and your partners can feel confident knowing that sensitive information is under (virtual) lock-and-key.
CLM Challenge #6. Not Enough People, or Time
Searching, finding, and scanning — OH MY!
Are you stretched too thin? Not enough hours in the day to do what needs to get done? We get it — contract management can be a lot.
While you wait for science to catch up so you can clone yourself, why not take advantage of technology to get more hours back in your day?
At ContractSafe, we used to dream of a solution that would make finding things easier in our own contracts. We turned that into reality so teams like yours can find anything they want in any contract. For example, instantly find every contract that mentions "force majeure" by simply typing it in a search. No complicated (and time-sucking) keyword tagging necessary.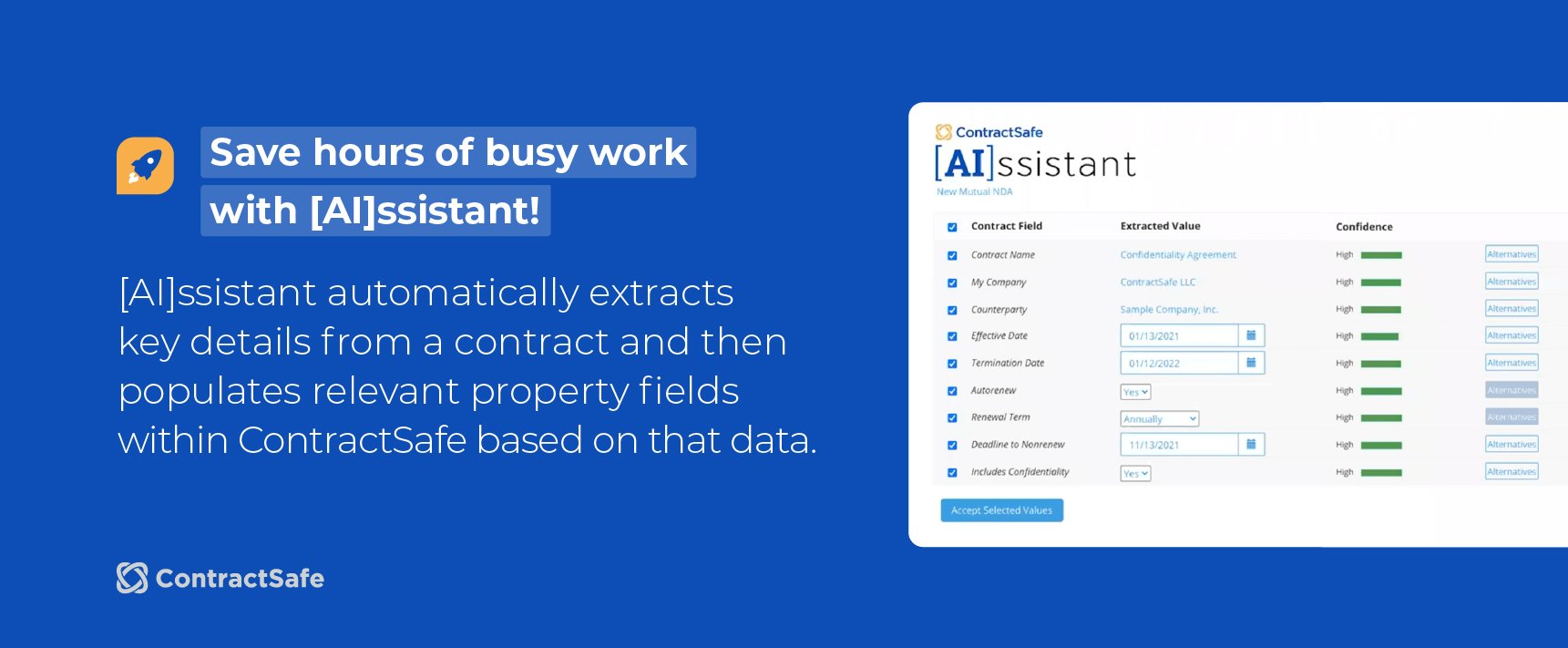 Our [AI]ssistant can save you hours of busy work by making setup and organization a breeze. It automatically extracts key details from a contract and then populates relevant property fields within ContractSafe based on that data. You'll save a lot of time and headache, which means a more efficient and productive team.
The Bottom Line
ContractSafe is the one-and-done solution to your most headache-inducing contract management challenges.
Simple to implement? You bet! (Top ratings on G2 and Capterra)
Easy for anyone to use? Of course! (Top ratings on G2 and Capterra!)
Secure and compliant? Wouldn't have it any other way! (Best-in-class security!)
Good customer service? Top rated, in fact! (Top ratings on G2 and Capterra!)
We know there are a lot of software solutions out there. We created ContractSafe because the other ones didn't work for us. We wanted DropBox for contracts, not Salesforce for contracts.
If that's how you feel, go ahead and start your free trial. See how a simple contract management solution without all the the bells and whistles can make a real difference in your business. Start your free trial today.