Managing vendor contracts and relationships is an often-underappreciated balancing act that procurement managers face.
Whether reporting to the CFO or COO, procurement managers must manage the competing expectations of the executive suite and contracted vendors. Some procurement managers have to juggle the short-term savings needs of the CFO with the businesses' long-term goals.
Those who report to the COO of their companies, on the other hand, must align all procurement activities back to business efficiency and continuity. Due to recent disruptions in the supply chain, this reporting structure for procurement managers has become more prevalent.
As a procurement manager, your job isn't just to satisfy the person you report to by supporting the company's bottom line — it involves keeping the entire organization operating efficiently through the products and services you source for the company.
The Vendor Contract Management Process
A company's vendor contract management process can make a big difference in the procurement department's performance. When it comes to contract management in procurement, having a thought-out and thorough plan documented can help ensure consistency and efficiency across the organization.
At its core, the vendor contract management process you implement should help the business mitigate risks, control costs, and drive exceptional service. The process can detail how your department will:
Research and select vendors
Categorize vendors
Write and negotiate contracts
Store and monitor contracts
Track against metrics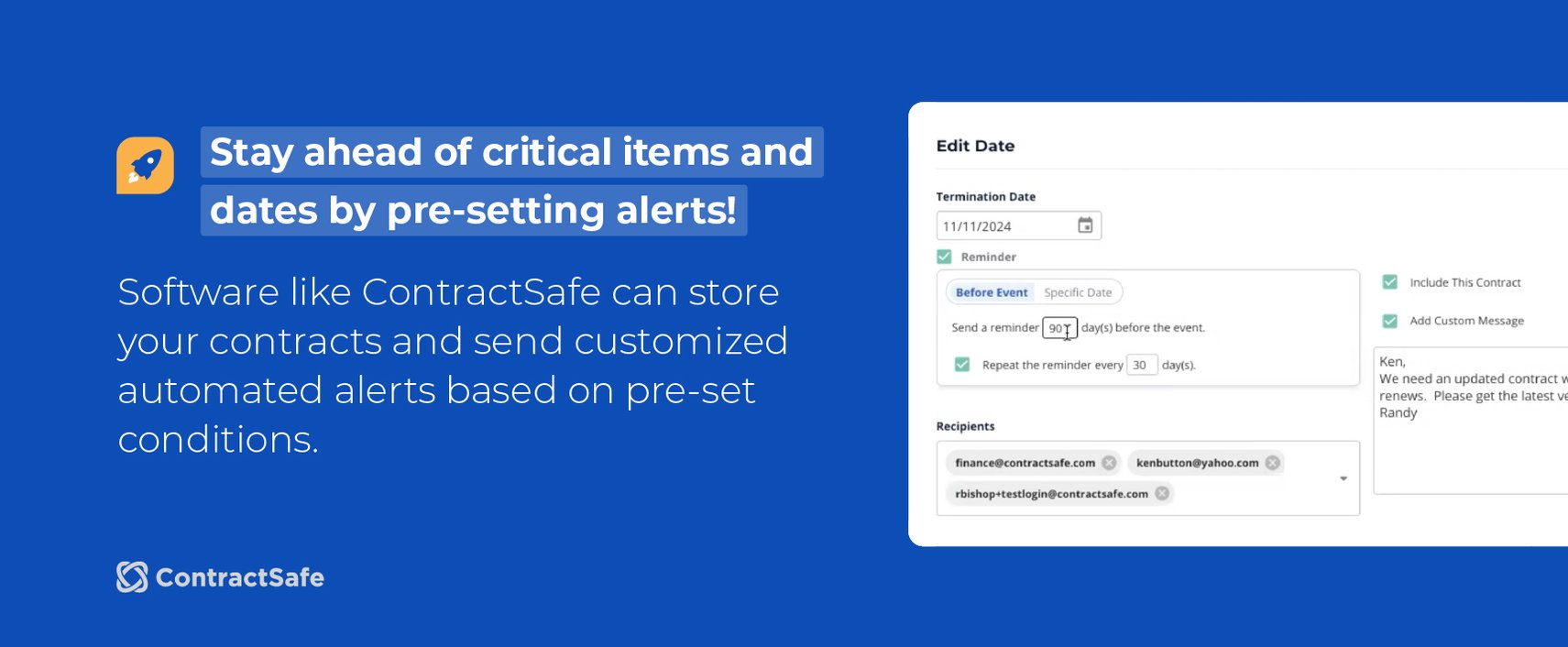 Documenting the process is a great first step, but consistent tracking is paramount for the vendor contract management process to succeed. This can include conditions for performance, clauses, expirations, renewals, payment dates, and more. The best way to stay ahead of these critical items and dates is through software that can store your contracts and send customized automated alerts based on pre-set conditions.
Tips for Streamlining the Vendor Contract Management Process
To help streamline the actual execution of your plan, here are some things to keep in mind:
Maintain open communication
A strategy is only as effective as the people implementing it. To ensure the vendor contract management process you implement works, be sure to encourage and foster open communication with everyone involved.
Remain agile to anticipate changes
Just because it's been documented doesn't mean the process can't change. Be receptive to feedback from your team and open to new ideas. Being agile in your approach will result in a more streamlined process and even better management of your vendor contracts.
Look for ways to maximize efficiency
Whether it's where you store contracts or how you track those terms against actual work completed — you should always be looking for ways to improve efficiency. You can look to technology to help minimize how much time your team spends tracking elements within vendor contracts — and how much time you spend managing them.
Invest in the right contract management system (software)
Speaking of leveraging technology, investing in contract management software is a must for procurement managers looking to increase efficiencies across the organization. The right technology partner can make your job easier, your department more functional, and the business more profitable.
The Vendor Contract Management System
The vendor contract management function is about far more than simply haggling for the best financial and legal conditions; it's also a key component of managing risk and vendor connections within a business. The activities in contract management are diverse in nature in order to create a comprehensive, well-rounded agreement.
Bottom line? Properly managing your vendor contracts takes work — a lot of work. That's where contract management systems come in.
A vendor contract management system is a technology solution that helps companies streamline the process of vendor management. Depending on the software, it can include contract creation, management, storage, compliance, and tracking.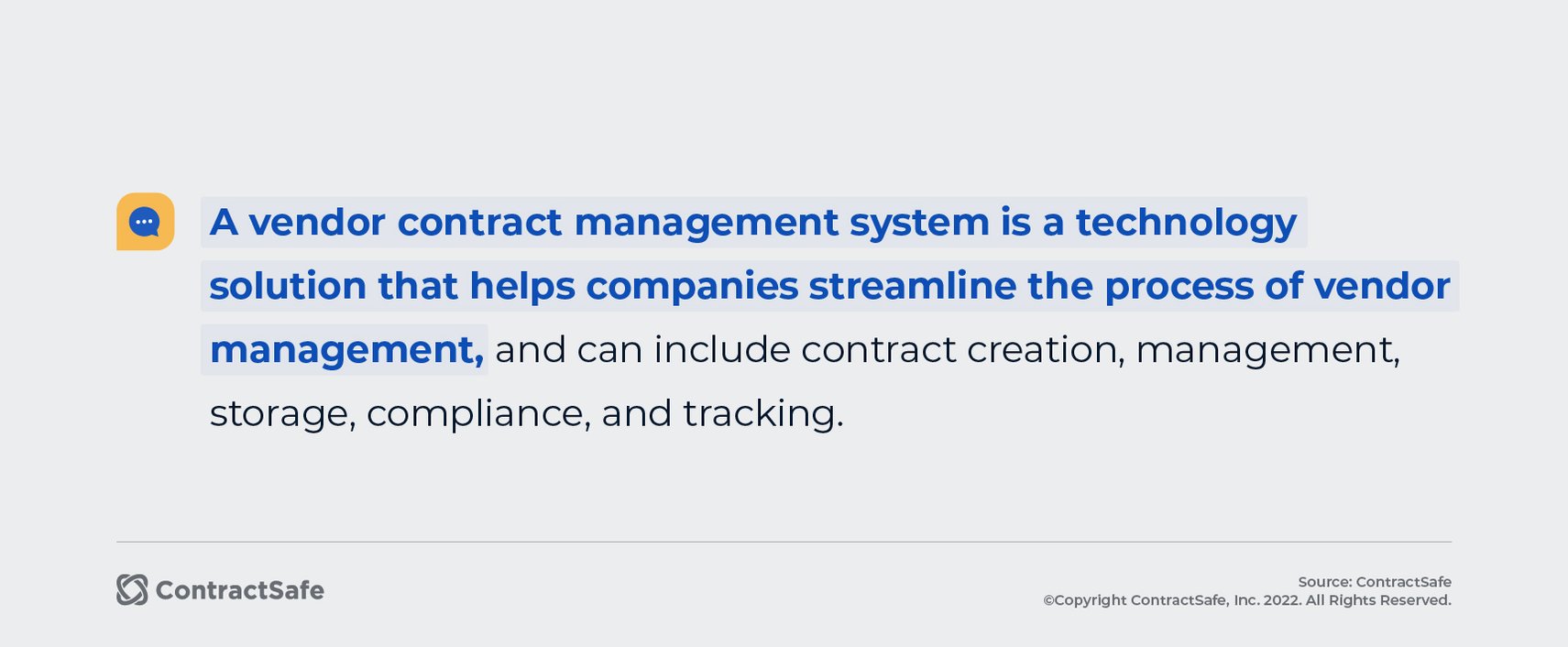 Tips for Choosing a Vendor Contract Management System
A quick Google search will return several pages of tech options promising "the best in vendor contract management!" In reality, procurement managers should focus on finding software that:
Offers a fully searchable, centralized repository
Most vendor contract management systems offer some form of search functionality and storage. When analyzing options for your team, look for the ability to:
Convert scanned documents into searchable text
Send documents directly from the software
Upload, store and connect related attachments, amendments, and supporting documents
Link related contracts
Assign folders and tags to documents
Create custom fields
Download a backup of all your documents at any time
Track the status of a contract from first draft to post-execution
Related Read: Beyond Storage: Meet ContractSafe's Secure, Searchable and Trackable Repository
Keeps sensitive data as secure as Fort Knox

Data stored within contracts is often sensitive in nature making data security table stakes for vendor contract management solutions. So when analyzing providers, keep an eye out for those that include:
Data-encryption technology

Off-site storage in certified data centers

Automatic offsite backups

Dual-factor authentication

Audit trails
Related Read: ContractSafe's Best-in-Class Security
Increases visibility into spending
Earlier, we discussed the importance of maintaining open communication across departments and teams. Providing visibility into spending is just as important. To streamline this with minimal effort, look for contract management systems with features like:
Customizable labeling
Saved views
Custom dashboards by individual
Scheduled reports
Automatic notifications


Promotes and supports compliance
Maintaining compliance in vendor contracts is mission-critical. Your procurement team must ensure important contract terms, dates, and deadlines are met. Doing this manually invites the risk of human error, not to mention takes up valuable time and resources that could be used somewhere else. Contract management software can help promote compliance with:
Automated email alerts
Custom reminders
Centralized calendars with key contract dates
Mitigates risk
The right vendor contract management software shouldn't just make your job and your procurement team's jobs easier, it should help the company mitigate risk. Here are some features to pay attention to when selecting a technology solution:
Version control
Customizable permissions and roles
Contract deadline reminders
Key contract date notifications
The Secret to Vendor Contract Management Success
A thoughtfully documented contract management process paired with the right technology solution leads to effective vendor contract management. Whether leading a team of one or 21, reporting to the CFO or COO, procurement managers will benefit from implementing a technology solution for vendor contract management.
The role of procurement managers has expanded in recent years. You need a vendor contract management system that helps you go beyond simply obtaining goods and services at a low cost. ContractSafe helps procurement managers discover deeper insights in order to recognize strategic partners, improve cost/value outcomes, and provide greater visibility into spending across the organization. Get started today with a free 7-day trial.