Ever heard the phrase "as busy as a cat on a hot tin roof?"
Well, that's the life of procurement professionals.
They're experts at multitasking.
They're natural negotiators.
They're contract conquerors.
And most importantly, they're a business's best friend.
That's because procurement is all about getting the best products and services for your business at the best prices.
It's part detective work, part contract management, and 100% essential to any successful business.
The Role of Contract Management in Procurement
Procurement people are our people. And the contracts they manage have a direct connection to every major player on a business's team.
This includes vendors, suppliers, clients, external service providers, and more.
Contract management in procurement involves:
Overseeing contracts

Nurturing relationships

Negotiating terms and conditions

Monitoring compliance

Following regulations

Tracking obligation dates

Measuring performance
It's a tough job, but someone's gotta do it.
What Challenges Do Procurement Teams Face?
Procurement professionals don't have it easy. From supplier sourcing to vendor comms, it's a daily grind. Add a mountain of paperwork to the mix and it's easy to see why procurement teams are overwhelmed.
Some common challenges procurement teams face include:
Maintaining visibility into existing contracts

Staying ahead of renewals and expiration dates

Ensuring terms and conditions are properly executed

Handling contract disputes quickly and efficiently

Analyzing data to improve the contracting process

Juggling multiple vendors at once

Keeping track of who needs to sign what

Navigating data silos

Creating huge volumes of new contracts

Misplacing key documents

Ensuring contracts auto-renew with favorable terms
Ultimately, procurement teams are always engaged in some form of risk management.
Sometimes that means reducing unplanned expenses and fostering better communication with suppliers. And other times, it means analyzing spreadsheets and generating reports using old-school software like Excel.
Sometimes it even means keeping John in sales from buying one more [fill in the blank].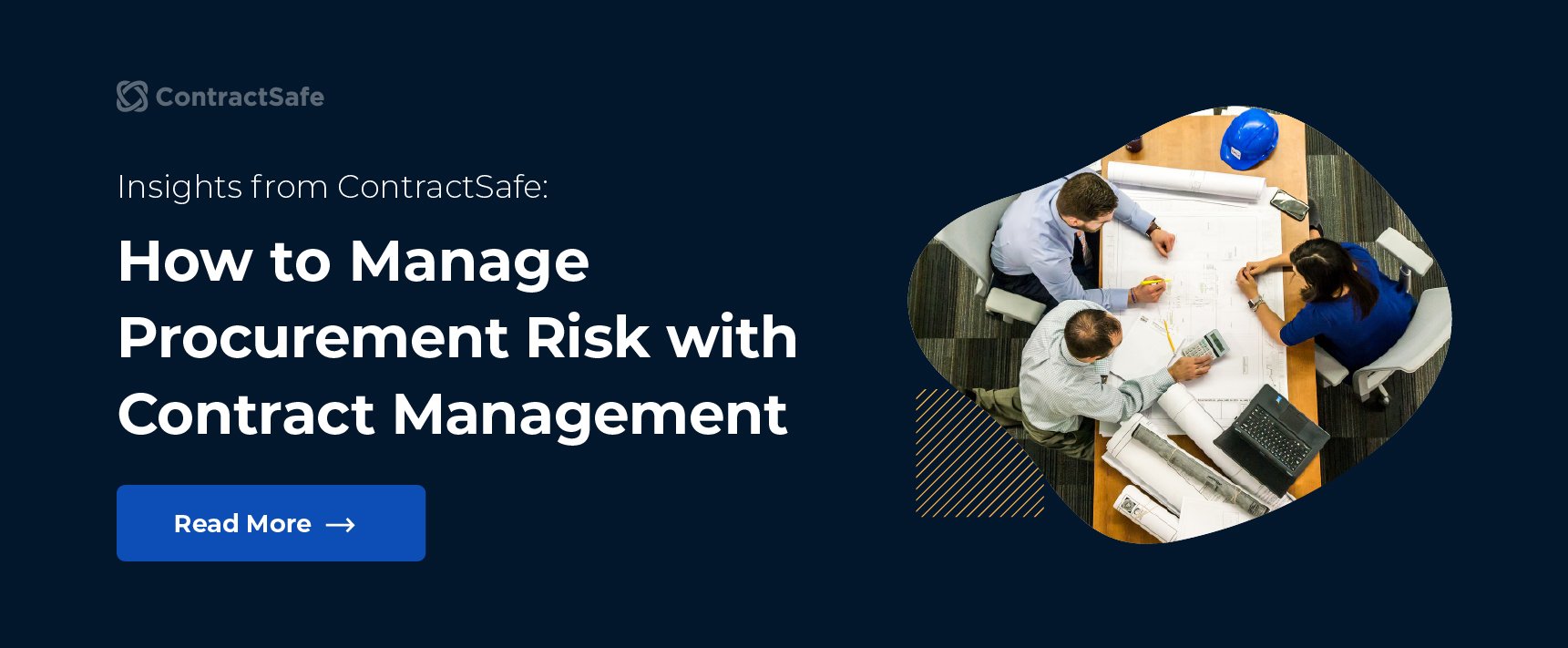 Contract Management in Procurement: 7 Best Practices
Let's be clear. Poor contract management costs you money. That's why it's important to give your procurement team a blueprint for success.
Whether you're a contract manager, a procurement officer, or some sort of corporate ninja hybrid, here are seven procurement contract management best practices you should be following:
1. Get on the Same Page
If you take anything away from this article, let it be this: Team alignment should be your number one goal. And it all begins with clear and concise communication.
Be as clear as a bell when defining roles and responsibilities, as well as timelines and objectives, to ensure that everyone knows what to do and why they're doing it.
Contract management software can help:
Reduce data silos by providing a centralized repository

Streamline approval workflows with automated routing and pre-defined roles

Assign specific tasks and send reminders from a central platform

Ensure important info isn't deleted with designated read-only and no-delete users
This means more time can be spent on value-added activities — not chasing down contract details and all the admin that goes along with it.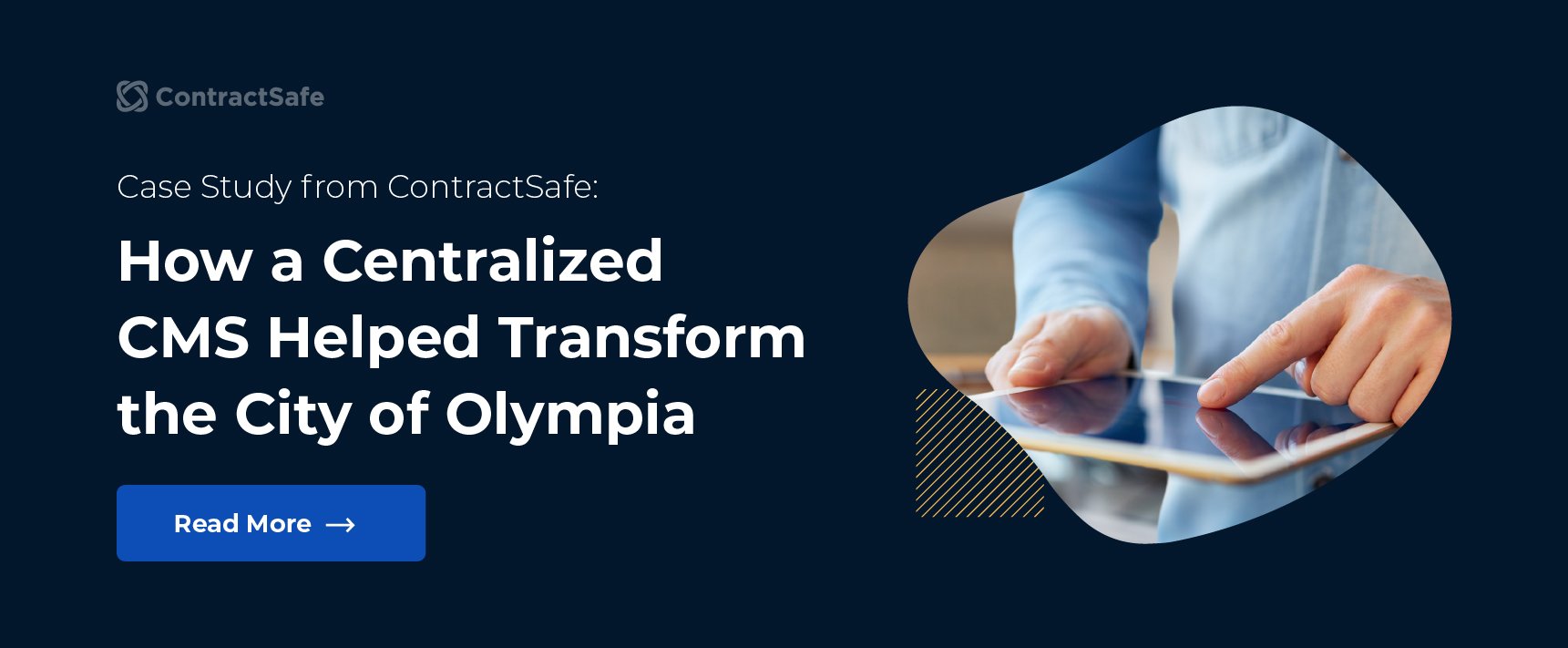 2. Keep Contracts Organized and Easy To Find
Marie Kondo-level organization is an absolute must for procurement pros. When you're dealing with tons of third-party contracts, standardization and ease of search and finding is key to staying organized.
Making sure your contracts are properly stored and easily accessible saves time — and time is money. Plus, it can make audits a breeze.
Contract management software can help:
Keep your documents in one safe place

Facilitate document retrieval with optical character recognition (OCR)

Connect related documents so they're all in one place

Track contract versions to make sure everyone is on the right page

Categorize contracts using tags and groups with a click of a button
3. Measure Performance and Monitor Progress
Contract management is more than just signing and storing documents. You have to keep track of how each contract is performing, too.
Regularly measuring contract KPI performance and tracking progress helps ensure that supplier contracts are kept in line with your company's objectives and that the contracted services are being delivered according to expectations.
Contract management software can help:
Create email and dashboard alerts for key obligation dates

Compile and distribute custom reports to designated stakeholders

Track auto-renewing contracts and receive alerts before they renew

View who is accessing documents and when
Contract management tools can give you a bird's-eye view of the contracts you manage, allowing your procurement team to spot areas for improvement or any potential bottlenecks that may be hiding in the weeds.
4. Conduct Regular Audits
Audits are a part of life in the procurement contract management world. Every day is an opportunity to review, update, and renegotiate contracts in order to ensure maximum efficiency.
And then there are the regulators. Doing your own internal contract audits will prepare your team for the day the Big Bad Wolf comes a-knocking.
But not all audits are created equally. Different contracts have different KPIs, so you need reporting tools that'll allow you to pull the right data when you need it — without all the fuss attached.
Contract management software can help:
Locate contracts or clauses quickly using OCR with just a few keywords

Keep track of service terms to make sure they're being met

Spot anomalies and opportunities for improvement

Provide a log of any changes made to a contract
No one likes audits, but we promise they're like a spa day compared to what regulators might do if they find something funky.
5. Improve Risk Management
Listen, no matter how diligent your team is, procurement can be risky. Systems will crash, supply chains will be disrupted, and regulations are always evolving.
That's why they say, "hope for the best, but prepare for the worst."
Every risk management strategy should be a cyclical process where your team identifies potential risks, assesses their likelihood and severity, develops a response, and then monitors how well their plan works.
Common procurement contract management risks include:
Human error

Poor vendor management or price creep

Noncompliance

Poor contract management

Supply chain disruptions or unreliable suppliers

Inaccurate forecasting or needs analysis
Contract management software can help:
Flag expired contracts with automated notifications

Prevent vendor price creep by monitoring spending and updating pricing

Ensure regulatory compliance with privacy and security standards

Locate key contractual terms and supplier agreements

Protect confidential or proprietary information with bank-level security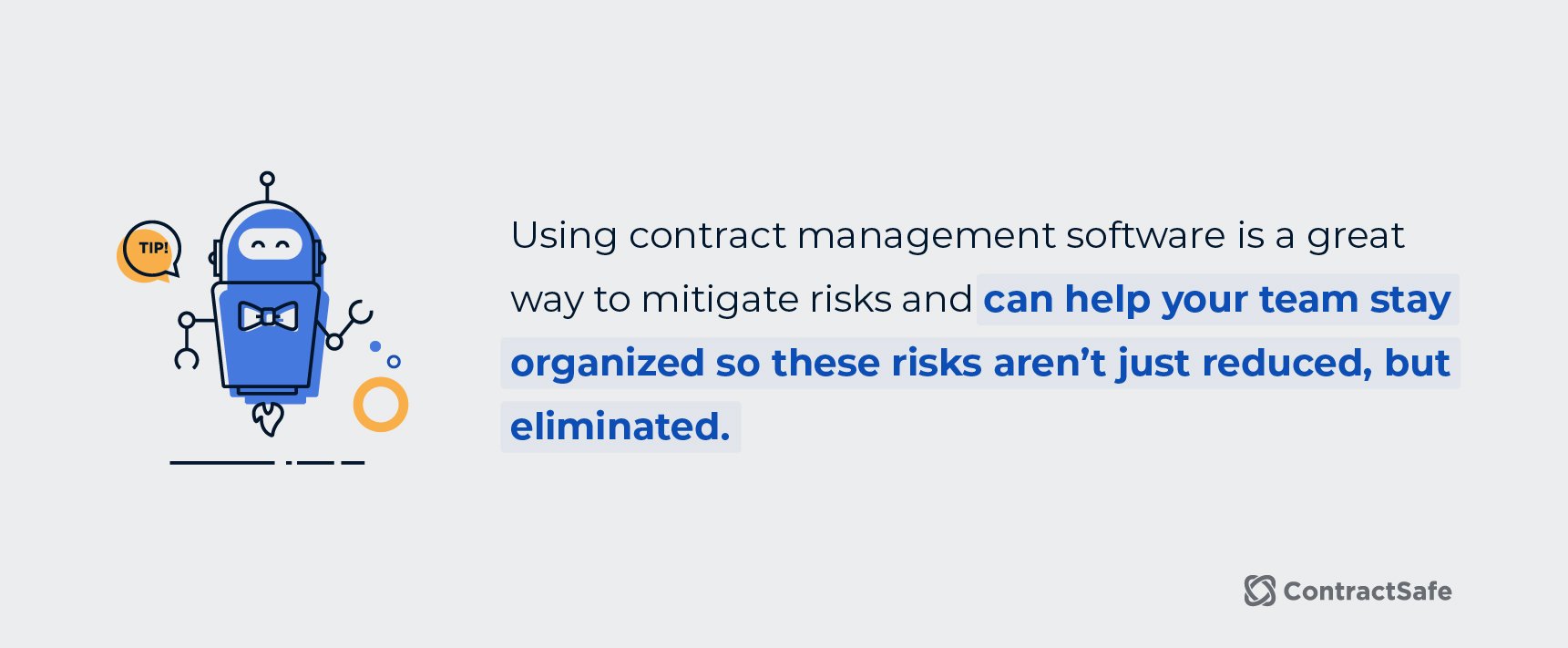 6. Adopt E-Signatures
E-signatures have been an absolute game-changer for procurement teams. They streamline the agreement and approval process, making things quicker and more efficient.
They also provide a secure way to store documents digitally, which can further reduce paper waste and save time in managing agreements.
In short, they're easier, safer, cleaner, and faster than wet signatures. Adoption should be a no-brainer.
Contract management software can help:
Assign documents that need signatures to specific people

Integrate e-signatures

into your approval workflows

Update contract signatures with a click of a button

Enable teams to review and record contract information in real time

Send emails when a signature is needed
Kiss your Montblanc goodbye and say hello to the digital world!
7. Renegotiate Often
Contracts don't last forever, and procurement teams should ensure that they are up to date with the current market conditions. This means regularly checking for changes in pricing, availability of materials, or technological advancements that may affect their contract terms.
Being proactive when it comes to negotiations ensures that procurement teams reap the most benefit from their agreements. As such, it pays off handsomely to stay updated and be prepared for any changes that could arise in the future.
How contract management software can help:
Monitor suppliers and identify potential price changes in advance

Send alerts for upcoming contract renewals

Leverage historical data to uncover trends and inform future negotiations

Streamline negotiations with easy redlining and version control
Negotiations are a part of business, so you might as well enter the ring prepared!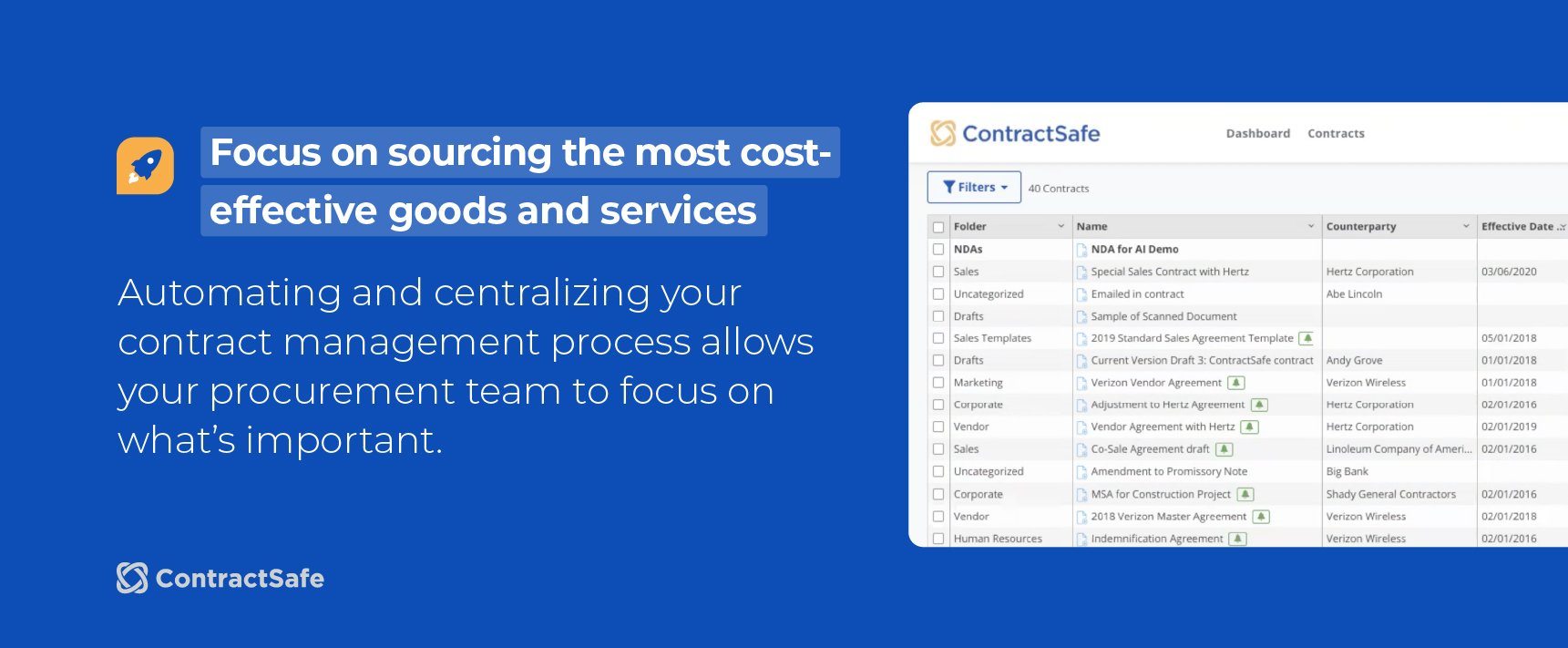 Use Contract Management Software To Simplify the Procurement Process Today
Contract management and procurement are two peas in a pod, but without proper tools or systems in place to manage contracts effectively, your team could be missing out on significant time and cost savings.
ContractSafe's contract management software provides a comprehensive solution to ensure that procurement teams have all the tools necessary to handle contract management as efficiently and effectively as possible.
Eliminate manual processes from your team's daily tasks and help them save time, money, and hassle when it comes to handling contracts.
Learn more about how your team can benefit from our powerful contract management software — schedule a demo today!