Remember when stationery was a status symbol?
Pulling out a $200 fountain pen to sign a contract was a power move.
But many executives today are retiring their Montblancs and opting for something a little more...modern.
Electronic signatures, or e-signatures, are digital versions of a physical signature. And they're completely changing how business is done.
In this post, we're going to take a deep dive into the different types of e-signatures, show you some e-signature examples, and even show you how you can integrate e-signatures into your business and contract management processes.
TL;DR
Electronic signatures are legally binding and secure alternatives to physical signatures.

They are used for a variety of documents, from contracts and leases to tax forms and legal filings.

The contract management process is a breeze with e-signature solutions.
What Is an E-signature?
Whether you've signed up for a bank account, rented a house, or closed a deal, pretty much everyone's signed a contract. And you've probably done it with what's called a wet signature — aka a pen and a piece of paper.
Well, the times, they are a-changin'.
E-signatures are an easy way to sign a contract online. And they now carry the same legal weight as wet signatures.
They're a little like digital fingerprints. Like with any new development, though, e-signatures have gotten some pushback, with some claiming they're not as secure as wet signatures. But as tech continues to evolve, e-signatures are becoming increasingly sophisticated and more widely utilized.
Why Use Electronic Signatures?
Rather than sending a contract back and forth through snail mail or sitting in traffic for an hour just to sign an agreement, e-signatures let you send your John Hancock from anywhere.
E-signatures offer a ton of advantages, including:
Convenience:

Signing documents has never been easier. Gone are the days of shipping stacks of paper across the country or coordinating a meeting with an impossibly busy executive just to get their signature on a procurement contract.

Security:

Anyone can forge a wet signature, but it's a lot more complicated when there are multiple safeguards, such as 2-factor authentication, audit trails, encryption and digital certificates, in place to create and use an electronic signature. E-signatures make it safe and easy to sign and verify the identity of the person signing.

Cost savings:

It's cheaper. Not only do e-signatures help you save on shipping and transportation fees, but they can also help reduce security risks, which, if you ask your legal team, help reduce unnecessary fees that may result from mistakes.

Environmentally friendly:

Did you know that U.S. offices use about

1.2 trillion sheets of paper

per year? That's about 80 million trees.

Going paperless isn't just more cost-effective, secure, and convenient — it's also helping save the planet.

Streamlines contract management processes:

Simply put, e-signatures make getting the signatures you need insanely easy. And they also provide a digital footprint for easy tracking and reporting.
Whether you're in the healthcare space or juggling a ton of different vendors from all around the country, e-signatures can make contract management a whole lot easier.
Electronic Signature Examples and Types
There are three primary types of e-signatures, each offering different levels of security and legality.
| | | |
| --- | --- | --- |
| Type | Definition | Good For |
| Simple Electronic Signature (SES) | The simplest type of e-signature often involves typing your name or initials into a document and clicking to sign. It's typically the least secure. | Low-risk routine agreements |
| Advanced Electronic Signature (AES) | This advanced e-signature requires an extra layer of security, like biometric identification or an access code. | Higher-risk routine agreements |
| Qualified Electronic Signature (QES) | The most secure e-signature has a similar security layer to AES, but it must be approved by special regulators. | High-value exchanges and agreements |
The three types of e-signatures are:
Simple Electronic Signature (SES)
As you may have guessed, an SES is pretty basic.
Essentially, an SES can be as easy as typing your name or initials into a document and clicking a "sign" button or sending an image of a signature that you made using a digital signature generator. These generally aren't super sophisticated and don't require a whole lot of technical savvy to navigate.
Because they often have pretty low technical requirements, they're not the most secure options. They're typically used in low-risk routine agreements like agreeing to terms of service for a video game or app download, and they may not be legally binding in some countries, so it's best to check the laws before you use them.
Here's what an example of an SES might look like: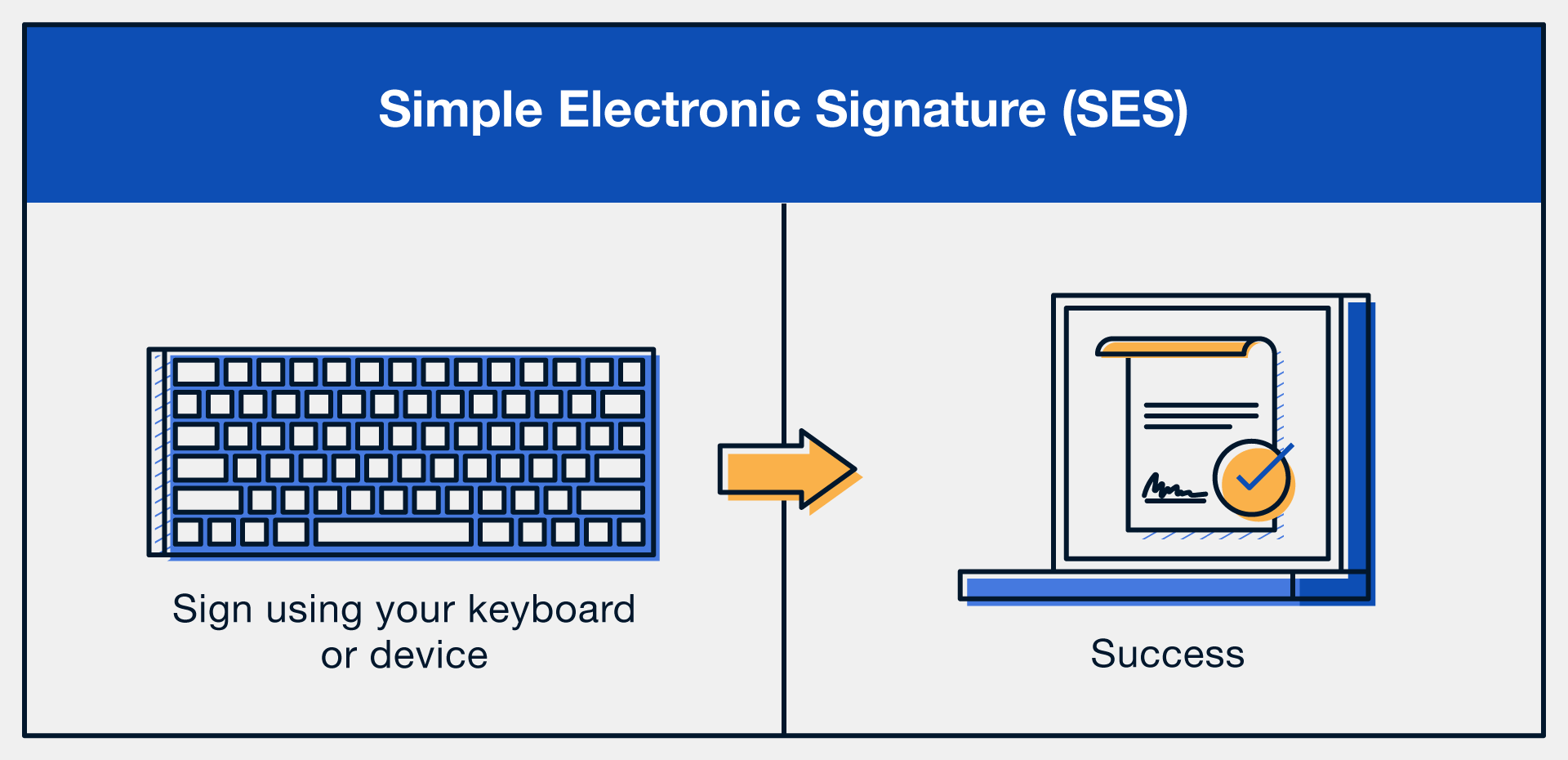 Advanced Electronic Signature (AES)
This is where things get a little more fun.
An AES taps technology to generate an encrypted signature that proves your identity, like a fingerprint.
AES are legally binding in the U.S., the EU, and many other countries around the world. They're typically used to sign contracts of all types with higher stakes and value, such as property leases and business deals.
Not only does an AES need to be linked exclusively to the signer's ID, but it'll also require the signer to prove their identity with a password, access code, or even a biometric feature like a fingerprint or facial recognition. And any document signed with it will prevent any potential modifications.
An AES may be a bit more complicated than an SES, but it gives you the added security of a signature that can't be copied or falsified.
Here's what an example of an AES might look like: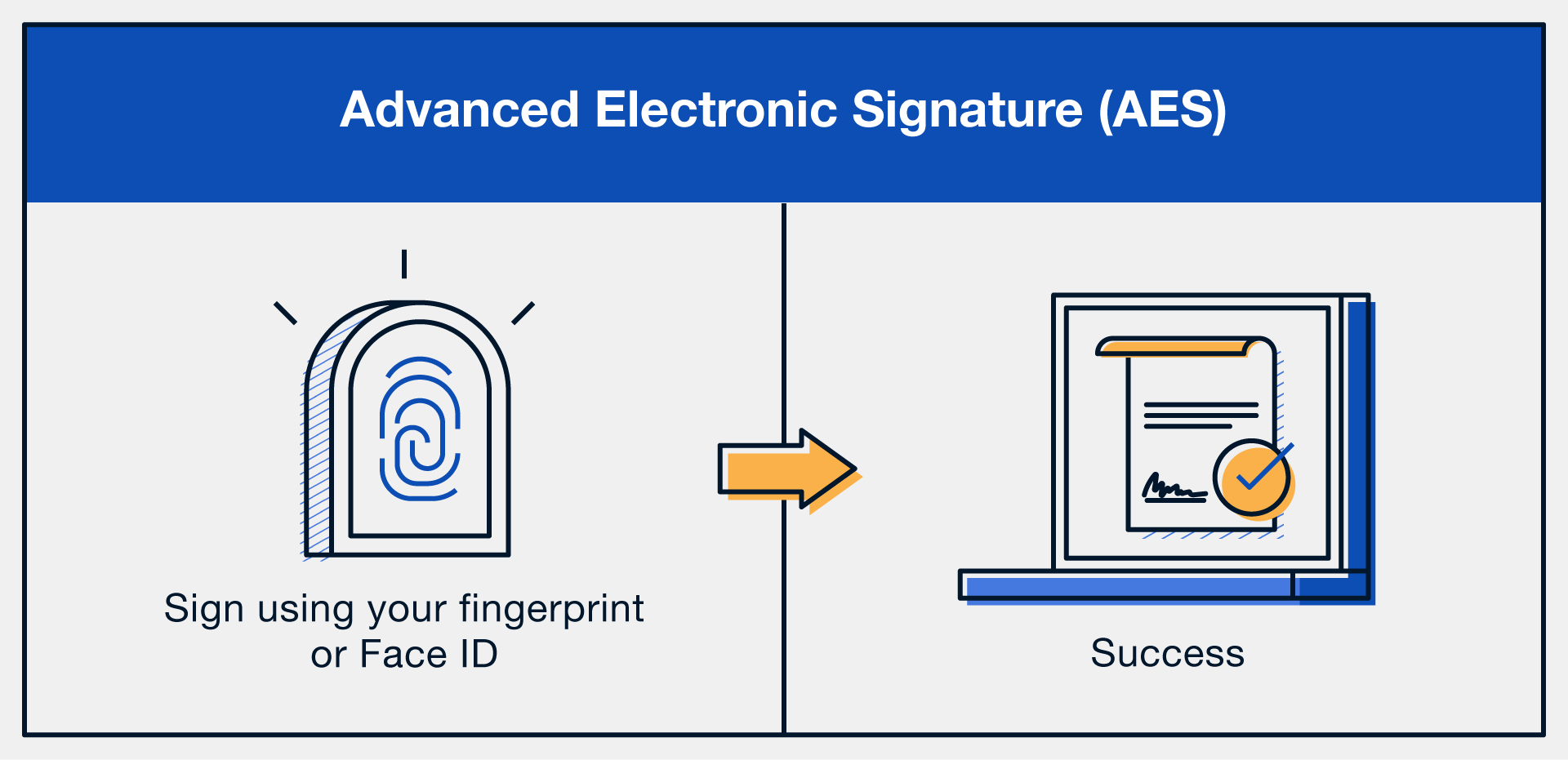 Qualified Electronic Signature (QES)
This is the crème de la crème of e-signing.
A QES requires the signer to go through an even more rigorous authentication process involving both specialized hardware and software.
A QES has the same requirements as an AES, but it also needs to be issued by a regulator-approved qualified trust services provider (QTSP) that can verify the authenticity of the signer's identity.
There are two variants of a QES:
Local qualified electronic signature (LQES): generated using cryptography and hosted locally on a signer's own device
Centralized qualified electronic signature (CQES): created through a third-party service and hosted on a secure server
Because both of these QES variants are regulator-approved, both offer top-tier security.
QES are often used to sign tax documents, high-dollar financial agreements, or other high-risk contracts.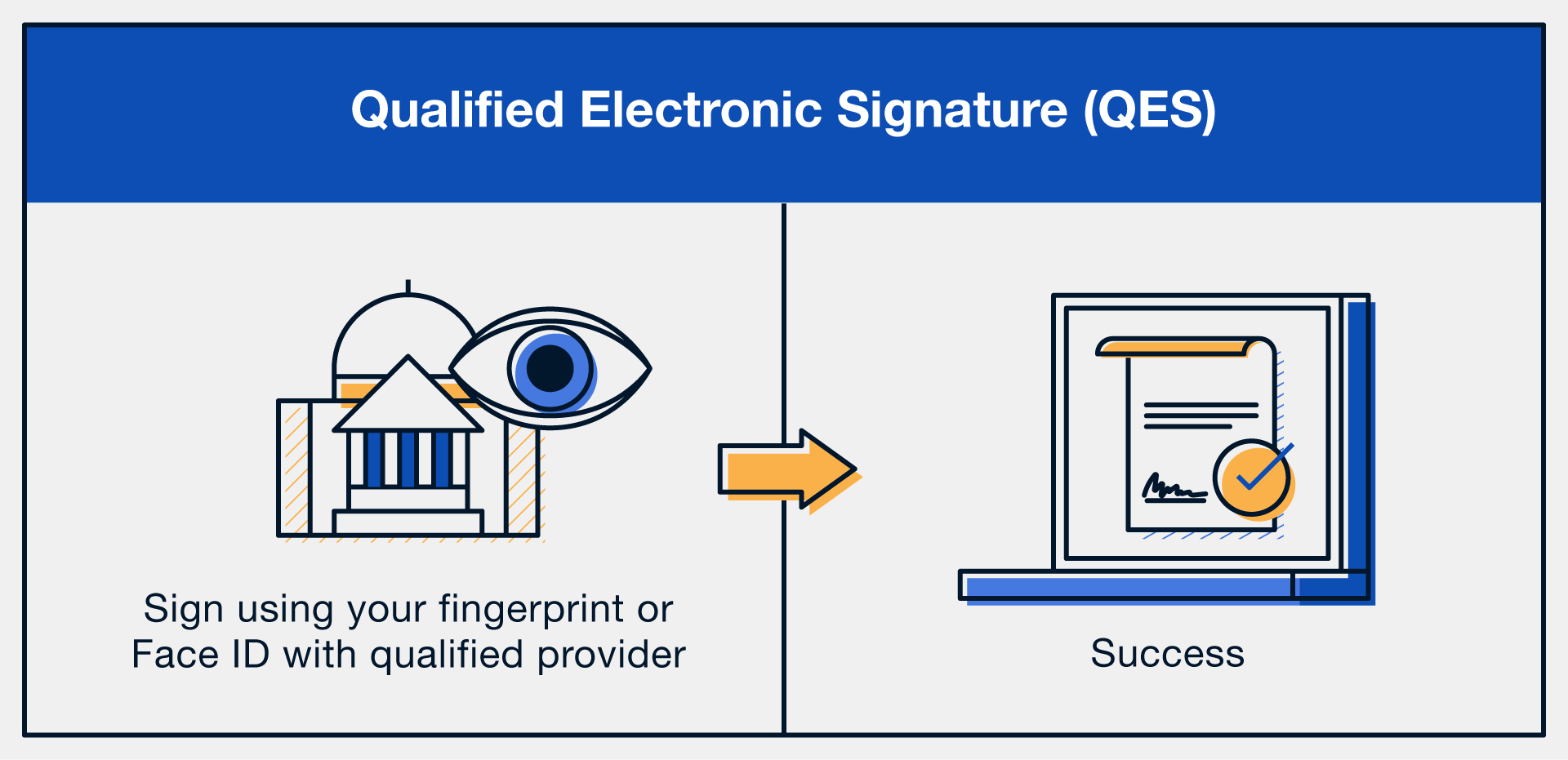 Are Electronic Signatures Legal?
E-signatures are still a relatively new technology, and as such, you can't assume that every jurisdiction around the world has the same approach.
While each governing body has its own specific regulations, generally speaking, both AES and QES are legally binding in most countries, though SES may be less widely accepted due to its lackluster security measures.
Before diving in headfirst, however, you should always double-check your local laws before signing any contract electronically.
How To Use E-signatures in Your Business
With the legal box checked, let's look at how you can use e-signatures to your advantage in business.
E-signatures are perfect for signing all kinds of business documents, including but not limited to:
Sales contracts

Purchase orders

Vendor contracts

Real estate contracts

IP licensing agreements

NDAs

Employee contracts
They streamline your processes to help you stay efficient while maintaining the accuracy and security of your records. They also open up a world of possibilities when it comes to remote working — as long as both parties have access to the internet, they can sign documents instantly with an AES or QES.
To create e-signatures for your business, all you need is e-signature software like DocuSign or DropBox Sign (both of which integrate with ContractSafe's contract management solutions, by the way!)
These programs help you quickly create and sign documents from any device with just a few clicks. They also offer additional security measures, like multifactor authentication and digital certificates, to ensure the identity of signers and protect documents from tampering.
Take a look at how easy it can be:
Integrate E-signatures Into Your Contract Management Process
So now you know how to ditch the pen and paper. Why not ditch your dusty old filing cabinets as well?
E-signatures can be a great way to streamline the contract management process and reduce time spent searching through stacks of paperwork.
ContractSafe's contract management platform allows you to securely sign and store documents, track expirations, and manage contacts — all with an intuitive user interface and industry-leading customer support.
Want to see it in action? Schedule a demo today.