Death and taxes are certainties in life. Regulatory compliance and paperwork are certainties in healthcare. Keeping it all organized so your healthcare facility is always audit-ready? Now that's a must.
Let's face it … the healthcare world really loves paperwork. Your business relies on a whole lot of paperwork to function, including contracts. Whether with a patient, employee, vendor, subcontractor or any other random party — contracts and regulatory paperwork are at the heart of your business. And figuring out a way to keep them all organized so important details can be found instantly, reports can be run in seconds, and responses to audit requests can be issued in minutes instead of days or weeks? Well, that's the circulatory system the heart of your business needs to keep pumping. Without it, you might leave yourself open to cardiac arrest in the form of gnarly legal and financial problems down the road.
Unless you're into that kind of thing, we're guessing you're here for a reason — to get the scoop on the nine types of healthcare contracts and how to keep them organized.
So whether you're prepping a new contract right now or assessing if a current contract is the right fit for your facility — get ready to be informed about effective contract management in healthcare!
TL;DR: Key Takeaways
There are nine common types of contracts used in the healthcare industry.
While your facility might not use all nine, it's super important to know which ones to use, when to use them, and how to execute each one properly.
That's only part of it. The rest? Staying hyper-organized and creating a process for managing contracts at your healthcare business.
9 Most Common Types of Healthcare Contracts
1. Physician Recruitment Contract
A physician recruitment contract does exactly what its name implies: details the strategies used to attract physicians to a healthcare facility. This type of contract is important to have (and get right) because your facility must adhere to the Stark Law, Anti-Kickback Statute, and other applicable rules and regulations. If you accept Medicaid or Medicare, it's particularly important to confirm that your contract complies.
2. Physician Employment Contract
A physician employment contract will outline a physician's relationship with your facility. Every healthcare contract needs to be thorough, and this one is no exception. It should include detailed information on the standard aspects of that relationship such as schedule expectations, benefits, pay, and on-call requirements.
Also good to know? Most physician employment contracts include a restrictive covenant, which is fancy healthcare speak for a "non-compete." This covenant addresses requirements related to the physician competing with the facility post-employment, placing restrictions on soliciting patients, or working for another facility in the same geographic area.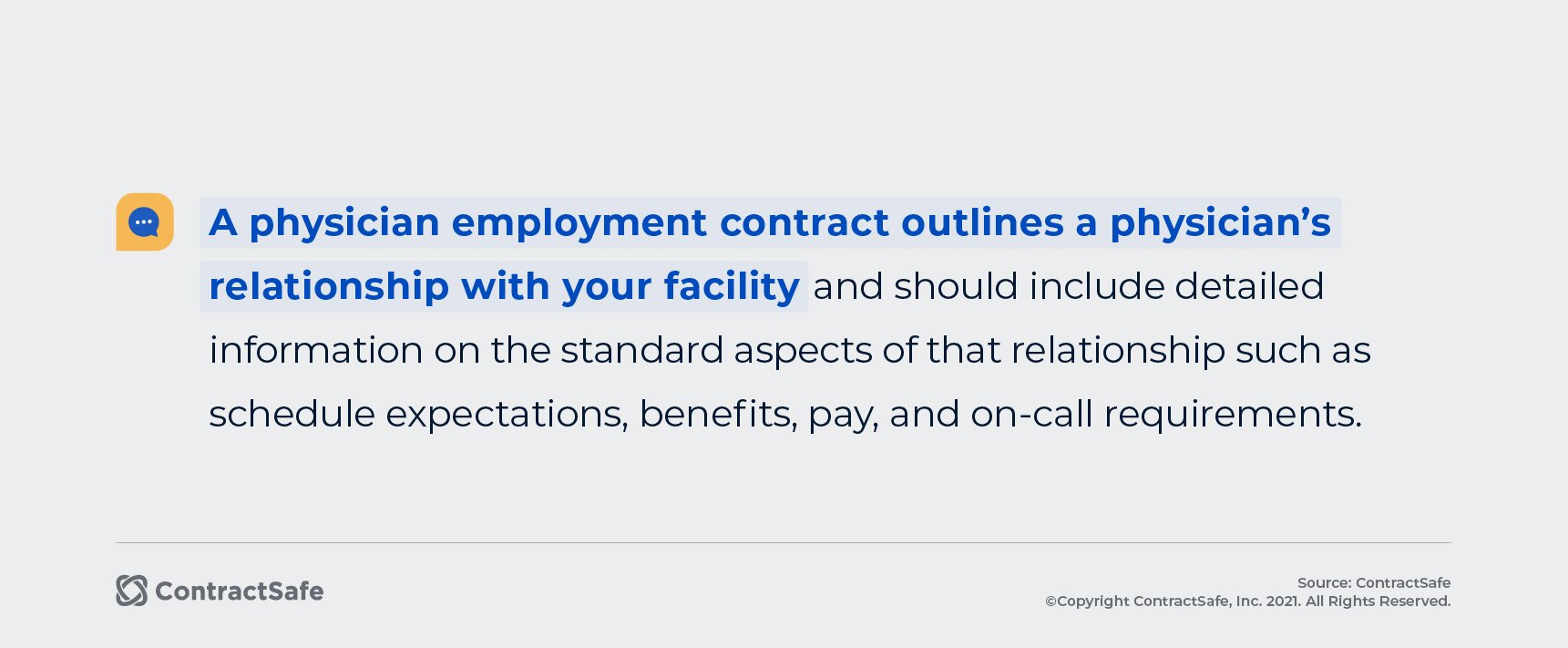 3. Medical Director Contract
Next up is a medical director agreement, which outlines the responsibilities of a physician in the role of Medical Director. Key elements to these types of healthcare contracts usually include compensation, the contract term and termination procedures, the physician's responsibilities (including administrative tasks and on-call hours), details about who provides malpractice and liability insurance, and non-compete and non-solicitation clauses.
4. Patient Transfer Contract
A patient transfer contract is needed whenever a patient's care is moved from one physician to another. The contract typically includes details like care duration, contract termination, who is involved and what their responsibilities are, and other odds-and-ends like billing and insurance information.
5. Equipment Lease Contract
Healthcare equipment is expensive. Which is why a lot of healthcare facilities opt to lease equipment instead of buying. While the equipment provider is usually the one to provide the lease contract in these situations, it's helpful to know what to look for in a contract.
Lease contracts usually define the equipment in the agreement, establish the contract's duration, outline lease fees and consequences for missed payments, and define how the equipment will be returned at the end of the lease period. A good contract should also include details about responsibilities for equipment damage and repair.
6. Managed Services Contract
Coding, transcription, and billing collections are often outsourced by healthcare businesses. If your facility falls in that camp, be sure to have a managed services contract in place.
The managed services contract includes information about the agreement including the scope of work to be performed, timelines, a cost schedule and payment terms, and details on how the contract may be terminated.
7. Purchased Services Contract
If your healthcare facility works with a third party operating as a non-employee contractor (go ahead and re-read that if you need to, we'll wait ...), then a purchased service agreement might be needed. These agreements can help facilities save money over the cost of hiring an employee, but they can also carry risk if they aren't developed and managed appropriately.
Legal and regulatory requirements must be followed when working with a contractor. Be sure any and all agreements are thorough and outline details about how the contractor works, your healthcare business' responsibilities within the agreement, and the payment schedule and fees.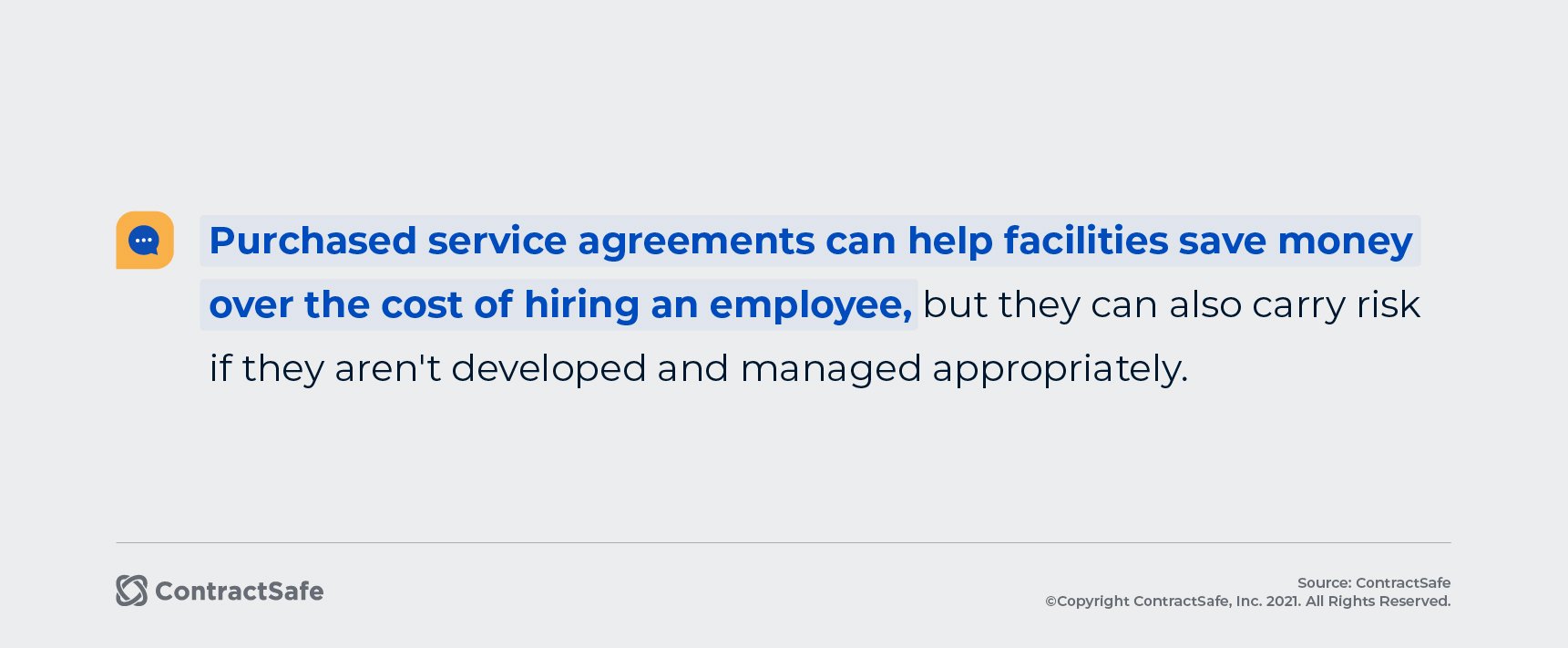 8. Technology Licensing Contract
Healthcare businesses use and need advanced technology. Only problem? Most healthcare tech will require a licensing agreement. Good news, though! The technology owner is responsible for creating and sharing the licensing agreement.
These agreements include details about the technology to be used, how you healthcare facility may use it, the duration of the agreement, the licensing fees, prohibited activities surrounding the technology, and how and when the agreement may be terminated.
9. Joint Venture Contract
If your business wishes to partner with another business on a project — AKA a joint venture — then you guessed it! You're going to need a contract for that.
A joint venture contract should detail each party's financial responsibility, their activities and involvement in the project, and how the parties share in the risks and rewards of the project.
How to Manage Healthcare Contracts: 3 Things to Keep in Mind
You've got the healthcare part covered. You know what contracts you need.
Next up? Management!
Here are three things a contract manager should keep in mind to keep your healthcare contracts organized.
1. Your Contracts Must Be Custom
Contracts are only effective when they include the details that are relevant to your agreement with another party. You won't find that level of detail in a contract template. Instead, take the time to customize your contracts to each agreement. A template can save you time as you get started, but plan to spend time customizing relevant sections and details so that the contract truly protects both parties.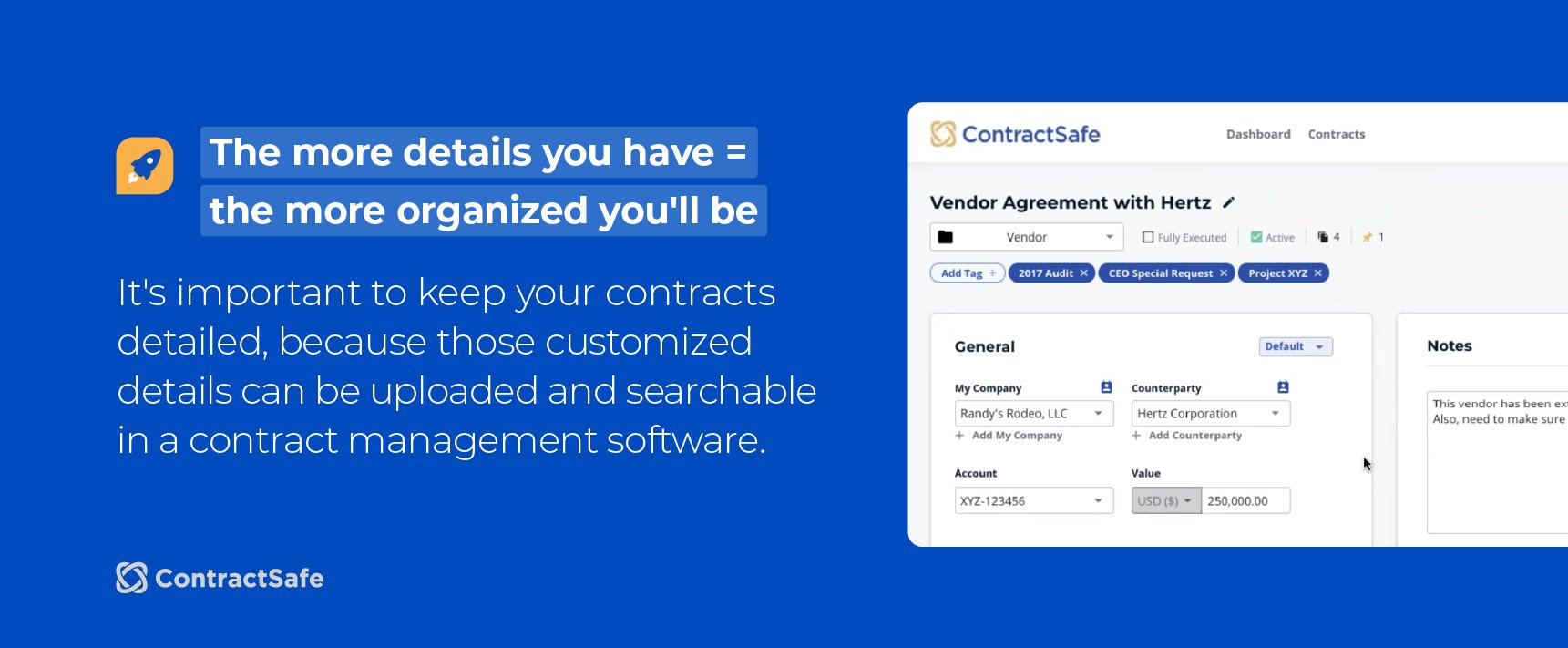 How will this help keep you organized, you ask? When your contracts are detailed, those customized details can be uploaded and searchable in a contract management software. The more details you have, the more organized you'll be.
2. You Need a Contract Review Process
After a contract is signed, you'll need a process to confirm the contract is valid and complete. It's always a good idea to have multiple people within your business review the contract to confirm that both parties have signed and completed it correctly.
This is also the time to make note of any important deadlines, as well as the date when the contract will expire. Enter this information into a management system or database so that you won't overlook these deadlines and accidentally let the contract lapse.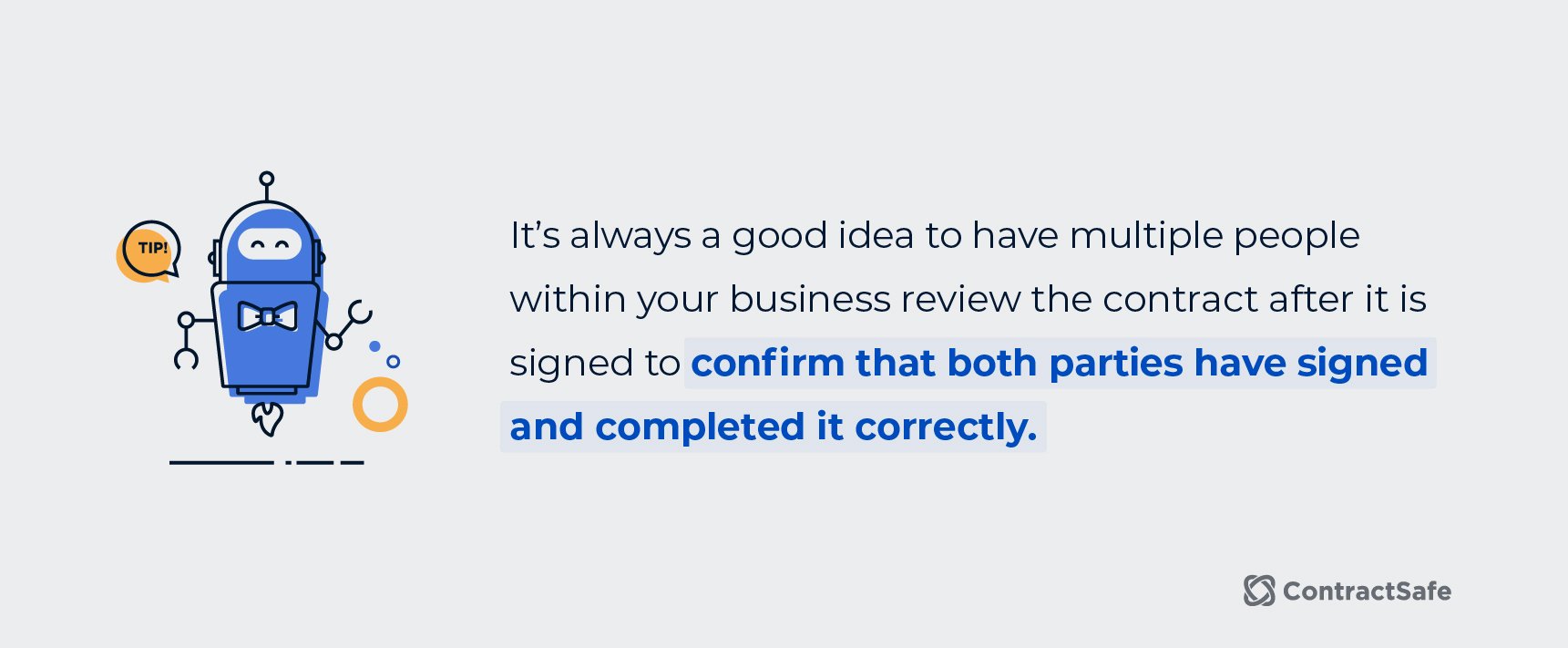 3. You Need a Way to Store Your Contracts
Next, you'll need to figure out how you store and organize your healthcare contracts. This should involve a secure storage location as well as staff permissions and accessibility settings that can help to protect these contracts.
Unless your facility plans to stay stuck in the past, a healthcare contract management software is likely a good investment. The right option will help store and organize your healthcare contracts and offer enhanced security measures to protect against threats and potential hackers.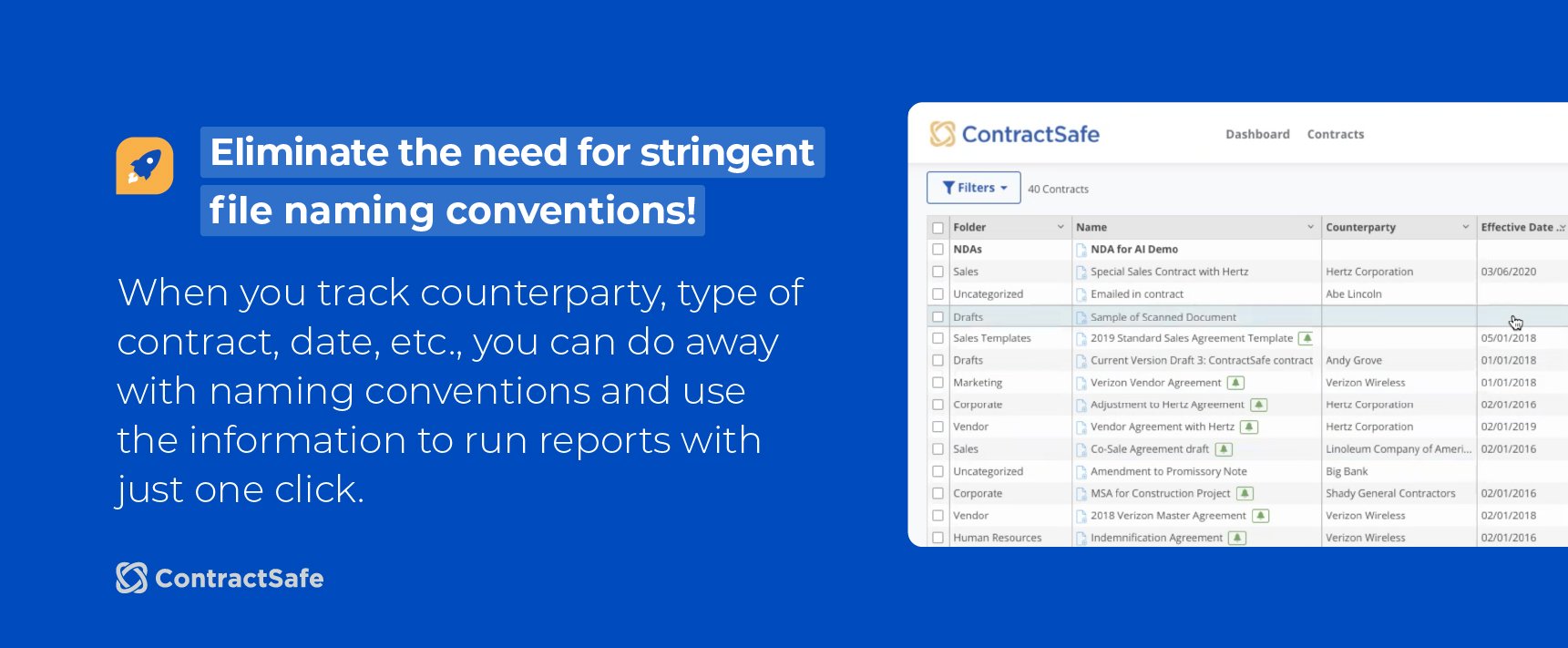 An option like ContractSafe can also eliminate the need for stringent file naming conventions. When you track counterparty, type of contract, date, etc., you can do away with naming conventions and use the information to run reports with just one click. This improves searchability too, allowing you to find things more quickly and easily.
Want to nerd out with us some more on healthcare contract management? Subscribe to our blog.