Behind every great hospital, there's a team of administrative wizards keeping the whole ship afloat.
Back-office teams may not be the stars of the show, but they're definitely the ones running it. And it's no easy feat.
Every day they're grappling with Mount Everest-sized stacks of documents, and often no one even notices. That is, until things go awry.
The healthcare industry is one of the most administratively challenging industries out there, and a hole in the ship could leave your whole facility at the bottom of the ocean in the blink of an eye.
That's why it's more important than ever for healthcare facilities to have a system in place for managing contracts.
Contract management is necessary to stay on top of regulations and keep track of important documents.
In this guide, we'll discuss what contract management is in the healthcare industry, why it's important, and how to choose the right healthcare contract management software for your facility.
TL;DR:
Effective contract management takes the guesswork out of ensuring regulatory compliance in healthcare.
If you're looking for healthcare contract management software, you should consider ease of use, storage capacity, and price.
Contract management can save healthcare facilities time and money.
Healthcare Contract Management Challenges
Contract management for healthcare may be a standard part of your daily operations, but the process can be full of challenges.
Compliance Is Costly
Nailing down terms and completion times is a headache in general. Add in a lack of standardization and you've got a paperwork migraine on your hands — especially when a dispute arises between a payer and a provider.
And the complex regulatory environment makes it tough to keep up.
Healthcare providers need to stay up to date with a constant stream of new regulations. To name a few:
The Affordable Care Act (ACA)
The Improving Medicare Post-Acute Care Transformation Act (IMPACT)
The Medicare Access and CHIP Reauthorization Act (MACRA)
The Health Information Technology for Economic and Clinical Health (HITECH) Act
Did you know that the average-sized community hospital spends more than $7.6 million annually on compliance? And hospitals with PAC beds pay even more.
This doesn't even scratch the surface of the price healthcare providers have to pay for a violation.
For example, a data breach violating HIPAA regulations could result in fines of up to $1.5 million. Per violation.
Finding Files Is Time-Consuming
Healthcare professionals are drowning in paperwork.
The average hospital maintains relationships with more than 1,300 vendors.
It also manages about 1,000 employees and has around 6,490 admissions annually. Long story short, healthcare administrators eat, sleep, and breathe contracts.
But from vendor price creeps to leaked patient information, mismanaging documents can come at a high cost. It can even result in legal headaches due to noncompliance.
And don't forget about how much time is wasted looking for documents.
Did you know that the average worker spends up to 9.3 hours per week searching for documents? Multiply that by 1,000 employees, and you can start to see the true cost of disorganization and difficult-to-use systems.
Communication Between Different Departments Is Difficult
It's hard to stay on the same page when there are different versions of the truth.
Confusing or disorganized storage can lead to missed milestones and unpredictable turnarounds.
This can result in finger-pointing, rather than working together to solve the problem.
Not to mention, it can be a major time-waster trying to track down who has the most recent version of a document. In fact, 97% of executives say data silos are hurting productivity.
Data Breaches Are on the Rise
The healthcare industry is especially vulnerable to data breaches due to the amount of sensitive patient data.
Between 2009 and 2021, over 4,000 healthcare data breaches of 500 records or more were reported to the HHS Office for Civil Rights. And these breaches come with a huge price tag.
In 2022, IBM found that healthcare data breaches cost $10 million on average, up by 41% since 2020.
The study found that the five most common types of breaches were:
Stolen or compromised credentials — 19%
Phishing — 16%
Cloud misconfiguration — 15%
Third-party software vulnerability — 13%
Malicious insiders — 11%
Due Dates and Renewals Are Easily Missed
Here's a statistic you might be able to relate to:
Companies lose 9.2% of their total revenue every year due to missed milestones and other contract management pitfalls. That's a lot of scrap, and the number may be even higher in the healthcare field due to the sheer number of contracts involved.
Strict regulations mean that you need to make sure contracts are correct and completed on time. And that you need to keep track of credentialing documents so nothing expires.
If even thinking about these common contract challenges gives you anxiety, take a deep breath. First off, you're not alone. Second, for every challenge, there's a solution.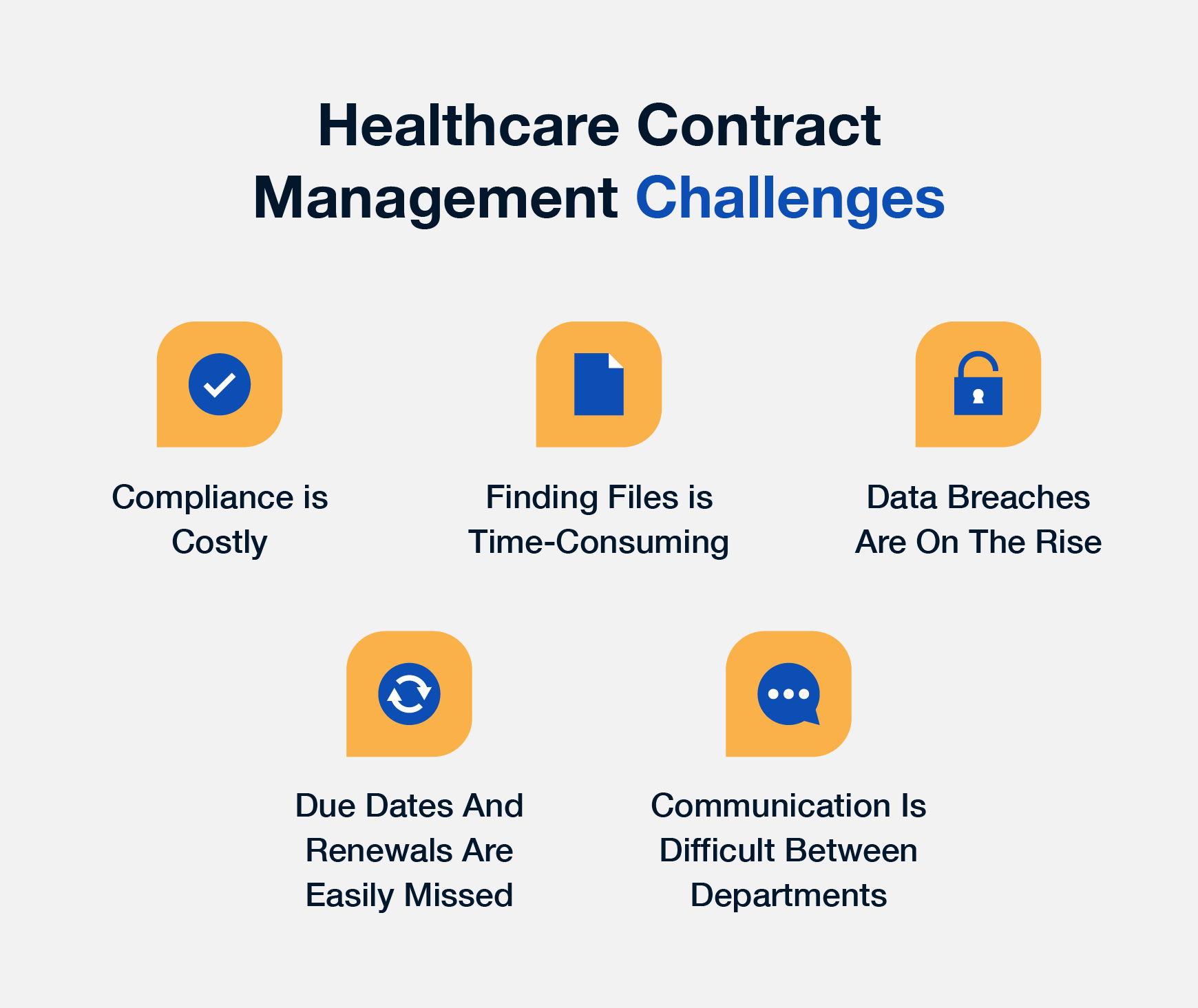 How Contract Management Software Can Benefit Your Healthcare Facility
Here's how the right software solution can bring you and your team sweet, sweet relief.
1. Streamline Contract Creation
There are many different types of healthcare contracts, and each one is like a snowflake. They're all unique.
Creating all these different types of contracts from scratch would be a nightmare.
Not only would it take forever, but there's also a good chance you'd make mistakes that could put your organization at risk.
Some contract management software comes with customizable templates. This lets you generate accurate, binding contracts without having to start from scratch every time.
2. Reduce Your Healthcare Facility's Contract Risks
No one wants regulators breathing down their necks. That's why top-notch security and encryption are a must.
The best contract management software for healthcare will have robust security features, like 256-bit encryption, malware and virus detection, and two-factor authentication to keep your contracts safe and secure. Top software will take it one step further with security standards like ISO 27001, GDPR, and SOC2 compliance.
If all that security jargon went over your head, we don't blame you. To make a long story short, your contracts should be accessible to only the right people only when they need them. Nosey neighbors and HIPAA do not mix!
3. Keep Track of Critical Milestones
Any healthcare contract management software worth its salt should allow you to track milestones and dates. This will allow you to make sure all parties are doing what they're supposed to when they're supposed to be doing it.
The best contract management software will even automate reminders for upcoming events — not just the termination date.
These alerts can help you stay ahead of reimbursement dates, audits, and compliance deadlines. They can also help you stay on top of incoming payments and expiration dates.
4. Simplify Vendor Management
Juggling thousands of contracts is no joke. But contract management software can help lighten the load.
Not only can software help you stay on top of vendor compliance, but it can also help you take full control of your negotiations.
Even better: You can use alerts and reminders to be proactive in renegotiating terms, staying ahead of fees, and avoiding price creeps. Contract management software can also help you find procurement contracts with specific vendors, report total vendor spends, and identify cost-cutting opportunities by giving you a clear view of who you're working with and how much you're spending with them. This'll also help manage procurement risks!
5. Stay Med School-Level Organized
Executing contracts is the easy part. Keeping those contracts organized and easy to find? Not so much.
Imagine a system that centralizes all patient, provider, and insurance contracts. That has artificial intelligence (AI) automatically organizing them by counterparty and dates. That allows you to search for anything in any document by keywords, from anywhere. (When you're done imagining, click here to see it for real.)

Remember your collegiate school days? How organized every aspect of your life was?
Not because you wanted it that way, but because you had no other choice. To succeed in that environment is to stay on top of your…stuff.
The same reasons for staying organized back then are exactly the same now.
The only difference? Now you've got the software to do the heavy lifting for you.
Best Practices for Healthcare Contract Management
We've compiled some of the best practices for healthcare contract management below.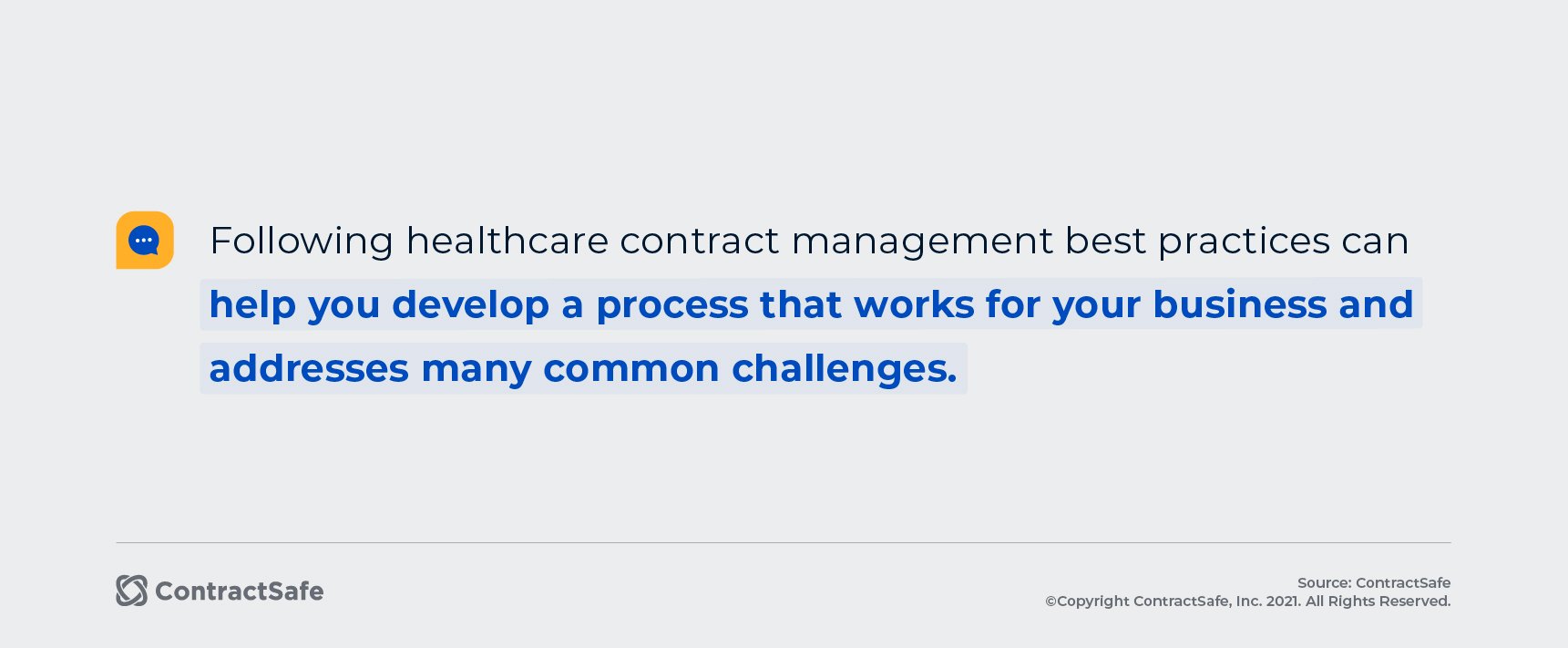 Use Automation Effectively
There's a lot of confusion surrounding automation in healthcare contract management software.
Automation isn't a quick fix for every problem under the sun, and it will definitely not be able to replace your contract manager. But it can be used to help with repetitive and tedious tasks.
Integration with customer relationship management (CRM) software can make your life way easier. It can fill in key data in contracts, saving you time and reducing errors. It'll also let you use automated alerts that can speed up the approval processes.
That kind of efficiency will let the clinical staff focus on what matters: the patients.
Leverage Security Roles To Guarantee Compliance
HIPAA is a beast. And compliance can be complicated, to say the least.
Without contract management solutions, an employee who's not part of a patient's care team could accidentally stumble on information they aren't supposed to see. And if that happens, the fines can be steep.
But how can contract management solutions help guarantee HIPAA privacy?
Not only will software with top-tier security protocols help you prevent data breaches, but some platforms (like ours, hint hint) will even allow you to set customizable roles and permissions, ensuring that only employees with permission can access patient files.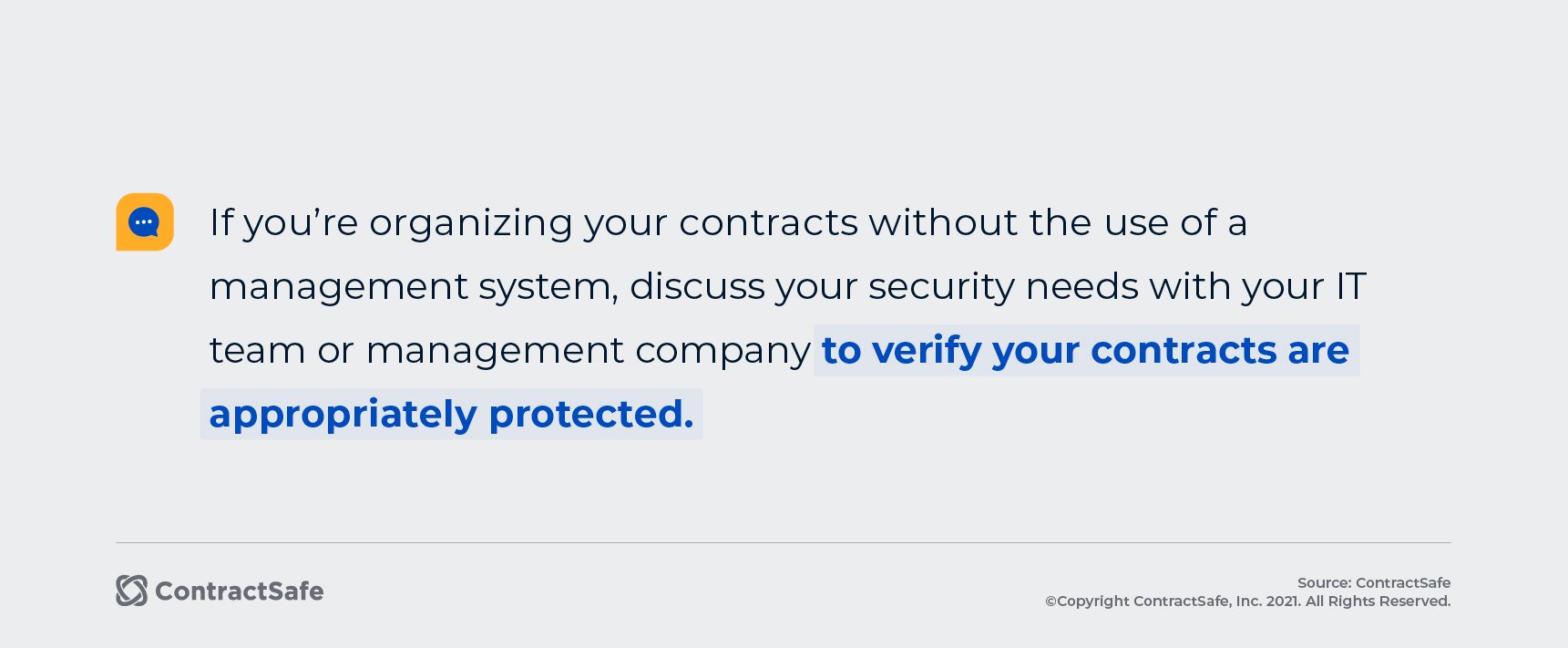 Cloud-based contract management systems should offer security features like encryption and vulnerability tests. It should also include malware and virus detection.
Organize Your Contract Repository
With so many moving parts, an organized contract repository is your headquarters for all legal documents. And robust search features are your secret weapon. Eligible employees are able to find what they need, when they need it.
In addition, a centralized contract repository makes it easier for healthcare organizations to:
Track progress on negotiation and renewal timelines between departments.
Reduce the risk of expired contracts and make sure that everyone is aware of upcoming deadlines.
Help decision-makers see which providers are performing well and meeting the terms of their contracts.
This data can be used to inform future contracting decisions and improve overall vendor performance.
The top software will use AI to analyze and organize your documents, and search features with optical character recognition (OCR) can help your team find any and every contract or term they're looking for. Even in scans. After all, what good is a repository if you can't find anything?
A searchable index will make it a breeze to access the documents you need, right when you need them. It'll also help avoid compliance risks that come with losing track of important documents.
Give the Right Amount of Visibility to the Right People
As important as it is to keep the nosy nellies out of sensitive documents, you also need to make sure the right people on your team have access.
Sound impossible? Not even close!
Contract management software should make it easy to control who has access to a contract.
Role-based security features can help prevent contract processing errors and security vulnerabilities.
After all, the last thing you need is the HHS Office for Civil Rights knocking at your door.
Set Contract Reminders
You know that subscription you've been meaning to cancel for the last how many months? It's OK — we've all been there.
Contract reminder software tells you when important dates are coming up, so you can focus on the most important tasks and trust that your software will remind you when you need it.
Contract reminders and alerts are a lifesaver when you're trying to stay on top of your contract portfolio. Here are just a few ways contract reminders can help you:
Voiding renewals that are not in your facility's best interest
Reducing lost revenue from vendor price creeps and hidden fees
Scheduling audits or reports that are part of contracts
Ensuring all staff have the appropriate credentials or current contracts
Top healthcare contract management systems will offer customizable alerts. These can sometimes even be set at the contract, task, or milestone level.
You'll want to make sure the alerts can be sent through multiple channels, like email or text.
Perform Regular Contract Compliance Audits
Listen, no one likes audits, but they're important.
Performing regular compliance audits can help by:
Ensuring compliance with state and federal regulations
Building a better understanding of obligations and liabilities
Ensuring billing accuracy
Reinforcing your rights
Providing a road map for improvement
You might already have an internal audit process, but it's important to supplement those efforts. External third-party auditors can see things that you may have missed. A good system will save a ton of time and provide auditors with everything they need — making their job just a little bit easier. After all, no one wants to spend hours sorting through dusty filing cabinets.
Report and Track Your Healthcare Contract Lifecycle
After a contract is signed, your work has just begun.
You now have to track and manage the contract throughout its lifecycle to make sure all parties are adhering to the terms.
Contract status reports will confirm that your team is on top of what they need to be on top of. This includes things like key dates for expiring contracts, licenses, and accreditations. It can also help send follow-ups to speed up the process of addressing pending signatures.
Reporting and tracking help reduce delays and flag violations. It can even uncover discrepancies in vendor contracts.
This means that you'll have more money in your pocket at the end of the day.
Link Contracts to Their Policies and Procedures
It's easy to lose a contract's policy and procedures when it hits the filing cabinet. But misplacing those can lead to major headaches. This is easy to avoid when you're using an electronic contract management system. Storing your contracts and their policies and procedures digitally can help keep everything in order.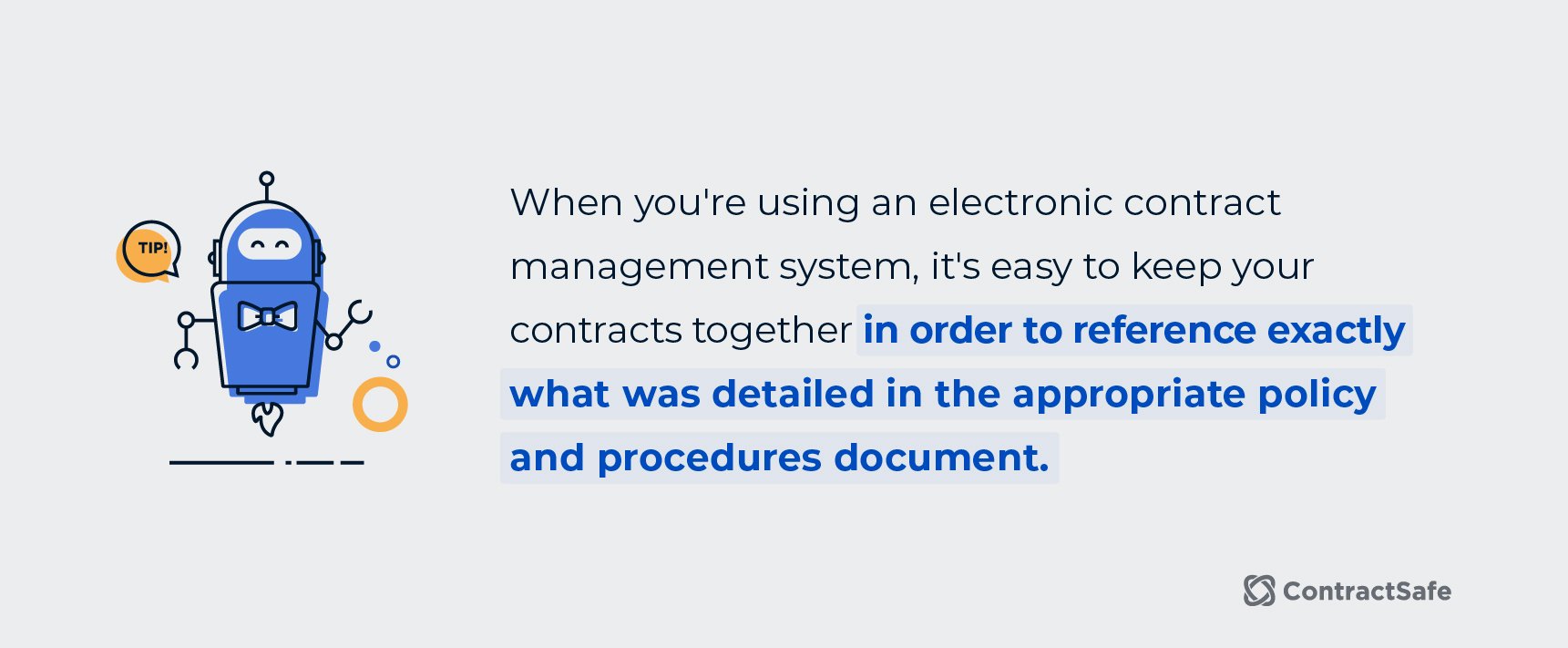 Integrate Contract Management With Your CRM
Are your contracts integrated within your CRM? While this isn't necessary, it can still help. Why, exactly?
Integrating your healthcare contract management system and your CRM can simplify your work across the board, including: .
Reducing redundancies
Making sure contracts are easily accessible from patient or vendor records
It'll also keep your contract processes flowing smoothly.
Who Should Use Healthcare Contract Management Software?
This is how you can get your team back to the tasks that they're best at.
Clinical staff like doctors and nurses often need to refer to contracts when providing care. With contract management software, they can easily access the information they need without having to search through paper files.
Pharmacists can use contract management software to keep track of drug prices and to find the best deals on medications. This can help save your facility money and guarantee that patients have access to the medications they need.
Social workers often need to review contracts to determine what services are covered for their patients. Contract management software provides quick and easy access to this information.
Compliance officers can use contract management software to track whether your facility complies with all its contracts to avoid fines or other penalties.
Human resources use contract management software to track employee contracts. This includes tracking vacation days, sick days, and other benefits.
Accountants need contract management software to track payments made to vendors. This includes both one-time and recurring payments.
Legal teams use contract management software to keep track of all the contracts your facility has. This includes both signed and unsigned contracts.
Choosing the Right Contract Management System
A cloud-based contract management system can improve and largely transform your contract management process. When you choose a system that's right for your healthcare facility, you can improve accuracy, save your staff time, streamline workflows, automate processes, and more. You'll have peace of mind knowing that your contracts are organized, sensitive information is secure, and your practice is compliant — all while saving hundreds of hours and thousands of dollars annually.
Here are some quick tips to consider when choosing a contract management system:
Ease of use:

Your team will adopt a system that's easy to use more readily. Consider user-friendliness, intuitiveness, and customer support when making your decision.
Flexibility:

The best contract management systems are flexible and can be customized to meet the unique needs of your healthcare facility.
Search and find:

Robust search features with OCR functionality can help your team quickly locate terms, contracts, and more — no matter what format they are in.
Security:

Make sure the system you choose includes features like role-based permissions, activity logging, and data encryption.
Integrations:

To get the most out of your contract management system, look for one that integrates with other software programs you use, like your electronic medical records system.
Tracking:

The best contract management systems make it easy to track and manage your contracts, from start to finish.
Reporting:

Look for a system that provides powerful reporting features, so you can easily see how your contracts are performing.
Integrated e-signatures:

Choose a system that includes integrated e-signatures so you can easily sign contracts electronically.
Compliance:

Keep an eye out for GDPR and HIPAA compliant databases to make sure data is not stored outside of the regulatory framework set out by these laws.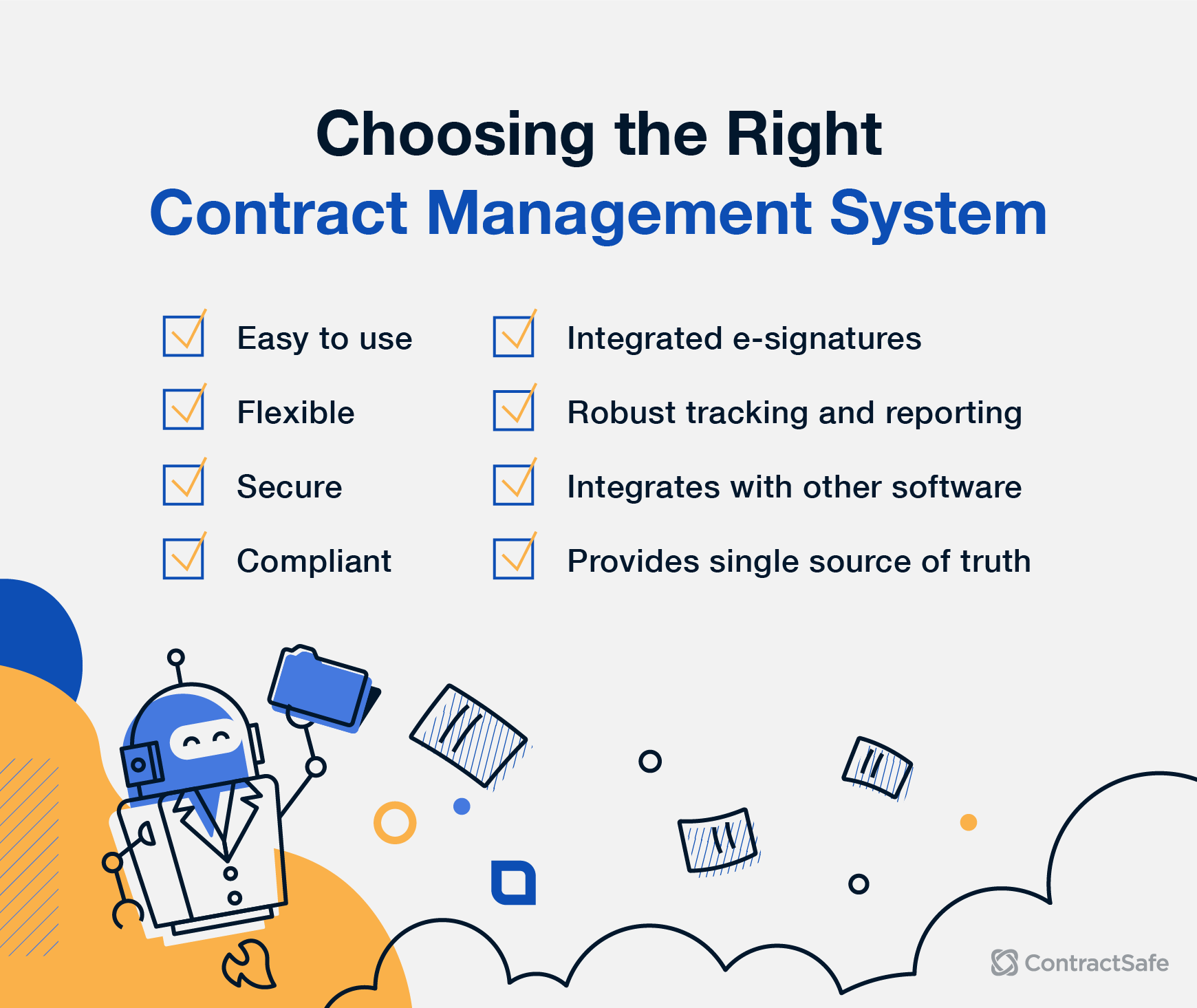 Choosing the right contract management system is essential to ensuring your healthcare facility runs smoothly and efficiently.
With the right system in place, you'll be able to streamline the contract management process, save time and money, and improve the quality of care you provide.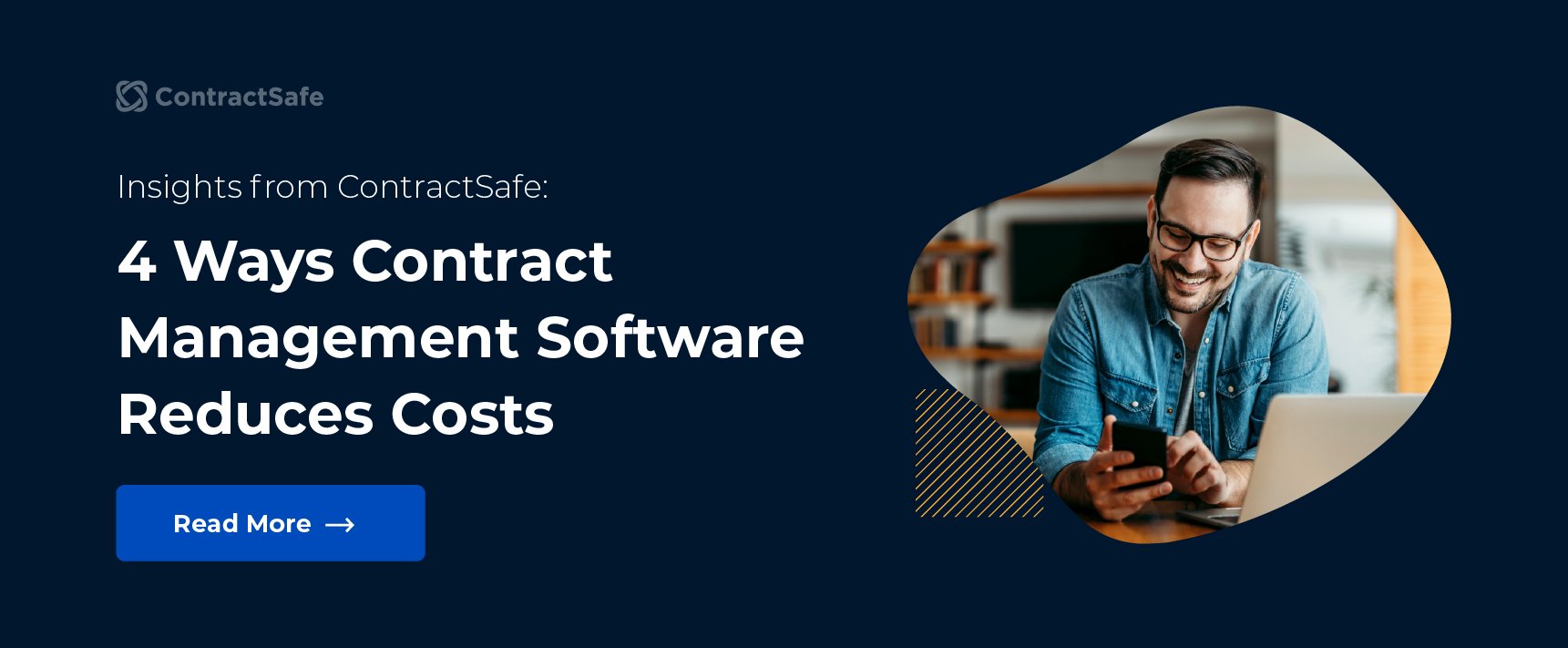 Ready To Get Started?
ContractSafe is the software of choice for many healthcare facilities. Request a free demo to find out how it can help solve your contract management woes.