Do you love motivational quotes and posters featuring adorable kittens "hanging in there"?
Then you might appreciate this little gem: You can't spell "challenge" without "change."
Ponder that for a minute. It's totally true, right? And when it comes to contract lifecycle management, frequent challenges are a sign that it's time for a change.
In this article, we're discussing some common contract management pain points and solutions.
Spoiler alert: Almost all contract lifecycle management challenges can be overcome by a digital contract management system. (And we just happen to have you covered there.)
TL;DR
Contract management is a tough task, but software can help.

From approval workflows to compliance tracking, digital tools can streamline your processes to save you time and money.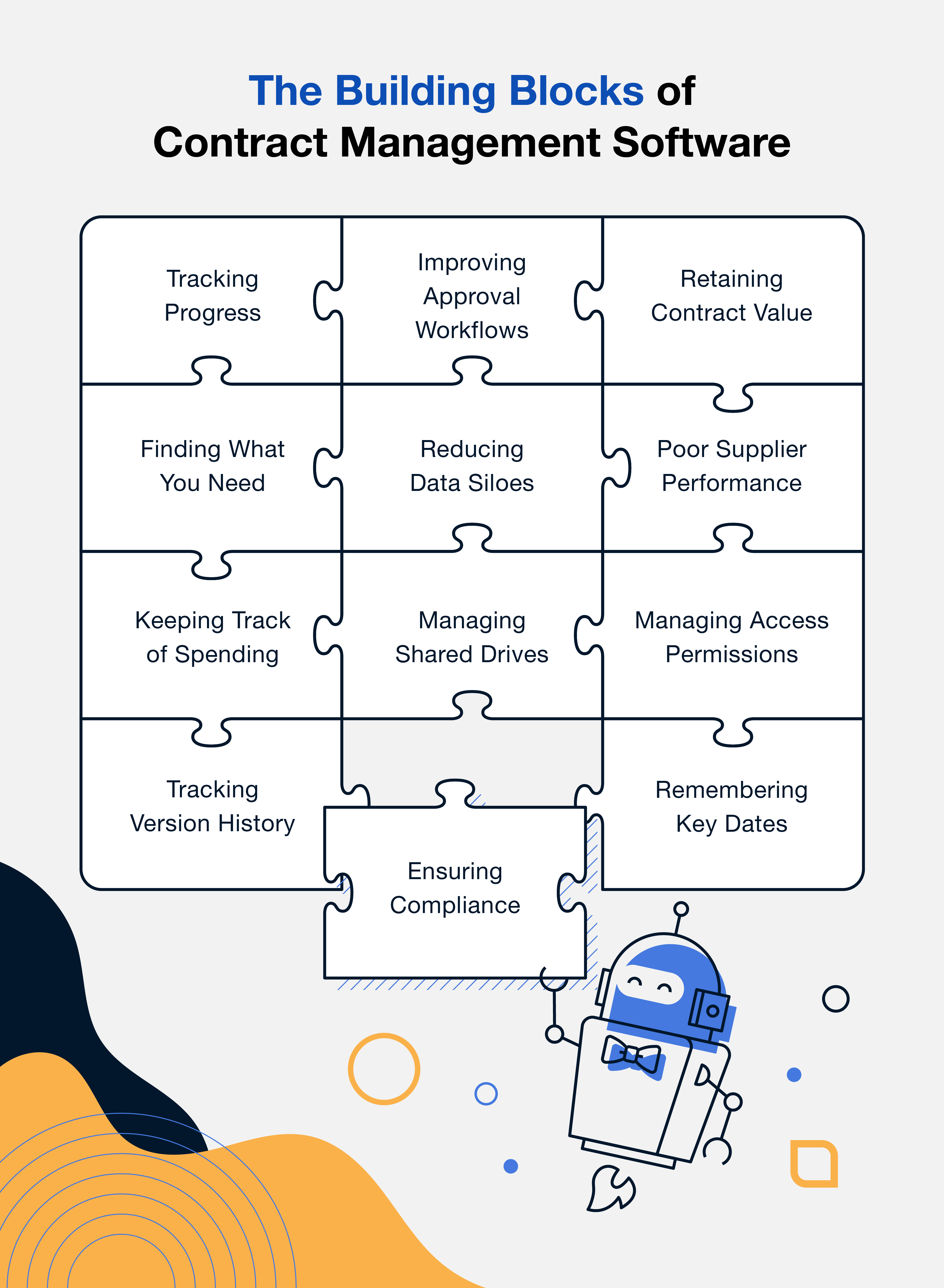 1. Tracking Progress
A pain point early in the contract lifecycle is slow turnaround time. Everyone's ready to sign on the dotted line, but the process drags and drags…and then drags some more.
Eventually, people end up redlining outdated versions of the contract. After all, you can only name something "contract_final_FINAL" so many times before it gets confusing. It's OK — we've all been there.
Every day a contract goes unsigned, revenue is lost or a critical product isn't purchased. And we all know how quickly those small losses can add up.
Here's how you can speed up time until the dotted line:
When you have a centralized contract management solution in place (and by solution, we don't mean a shared drive), you know exactly where a contract is in this critical pre-signing process.
Our contract repository makes it easy to track a contract's status from first draft to post-execution. And, our customizable approval workflows make it easier than ever to get your documents signed by the right people, on time.
2. Working From the Wrong Versions
There's nothing worse than pushing a contract through the pipeline only to realize it's not the right version. All that work ends up lost in the endless abyss of documents that'll never see the light of day.
And worse, you're then forced to do the "follow-up of shame," reaching out to everyone who's already reviewed and signed the contract so you can ask them to do it again…with the right one.
It's hard enough to keep track of the latest version of a contract when there are just two people involved in a transaction. Add in an entire approval chain, and you've got yourself an organizational nightmare. Without a proper system in place, you may end up fishing through emails or shared drives to find the correct version.
Here's how contract management software keeps you on track:
Contract management software can help your team stay on top of all the various revisions by keeping them organized in one place.
You also have version control to make sure everyone on your team is working from the same document.
That way, everyone knows exactly which version is up to date, eliminating confusion and ensuring accuracy.
3. Staying Compliant
One under-appreciatedcontract lifecycle management challenge is compliance. If it's your team that's not holding up their end of the bargain, it leaves you open to liabilities, fines, and regulatory headaches, especially in industries like healthcare with stringent privacy standards. If it's the other side that's noncompliant, you could be losing money or paying for substandard service.
Here's how contract management software takes the legwork out of compliance:
Built-in clauses

that include the required regulatory language
Periodic contract audits

with detailed reports to ensure compliance
Search functionality

to easily search and find all documents you need to update
And, should there be any regulatory changes down the line, you can easily search and find all of the contracts impacted.
ContractSafe makes the due diligence process for contract compliance fast and simple for anyone on your team. Being able to find documents quickly also makes performing regular audits a breeze.
But we all know there's more to staying compliant than simply making sure everything is in one easy-to-find place. Detailed reporting and one-page visibility into critical contract terms are also key to staying compliant. Having the ability to pull the reports you need when you need them will help make staying compliant easier than ever.
Even if you're operating in several different states or countries (all with different rules and regulations), you can make your compliance team's work a lot easier with acontract management solution.
4. Forgetting Key Dates
Have you ever continued to provide service for a client only to realize their contract had lapsed? Or maybe you accidentally let a contract auto-renew for a piece of software your company stopped using months ago? That's just the beginning. There are also payments, price increases, cancel-by dates, and much more the back office needs to stay on top of.
As we're all painfully aware, every person who signs a contract is on the hook for its duration. If your team relies on spreadsheets and calendar alerts to track critical dates like expirations and renewals, something is bound to slip through the cracks. And let's not forget what a mess it can be if someone who signed that contract leaves before renewal.
Here's how you can stay on top of key dates:
Contract deadline reminders, auto-renewing contract tracking, and key contract date notifications keep you ahead of the game at all times. Why stay up worrying about what missed revenue or extra costs are lurking out there when you don't have to?
If you're not obsessively logging into your contract management software every day, we don't blame you. We know how busy things get, which is why we send reminder alerts directly to your email. Meanwhile, other systems require you to log in to receive alerts.
Are you a planner? So are we! We also have a feature that lists all of your important upcoming dates so you can look at the coming weeks with a single click and get right to planning. You can even sort these dates by vendor, department, manager, or anything else you need to track.
5. Losing Track of Your Spend
Don't want to go over budget? Of course, you don't! Sometimes it feels like you look away for just a second and all of a sudden you're paying twice what you were supposed to.
Contract managers are juggling hundreds, if not thousands, of documents at any given time, so it's not uncommon for things like unfavorable renewals or price increases to slip through the cracks — especially if teams aren't aligned.
Here's how you can keep track of your spending:
With a contract lifecycle management system, teams can get visibility into their total spend in real time and avoid costly surprises.
This is especially true with a configurable and scalable contract lifecycle management solution that offers analytics capabilities, which you can use to identify patterns of overspending or areas where costs could be reduced.
This way, you'll know immediately if anything changes and can take appropriate action before more damage is done.
6. Managing Shared Drives and Spreadsheets
There was a time when contract management involved paper contracts, manila folders, and metal filing cabinets. As technology evolved, however, so did contract management. For most businesses, this meant contract tracking in spreadsheets and giving access to third parties on shared drives. Where we once had manila folders, we now have Windows folders.
Has this been an absolute game-changer for contract management? Most definitely! But it comes with its own set of problems.
Getting a contract signed often happens across multiple platforms. This means you may receive a Word doc for the initial round of redlining, then send it through email to multiple stakeholders, all of whom send back different versions of the doc.
It's kind of like a game of Clue, except Tudor Mansion is your inbox, and the murder weapon is paperwork.
Here's how you can manage shared contracts better:
Whether your company has just a few departments or locations across the globe, a centralized, cloud-based contract management system will make work easier.
ContractSafe's cloud-based contract repository allows administrators to set permissions and share access to your latest documents effortlessly. This helps make sure stakeholders can access what they need when they need it.
Better still, ContractSafe is consistently top-rated by actual users for ease of use. There's no need to train team members on how to use complicated spreadsheets or advanced functions in Excel when your contract management system has an intuitive, user-friendly interface [INSERT SIGH OF RELIEF HERE].
7. Giving the Right Level of Access to the Right People
Building off that last point, let's talk about access. As important as it is to make sure the right people on your team can access the contracts they need, it's even more important to ensure that access is restricted for certain people.
If your company has one location and everyone works in the office, that shared drive is probably working just fine (despite a few minor frustrations). As companies grow, restricting access becomes almost impossible to manage. And if people are working from home? Well, then you really need to make sure you're properly restricting their access.
Here's how you can make sure only the right people can access confidential documents:
A cloud-based repository is like your virtual contract management HQ. It ensures that people who are working remotely can do their jobs efficiently and continue to collaborate with coworkers. But if your system doesn't make it easy (or even possible) to assign different roles and access permissions on the individual level, then what's the point?
With ContractSafe, you don't need to trade cloud-based access for concerns over permissions and access levels. All of your contracts and sensitive documents are safely stored in the cloud. Administrators can ensure certain individuals have access and that others are restricted with multiple different roles and ways to share or restrict access.
Take a look at how easy it is to set roles and permissions:
Even better? ContractSafe is built on Amazon Web Services and has best-in-class security features, including encryption, malware and virus detection, and vulnerability tests.
You and your partners can feel confident knowing that sensitive information is under (virtual) lock and key.
8. Finding Exactly What You're Looking For
Searching, finding, and scanning — OH MY!
Are you stretched too thin? Not enough hours in the day to do what needs to get done? We get it — the stages of the contract management process can be a lot.
Even with the most meticulously organized repository, it can be tough to track down what you're looking for. And not all search features are created equal.
Here's how you can find exactly what you're looking for, exactly when you need it:
While you wait for science to catch up so you can clone yourself, why not take advantage of technology to get more hours back in your day?
At ContractSafe, we used to dream of a solution that would make finding things easier in our own contracts. We turned that into reality so teams like yours can find anything they want in any contract.
Using optical character recognition (OCR), you can search across multiple file formats to find not just the document you're looking for, but the paragraph or clause you're looking for easily.
For example, instantly find every contract that mentions "force majeure" by simply typing it in a search. No complicated (and time-sucking) keyword tagging necessary.
Our[AI]ssistantcan save you hours of busywork by making setup and organization a breeze. It automatically extracts key details from a contract and then populates relevant property fields within ContractSafe based on that data. You'll save a lot of time and headaches, which means a more efficient and productive team.

9. Data Silos and Poor Communication
Have you ever had to go back and forth between departments for the same piece of contract-related information? It may help you get your steps in, but it can be exhausting.
Data silos in contract management can make it difficult to find the right information quickly. And poor communication between departments further exacerbates the issue.
For example, a single procurement deal may have tasks that need to be divided and completed by various departments and might involve different stakeholders with different responsibilities. And managing risks is no easy feat.
Not being able to see the bigger picture leads to multiple contract versions, confusion over terms and conditions, and lengthy revision cycles.
Here's how to centralize data and improve communication:
Contract management software can help break down data silos and facilitate communication between departments.
With ContractSafe, you can break down data silos by linking contracts to relevant documents such as purchase orders and invoices.
You can also manage communications among multiple stakeholders from one centralized platform, and make data-driven decisions that benefit your entire organization.
10. Lack of Visibility Into Supplier Contract Performance
Supplier management can be tough. But not staying on top of it is just asking for trouble.
Without adequate reports, it's difficult to track suppliers' contract performance and make informed decisions. This can lead to noncompliance, renewals that aren't in your interest, missed delivery dates, or even a drop in product quality.
Here's how you can get a full picture of your suppliers' performance:
ContractSafe is a robust contract lifecycle management tool that gives you insight into contract performance. Reports enable you to monitor vendor agreements, quickly identify any issues with terms, and stay ahead of obligations.
Here's how easy it is to download, email or print out reports:
11. Approval and Signature Bottlenecks
It's not always easy wrangling stakeholders in order to keep a contract moving.
They're busy people, after all. But time is money. And backed up contracts can cause delays, missed dates, and potential legal issues — all of which weigh on your bottom line.
Without an automated contract management system, you will have to rely on manual processes or use third-party tools, which can be slow, tedious, and error-prone.
Here's how you can avoid approval and signature bottlenecks:
ContractSafe's solution allows users to share documents among all interested parties, which can reduce errors, help avoid missed signatures, and speed up the negotiation process.
Additionally, with ContractSafe's integrations with digital signature solutions like DocuSign and Dropbox Sign, you can securely sign contracts without ever having to leave your desk. The automated workflow keeps track of all documents, so you know exactly who has signed what and when it was signed.
12. Contracts Losing Value
As a contract ages, its value and relevance can decrease significantly.
Contracts lose value through a variety of ways:
Mismanagement

Lack of visibility

Lack of clarity in scope

Bad negotiations

Uncompetitive pricing strategy
The quality of a contract can be blamed for lost value before terms and conditions are signed off on.
Lost value after a contract is signed is the result of poor management. This can be traced back to individuals dropping the ball or a lack of clarity in the scope of a project. Fortunately, there's a solution.
Here's how you can increase the ROI of your contracts:
A contract management system like ContractSafe allows organizations to store, manage, monitor, and track the ROI of their contracts more effectively.
It provides visibility into the entire lifecycle of a contract, from negotiation through to execution and archiving. In addition, our systems allow for automated renewal reminders and alert users when documents need attention or updating.
This helps avoid missed deadlines that can lead to financial losses or legal disputes.
With proactive management, an organization can ensure its contracts remain up to date and legally binding over time.
Ready To Get Started?
ContractSafe is the one-and-done solution to your most headache-inducing contract management challenges.
Simple to implement? You bet! (Top ratings on G2 and Capterra!)
Easy for anyone to use? Of course! (Top ratings on G2 and Capterra!)
Secure and compliant? Wouldn't have it any other way! (Best-in-class security!)
Good customer service? Top rated, in fact! (Top ratings on G2 and Capterra!)
We know there are a lot of software solutions out there.
We created ContractSafe because the other ones didn't work for us.
We wanted Dropbox for contracts, not Salesforce for contracts.
If that's how you feel, go ahead and start your free trial. See how a simple contract management solution without all the bells and whistles can make a real difference in your business. Start your free trial today.