Managing contracts can feel like chasing a pack of hyperactive puppies.
Just as you put one document where it belongs, another one is scurrying off somewhere else.
But don't worry — herding these puppies is easier than you think.
With the right resources and approach, you can learn how to manage contracts efficiently. In fact, by the end of this guide, you'll be a certified "Contract Whisperer."
TL;DR
Contract management is an essential part of any business, but many organizations struggle to do it effectively.

There are six steps every new contract manager should take in order to get started.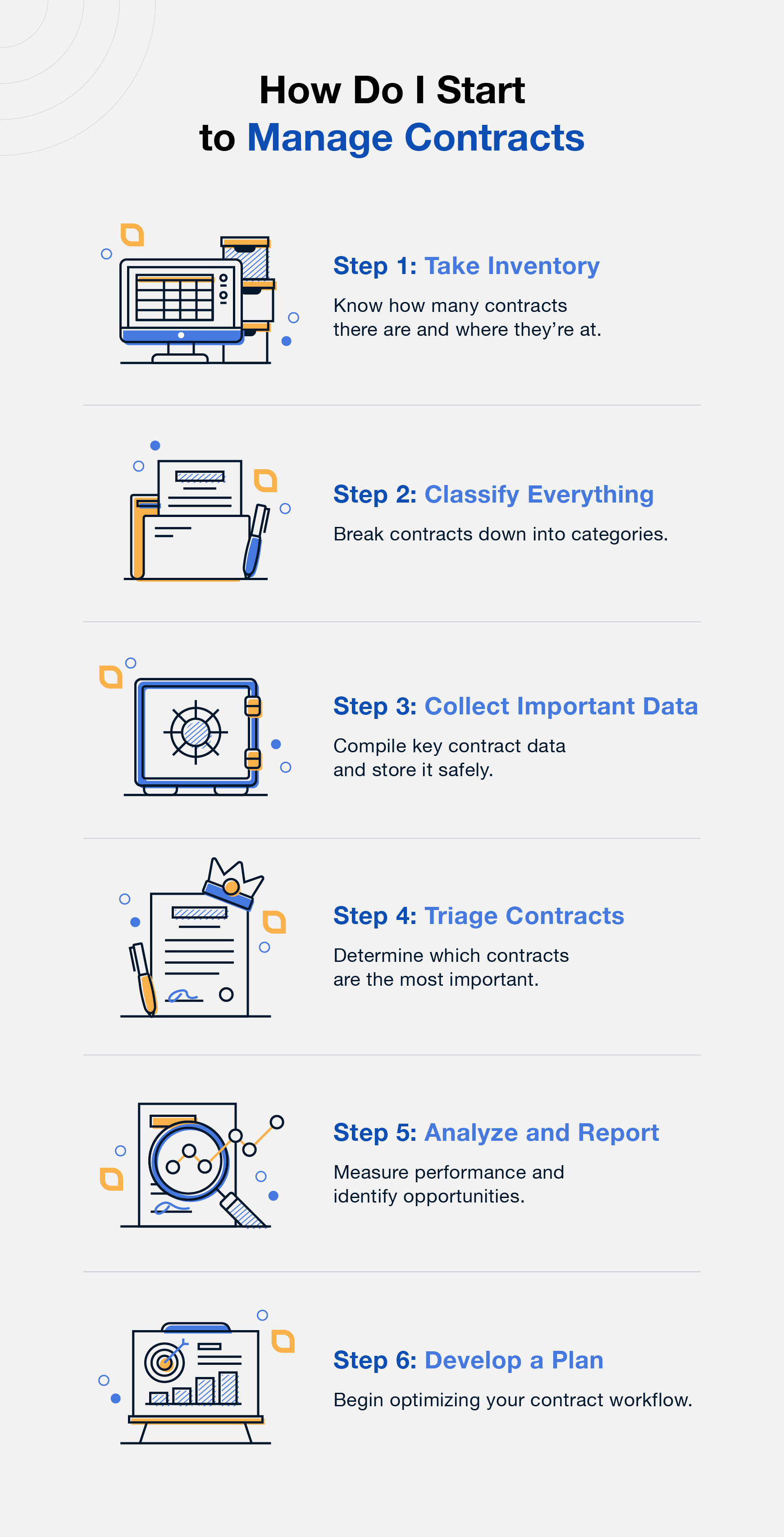 1. Take Inventory
Nearly three-quarters of all companies can't find at least 10% of their contracts.
Where are they? Who knows. But it says a lot about the importance of taking inventory.
To get started, take a look at how much you have on your plate. You can do this by doing a quick audit of your current contracts, including who they're with, where they're located, and when they expire.
Here are a few questions you might ask yourself when assessing the current situation:
How many contracts do you need to manage?

Is there a list or spreadsheet of all the contracts in the organization?

How are contracts stored?

Where are the contracts located?

What are the start and end dates for each one?

Do any of them automatically renew?

Are all contract versions up to date?

Are any supporting documents attached?
Many organizations have contract silos where specific departments maintain their own documents, so be sure that when you're taking inventory, you leave no stone left unturned.
Answering these questions will give you an idea of exactly how many puppies you'll need to wrangle and which room of the house they might destroy first.
2. Classify Everything
Now that you have a better idea of how many contracts need to be managed and where to find them, you'll want to create a system to classify and organize them.
A good way to get started here is to break contracts into broader categories.
Here are a few examples:
Financial contracts

Employment agreements

Third-party services

Business partnerships
After you have a general idea of the types of contracts your organization has, it's time to move on to the more specific details.
To add an extra layer of organization, you might consider adding sub-categories as you see fit.
Some sub-category examples might include:
Master service agreements

Statements of work

Non-disclosure agreements

Lease agreements
For smaller operations, you can use spreadsheets to capture data from the inventory of contracts. For larger organizations, however, you may need specialized contract management software.
After all, you'll probably want to deal with a husky a little differently than you would a chihuahua.
3. Collect Important Data
Did you know that data is more valuable than oil? And that's true in your organization, as well.
There are several pieces of data you should collect from each contract — and store them in an easy-to-access location. You can then use this info to evaluate past agreements and create new ones more efficiently.
Here are some data points you can collect:
Parties involved

Responsible stakeholders

Key dates

Terms of service

Performance clauses

Payment information

Renewal terms and conditions

Contract status
By tracking this data and storing it securely, you can build a strong foundation for effective puppy wrangling, or contract management, whatever your preferred terminology is.
4. Triage Contracts Based on Urgency
Knowing how to prioritize contracts is an integral part of contract management.
After you organize your contracts, it's time to review and decide which ones are the most important.
Start by separating them into three categories: high priority, medium priority, and low priority.
Base your assessment on factors such as contractual deadlines, renewal terms, and payment terms.
This will help you make informed decisions about which contracts require immediate attention and which can wait for a later date.
Here are a few examples of how you might choose to prioritize your contracts: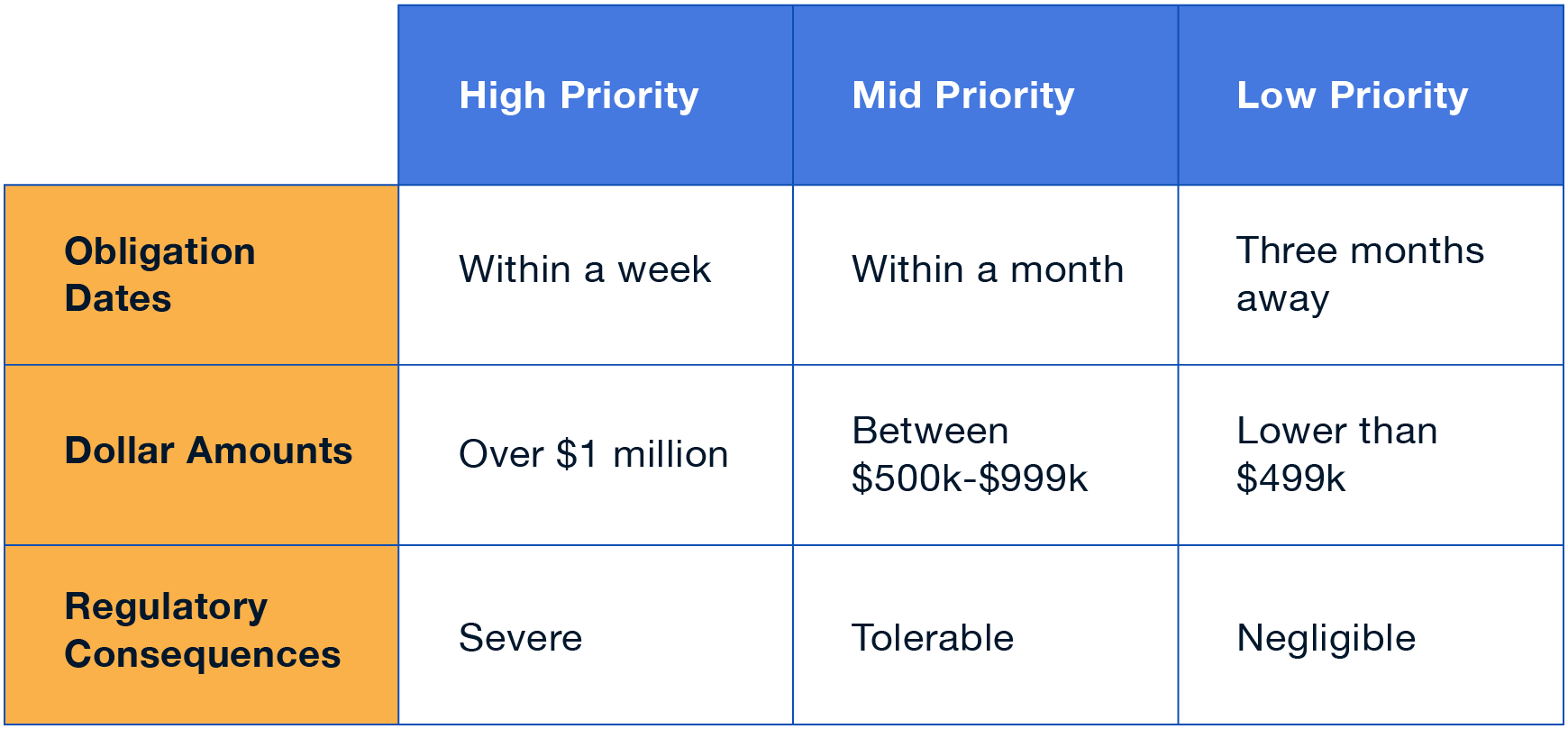 Understanding exactly what you're dealing with can help keep you from getting bit!
5. Analyze and Report
Now that all your pups are in line, it's time to give the dog-parents, or stakeholders, a report on how they're doing!
Analyzing and reporting helps identify areas that need improvement as well as potential savings opportunities. Plus, it lets you monitor progress over time so you can make the best decisions for your business.
You can start by creating reports that focus on key metrics like:
Contract value and duration

Performance against contractual obligations

Obligation dates

Risk of non-renewal

Number of contracts per party
Not only will these audits help you identify risks, but they'll also provide valuable insight into how your contracts are performing and potential areas of improvement.
6. Develop a Go-Forward Plan for Managing Contracts
Don't forget that managing contracts is an ongoing process. It requires constant communication between parties and regular reviews of performance against contractual obligations.
Once you're familiar with contract management best practices, you'll want to develop a plan for going forward. This could include setting up a system to track each contract, creating processes and procedures, or even outsourcing specific tasks.
No matter which approaches you choose, make sure that the process is efficient and transparent so everyone can access the information they need whenever they need it. It's also important to review your progress regularly and adjust as needed.
Remember — just because Fido knows how to sit doesn't mean he can't learn to roll over!
Level Up Your Contract Management With The Right Software
Many beginner contract managers might get their feet wet by using spreadsheets to organize their contract data, but those can quickly become cumbersome.
Between managing access, protecting data from being overwritten, and keeping stakeholders up to date with the current version, spreadsheets can cause a lot of headaches for contract managers.
Instead, consider investing in the right software to streamline your contract management process right out of the gate.
There are a ton of options out there, so we're just going to quickly cover a few features you should prioritize:
Ease of use:

A lot of software is chuck full of bells and whistles that no one even uses. Look for something that is easy to pick up. Stellar customer support is a huge plus!
Security:

There's a lot on the line when dealing with so much sensitive data, and breaches can cost you. Look for software with bank-level encryption and safety protocols that'll help

keep your data secure

.
Searchability:

There's a reason why no one uses Lycos anymore. Not all search features are created equal. Look for software with optical character recognition so you can find exactly what you're looking for, no matter where it's hiding.
Alerts and reminders:

Almost all contract management software has

alerts and reminders

, but many force you to log in to see what's happening. Look for software that sends alerts directly to your email or desktop.
Version tracking:

When you've got multiple stakeholders working from multiple versions of a contract, you're asking for trouble. Look for software with version tracking to ensure everyone involved is working from the right document.
Ready to check out a solution that can do all of these things and more?
Schedule a demo today and we'll show you how our software can take your company's contract repository from messy to meticulous in no time at all.