So you're the lucky person who gets to figure out how to "get contracts under control." A task that is seemingly straightforward, but in reality, is quite complex.
Until this point, the "process" for managing contracts has involved a shared drive (of absolute chaos), a few headache-inducing Excel spreadsheets, and a cabinet full of manila folders. Yikes.
But fear not! Whether you're tasked with untangling a complete mess or just looking for ways to level-up your contract management game, this handy article is packed with nuggets of wisdom to get you on the right track. You'll be the office hero in no time!
What Exactly Is Contract Management?
Before we dive into the best practices for contract management, let's get into the nitty-gritty of what this term even means.
Simply put, contract management is the process of managing contracts — from creation, to execution, to analysis.
Though it sounds straightforward, contract management can quickly become a complex responsibility. There are many steps, including contract creation, negotiations, approvals, and renewals — and can be bucketed in two groups:
Presigning activities involve everything up and until the contract is signed including negotiations and contract creation.
Postsigning activities involve everything that happens after the contract is signed, including storage, organization, renewals, and more.
Each step in the contract lifecycle is made up of many rounds of edits, research, and general maintenance. Most (if not all) contracts contain sensitive legal language, which can add to the complexity.
It's easy to see how quickly small details or even large milestones can be missed if the contract management process isn't in place. Because contracts are so important, handling them correctly can improve your company's overall performance.
6 Contract Management Best Practices
Finding ways to improve the contract management process can reduce risk for the business, accelerate contract approval time leading to more revenue at a faster rate, make internal stakeholders happier, and increase overall customer satisfaction to ensure longer business relationships. Maybe most importantly, it will help you and your bosses sleep well at night!
Ready to dive into the best practices for contract management? Let's go!
1. Store All Contracts In One Location
Make sure your organization has one location to store all of its contracts. This central repository should be accessible by all contract stakeholders, making it less likely for important contract terms to be overlooked — not to mention the ability for your team to search and find things fast!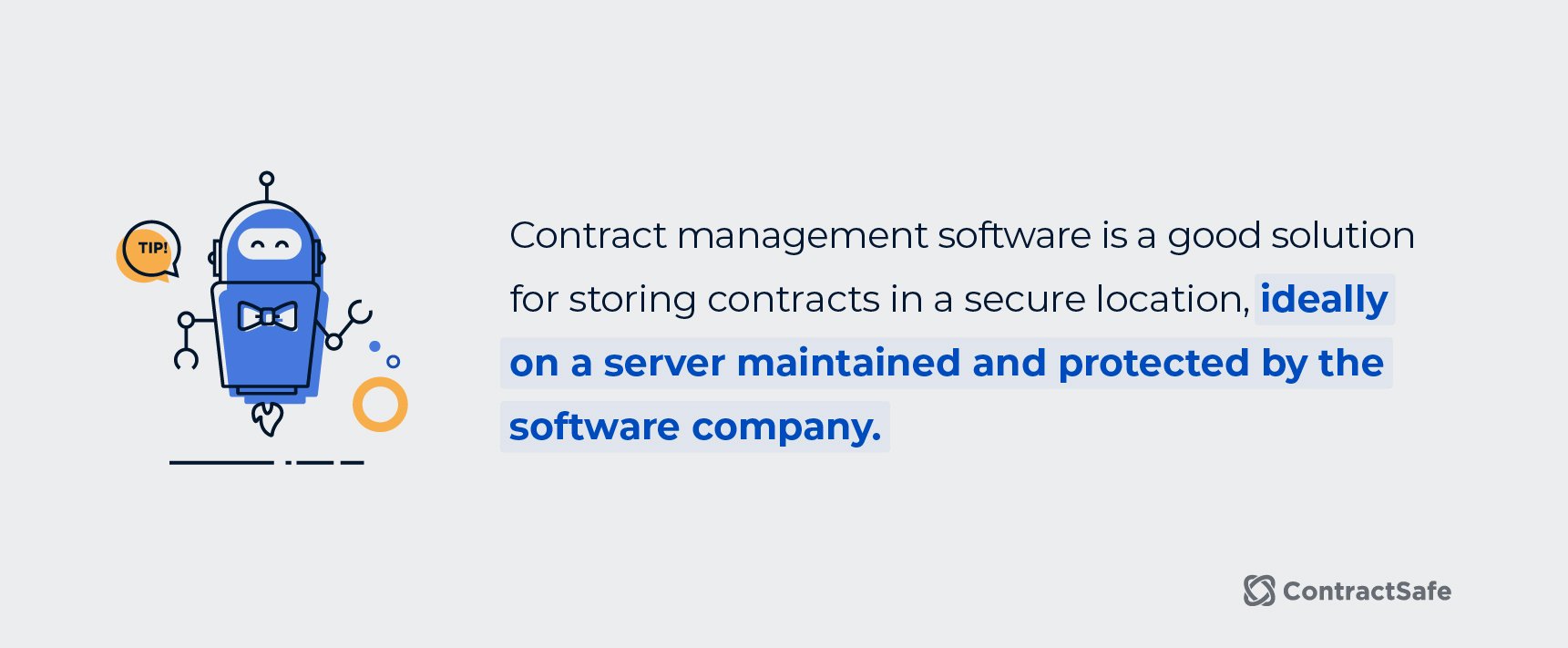 Proper storage can be a bit of a challenge. Keeping contracts secure while also making sure they're accessible can be a struggle — but it doesn't have to be. Contract management software offers the best solution for storing contracts in a secure location, ideally on a server maintained and protected by the software company. Perhaps even more important? The ability for teams to search and find contracts quickly.
Storing contracts properly will provide your team with visibility into who is accessing contracts, when updates are made, and how many times each document is uploaded or downloaded. All of this can help boost efficiency in contract management.
2. Ensure Contract Compliance
Obligations in contracts are commonplace. Audits, reporting, price increases, and payments are all important obligations that need to be tracked. Keeping the team alerted to critical contract dates can help minimize financial loss and protect your business.
Maintaining contract compliance is crucial throughout all phases of the contract lifecycle. Depending on the type of industry, businesses may need to adhere to strict regulatory, legal, and corporate guidelines — if any of these elements are missed, financial loss and other risks are more likely.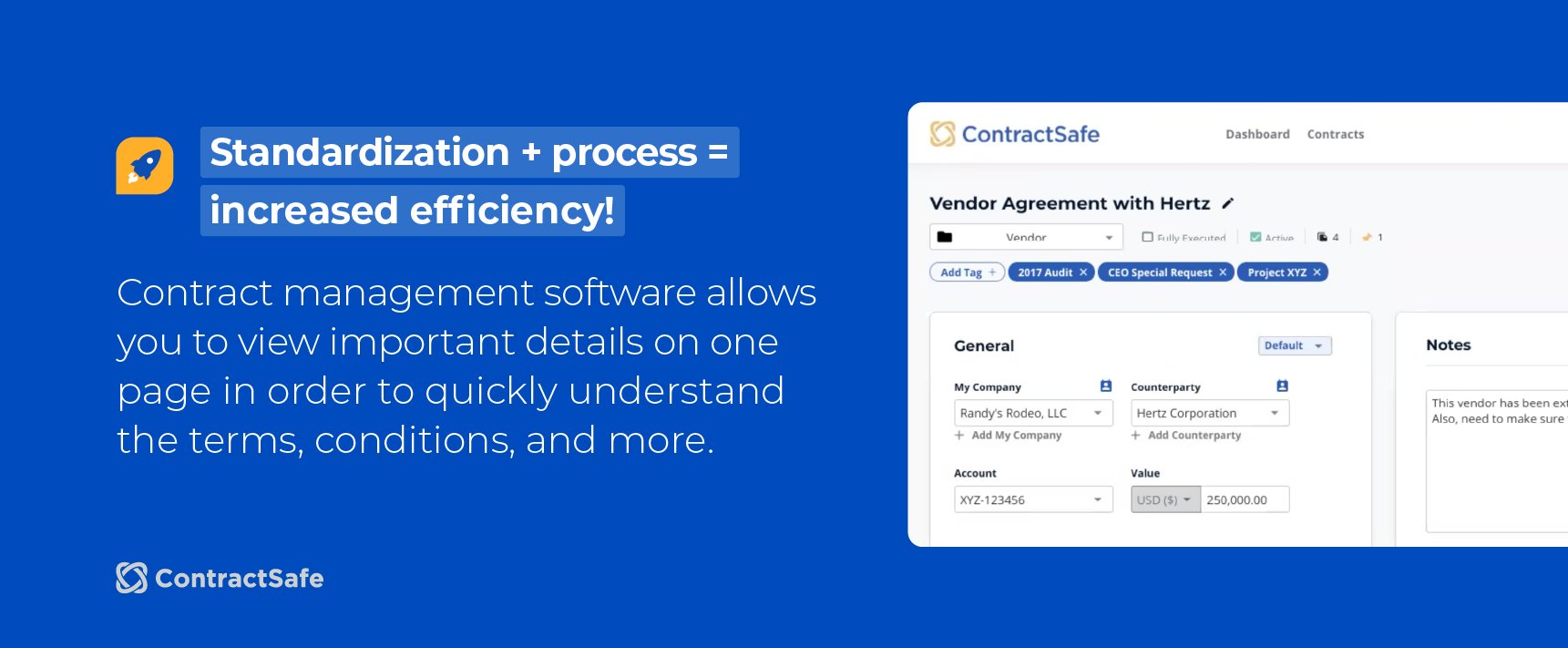 Standardize your contract compliance procedures to make sure this important step isn't overlooked in the contract management process. By using contract management software that offers a one-page summary detailing the most important elements of a contract, you'll be able to view all of your contract's important details on one page. Empowering your team to more quickly understand the terms, conditions, and commitments of the contract. The right software will also allow you to set up automatic alerts to remind you of important dates, milestones, and upcoming renewals.
3. Set the Stage for Effective Collaboration
Every company is set up differently, but it's not uncommon for several different departments to be involved in the contract management process. These departments may include legal, human resources, sales, procurement, and others. With so many stakeholders involved in the contract management process, great collaboration is essential to a successful contract.
This is another area where contract management software can be of help. By having the latest version of a contract available to all involved parties at all times, you can help make sure effective collaboration is taking place. This allows stakeholders to make updates in real-time. Each stakeholder can see the revisions as well as comments from everyone in the group, providing better insight into what changes were made, when, and why. Updates are immediately visible.
You can also set reminders for review, which ensures no one's feedback is missed.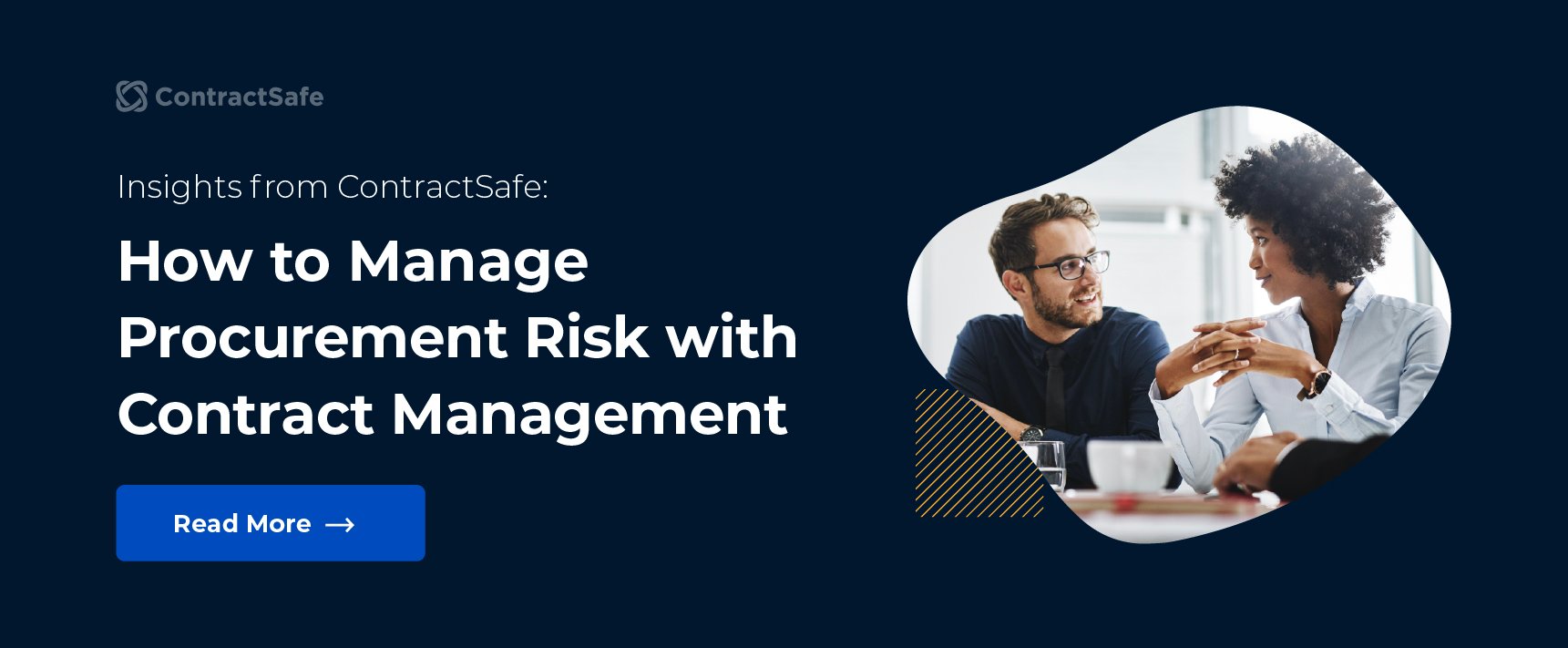 4. Use Templates for Consistency and Speed
It's really important to standardize as much as you can during the contract management lifecycle. Not only will this make your job easier, it can also decrease the time spent on each contract and help limit the number of errors throughout the contract management process.
There are some stages that will be very similar between all contracts as they go through the steps of negotiation through to approvals. Some parts of the contract can use standardized templates, especially when it comes to basic company information, or if there's the inclusion of regulatory and legal requirements that are specific to your business.
Despite the benefits of setting up templates, there may be some times that these standards can be too rigid. Certain contracts may need more specialized information that takes longer to assemble or might need different formatting from your regular contract templates. Be flexible when the need arises.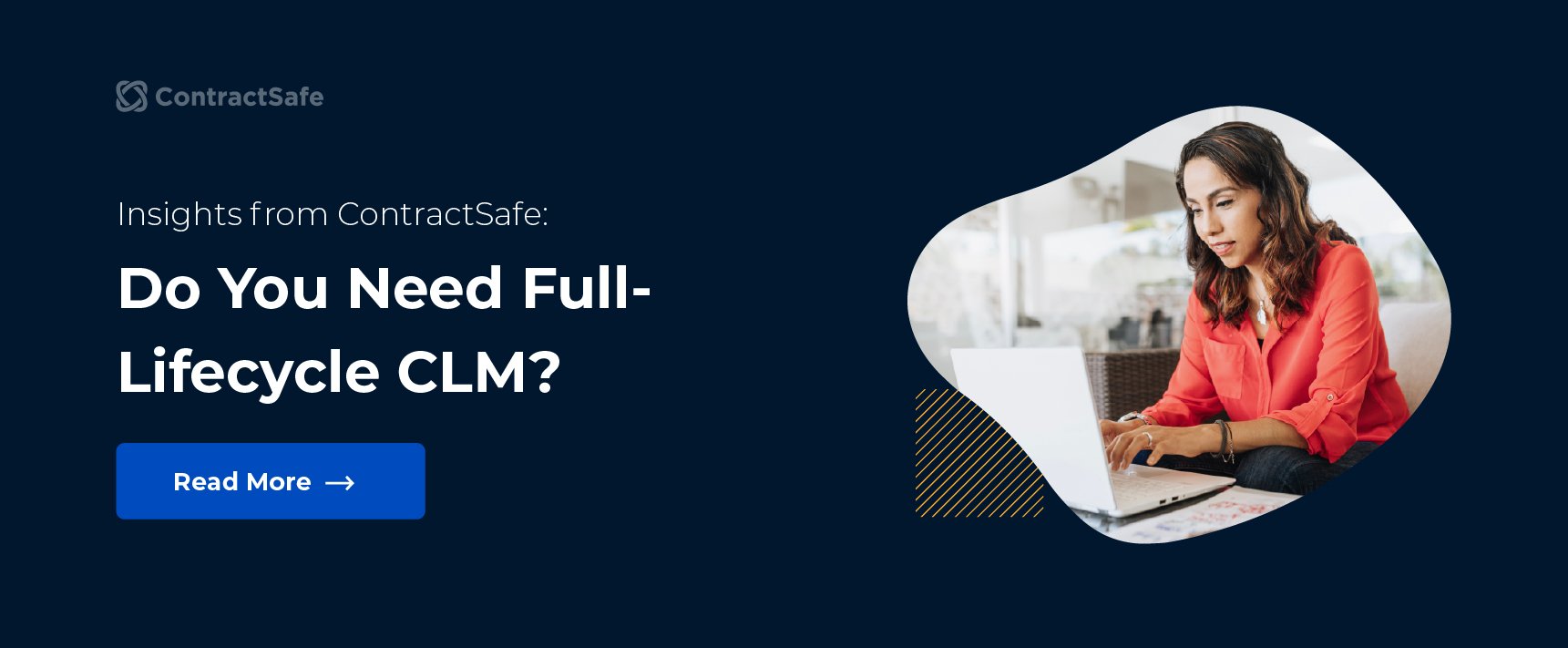 5. Involve Your Legal Team — The Right Way
Before your company gets too far along with the contract creation process, make sure you have a legal representative from your own company involved. Your legal rep or team can identify worst-case scenarios right away — something someone outside of the company might not be able to do. But before you do, be sure take these important steps:
Create an intake form detailing all of the necessary background information the legal team will need to make decisions.
Read the contract thoroughly before sending it to the legal team. Flag anything that looks "off" and indicate areas where you need their help.
The more prepared you are before involving the legal team, the faster you'll receive help and turnaround from these busy folks. To avoid having to go back in the contract and make changes later on, take this step early on in the process.
6. Set and Track Contract Management KPIs
Setting up key performance indicators (KPIs) and benchmarks for the contract management process can help your organization determine what's working well and what's not. By setting key indicators like the number of expiring contracts per month, how many are renewing, and the time it takes from when a contract is requested to when the final version is ready — you'll be better positioned for success.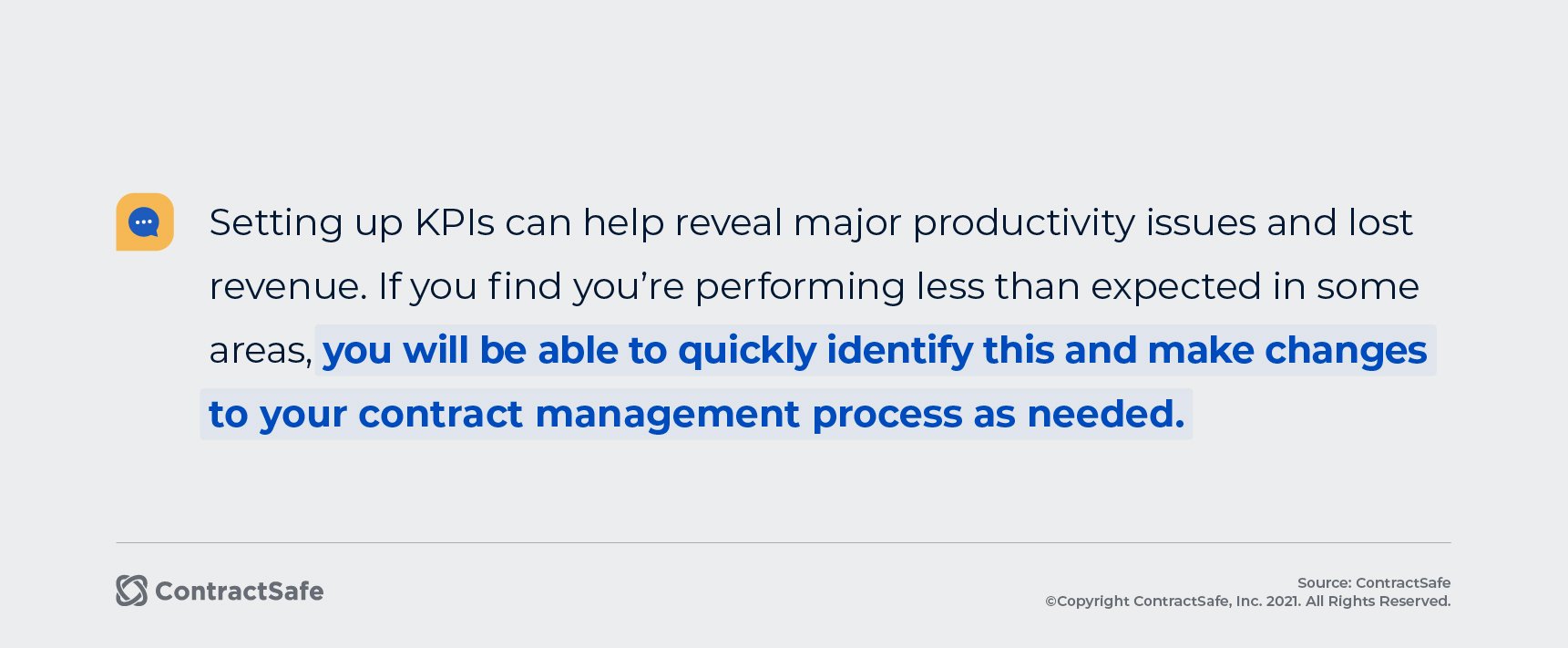 Without identifying what these KPIs are, it can be hard to know if you're hitting the mark with your contracts. Setting up KPIs can help reveal major productivity issues and lost revenue. If you find you're performing less than expected in some areas, you will be able to quickly identify this and make changes to your contract management process as needed.
Once a contract is finalized, it can be helpful to immediately review the process to determine what parts of the process could have been improved. Evaluating this right away can help you save time if faced with similar difficulties during another contract process.
Best Practices + Software = Contract Management Success!
By following some of the best practices we've outlined here, along with investing in a software contract management tool, you can easily streamline your contract management process and get ahead of the competition. Working with ContractSafe on your contract management goals can help you get there.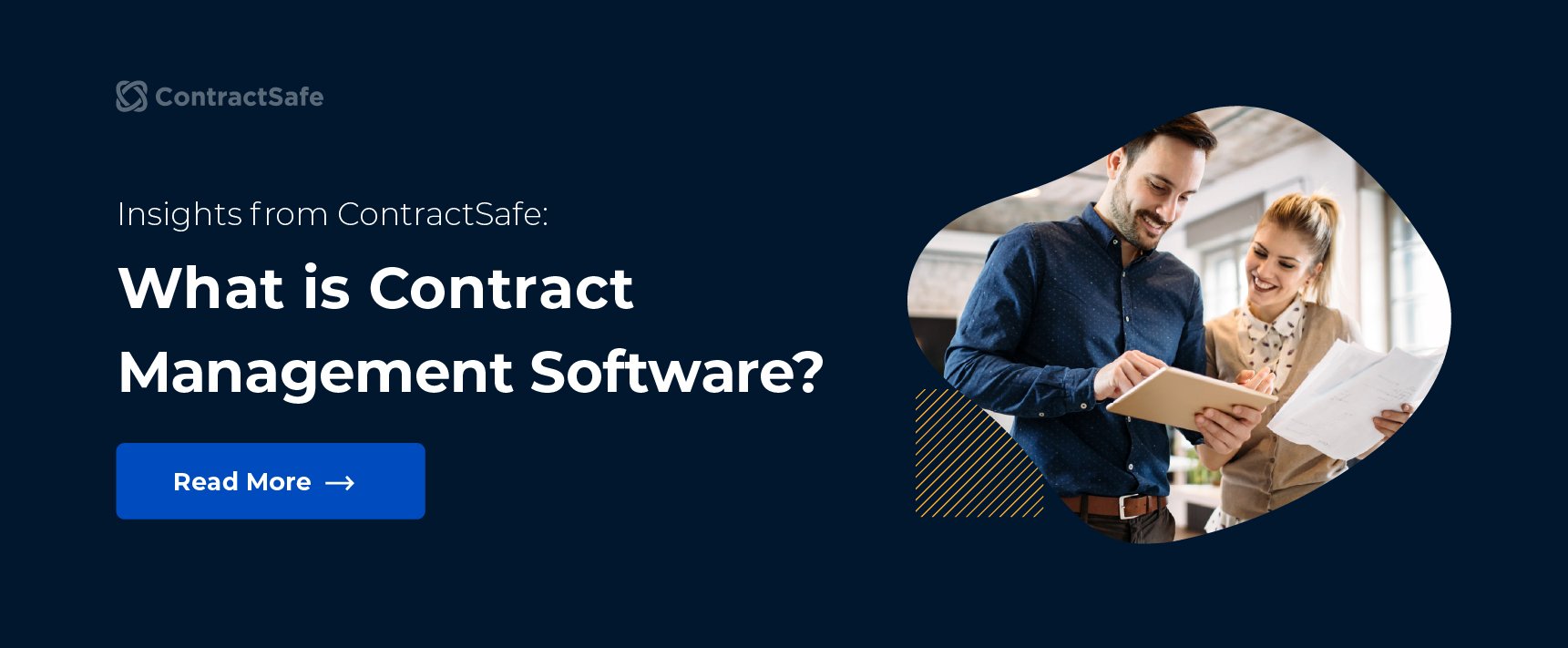 Do you need help determining the best practices for effective contract management? Could your organization use more assistance maximizing the efficiency of your contract management process? Subscribe to our blog to keep learning more.