A master service agreement (MSA) is a little like that go-to board game you bring out when old friends come around for game night.
It's always there for you. You know what to expect. And it gives you that peace of mind you so desperately need when you're trying to relax with your pals. A good MSA will leave no stone left unturned. No mystery lurking behind the bushes.
It's a business agreement that will outline exactly what's expected of everyone involved, what happens if there's a dispute, and how all parties can make sure their own interests are protected throughout the course of the relationship. The more detailed the MSA, the better.
In this post, we'll cover exactly what an MSA is, what it should include, and how you can use contract management software to manage them effectively.
TL;DR
MSAs are key in establishing and maintaining long-term business relationships.

Contract management software can help you make the most of your MSAs.
What Is an MSA?
An MSA is used when you need an agreement that'll cover an ongoing business relationship rather than a one-off exchange.
It's an important contract that outlines the terms and conditions that will be provided throughout the course of a business relationship. It covers things like:
Timelines

Payments

How taxes are paid

Terms for termination

How disputes are resolved
Before diving into the world of MSAs, here are a few key terms to know:
| | |
| --- | --- |
| Confidentiality | Information that must be kept confidential between the parties |
| Governing law | What laws will govern the contract |
| Delivery requirements | When services need to be provided and what is considered acceptable performance |
| Warranties | Any assurances that are given to one of the parties in respect of services being provided or represented. |
| Indemnity | Who is responsible for any costs or losses that arise from the breach of contract by either party |
An MSA can help provide peace of mind knowing there is a formal agreement governing the relationship that has been agreed upon by both parties.
Master Service Agreement vs. Statement of Work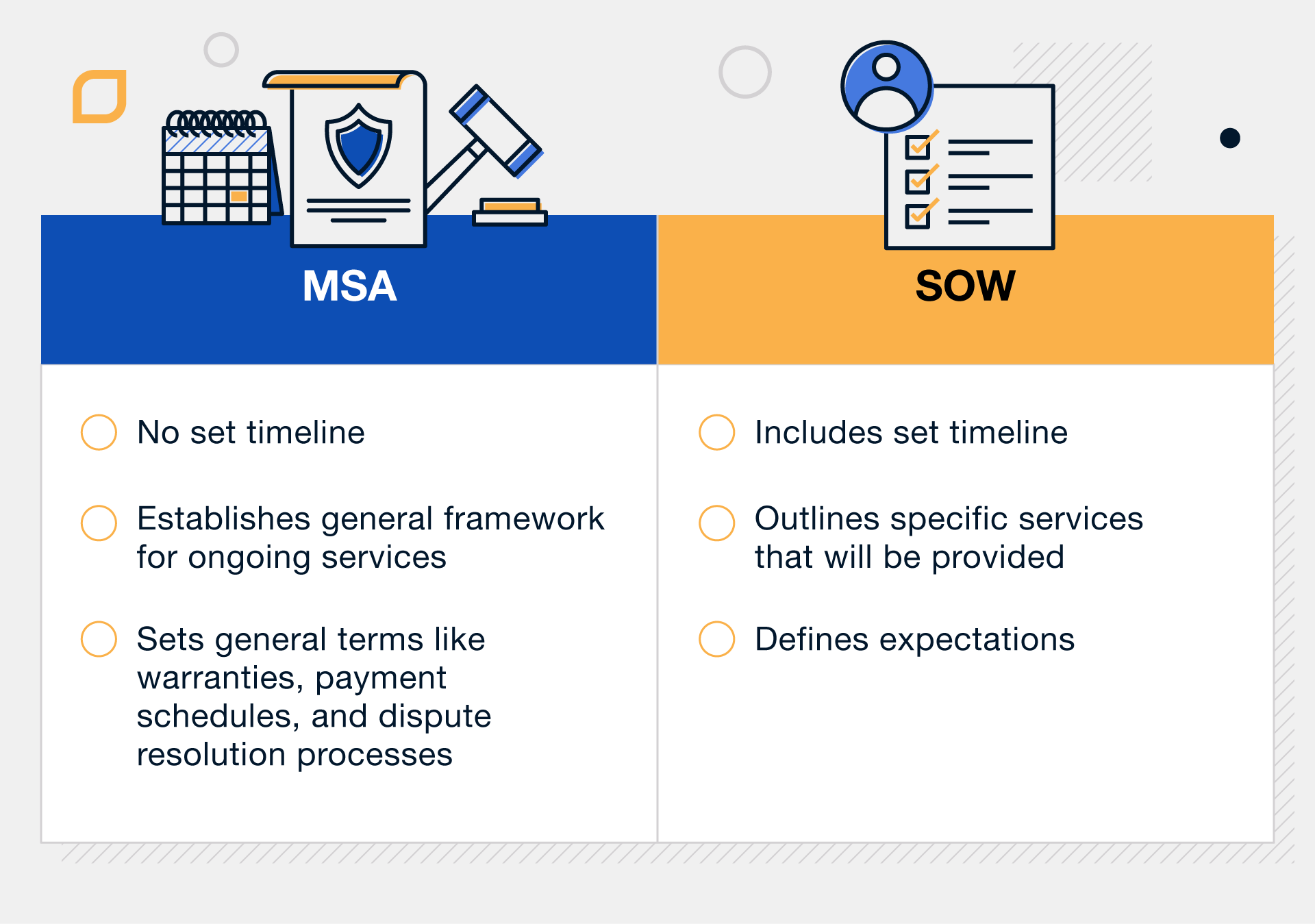 It's easy to get a master service agreement and a statement of work (SOW) confused.
An MSA sets out general terms such as warranties, payment schedules, and dispute resolution processes. It establishes the general framework for ongoing services.
A SOW outlines the specific services that will be provided and when they need to be completed. It also defines what is expected from the service provider.
An MSA usually covers multiple projects over time, whereas SOWs are used for individual projects.
Why Use a Master Service Agreement?
Honestly, MSAs are great for everyone involved. The entire goal is to ensure everyone knows exactly what they're responsible for and what will happen if something goes awry.
And the best part is that it can be used throughout the duration of your relationship. Here are a few key reasons you might use one:
Define roles and responsibilities

Prevents misunderstandings by clearly defining the roles and responsibilities of everyone involved.

Helpful for situations where multiple companies are working together on a project.

Streamline the sales process

Standardizes procedures for pricing, billing, and payments.

Helpful when you've got regular business with the same company or companies.

Protect your interests

Establishes what will happen if anyone involved in the agreement breaches the terms and conditions.

Helpful in high-value contracts where a breach could result in a significant loss.

Minimize disputes

Provides a clear understanding of what is expected of all parties involved and outlines the dispute resolution process.

Helpful in reducing misunderstandings while providing a clear path to take if a dispute does arise.

Establish long-term relationships

Sets the framework for the relationship so counterparties do not need to renegotiate the rights and responsibilities of each party since it's already covered in the agreement.

Helpful when dealing with the same company over a long period of time.
What Should an MSA Include?
Did you know that out of all arbitration cases in 2022, 39% of them involved a breach of contract?
That's why an MSA should be clear and concise in what is expected from all parties involved.
It should go into detail on the scope of services, payment terms, obligations and responsibilities of each party, warranties, terms of termination, indemnity clauses, dispute resolution mechanisms such as arbitration or mediation, and any other applicable provisions.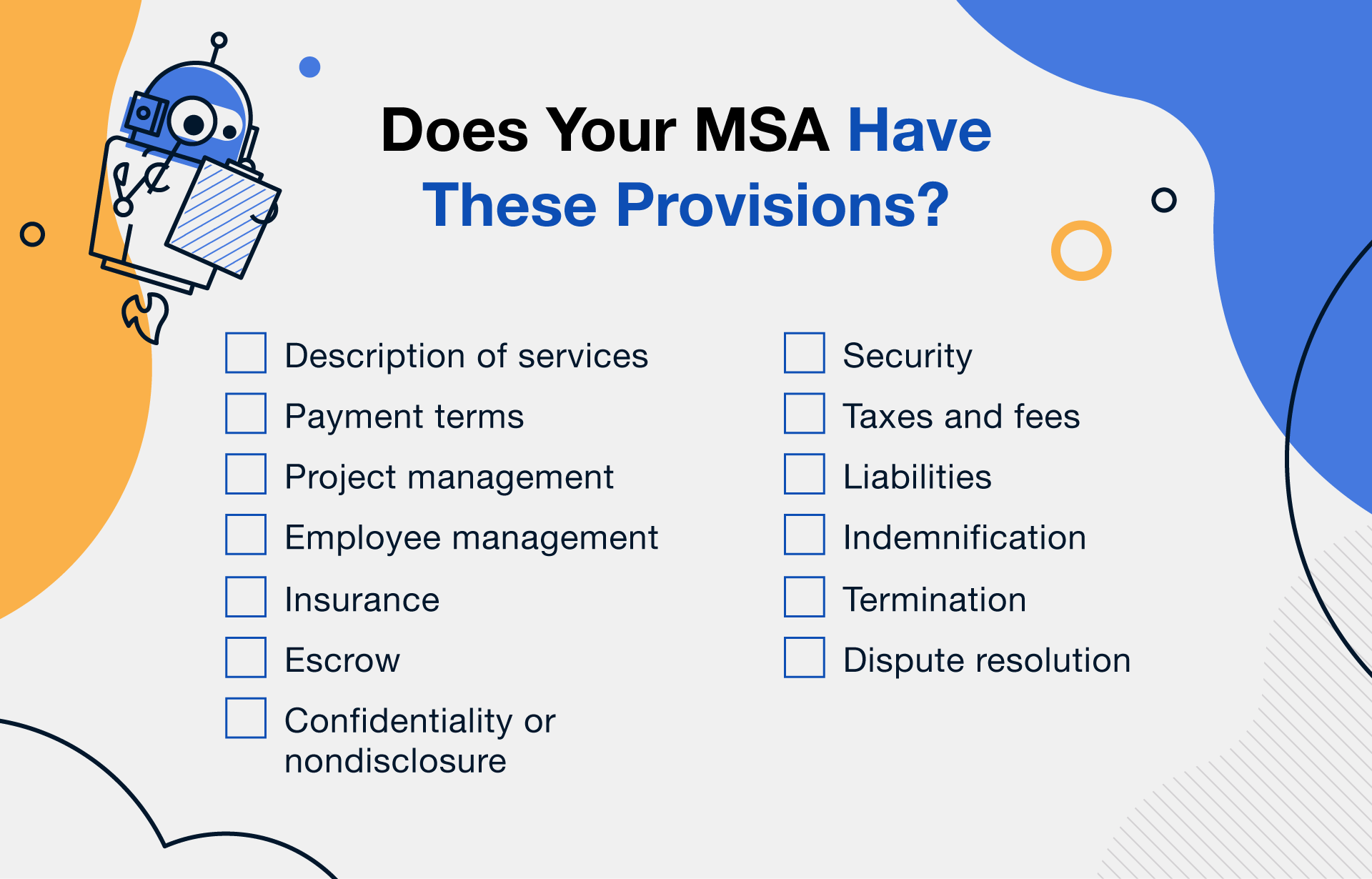 While all MSAs are different, there are some common clauses you might consider adding to your next agreement if applicable:
Description of the services provided:

provides detailed descriptions of what is expected to ensure clarity for both parties

Payment terms:

states how much, when, and how you're expected to pay, as well as what'll happen if a payment isn't made on time

Project management:

outlines what each party is expected to do in order to ensure the successful completion of any tasks in the agreement

Employee management:

includes standards for hiring, firing, and supervision of whoever is working on projects related to the agreement

Insurance:

covers what insurance is required and who is responsible for taking care of it

Escrow:

helps all parties in a deal feel confident in compiling things like cash reserves or deposits needed to secure the performance of the contract

Confidentiality or nondisclosure:

covers how confidential information like trade secrets, sensitive data, proprietary information, or intellectual property is shared (or, you know, not shared)

Security:

describes what measures should be taken to protect confidential information

Taxes and fees:

stipulates how taxes are handled in order to ensure that each party is compliant with all relevant taxes and fees imposed by local, state, or federal laws

Limitation of liability:

includes provisions for costs associated with any legal claims or damages, as well as other

liabilities

that may arise from the project

Indemnification clauses:

explains

what each party will be responsible for in the event of any losses or damages incurred during the course of the agreement

Termination provisions:

describes how and why a termination of the agreement might occur and, more importantly, what happens if parties split

Dispute resolution:

covers what happens if a dispute arises such as mediation or arbitration

Governing Law & Jurisdiction:

outlines the law and jurisdiction that will govern the agreement

Representation and Warranties:

outlines any statements of fact or warranties made by either party regarding the services of the other party's ability to perform

Force majeure: covers how parties

will handle unforeseen events such as natural disasters, pandemics, acts of war that may prevent one or both parties from fulfilling their obligations under the agreement.
Track and Manage MSAs With Contract Management Software
Managing an MSA is a complex process. To ensure that everything remains in compliance with the agreement, organizations must track and manage every aspect of their MSAs.
But fear not, technology is here to save the day.
With contract lifecycle management, organizations can easily keep track of all their MSAs efficiently.
Contract management software enables users to:
Track contract milestones: With ongoing MSAs it's easy to stop tracking performance. (If it ain't broke, why fix it?) Contract management software helps you stay on top of contract performance to prevent scope or price creep and ensure satisfactory performance.
Perform periodic audits:

Audits are key in making sure everyone is compliant and obligations are being met. Audits will also help identify weak points and pave the way for more favorable negotiations if the situation arises.

Search for and find documents:

Contract management software with powerful search and filtering tools can help you locate essential documents regardless of their format. The ability to easily access and search for MSAs can help prevent misunderstandings and disputes.

Track contract changes and amendments:

Contract management software allows users to not only track changes and redline contracts, but also features version tracking in order to ensure that all parties are quite literally on the same page.

Store documents safely and efficiently: Cloud-based contract repositories can help keep your MSAs organized and secure. Additionally, they'll allow you to store other contracts like SOWs alongside their governing MSAs.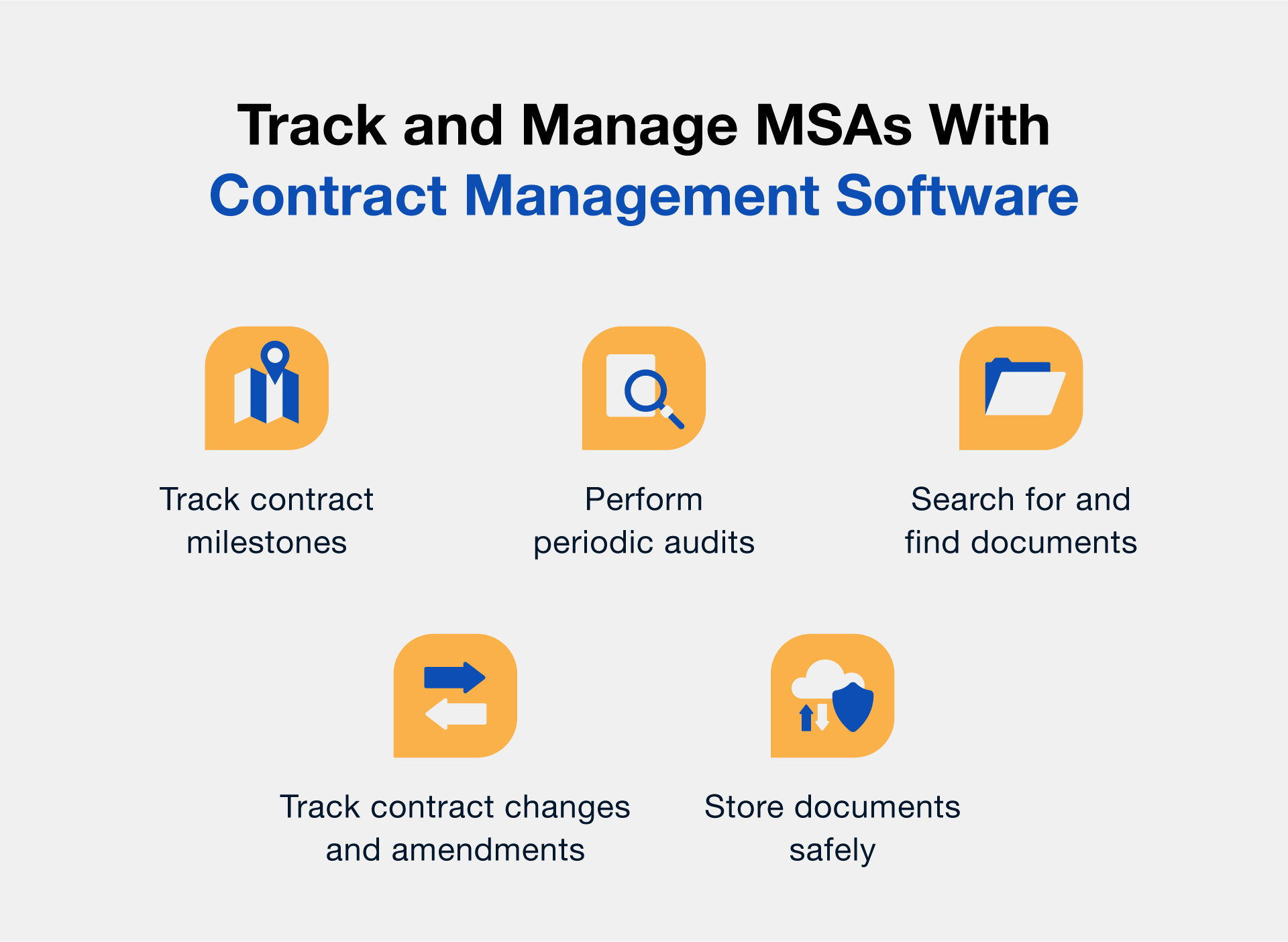 How Contract Management Software Can Prevent MSA Disputes
Disputes are inevitable. They're part of doing business.
But it doesn't mean you can't minimize the possibilities of a dispute.
With contract management software, businesses are better equipped to handle the complexities of a master service agreement. This includes having visibility into who is responsible for what, what the current status of the contract is, and any information associated with it.
You can also store SOWs along with their governing MSA — so you have peace of mind knowing that all your important documents are easily accessible, all in one place.
Having a big-picture perspective will help ensure everyone is compliant and hopefully avoid disputes when possible. And if a dispute does arise, contract management software can help you quickly find the details you need to resolve the issue.
Don't Let MSA Disputes Derail Your Project
A master service agreement establishes the fundamental conditions that two parties agree to during a long-term business relationship. This includes details such as pricing, payment terms, services provided, dispute resolution processes, and other core components of their agreement.
It's important that you have an MSA in place before any work begins so there are no misunderstandings or disputes that can derail the project later on.
It's important to protect your business relationships with a well-crafted master service agreement, and with the help of contract management software, you can make sure everyone is on the same page and make the most of the agreement. See how ContractSafe can make your life just a little bit easier. Schedule your demo today.