Whether you know it or not, your company needs to embrace SaaS contract management. Research shows that the COVID-19 pandemic has driven nearly half of IT decision makers' companies to accelerate their cloud migration plans (48%) and IT modernization overall (49%). Thus, businesses around the world have come to rely even more on cloud-based software-as-a-service (SaaS) products to operate.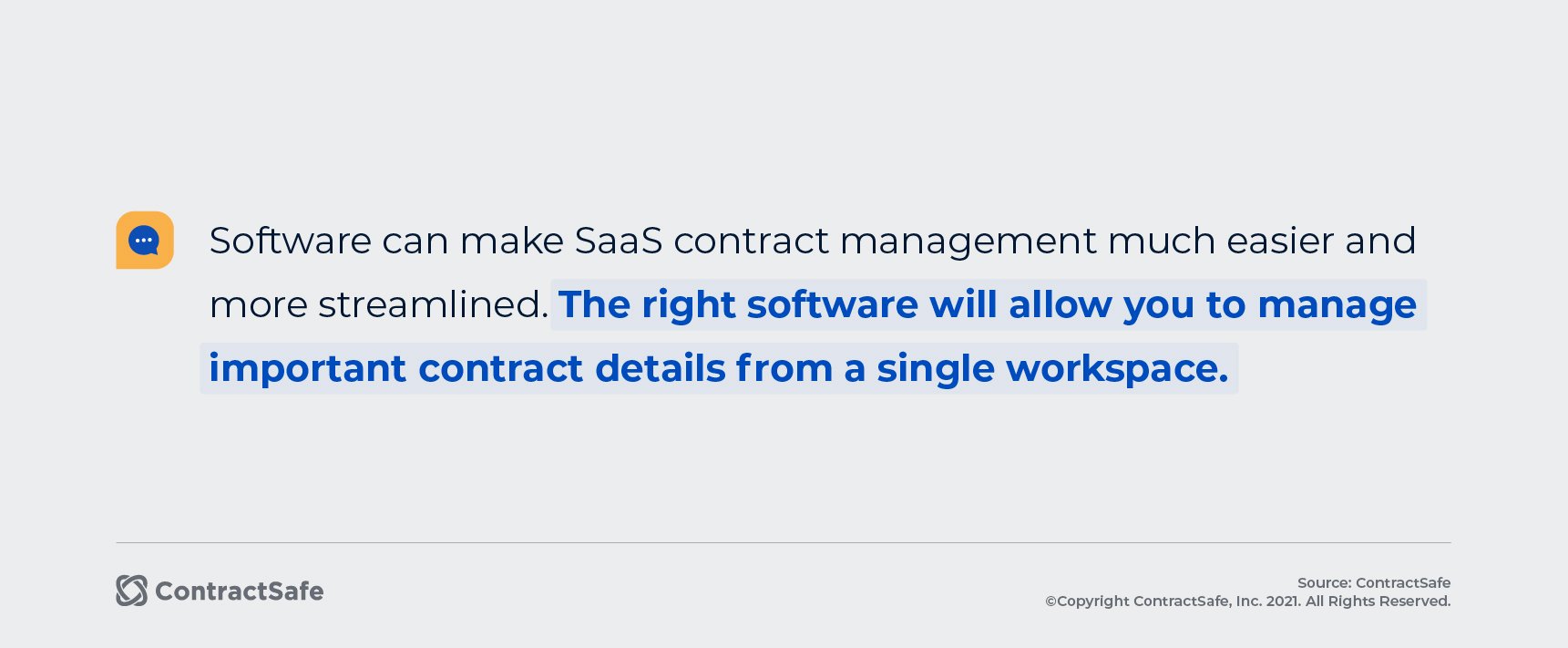 However, SaaS contract management is a complex process with multiple layers. The good news is that software to help manage this process can make it much easier and more streamlined. Not only that, but the right SaaS contract management software will allow you to manage important contract details from a single workspace.
But this is just the tip of a very large iceberg of benefits offered by SaaS contract management. Before we dig into the full list of seven, let's first run through a quick refresher on what SaaS contract management is and why it should be top of mind for your company.
TL;DR: Key Takeaways
Effective SaaS contract management keeps companies running smoothly by ensuring key contract details are attended to so that services remain uninterrupted.
The right SaaS contract management software will save your company time, money, and potential legal headache.
What Is SaaS Contract Management?
Contract management seems pretty straightforward, right? Two parties come to an agreement on details and obligations, sign a contract, and voila! If anyone isn't clear or has questions later on, they can look back at the contract for reference and proof of what they agreed upon.
If you like nutshells, then sure, contract management is simple. But if you live in the real world, you know there's more to it. Especially when it comes to complex contracts or a hefty volume of them.
Some companies might only have a few contracts to manage at any given time, while others have hundreds or even thousands to keep track of. Whichever scenario best describes your business — or if you fall somewhere in between — SaaS contract management is where it's at.
The 7 Benefits of SaaS Contract Management
1. Time Savings
Ever spend an embarrassing amount of time trying to find one tiny detail in a very large contract? Good news! You aren't alone.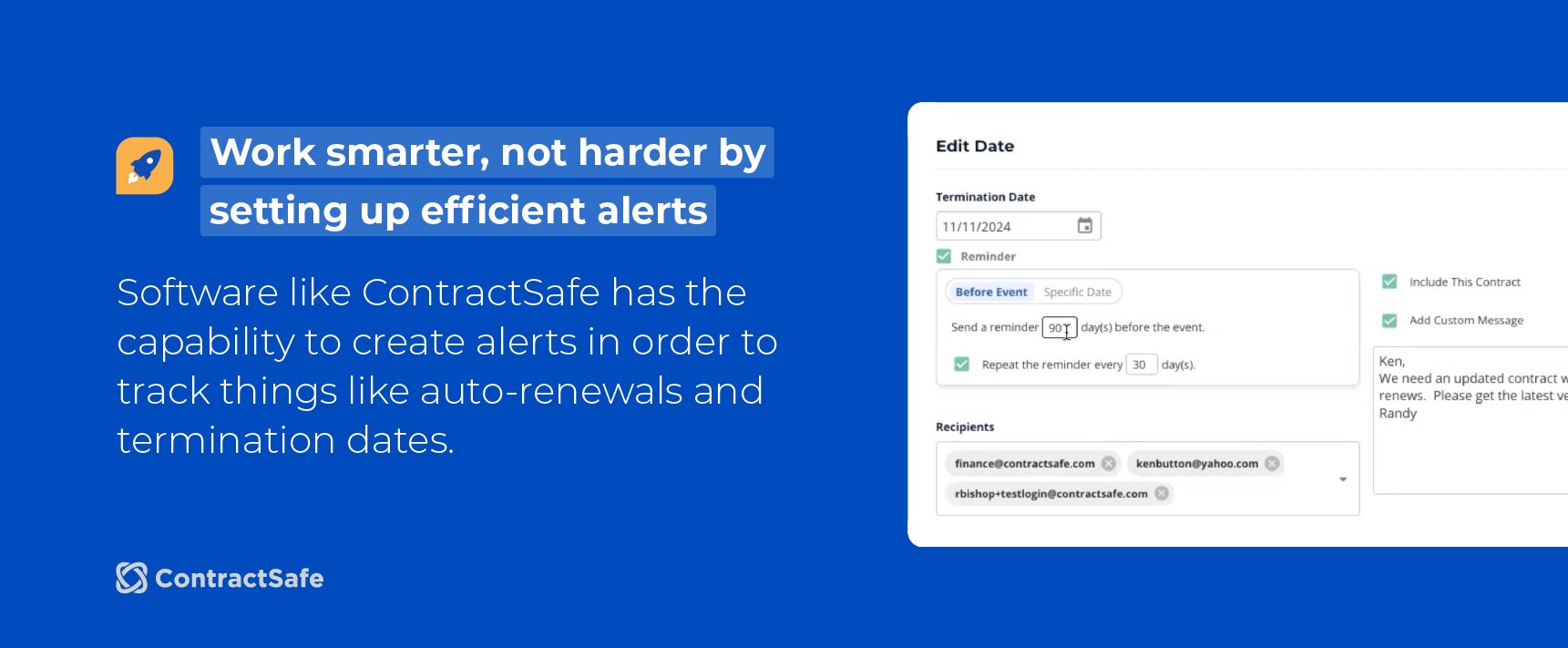 Managing long, complex SaaS contracts can be a real time-sucker. If you'd rather spend your time at work doing something productive, software is a great solution for SaaS contract management. Not only can you and designated team members effortlessly find the contracts you need, you'll also be able to quickly search and identify key information within them.
For example, software like ContractSafe has the capability to scrape SaaS Terms of Use — even from a URL, allowing for Google-like keyword searches of user rules and guidelines as well as for the creation of alerts to track things like auto-renewals and termination dates.
2. Cost Savings
Even if you choose to use a paid software solution to manage your contracts, your business can still reap cost-saving benefits. For example:
If your employees aren't spending hours manually searching through contracts, there will be less overtime.
A cloud-based solution allows for electronic signatures, eliminating the hassle of printing, scanning and emailing contracts while tracking down signatures.
Custom alerts can identify aging contracts so you never miss a deadline and your operations never miss a beat.
Without the need for manual intervention, contract management software can help reduce costly — and all too common — human errors.
3. Team Synergy
If saving time and money isn't enough reason to adopt SaaS contract management for your business, maybe this next one is.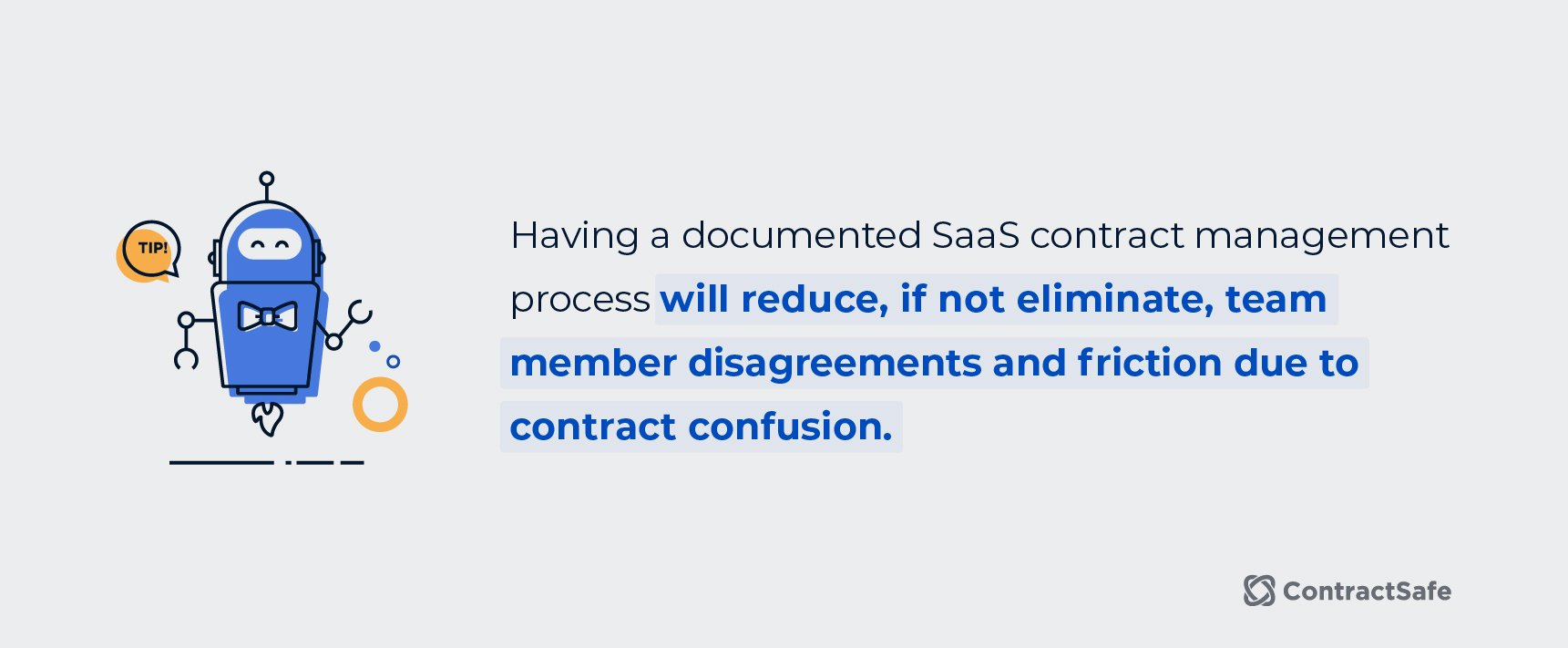 Having a documented SaaS contract management process will reduce, if not eliminate, team member disagreements and friction due to contract confusion. Imagine each individual on your team knowing where their responsibilities within the process begin and end.
No blurred lines. No room for interpretation. Just good old-fashioned clarity that keeps mission-critical product services chugging along exactly as they should.
4. Security
SaaS contracts and security go together like peanut butter and jelly. If you leave security out of the equation, you're left with a sticky mess that's nearly impossible to clean up.
A solid SaaS contract management process includes proper storage of vital vendor contracts. Rather than in several easily accessible locations, your contracts should be stored in a single, secure location. As a result, the likelihood of data breaches goes down, right along with the enormous costs your business would incur from that type of unfortunate event!
So instead of trying to finagle your way out of a legal nightmare, find your way into a subscription for a contract management software solution with a safe storage repository and best-in-class security features.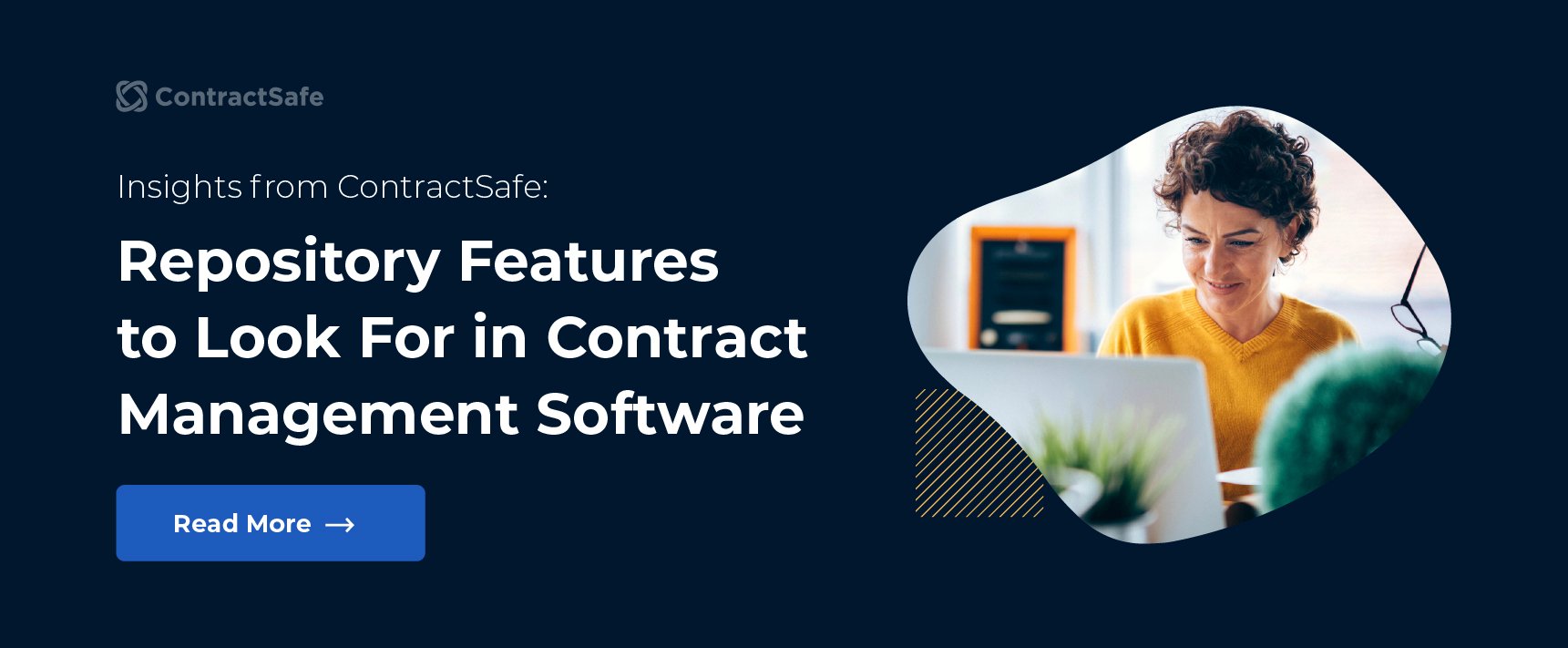 5. Real-Time Team Collaboration
What's a synergistic team without a way to collaborate? The right SaaS contract management software can help your team work together on a contract in real time, from anywhere (think Google Docs, but super secure and a lot more intuitive). Terms are agreed upon more quickly, and changes can be made right away, even if members are oceans apart.
6. Awesome Insights
Do you know how much time each step in your company's SaaS contract management process takes? Unless you already have a software solution in place (or you really love time tracking), chances are, the answer's no.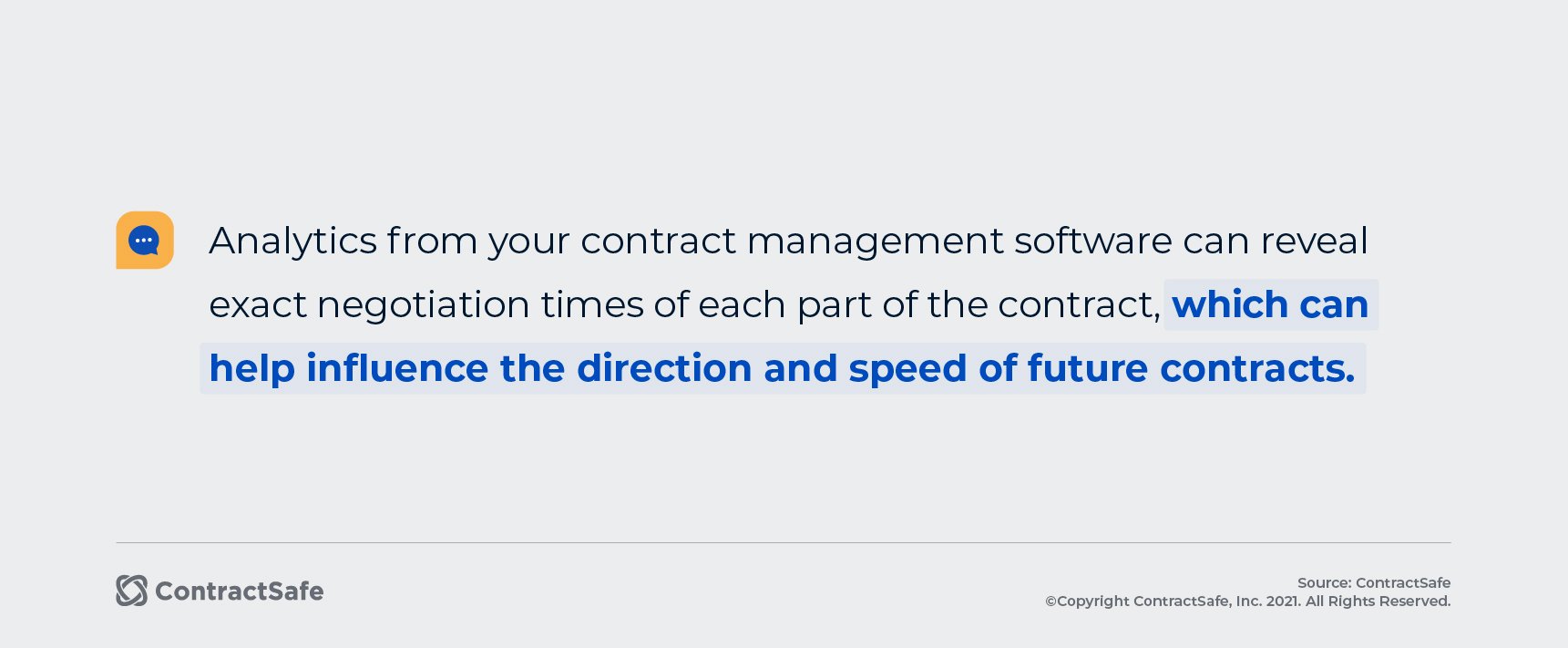 So why does this matter? With this level of insight, you'll be able to quickly identify steps that should be streamlined, areas that should be nixed, and gaps that need to be filled. Analytics can also reveal exact negotiation times of each part of the contract — including who reviewed it — which can help influence the direction and speed of future contracts.
7. Never Miss a Renewal
With a contract management software, your company can set automated reminders for contract renewals and for additional requirements that need to be addressed on a SaaS contract at any point in its lifecycle. This keeps your business' operations running smoothly by ensuring key contract details are attended to so that SaaS product services remain uninterrupted.
SaaS Contract Management: Key Stakeholders
To maximize the efficiency of SaaS contract management, it helps to educate and involve team members from across the organization. Not only will this keep all required teams involved, it will also ensure that everyone understands the process.
Business teams involved with SaaS contract management include:
Legal
It's quite typical for the legal department to work closely with an organization's contracts.
Sales and Marketing
Members of the sales and marketing teams may need to review project management and customer relationship management platform contract stipulations to avoid incurring extra fees.
Human Resources
The human resources team may need to access contracts on a regular basis, especially when onboarding new hires.
Finance and Accounting
Team members who work within the finance and accounting departments may need to access contracts to ensure the numbers align with those provided to their departments.
Procurement
Procurement team members often work closely with third-party vendors, including SaaS providers.
IT
As the company's gatekeepers of "all things technology", IT personnel will have a heavy hand in managing SaaS contracts at all stages of their life cycles.
The Bottom Line: Consider Software to Manage SaaS Contracts
Anyone who works within the world of contract management knows how complicated the process can be, and how important it is to stay on top of important dates and identify crucial contract information quickly. The same applies to SaaS contract management.
By not digitizing your company's contract management process, it's possible to miss important contract dates and increase the chance of contract errors, which can result in interruptions to mission-critical SaaS product services that directly impact the bottom line.
If your company depends on contracts for any aspect of business, consider contract management software.

If you're looking for more information on best practices and tips related to contract management, subscribe to our blog.