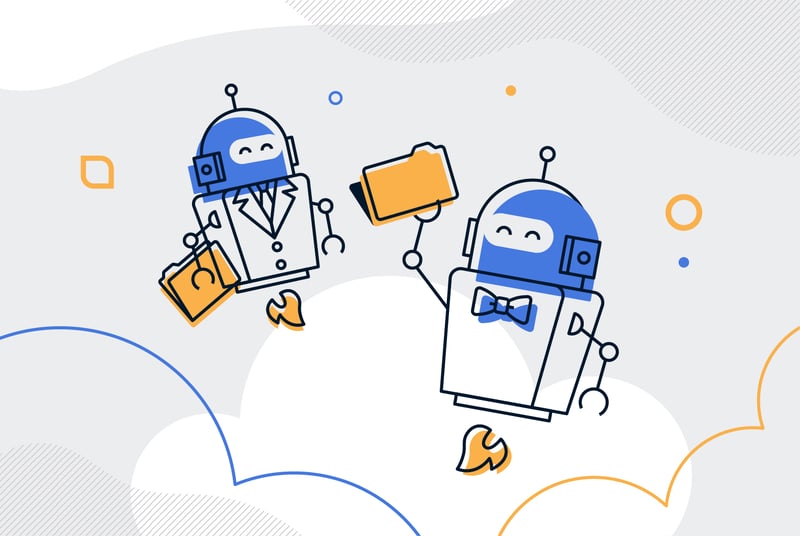 Do you sometimes feel like you're falling further and further behind the technological revolution as the rest of the world speeds up? Certainly, for a lot of us, technological innovation seems to keep occurring at a faster and faster pace. The truth is, such feelings are accurate, because technology is growing exponentially. A perfect example is the rise of cloud-based technology.
According to Moore's Law, the processing speed of computers doubles every 18 months. Kurzweil's Law of Accelerating Returns, postulated by Ray Kurzweil, a provocative author, futurist, inventor, and computer scientist, states that this exponential growth is occurring in other fields in addition to computing. In discussing the pace of technological growth, Kurzweil states that progress in the 100 years of the 21st century will ultimately resemble 20,000 years of progress at current rates. No one knows if these theories will be borne out in time, but even if they hold only partially true, that's a lot of change.
There's both good news and bad news here. The good news is that technology, like cloud-based computing, will make many jobs easier, including contract management. The bad news is that some people are resistant to change – it's only human nature. That's why at ContractSafe, we make everything simple, straightforward and easy to implement. Below, we will discuss five ways that cloud-based tools can make contract management easier.
Companies Can Close the Deal Faster
Think about a company that relies upon a sales force to go on the road and negotiate and close deals. For complex transactions, contractual offers and counter-offers may be swapped back and forth. Multiple people may need to review the proposals at each company. Finally, appropriate signatures must be obtained.
With the proper cloud-based contract management tools, all of these steps can be accelerated and the deal can be closed faster. That way, sales people can focus on selling, not paperwork. Plus, there are other benefits. For example, closing deals more quickly forecloses (or at least reduces) the possibility of outside competition. The last thing anyone wants is to take too long closing the deal, thereby allowing a competitor to get his or her foot in the door. Finally, the sooner the deal is closed, the sooner a revenue stream can be initiated.
Organizations Can Take Full Advantage of and Comply with ESIGN
In 2000 Congress passed the Electronic Signatures in Global and National Commerce (ESIGN) Act, which specifically authorizes and protects electronic contracts and signatures. Specifically, the act provides that a "signature, contract, or other record relating to such transaction may not be denied legal effect, validity, or enforceability solely because it is in electronic form; and … a contract relating to such transaction may not be denied legal effect, validity, or enforceability solely because an electronic signature or electronic record was used in its formation."
Moreover, individual States have passed their own laws protecting the validity and enforceability of electronic contracts. Therefore, contracts subject to these laws have legal protection. Moreover, security tools associated with the cloud allow special security in the contracting process.
Cloud-Based Solutions Make Technology & Accessibility Easy
We mentioned earlier that for some people there is a natural reluctance to change. Therefore, any technological change is more likely to be successful, with buy-in across the organization, if it is easy to understand and use. At ContractSafe, we specialize in easy – easy to implement; easy to understand; and easy to use.
On top of that, one of the main benefits of cloud technology is that it can be accessed from anywhere. Want to work from home? Want to stay on top of things while traveling to Japan? With cloud-based tools you can collaborate and get the information you need, whether you're in the office, working at home, or on a business trip.
Businesses Can Foster Great Customer Relationships
Let's face it – almost all business processes have sped up as a result of technology. Where we once sent a letter through the mail, we now receive an email. Being away from the office was once a moment of respite – now we receive texts and emails on smart devices. However, being so close to customers can provide an advantage. With exceptional contract management tools comes the ability to be nimble; to respond promptly to customer requests; and to gain the reputation of a company that provides great service and is easy to do business with.
Cloud Technology Promotes Better Legal Compliance
Some businesses work in highly regulated spaces. Think of banks, stock brokers, and insurers, just to name a few. These regulations require many transactions to be reported to the government, and often times, specific actions have to be taken within a certain number of days of a triggering event. With ContractSafe, all key contract dates can be tracked with easy date reminders and automated email reminders.
Cloud Technology is Easy to Implement
Let's be honest; we all hate installing software. The updates take forever, and always occur at the most inopportune times. Fortunately, cloud solutions work in your browser, which reduces the need for your computer to need to "learn" new things. Business solutions that were written for the cloud, like ContractSafe, are focused on making things easier, unlike those old-school legacy apps that are ported over. At the end of the day, cloud contract solutions are just EASIER--you'll see alerts, stay compliant, and stay on top of your game.
ContractSafe Can Help
The good news here is that ContractSafe offers powerful tools that enable a company to take full advantage of all six of the cloud-computing contract management benefits discussed above. With the right partner, like ContractSafe, it's now easier than ever to access great security and protection. Your company may struggle with this on its own, but in the cloud you can leverage Amazon's best practices and security.
The great news is that the system is so intuitive and easy to use, you can be up and running in no time! Why not start your free trial today?