If you're still relying on on-premise software and in-house resources to manage your contracts, it's time to consider an upgrade.
Post-COVID, remote work and digital collaboration have become the new norm, fueling a digital transformation in the way we work. And cloud technology is leading the charge.
Businesses of every size, across all industries, are turning to cloud computing to boost productivity and ROI. In fact, according to Google, 41% of business leaders are planning to invest more in cloud-based services and products because of the current economic climate.
A contract manager using outdated on-premise software might spend hours searching for documents across local servers, a task made even more difficult when the keywords aren't in document titles. Each new contract version requires manual saving and renaming, making version control a constant headache.
Important dates like renewals and expirations are tracked haphazardly in spreadsheets, leading to last-minute scrambles or even missed deadlines.
Worse yet, every software update and security patch demands immediate attention, and a missed update could result in vulnerabilities, risking crucial data and potentially leading to breaches.
Sound familiar?
If so, there's a better way. Cloud-based contract management brings order to the chaos, offering a streamlined, secure, and cost-effective solution. If this resonates with you, let's dive into why it's time for your business to consider cloud contract management.
TL;DR
Cloud contract management allows organizations to manage their contracts safely and securely from different devices.

Benefits of cloud-based CLM tools include remote access, increased visibility, top-notch security, and long-term cost savings.

Features every cloud-based contract management tool should offer include remote access, increased visibility, a high level of security, and automatic backups. Other features will depend on your team's needs.
What Is Cloud Contract Management?
Cloud contract management software leverages a network of remote servers, commonly referred to as "the cloud." It handles the various stages of the contract lifecycle, from drafting and signing to monitoring and reporting. This technology simplifies the contract management process by centralizing the storage and handling of contracts, fostering collaboration, and promoting scalability in your contract management efforts.
Unlike traditional on-premise solutions, which require installation on a company's own infrastructure, cloud contract management systems are accessible via a web browser. This eliminates the need for physical storage or grappling with flash drives. It allows organizations to manage their contracts in a single place accessible remotely from any location. This convenience is one of the major advantages of cloud-based solutions over on-premise ones.
Cloud Contract Management Benefits
If we learned anything over the last three to five years, it's that adaptation is the key to survival. Businesses still using on-premise systems like a hard drive or a physical server to secure their documents can only go so far. Cloud-based systems offer benefits that in-house servers just can't match.
1. Easy Access to Contracts
Whether you're working from home, at HQ, or in a remote office on the other side of the world, cloud-based contract management provides your employees access to stored contracts anytime, anywhere (with the right clearance level and a secure internet connection, of course).
A cloud contract repository can be accessed from multiple devices — no need to stay on-premise to stay on top of your contracts. Your internal CM team will still have a single source of truth to reference, and the ability to gatekeep files as needed, but simple built-in search features will also save them valuable time from having to help people locate what they need.
With ContractSafe, you can extract, organize, report, and automate your contracts in seconds.
ContractSafe's [AI]ssistant allows you to extract key data like counterparties and key dates from contracts. And with data at your fingertips, you can:
Organize documents with a click of a button, keeping every relevant amendment or related document within arm's reach

Set up alerts and reminders automatically

Generate and send reports quickly and efficiently

Search and find documents with just a small snippet of text, whether they're Word docs, PDFs, or even images.
2. More Visibility Into Contracts
Just like the dust collecting on the top of your ceiling fans, contracts tucked away in the back of your files are often out of sight, out of mind. But contract management doesn't end with a signature on a dotted line — you also need to keep track of things like:
Upcoming renewals

Expirations

Updated

compliance regulations

Upcoming payment dates

Price increases

Accumulated discounts

Cancel-by dates
Did you know that poor management can erode a contract's value by as much as 40%?
ContractSafe's contract management software offers contract tracking tools to minimize risk, streamline processes, and keep your contracts up to date, including:
Custom alerts and reminders to keep your team in the know about upcoming key dates and deliverables


Intuitive tagging system that allows you to group contracts by things like vendor, services, dates, and lifecycle stage


Personalized dashboards

that allow employees to quickly view the information they need most
3. Top-Notch Security
We fully appreciate the sense of security that comes with on-premise solutions, where your data is stored within your company's own infrastructure and safeguarded by your firewalls.
But this perceived safety doesn't come without its own set of challenges. The need to invest in and maintain internal servers, manage software licenses, and employ an in-house IT team with the necessary skill set can significantly add to your operational costs.
Cloud-based contract management solutions like ContractSafe, on the other hand, use sophisticated security technologies to minimize risks related to human error and maximize data protection. We offer advanced security measures that may be challenging for locally based systems to match, like automatic backups and hyper-secure government-certified servers, while potentially reducing operational costs and relieving the burden on your IT department.
Safe storage:

With ContractSafe, contracts are stored safely and securely with

Amazon Web Services, ensuring the highest standards of privacy, data security, and compliance.


Encryption: Documents and data are encrypted at rest and in transit, so cybercriminals won't be able to read your documents, even if they're intercepted.


Private SSL viewing sessions: Our registered private SSL (Secure Socket Layer) encrypts the connection between your server and the cloud for maximum privacy.


SOC 2 compliance: ContractSafe's security measures are designed to meet SOC 2 requirements, demonstrating our commitment to high security and data privacy standards.


HIPAA compliance:

For organizations dealing with

HIPAA-protected healthcare data, using ContractSafe can ensure the safe handling and storage of sensitive patient information thanks to custom permissions.


Audit trails:

Comprehensive audit trails allow you to track and record every action taken on a document for complete transparency and accountability.
4. Automatic Backups
How long would it take your business to resume operations after a flood? A fire? A mandatory lockdown order? Or even just a remote team with members in different places and time zones?
Disasters are rare, but it's important to be prepared for the worst-case scenario. Storing all your contract templates, active contracts, and completed ones in the cloud ensures uncompromised access, even if your server crashes or you can't go into your office.
With automatic backups, your data is stored in multiple online locations, so there's never a risk of losing a contract to a natural disaster, technical difficulty, human error, or even malicious actors like hackers or disgruntled former employees.
5. Long-Term Cost Savings
Poor or outdated contract management practices cost companies an average of 9% in revenue each year. While most cloud-based CLM services require a yearly fee, the price is only a fraction of the cost of manually maintaining an internal or physical system.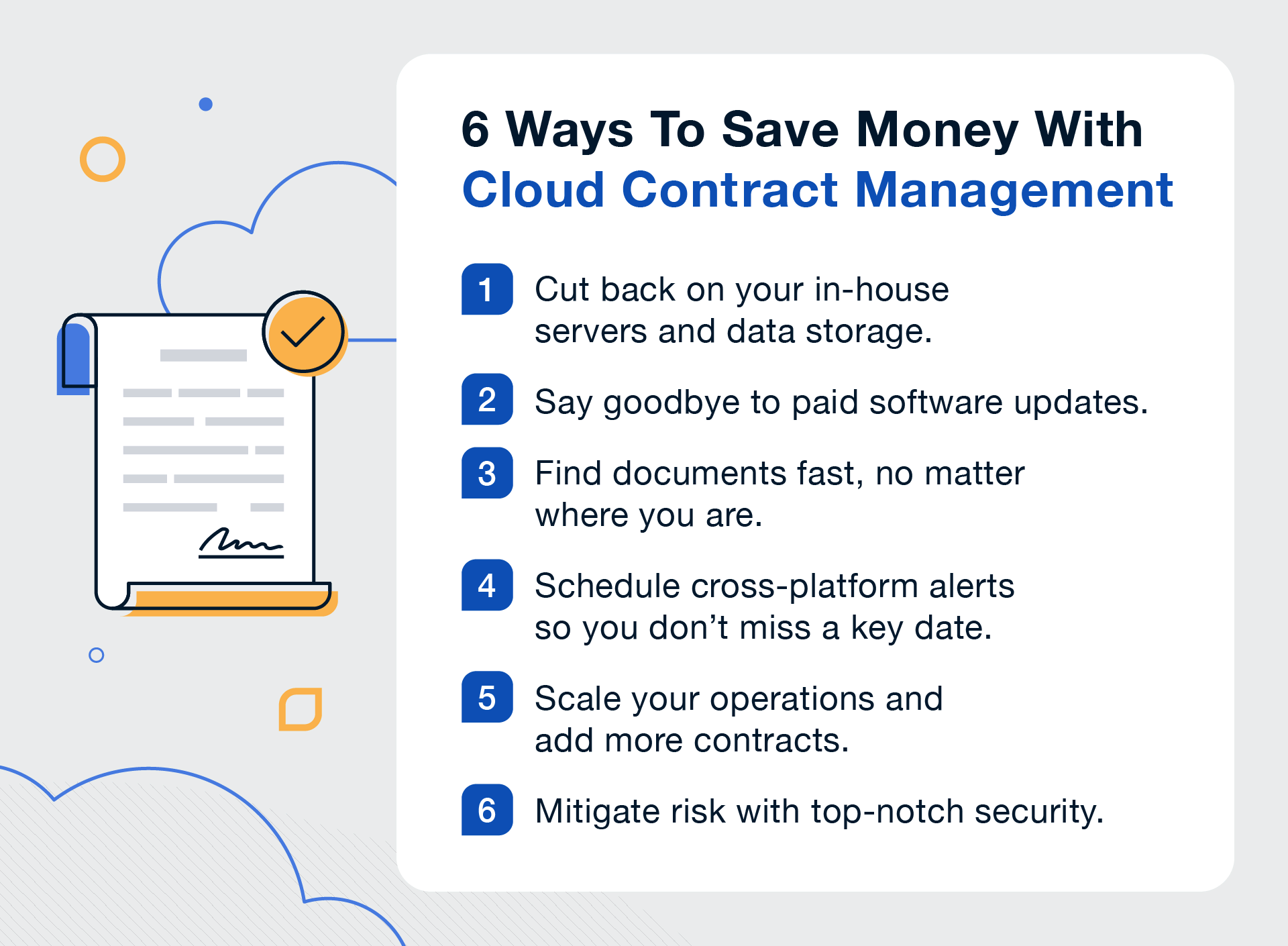 Cloud-based contract management solutions, such as ContractSafe, provide a wealth of benefits that can lead to significant cost savings and increased productivity. Here are six major ways you can benefit:
Ditch physical servers: With cloud-based management, you can access your documents anytime, anywhere. No more need for cumbersome in-house servers.
Freeze software update costs: ContractSafe updates automatically with each new feature. Say goodbye to paying for and installing software updates.
Find what you need quickly: Quick keyword searches lead you to the right document in no time, no matter where you are in the world.
Never miss a date: Set automatic alerts and reminders across platforms to keep key dates front and center.
Scale effortlessly: Add contracts and grow your operations smoothly without worrying about data storage.
Minimize risk, maximize security: Defend against data breaches and loss with top-notch cloud security. Peace of mind? Priceless.
Interested to see how much you could save with ContractSafe? Check out our easy-to-use ROI calculator so you can quantify the actual value based on your own company's data.

6. Seamless Contract Lifecycles
The cloud helps automate and facilitate the contract management lifecycle while ensuring you're in line with organizational policies. It takes care of the little tasks (and some big ones) with features like:
Standardized contract creation

Contract tracking

Automated tasks and notifications

Improved security and compliance

Quick access to the latest contracts, reports, and data

Seamless collaboration across teams

Intuitive

metric reports
Keeping a handle on your company's contract lifestyle is a must for efficient operations and risk management. ContractSafe lets you track your documents through every stage, from negotiations to renewals.
How To Choose the Best Cloud-Based Contract Management Software for Your Team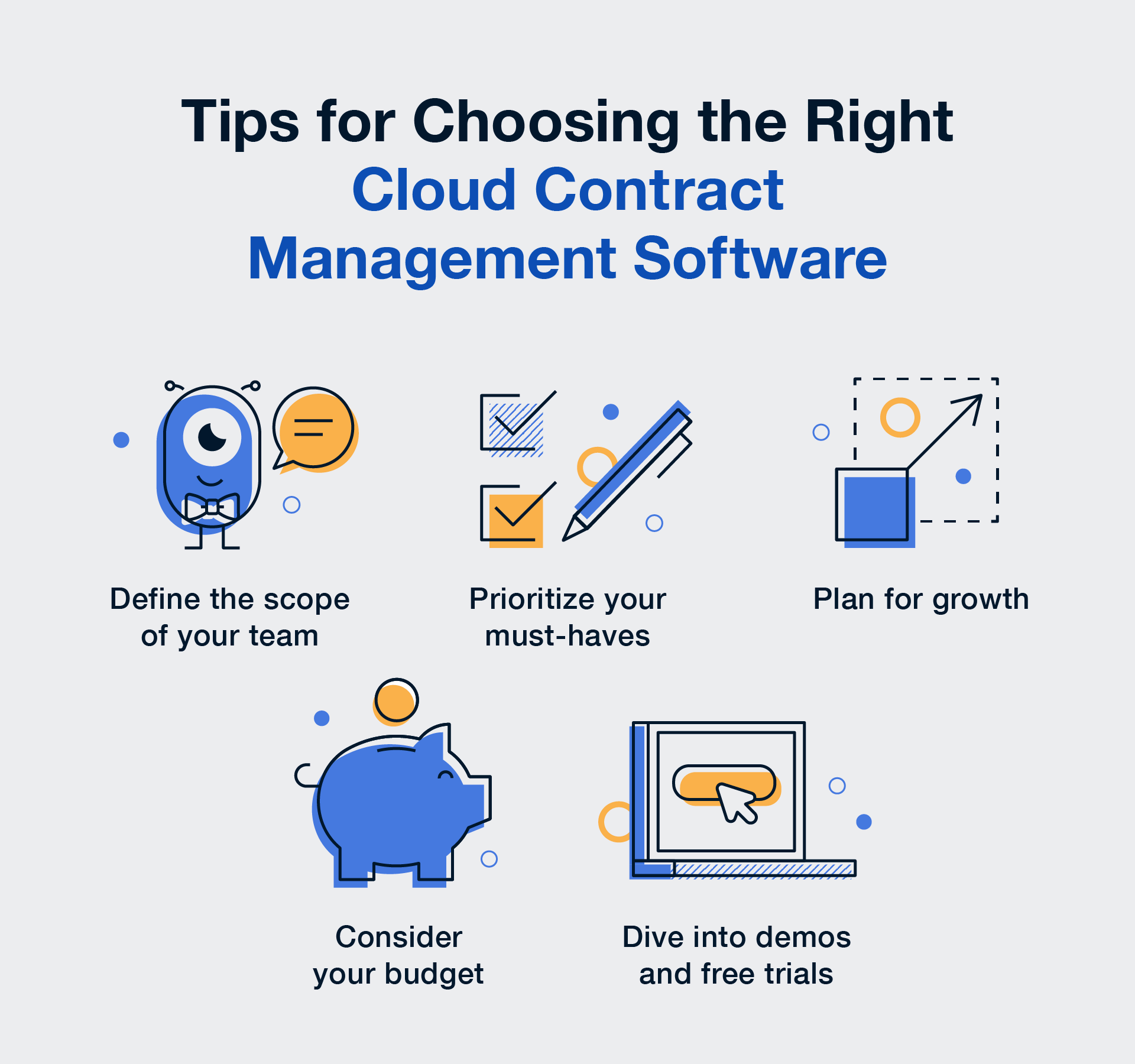 Deciding to make the switch to cloud-based contract management? Easy. Figuring out which contract management software is best for you? Not so easy.
A contract management tool can boost efficiency and flexibility across your entire organization, so you want to choose a solution that'll work for everyone. The more information you bring to the table, the better you can assess whether the solution will meet (or exceed) your company's needs and expectations.
Here are a few essential steps to choosing the right cloud-based contract management software for your organization:
Define the scope of your team: Identify and consult with everyone who will use the system, whether it's every day or every once in a while. Don't forget IT staff who'll support the transition. This will help identify immediate needs and key concerns.


Prioritize your must-haves: Avoid getting sidetracked by bells and whistles. Instead, focus on tools that streamline your contract management process. ContractSafe prides itself on cutting through the clutter with unmatched usability, easy customizations, and efficient workflows.


Plan for growth: Don't just pick something that fits your needs right now — make sure it'll be there for you when you grow. A cloud-based solution like ContractSafe offers unlimited user access, accommodating everyone on your team, whether you have five employees or 5,000.


Consider your budget: Set a realistic budget for your new contract management system. Remember, a higher price doesn't always mean a better fit. What matters is finding a solution that provides value and meets your company's needs.


Dive into demos and free trials:

The best way to understand how a product works is to see it in action and try it yourself. Use demos and free trials to understand the software's core functionality and validate that it truly meets your needs. Ask questions about implementation, service, and support to ensure a smooth transition. If you're confused about anything, don't be shy. Keep asking questions until you get a crystal clear answer so you can make an informed decision.
ContractSafe Makes Cloud Contract Management a Breeze
If ease of use and affordability are top selling points for your ideal contract management software, look no further. ContractSafe is the easiest path toward contract sanity sans complex software, budget strain, and impossible learning curves.
Ready to enter the 21st century? Schedule a demo with ContractSafe.