Even the smallest leak could turn a fun day on the water into an unexpected scuba diving session if you're not prepared.
And contract management is no different.
Knowing the value of your contracts, how to spot a leak, and how to fix it will help your ship stay afloat.
In this guide, we are going to share some tips and tricks that will help you better understand contract value and how to plug up any leaks before disaster strikes.
TL;DR
Contract value is an essential metric to help your organization make better business decisions, navigate negotiations, and reduce contractual risks.

ContractSafe provides a comprehensive solution to contract management that will help you prevent value leakage.
How Contracts Lose Value Over Time
Knowing where and how to spot a leak is essential if you're hoping to take on the high seas.
Here are some common causes of contract value leakage:
| | |
| --- | --- |
| High costs | Creating, negotiating, and finalizing a contract takes ages, and a lot of the responsibility falls into the hands of your in-house counsel. |
| Poorly written contracts | Contracts that include unclear language or scope can result in costly disputes or missed deadlines. |
| Uninformed negotiations | Coming into a negotiation without actionable data can leave you at a disadvantage and result in an unfavorable deal. |
| Lack of team alignment | If the right stakeholders aren't involved or get involved too late in the contracting process, you could miss out on cost-cutting opportunities. |
| Bad management | Poor handoffs, auto-renewals, process inefficiencies, and overlooked obligations could result in value leakage or cash left on the table. |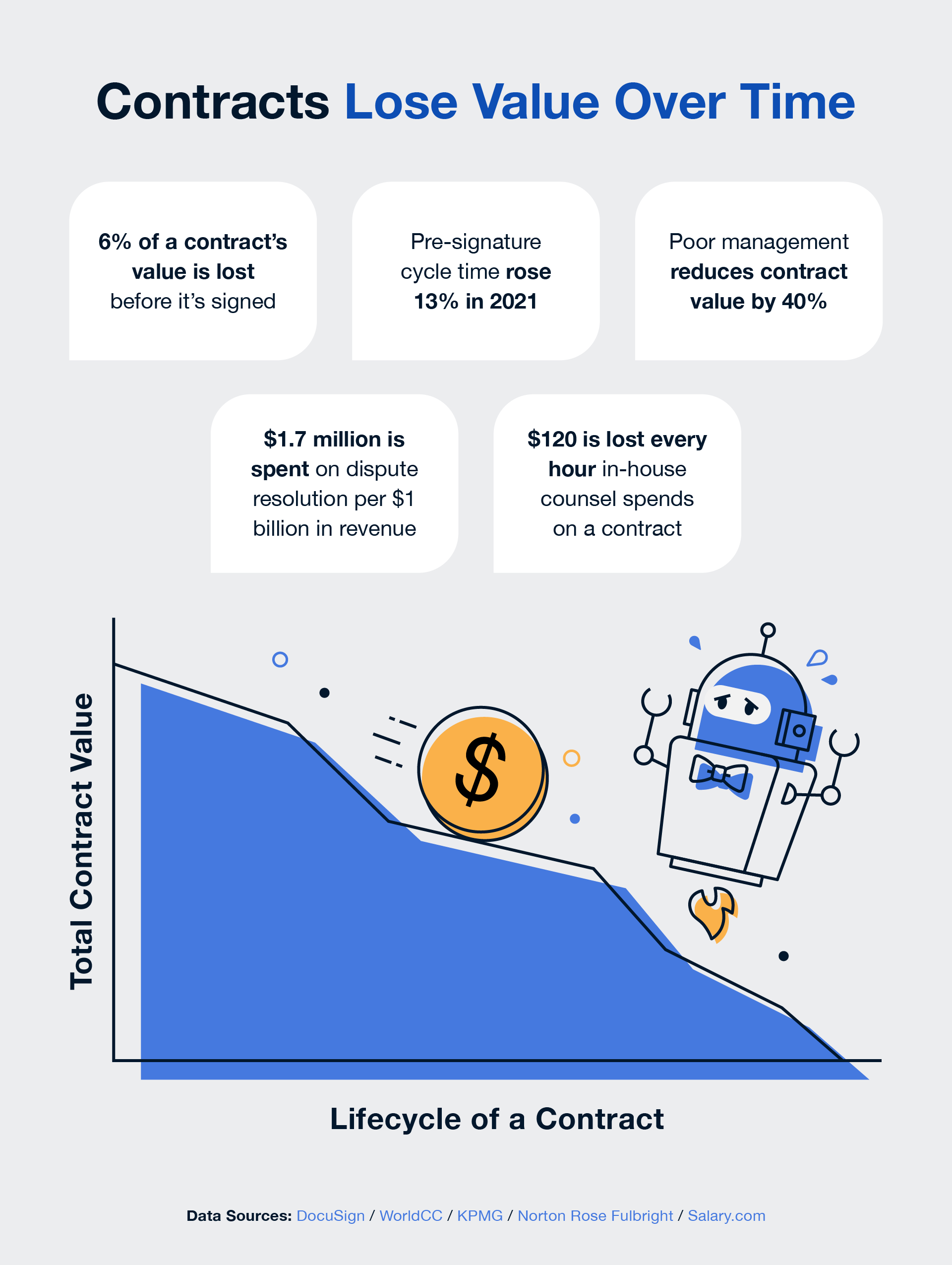 What Is Contract Value?
Contract value is a metric used to measure the total worth of a legal contract. It considers all payments, fees, and any additional costs that might be associated with the agreement.
Understanding contract value can help you:
Make better budget decisions

Ensure your business strategy is profitable

Gain a better understanding of your customer

Guide future negotiations

Reduce contractual risks
Imagine you're at the store, and you spot something that would fit perfectly into your next meal plan, but there's no price tag. Without knowing what it's worth, it would be impossible to work it into your budget.
How To Calculate Contract Value
There are two common contract value metrics you should track: total contract value and annual contract value.
Total contract value represents the sum of all payments and fees associated with a contract over its lifetime.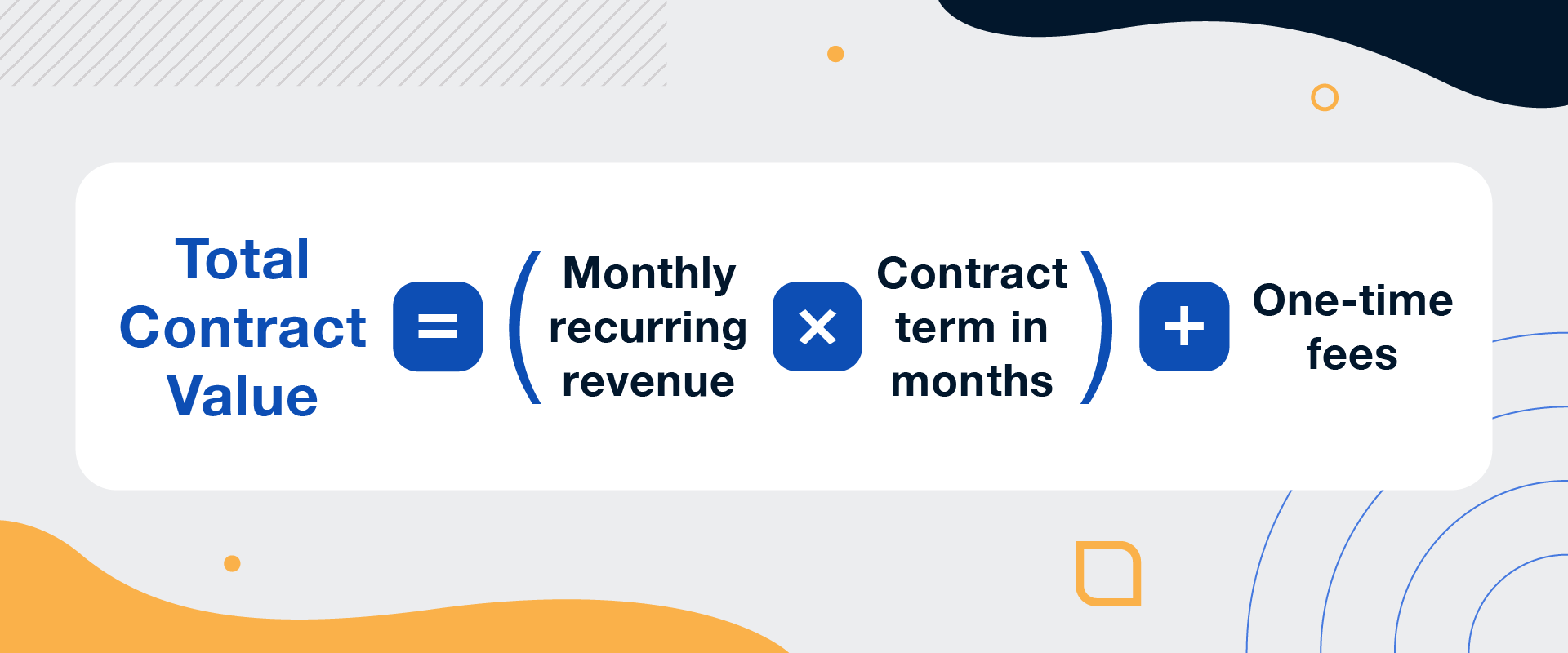 Annual contract value, on the other hand, is only concerned with payments and fees over the course of one year.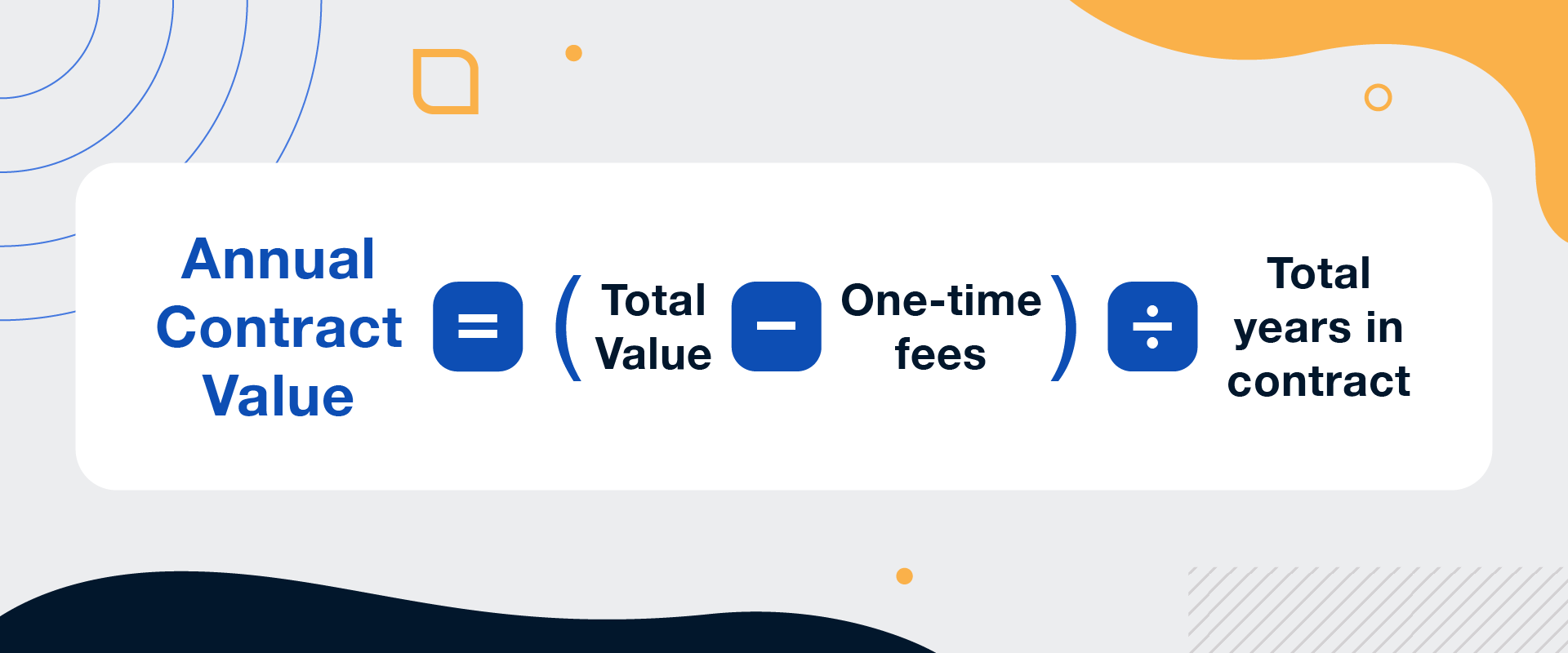 Both metrics are important in gauging the full scope of a legal agreement and its financial commitments.
Total contract value should be used when assessing the long-term impact of a business transaction, while annual contract value should be used when budgeting for anticipated changes over time.

6 Ways ContractSafe Can Reduce Contract Value Leakage
Contracts can be complicated and costly, but with ContractSafe's contract management software, managing them doesn't have to be.
Here are six ways ContractSafe can help reduce contract value leakage:
1. Automatic Contract Setup and Organization
Manual data entry. What. A. Drag. It's time-consuming, boring, and prone to costly efforts. With ContractSafe, all you need to do is upload a document or even a batch of documents, and our software will automatically pull key data from contracts, organize them, then add tags and counterparty data using optical character recognition (OCR) technology.
This means you can be up and running in as little as five minutes. Not to mention, it helps save hundreds of hours by removing the need for manual data entry (let the AI handle that).
Once uploaded, you can even store and track the data that's most important to your organization.
2. Collaborative Contract Management
Wrangling stakeholders, juggling revisions, and approving contracts can feel a little like a circus performance, except you're the clown, lion tamer, and acrobat all at once.
ContractSafe helps break down silos between departments, making document handoffs, stakeholder communications, and approval workflows a little less chaotic.
ContractSafe's collaboration features allow you to:
Redline changes and edits

Compare revisions

Ensure everyone is working from the same version

Approve amendments and addendums easily

Make bulk edits

Use

electronic signatures

for documents

Create custom intake forms

Assign new contracts to team members
Did we mention ContractSafe has unlimited users, too?
These contract tools are a game-changer, especially if you're currently working from spreadsheets, shared folders, or email.
3. Intuitive Contract Repository
Does your desktop look like a tornado hit it? With files and folders scattered across your screen with no rhyme or reason?
Yeah, ours used to, too. (Our co-founder is an in-house counsel; we've been there.)
In fact, that's why ContractSafe looks like it does. Its smart grid display keeps folders clean and tidy. It even allows you to easily organize documents by tags or counterparty. You can store unlimited attachments with their associated contracts, and even archived documents are just a click away. Take a look for yourself at how intuitive it can be:
4. Robust Search Features
Misfiling documents or lazy labeling are way too common. We won't lie. We've definitely done it.
But with ContractSafe's advanced search capabilities, you can quickly locate information within your contract repository.
OCR even allows you to search word processor documents, PDFs, or images for specific language in a snippet of text, even if you don't remember the title of the doc.
Check it out:
5. Accurate Reporting
Getting a handle on contract value can be tricky, especially when you're managing a large portfolio.
Thankfully, ContractSafe offers easy-to-generate reports that help you maintain an up-to-date view of contract value leakage across your entire organization.
Use reports generated from ContractSafe to:
Ensure objectives are being met on schedule

Recognize who is responsible for what

Track contract expiration dates
These reports can be created and sent to stakeholders with a click of a button, making it easy for your team to spot issues and opportunities quickly.
6. Alerts and Reminders
Drowning in sticky notes? We remember.
With ContractSafe's customizable alerts and reminders, you'll never miss a key date or obligation again.
Use approval workflows to get notified whenever a document reaches a key milestone triggered by dates or other milestones in your agreements. This is great for ensuring compliance with contractual commitments, or simply making sure nothing slips through the cracks when it comes time to negotiate renewals.
Say goodbye to your sticky note collection and wall of calendar reminders. ContractSafe has got you covered so you never miss key dates or renewals again.
Get Started With ContractSafe Today
Ready to start plugging the leakage in your contracts' value? Sign up today and see how easy it is to:
Automate contract setup and organization

Collaborate with stakeholders more effectively

Intuitively store and access your contracts on the cloud

Easily search your contract repository for important information

Generate accurate reports and receive customized alerts and reminders
Take the first step toward managing your contracts today with ContractSafe.