What Is Contract Management in Procurement?
Procurement teams are critical for any organization, and because they are responsible for contract management, they have a special place in our hearts here at ContractSafe. Procurement people are our people. And the contracts they manage have a direct connection to every major player on a business's team. This includes vendors, suppliers, clients, external service providers, and more.
Contracts are vital and so are procurement teams. But what role does contract management play in procurement?
Read on for insights into how to overcome common procurement challenges so you can:
Save money
Get time back in your day/week/year
Be the company hero
And as a result, sleep better at night (finally)
What Challenges Do Procurement Teams Face?
Procurement professionals don't have it easy, especially right now.
With supply chain disruptions plaguing most markets and industries, procurement teams have an ever-growing list of problems to manage. In our pre-pandemic world, buyers were focused on achieving the perfect balance of price, quality, service, and delivery terms. But not anymore.
Today, procurement teams are desperate to ensure receipt of the right products during the right month (or even quarter).
Ultimately, procurement teams are always engaged in some form of risk management. Sometimes that means reducing unplanned expenses and fostering better communication with suppliers. And other times it means keeping spreadsheets organized and making the best of outdated manual processes. Sometimes it even means keeping John in sales from buying one more [Fill in the blank].
Of all these challenges, however, contract management ranks among the most important. Without a solid contract management plan in place, procurement teams aren't as effective and businesses lose money.
If procurement teams can successfully manage their contracts, almost everything else will fall into place. Companies that have centralized the buying process without also centralizing the contract management process are missing a big piece of the puzzle.
When contracts are centrally managed, it reduces risk, wasted time, and lost money.
The Role of Contract Management in Procurement
We already know that contracts are the fuel that keeps the corporate engine running. While lawyers have direct involvement with contracts, the procurement team plays an equally important role in their success.
After all, their job is to ensure seamless transactions, maintain good relationships with suppliers, monitor compliance, and stay ahead of key contract dates and deadlines.
Procurement teams are involved in the contract lifecycle at these critical points:
Sourcing and evaluating vendors in the pre-purchase stage
Negotiating contract terms
Guaranteeing products and services are sold at a mutually agreed-upon price
Making sure products and services satisfy all quality control standards
Confirming that products and services are delivered on time, to the right place, and in the correct quantity
Monitoring vendor management cost-effectiveness
Managing the contract renewal process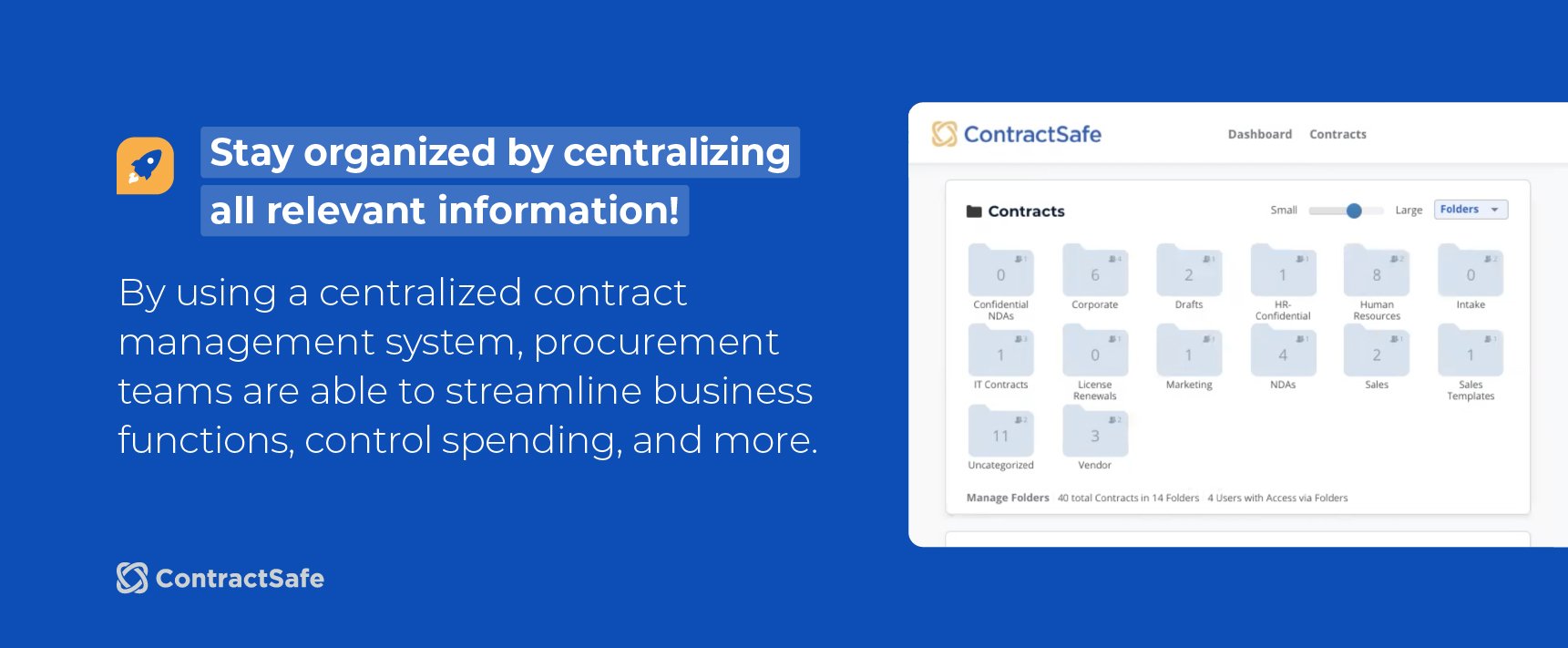 By using a centralized contract management system, procurement teams are able to streamline business functions, control spending, manage auto-renewals, and ensure end-to-end compliance.
Contract Management in Procurement: 3 Best Practices
Whether you're a contract manager, a procurement officer, or some sort of corporate-ninja-hybrid, here are three ways to increase your operational efficiency across the board:
1. Get on the Same Page
If you take anything away from this article, let it be this: team alignment should be your number one goal.
Leveraging technology and contract management software is the fastest way to promote alignment. But your team will never be on the same page if they aren't able to view the same information set in the same convenient place. Centralized contract management is key.
Enable easy collaboration between departments so your legal, finance, contract management, and procurement teams can get on the same page and stay there 24/7/365. Which means more time can be spent on value-added activities — not chasing down contract details and all the admin that goes along with it.
2. Increase Efficiency
When business professionals are given the time and space to focus on their essential tasks, they get stuff done. More importantly, they get it done right.
It all goes back to the age-old adage: work smarter, not harder. Operational efficiency is so important for modern businesses because it empowers team members to do what they do best, rather than getting sidetracked.
Procurement teams have many responsibilities but one true focus: to maximize companies' return on investment. And yet, if contract management systems are disorganized and difficult to use, procurement staff will be distracted and unable to work to their highest potential.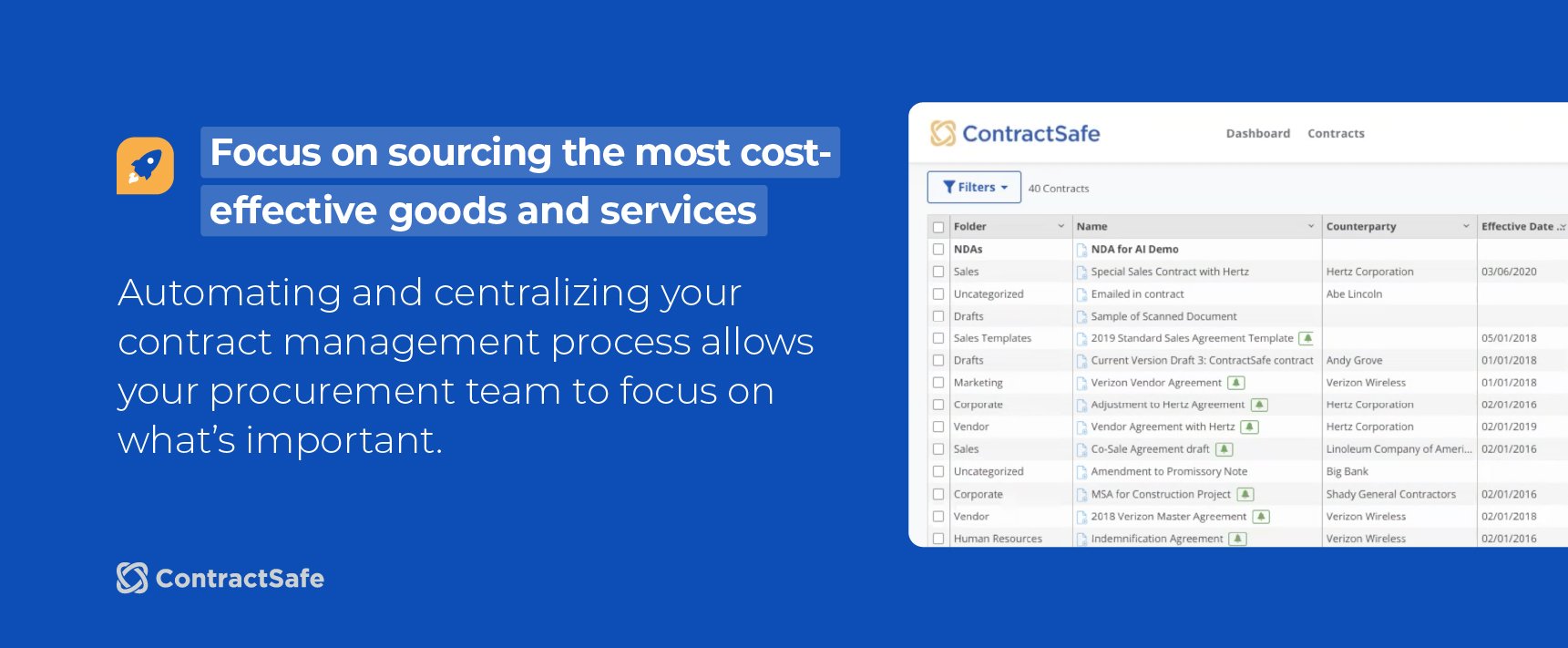 We're not hating on manual systems or anything, but as a business grows, they can start to cause more problems than they solve. Why? Because when contracts aren't stored in a central, digital, easily-accessible repository, teams are forced to track down multiple drafts, deal with misplaced copies, and manually mark expiration dates.
This turns procurement teams into contract babysitters, corralling documents like unruly children — or contract librarians, dropping everything at a moment's notice to dig up contract details for anyone who asks.
By automating and centralizing your contract management process, your procurement team can focus on sourcing the most cost-effective goods and services knowing their contracts are safe and sound.
3. Improve Risk Management
There's risk in everything.
If you stopped to consider all the risks involved in daily life — big and small — you'd never want to leave your home.
We already know that contract management and procurement carry risk. When a company enters into a new business relationship, opportunities and liabilities are par for the course.
That's not a reason to stop doing business, but it is a worthwhile incentive to reduce risks wherever possible. Contract management software with features like automatic reminders, a centralized repository, and custom access permissions is a great way to mitigate risks such as:
Compliance: Failing to meet governmental regulations like HIPAA or GDPR
Timing: Missing payment, delivery, and other critical deadlines
Confidentiality: Sharing proprietary or protected information with the wrong people
Contract management software can help your team stay organized so these risks aren't just reduced, but eliminated.
See How ContractSafe Can Help
Taking the time to audit your current systems — or investing in contract management software — are great ways to unify your teams in pursuit of common goals.
ContractSafe wins awards for easy, fast implementation and overall ease of use. Why? Because we've made software that's simple. We've removed all the bells and whistles you don't want or need, and make contract management straightforward and easy for everyone on your team — not just the tech wizards.
That means you'll get:
Intuitive Search & Reporting to allow you to find exactly what you need within seconds.
Intelligent Alerts, so you'll never miss another important date.
Secure & Scannable Repository to keep your documents safe and secure.
Full Control Over Sharing & Roles, so you'll never have to worry about permissions and privacy again.
Active Security & Data Protection, a best-in-class defense against data breaches and malware.
Integration With Your Existing Platforms, so there's no toggling between two or more different platforms.
Unlimited Support, so you can get the help you need when you need it online, by email, or by phone.
Integrated E-signature, so there's no need for third-party solutions or a disjointed experience
Don't take our word for it. Schedule your no-obligation demo to see for yourself. And be sure to subscribe to our blog to keep up with the latest in contract management and procurement.