In the ever-growing realm of contract management software, there's no shortage of options. We recognize that finding the right tool is essential yet overwhelming.
Every vendor claims to offer easy-to-use, affordable solutions. But amidst the plethora of choices, comprehensive feature lists, and intricate pricing plans, it can be quite a challenge to determine what you truly need.
This guide is designed to help you pinpoint the business-critical contract management tools that align with your needs without getting bogged down by extraneous features.
TL;DR
Figuring out what contract management tool is right for you starts with asking the right questions.

With a solid plan, a clear understanding of your needs, and a focus on essential features, you can make the right choice.

ContractSafe streamlines the entire contract management process, offering essential tools with an emphasis on user-friendliness, efficient onboarding, and dedicated support.
1. Map Out Your Current Workflow
Buyer's regret is a common theme with contract management software. Time and time again, customers have told us that they've invested in expansive software suites only to realize they're paying a premium for a ton of features they never touch.
So, before you even peek at all the contract management options out there, take a moment. Jot down how you currently handle contracts. What's easy? What's a headache? By getting a clear picture of your process, you can pick a tool that fits just right — no extra bells or whistles.
Ask yourself some questions through different stages of your workflow:
Pre-Sign Process
How do you create and onboard new contracts?

How much time do you spend drafting and negotiating terms?

What hiccups frequently occur during the pre-sign stage?

Are there certain standards or guidelines you adhere to during contract creation?
Organization
How are contracts currently managed in your organization?

How are existing contracts organized and tracked?

Do you have a single source of truth for your contracts?

Who can access contract information? Is this data-sensitive?

How often do you need alerts or reminders related to contracts?

How do you ensure remote access to contracts, if needed?
Reporting
How do you track and report on contract performance?

Are there specific metrics or data points you want to measure and report?

Does this system need to manage the entire contract lifecycle, including reporting?
Integrations
Are there specific tools (like Salesforce or HubSpot) with which your new contract management tool needs to integrate?

How can you ensure a seamless integration?

Are there any other software or tools you use daily that should be considered?
Finally, think about your budget:
Who would benefit from access to your contract database?

Does the price include implementation and training, or are these costs extra?
If a lot of team members will need access to the software, you may consider a plan with no user limits, but if your organization is smaller, a pay-per-user plan may suffice.
Your answers will shape your "shopping list" for the right contract management software, guiding you to a solution that's tailored to your needs.
2. Identify Pain Points and Necessary Features
After evaluating your current workflow, you'll likely find a host of pain points, some of which are more impactful than others.
To build out an even more comprehensive list, don't forget about your team! Ask them about the most common pain points they experience, as well.
They are the ones in the trenches, dealing with contract-related tasks on a daily basis. Their insights can help pinpoint areas for improvement.
Some common pain points to ask about include:
Manual filing and data entry

Difficulty managing approvals

People working from different versions

Wasted time due to drafting contracts from scratch

Setting approval limits for specific email addresses

Missing renewal dates or other important deadlines

Difficulty finding documents

Making sure the right people have access
With your categorized list of pain points on hand, you're just about ready to start your search.
But remember, you want to pick carefully because not everyone needs a full-featured solution, and those that do will need to account for a longer implementation timeline, higher costs, and steeper learning curve.
Here's a simple cheat sheet that ties common problems to useful features:
Pain Point

What To Look For

Struggling to initiate the contract drafting process?

Contract initiation and intake forms can give you a head start.

Constantly drafting similar contracts?

A system that includes templates could help streamline your contract creation process.

Spending too much time on manual data entry?

AI

can do the heavy lifting by organizing and tagging documents quickly and easily.

Need to collaboratively draft and negotiate contracts?

Collaborative drafting, in-line commenting, redlining and negotiation tracking features could be a huge help

Juggling too many contract versions?

You'll want version control and a

centralized repository

.

Unable to effectively track changes and actions taken on contracts?

Contract version tracking and audit trail capabilities will be crucial in your choice of software.

Do you spend too much time chasing down signatures and approvals?

Workflow management can smooth things out.

Unsure of where contracts stand in their lifecycle?

Consider software with

real-time contract status tracking

and visual lifecycle overviews.

Struggling with maintaining and tracking contract compliance?

Look for software with features like automated compliance tracking and reporting.

Keep missing deadlines?

Look for software with

alert and reminder

systems.
Now, it's important to note that not every business needs a full-blown, feature rich software.
You may also have to decide between a contract management system (CMS) and a contract lifecycle management (CLM) system.
A CMS is simpler but still offers just about everything most businesses need to take care of their contracts, with features like a contract repository, reminders, and search capabilities. However, it might not offer things like content editing, clause libraries or customized approval workflows.
On the other hand, a CLM covers the entire contract lifecycle, offering all the bells and whistles, whether you need them or not.
Remember, the goal isn't to buy everything on the menu. Overbuying can lead to unnecessary complexity, slowing down implementation and training.
Instead, prioritize a system that addresses your pain points effectively and efficiently.
You want a solution that helps preserve your contracts' value, not just bells and whistles that won't help you on a daily basis.
3. Do Your Research
Now you're in the thick of it — deep in the market, with vendors asking you to take a test drive, an entire folder full of emails, and a million PDFs, all explaining why their system is the best.
As you compile your shortlist, consider these questions:
Do you prefer a pay-per-user or pay-per-contract model?

If you have a larger team, pay-per-user software costs can quickly get out of hand. This decision largely depends on the size of your team and the number of users who need access.

What's your budget?

Can it accommodate implementation costs? Remember, some platforms may charge extra for initial setup and support. (Try our

ROI calculator

to see how much you save with ContractSafe!)

How urgently do you need the system to be operational?

Some options have a steep implementation timeline and an even steeper learning curve.

Do you need to upload legacy contracts or are you starting anew?

Starting fresh can make things a lot simpler, but some options, like ContractSafe, can help you upload your entire library of legacy documents.

Does the software offer data extraction and organization features?

Many platforms leverage AI

for this purpose and offer additional services (usually at an extra cost) to validate or supplement these extractions.
When you've got all the info you need, prepare a comparison chart listing the features, pricing, reviews, and more for each software option to help you weigh the pros and cons objectively.
And remember, you don't have to pay for features you don't need. With options like ContractSafe, you can avoid getting stuck with extras you'll never use.
4. Take Advantage of Demos and Free Trials
When you've got a shortlist together, it's time to clear your schedule and dive into demos.
Start with a list of two to three companies that meet your criteria. Enter each demo with your pain points and must-haves in mind.
Here are some questions to ask the reps:
What's the onboarding timeline? How soon can we get the system up and running? How many team members can join the call?

Do we need a tech whiz to use the software, or is it user-friendly for all?

If we do hit a snag, what does your support look like?

Are there user trainings, a dedicated support rep, or a jumpstart program?

Talk to me about the search function. Is it keyword-based? Can I use tags?

How can your system streamline our contract drafting, approval, and execution process?

How easy is it to customize alerts and notifications?

Show me how your software reports on metrics that matter to us, like [metric 1] and [metric 2].

How does your system handle third-party contracts? Is it smart enough to pull out the key information we need?

What measures do you have in place to keep our data safe?

If we want to move our existing contracts over, how does that work? How long would it take, and how does the system extract metadata or contract fields from them?

How is contract data reported?

Finally, will this software play nice with our existing technology stack?

Do you offer a free trial?
Remember, this is your opportunity to "try before you buy." This will allow you to see which features you truly need and which features you can live without.
5. Map Out the Onboarding Process
Alright, now you're ready to head to the checkout line. And with contract management, the speed and ease of this process can drastically vary depending on your selection.
Reflect on the level of support you'll need during this phase.
Some vendors, like ContractSafe, are like strategic coaches, helping you swiftly and efficiently transition with a robust onboarding program. Others may leave you by yourself with a mountain of YouTube videos and Reddit threads.
Consider the timeline.
Do you need to get in and out quickly, or do you have the luxury of time to set up your new system?
Don't forget about your older contracts.
Legacy contracts contain crucial information and obligations that your organization must continue to manage. Ensure that the contract management software you select supports easy migration and integration of existing contracts to provide a seamless transition.
With ContractSafe, you can easily add these as attachments, and they won't count toward your contract limit.
It's clear why ContractSafe is a crowd favorite, recently winning accolades for being the easiest to work with among more than 50 competitors. It makes your transition to a new contract management process feel more like a victory lap than a mad dash.
Remember: The right partner can make your onboarding process as smooth as a successful trip to the market.
Implementation Checklist
Choosing the right contract management system isn't as straightforward as it seems. With a myriad of options available, you'll need a solid plan.
A contract management checklist can be a step-by-step guide to help you select and implement the best system for your needs.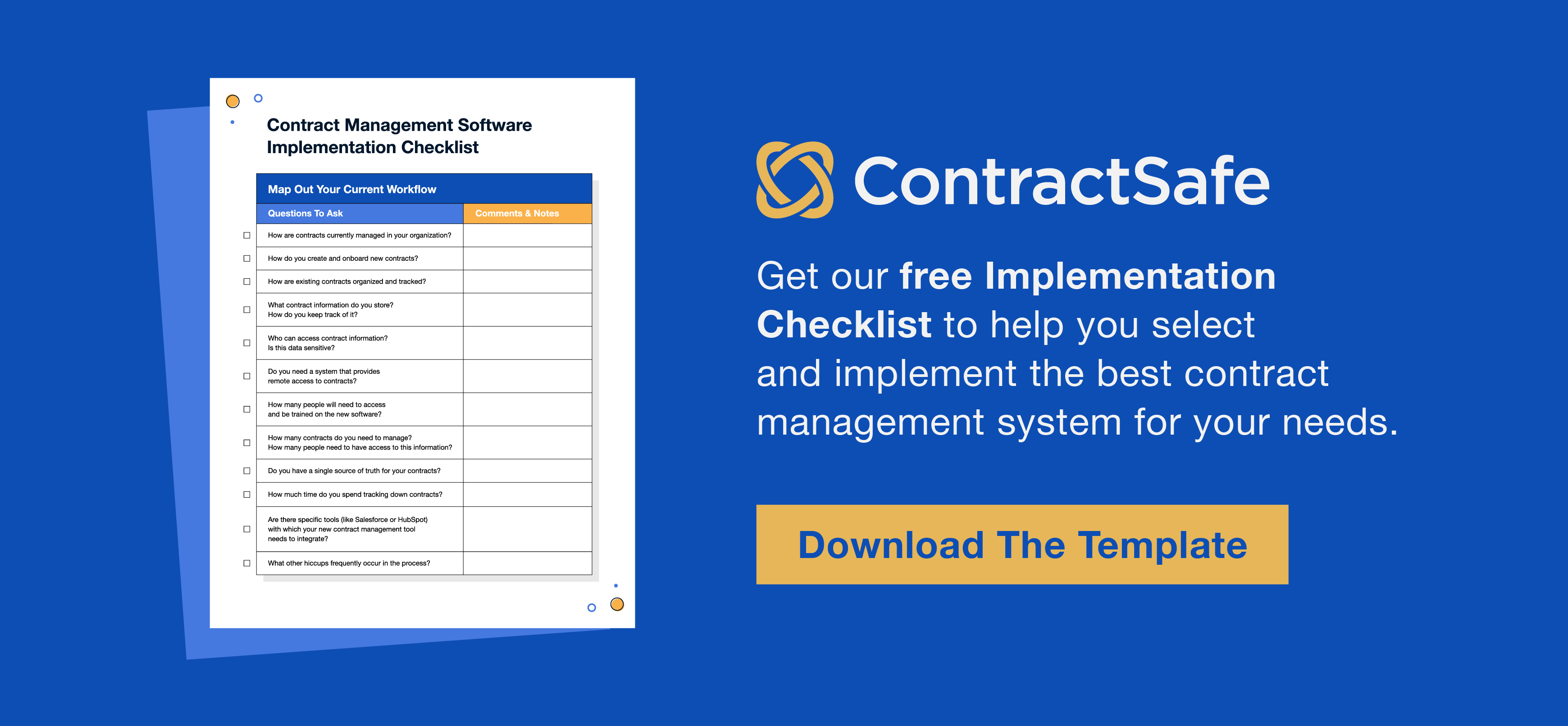 Get Started in Five Minutes With ContractSafe
At the end of your contract management shopping spree, you'll find ContractSafe ready to check you out smoothly.
We've mastered the essentials instead of piling up unnecessary features. Our artificial intelligence tool, [AI]ssistant, makes onboarding easy by importing and categorizing your contracts.
Training? We've got you covered with custom virtual sessions.
And if you've got existing contracts, we're here to help migrate them to our platform.
Choosing ContractSafe means more than just getting new software — you're partnering with a team committed to your success.
Let's make your contract management process more efficient together.