Contract management reports provide data for analyzing everything from compliance, budgets, and finances — to project bids, vendor relationships, and contract task management.
To make the most out of these reports, contract management-influenced metrics should be organized in one place, like a contract lifecycle management tool. By using a streamlined cloud-based solution you can manage your contracts and enable better decision-making while identifying critical areas of improvement.
This article briefly explains why contract management reports are essential for healthcare organizations, explores the various types of reports used in this industry, and discusses where to start with your healthcare contract management plan.
What Are Contract Management Reports? A Brief Introduction
In a world where more than 63% of healthcare companies are unprepared to navigate organizational change, contract management reports can provide a roadmap. Measuring key performance indicators (KPIs), staying compliant, and delivering patient care can all be streamlined with access to the right contract management reports.
If, for example, the approval stage for a drug vendor contract is causing delays, a contract report can help to identify the bottleneck and trigger remedial action. This might mean identifying slow-responding decision-makers or changing suppliers altogether.
Regardless of the scenario, contract management reports are vital to nearly every aspect of a healthcare organization's operations. Let's explore different types of contract reports that are fundamental in healthcare.
Key Contract Management Reports for Healthcare
While there are many contract reports you could run, there are two primary categories of reports for healthcare organizations:
Contract Status Reports
Strategic Contract Evaluation Reports
Both categories have several functions and benefits, which we'll explore in more detail.
Category 1: Contract Status Reports
In healthcare, timing is everything. A few seconds can change the course of a patient case, not to mention the organization itself. Checking and confirming expiration periods and key contract dates are just two examples of important contract status elements.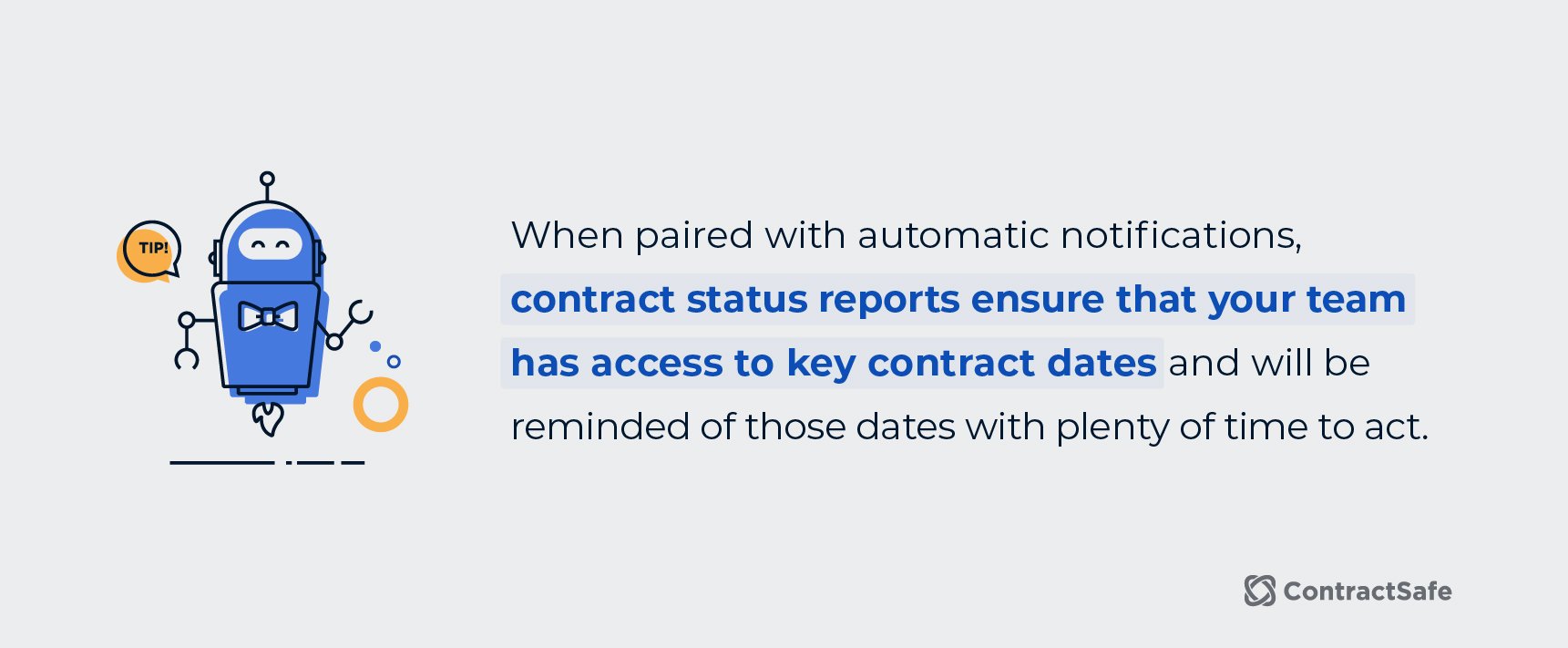 Contract status reports were designed to help operations run smoothly. Pulling important information into one central location provides the ability for your entire team to run comprehensive reports. These reports, when paired with automatic notifications, ensure that your team has access to key contract dates and will be reminded of those dates with plenty of time to act.
Now that you know what contract status reports are and what they're used for, let's dive into a few different types of reports and how they can help support your healthcare business.
Expiring Contracts and Licenses
Contracts, licenses, and accreditations that are nearing expiration should be evaluated in advance. If you don't have insight into when each expires, you won't have the upper hand for renegotiating terms and renewals.
Certain healthcare-focused contract management software allows you to set up custom reminders (i.e., 90 days until contract expiration) to leave enough room for:
Evaluating the previous contract period and negotiating better terms
Setting the termination paperwork in motion
Triggering a renewal process
If you plan to switch vendors in the future, setting alerts for expiring contracts can help save your organization from the headache of vendor overlap and unnecessary associated costs.
Pending Signature
You know the feeling when you have everything set to go on a contract except that final important detail: a signature. A pending signature status is an important part of the contract lifecycle. Waiting on a signature to finalize a contract can be frustrating but having the right software provides you and key stakeholders with advance notice so critical contracts do not get delayed.
By tracking pending signatures you're able to:
Identify bottlenecks
Streamline follow-ups
Spot commonalities among the decision-makers who cause delays (e.g., hard-to-reach executives, overworked staff, etc.)
Once identified, your team can work to create processes to minimize delays across the contract lifecycle.
Active Contracts
The contracts that are currently active should be tracked and reported on, regardless of where they are in their life cycles. Keeping an overview of active contracts provides important insights into your organization's performance, including:
Identifying periods of high growth
Evaluating the volume and mix of short-, medium-, and long-term contracts
Gaining valuable insights on contract responsibilities
Whether it's eliminating redundancies in processes or discovering the value of maintaining more long-term contracts than short-term — active contracts should be given just as much attention as those that are set to expire or otherwise require more immediate attention.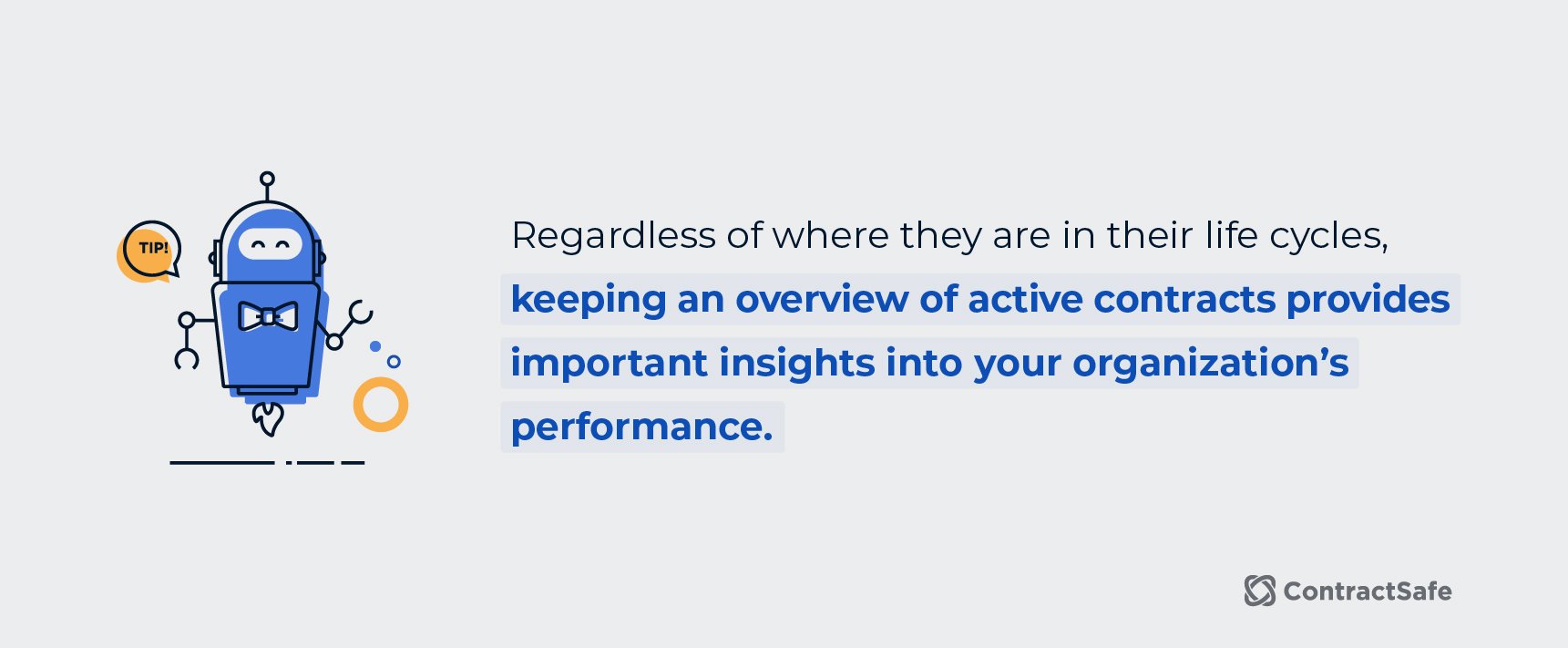 Inactive Contracts
While it may seem tedious and unnecessary, think of staying on top of inactive contracts like you would your taxes: yes, technically, you're done with them; but in the rare instance they need to be revisited, you definitely want to have them on hand and have easy access to the details.
Keeping an organized repository of inactive contracts for recordkeeping will help you:
Have all details handy in case of any legal issues
Evaluate revenue and cost strategies against various types of contracts
Understand contract workflow discrepancies
With a robust cloud-based contract repository, keeping inactive contracts is easy. A central repository like this one gives you visibility into all active and inactive contracts.
Category 2: Strategic Contract Evaluation Reports
Strategic contract evaluation reports focus on areas of potential growth or decreased value for your healthcare organization. They can help identify loopholes in the management process and provide a path for increased profitability and efficiency.
Let's look at this type of report in detail:
Evaluating Contract Term Compliance
Before making decisions about any potential future work, terms should be evaluated to ensure they meet healthcare compliance standards.
Cataloging Financial Data in Contracts
Whether with an IT, security, or supply vendor, every contractual agreement has financial implications for your healthcare organization.
Strategic contract evaluation considers metrics like:
Financial thresholds
Statistical financial data
Contract amounts
Keeping track of and monitoring these metrics helps you stay compliant with the terms of a given contract.
Compiling Work History in Contracts
Contracts exist for many reasons. One of the most important reasons is to make sure you receive the goods and services for which you paid. Keeping a detailed record of all provided services within a contract helps you:
Uncover any discrepancies between goods/services rendered and paid for
Ensure accountability and trust with your vendors
Provide your team and stakeholders with operational transparency
Just like you keep track of your business expenses, it's a good idea to keep a detailed record of everything a vendor does (or doesn't do) for your organization based on the executed contract.
Flagging Contract Violations
Finding and flagging contract violations is easy when you accurately and consistently track work history in contracts. Keep a running list detailing vendor contract violations. Include who the vendor is, what they do or provide, what section of the contract was violated, and any additional information necessary to protect your business.
Keeping track of and running contract violation reports will help you:
Flag violations that may impact another part of your business
Curtail negligence
Identify repeat offenders
Save money by switching to a more reliable vendor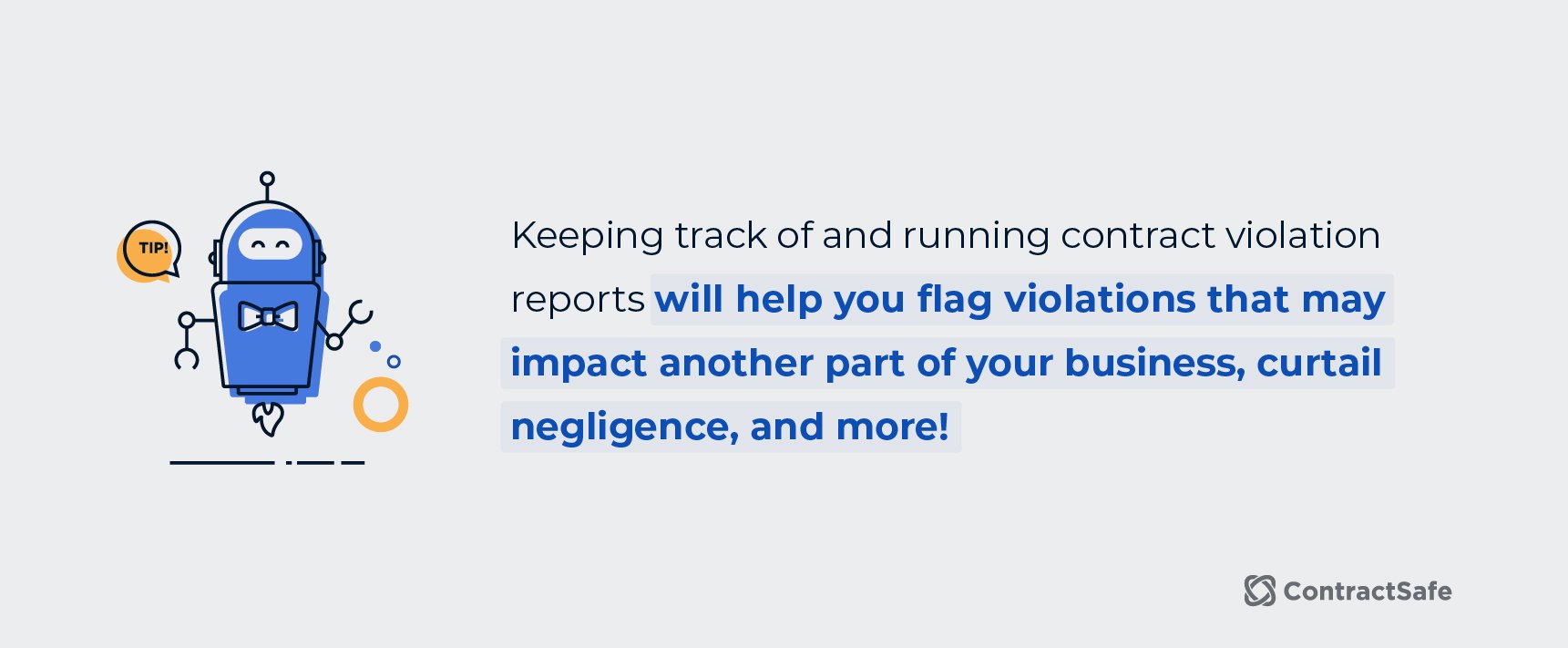 Contract Management Reports Can Improve Your CLM Process: Here's How
Contract lifecycle management, or CLM, is a systematic way to manage contracts from initial to final stages and renewals. It provides a way for you to evaluate areas of scalability while benchmarking quality care.
According to Deloitte, better patient satisfaction and care are top objectives for healthcare businesses. Revenue growth and scalability with technology follow close behind.
Contract lifecycle management reports highlight key metrics for analyzing:
Vendor and infrastructure contracts for delivering care
Contract pipelines for identifying areas of potential revenue growth
Periods of expiration and renewal
Use Metrics to Track Contract Performance
Strategic reporting provides specific insights depending on the metrics that are important to your organization.
For example, suppose you have a goal to minimize vendor delays. In this case, contract management alerts could be set up to trigger an alert before the delay occurs, giving you ample time to follow up with vendors, find alternative options, or initiate contract reviews for repeat offenders.
Develop a Contract Management Plan
A contract management plan is essential to deliver on important healthcare KPIs like medical equipment utilization, claim denial rates, and operating cash flow. An effective reporting strategy takes into account:
Insurance data
Financial data
Departments
Vendors
Compliance elements
However, simply accumulating this data is not enough. The data must be integrated across departments and made customizable to provide people quick access to actionable data.
Features like custom fields, saved views and advanced filtering allow you to report and hone in on pertinent information. To ensure timely execution of your reporting strategy, you can utilize a contract management platform with the functionality to schedule reports.
In addition, reporting strategies can be made even more actionable by following these best practices:
Identify Pain Points
Identify the pain points that cause delays and losses during the contract renewal process.
Improve Communications
While dealing with different divisions in an organization, it is important to communicate the big picture organizational goals so that people know which types of reports and views offer the most value.
An easy-to-understand user interface and simple onboarding can make this best practice much easier to achieve.
Prepare for Unexpected Developments
A centralized data bank makes preparing for unexpected delays or technical malfunctions easier.
The Bottom Line: Efficiency Leads to Improved Patient Care
Since contract management reports can highlight bottlenecks, they are essential tools for improving the efficiency of your healthcare organization's operations. Systematizing renewals, evaluating pipelines, and flagging violations become much quicker, easier tasks with accessible, all-in-one contract management dashboards.
Start building your own contract management dashboard now with a free 7-day trial of ContractSafe. Efficiency in healthcare contractual processes — from reviewing to approval — can save your team precious time, money, and headaches.