Service agreements can be overwhelming — but they're also very important. Whether you're a business owner looking to clarify the expectations of your service provider or a freelancer wanting to ensure your rights are protected, it's vital to get things right from the start.
To help make this process easier for you, we've created a free template that covers all the essential elements of a contract service agreement.
Plus, we'll break down why each element matters so you can feel confident adjusting the clauses within the template to fit your unique needs.
Did you know? You can add this template to your ContractSafe account and with just a few clicks, it becomes an easy-to-use template for everyone in your organization. Try this Service Agreement Template with our Contract Templates feature today!
DISCLAIMER: The information provided in this article is for informational purposes only and does not constitute legal advice. It is strongly recommended that you consult a qualified legal professional to review your contract service agreement. The free template provided is meant only as a general guide and should not be used as a substitute for the advice of a qualified attorney.
TL;DR
A contract service agreement is an agreement between two parties that outlines their respective rights and obligations.

Our free template includes all of the essential elements of a legally binding contract service agreement, making it easy for businesses and freelancers to protect their interests.
Service Agreement Template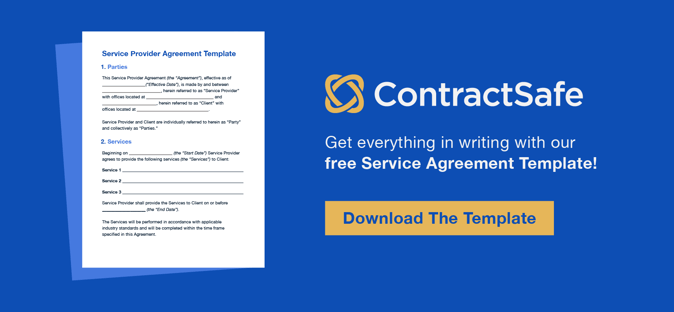 What Is a Service Agreement?
A service agreement is a legal contract between two parties that outlines the terms and conditions of a service being provided.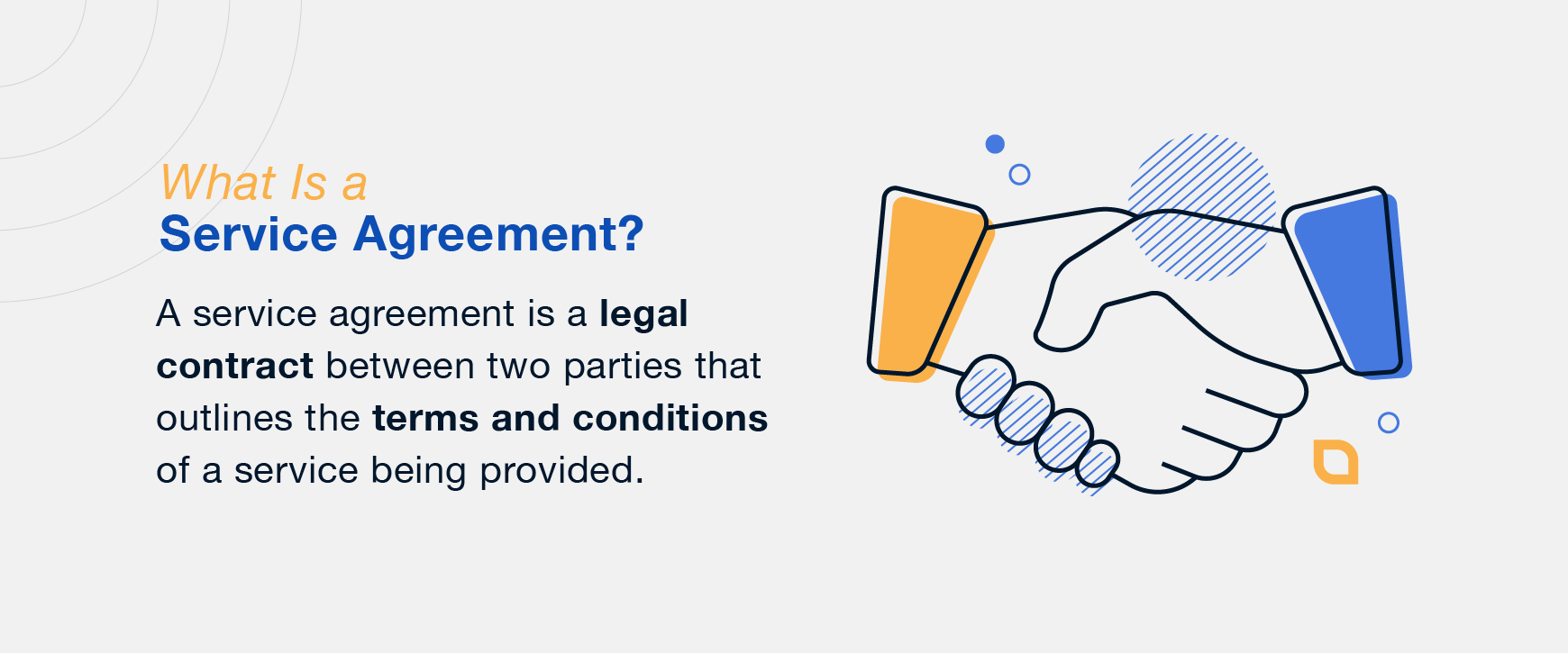 It's important to have a service agreement in place whenever services are exchanged for money. This ensures that both parties understand the scope of their responsibilities and any potential liabilities.
Some common examples of contract service agreements include:
IT and Technology Services Agreement

Website Design Agreements

Freelance Contracts

Consulting Services Agreements

Photography Services Contracts

Maintenance and Repair Contracts

Software Licensing Agreements
No matter what type of business you have, it's important to ensure that all parties understand the terms and conditions of the service being provided.
What Is a Service Provider?
Service providers make the economy tick.
They're the specialists who apply their expertise and knowledge to provide services that can help their clients achieve their goals. They can be independent contractors, freelancers, or even full-time business employers.
Some common examples of service providers include:
Financial advisors

Legal consultants

Real estate agents

Marketing agencies

Business consultants

IT professionals
By engaging the services of an experienced professional, customers can rest assured that they are in safe hands and can receive quality service that meets their expectations.
Common Elements of a Contract Service Agreement
A contract service agreement is an integral part of any successful business relationship. Let's take a closer look at each element of a contract service agreement so you can be sure your agreement is covering all the bases.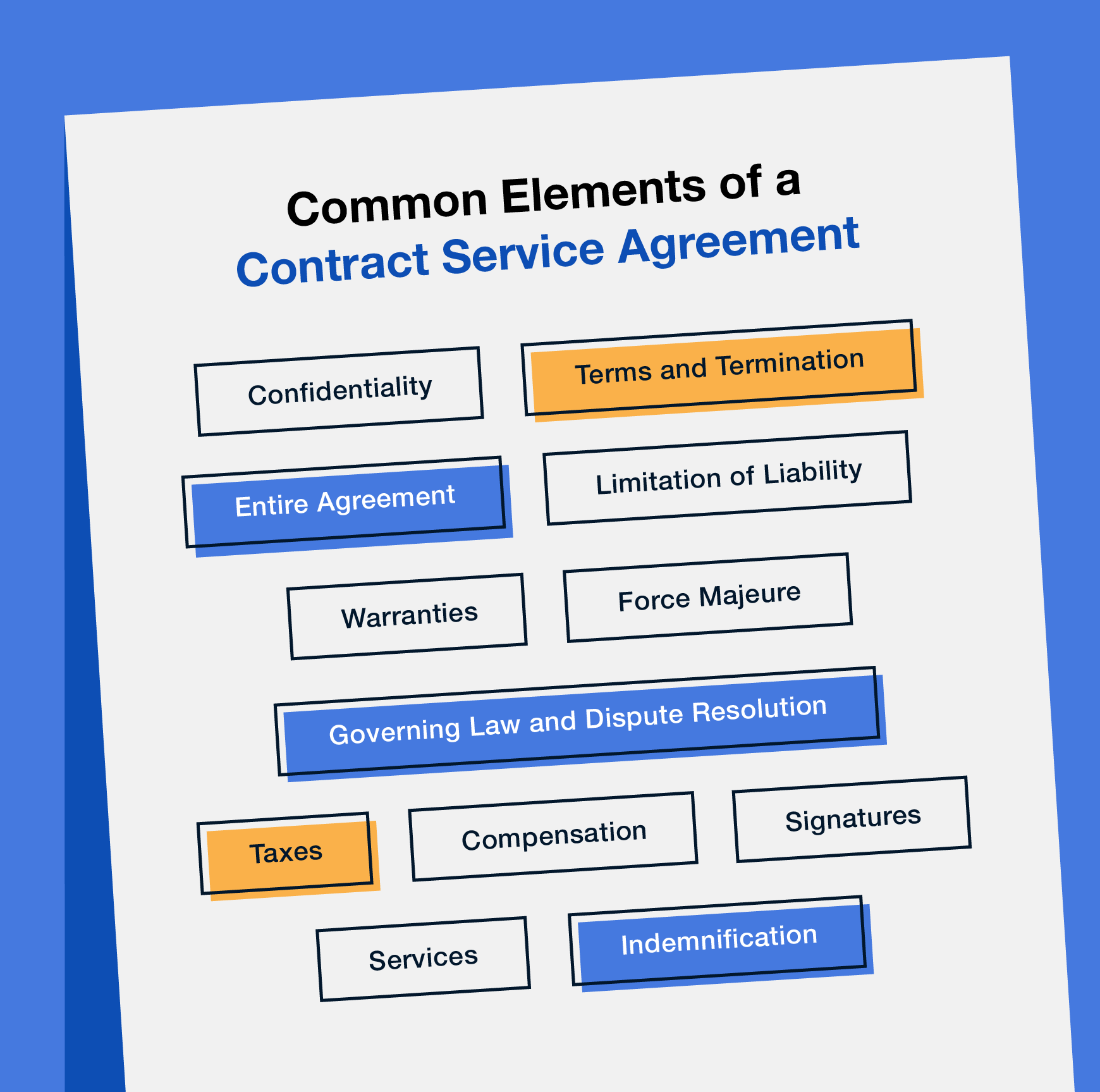 Services
The services section of the contract service agreement outlines exactly what services are expected to be provided by the service provider. This should include a detailed description of each service offered, as well as any specific requirements or timelines related to these services.
Compensation
The compensation clause outlines how and when the service provider will be paid. This may include an hourly rate, a flat fee, or a percentage of the project's total cost, depending on what makes sense for the services being provided.
Terms and Termination
The terms and termination section outlines how long the contract is valid and any conditions that may lead to early termination of the agreement.
Confidentiality
The confidentiality clause outlines what information is considered confidential and how the service provider should handle this sensitive data.
Warranties
The warranties section outlines any guarantees the service provider makes to their client. This may include a guarantee of work quality or satisfaction with the services provided.
Force Majeure
This section stipulates how either party can terminate their contractual obligations in cases where they are unable to fulfill them due to events outside their control.
Some examples of force majeure events include:
Natural disasters

Acts of war or terrorism

Political or civil unrest

Labor disputes

Extreme weather

Pandemics
This section will also outline the processes for termination if a force majeure event does occur.
Indemnification
An indemnification clause is the part of a contract that ensures one person isn't responsible for another person's mistakes.
This could include things like:
Copyright infringement

Libel

Stolen trade secrets

Product liability
It typically states that the person who made a mistake will reimburse any losses incurred by the other if they're found legally responsible for the claims made against them.
Limitation of Liability
Say someone did make a mistake. Then what?
A limitation of liability clause will outline what they're responsible for. This way, if something goes wrong, the person who caused the problem won't have to pay too much or fix things beyond what's fair.
Taxes
This section outlines how the parties involved will handle taxes or any other state or federal withholding associated with the services being provided.
Some terms often included in this section include:
State and federal taxes

Social Security

Medicare

Workers' compensation

Unemployment insurance
Generally, this burden typically falls on the person offering the services.
Governing Law and Dispute Resolution
A lot of business is done across state lines, and keeping up with the laws can be tricky.
This section will outline which state's laws apply in the service agreement. It'll also cover where and how any potential arbitration proceedings or mediation attempts may take place if things go south.
Entire Agreement
This section states that everything in the service agreement is true, complete, and binding. This clause protects both parties in case either of them forgets to include something important when writing the agreement.
It also means that if anything changes, both parties will agree to it in writing and sign it before continuing with the contract.
Signatures
This section has one purpose and one purpose only: to wrap things up.
It's a way for both parties to confirm that they understand and agree with everything in the agreement and sign on the dotted line.
FAQ
Here are a few frequently asked questions about contract service agreements.
When Should I Use a Written Service Agreement?
It's important to have a contract service agreement in place whenever you enter into a business relationship with another party, regardless of the size or scope of the project.
What Should Be Included in My Contract Service Agreement?
Your contract service agreement should include information on services being provided, compensation, taxes, terms and conditions of service, confidentiality clauses, warranties, force majeure clauses, indemnification clauses, limitation of liability clauses, and governing law and dispute resolution clauses.
Can I Write My Own Service Agreement?
Yes, you can write your own contract service agreement. A contract service agreement template can also help make sure you cover all the important points, but it's recommended that you consult a lawyer to ensure the contract meets all legal requirements.
Who Should Use a Contract Service Agreement?
Anyone hiring a service provider should use a contract service agreement. This contract provides legal protection for both parties and ensures the services provided are up to par with what was agreed upon. It also serves as evidence of the contract in case any disputes arise.
See How ContractSafe Can Simplify Your Contract Management Process
Managing contracts can be a complex process, but ContractSafe can make your life a little bit easier.
It's intuitive, affordable, and packed with everything you need to ensure your service agreements remain clear and organized, so you can feel confident when making important decisions. Our templates feature lets you upload a contract once and duplicate it with a simple form that anyone can complete. Empower your team to do the heavy lifting, so you can get back to work.
Schedule a demo today to see how your business can save time, money, and effort in your contract management process.