Just like balancing the books, the developing, signing, and ongoing management of contracts are important parts of running your business. Even more important and often overlooked? Keeping those contracts organized.
The Harvard Business Review estimates that firms lose between five- to 40-percent of the value on a deal due to inefficient contracting. Poor contract management can also lead to delayed renewals, poor project performance, and potential legal complications.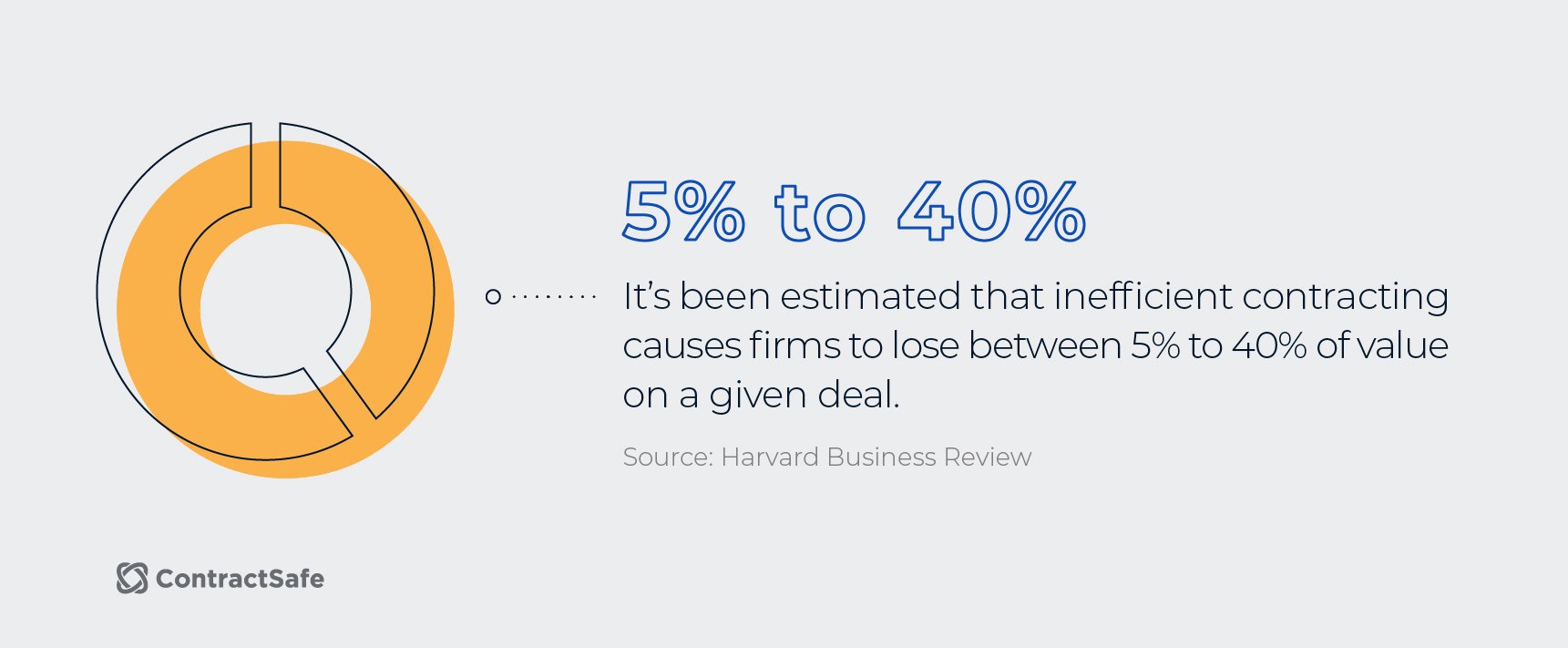 Attempting to manually manage contracts is an error-prone and time-consuming process. That's why smart businesses use contract lifecycle management (see What is CLM section below) to ensure every contract receives the attention it needs during each phase of its lifespan.
What Is CLM?
Contract lifecycle management, or CLM, refers to a systematic way to manage contracts from start to finish. CLM encompasses everything from the initial state of a contract's development, all the way through the signing and agreement, the execution, and renewal.
Managing contracts isn't always easy. Different stages of the contract lifestyle bring different challenges:
Time Consuming: Filing, storing, and keeping contracts secure is a time-intensive and resource-heavy process.
Human Error: Inaccuracies and missed signatures are almost always due to human error.
Delays: Waiting on contract approval can hold up projects and even frustrate vendors.
Compliance Issues: Poor contract management and monitoring could lead to policy compliance issues, potentially costing your business money and legal trouble.
Missed Renewals: Not being able to keep up with renewal deadlines could lead to a lapse in vendor services, negatively impacting your business' performance.
Having a dedicated CLM system in place can help with all of these challenges, and more. CLM software can automate many of the manual processes that most often lead to errors and inconsistencies.
The Benefits of Contract Lifecycle Management
Staying organized in all aspects of life is important. Here's why keeping your contracts organized should be top of mind:
CLM Benefit 1: Streamline and Standardize Contract Management
The process of developing, signing, and storing a single contract is time consuming and requires a lot of back-and-forth. Without a system in place, there's a good chance you're using multiple applications to execute each contract. And if more than one person is involved (which we're willing to bet is the case), then long email chains with hard-to-find details are probably part of the process.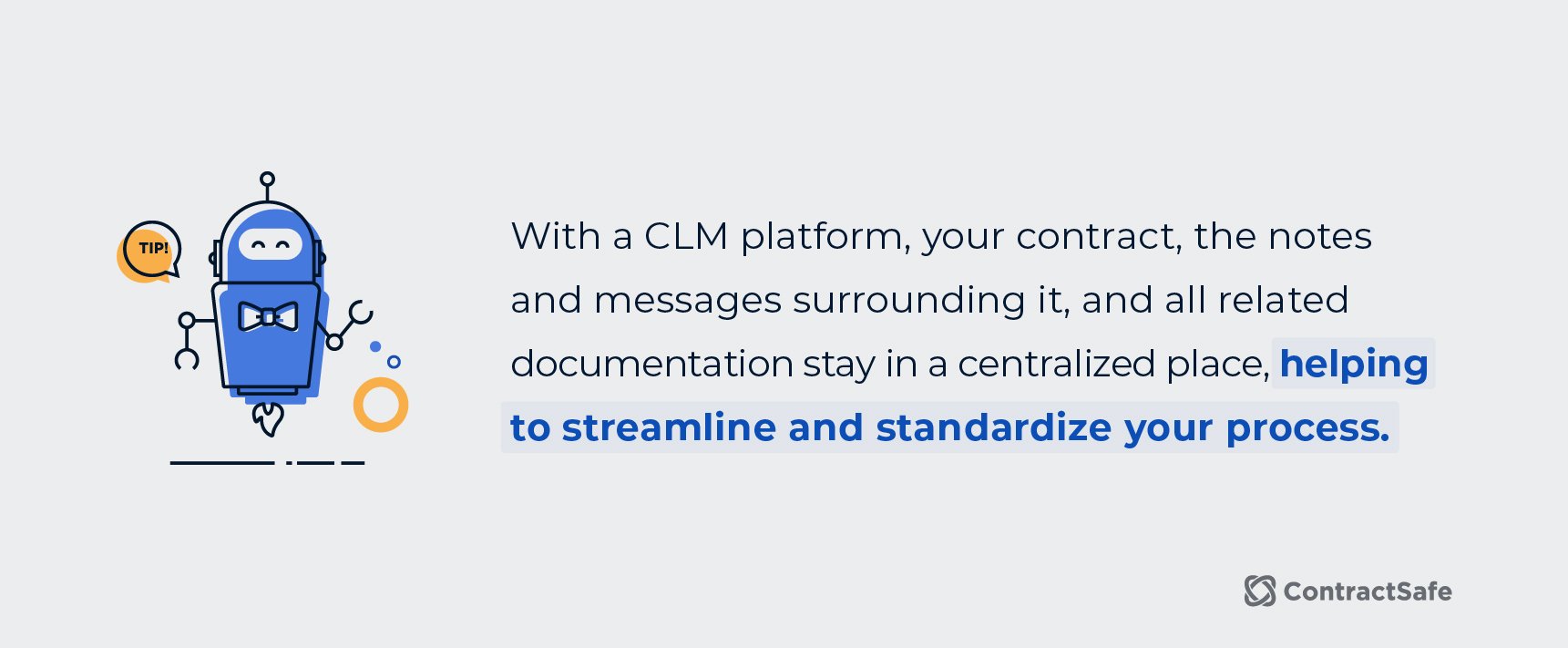 Ready for some good news? CLM software can help streamline and standardize that process. Rather than jumping back and forth into different platforms, your contract, the notes and messages surrounding it, and all related documentation stay centralized within your CLM platform. Each contract can follow the same, standard process, which is beneficial whether you're working with a handful or thousands of contracts.
CLM Benefit 2: Minimize the Need for Manual Input + Save Time!
The automation capabilities of CLM software offer even more time-saving benefits. Like giving your team time back in their day to focus on important tasks.
Depending on which software you choose, your CLM process might be able to:
Send automated notifications to your team when a contract is ready to move to the next stage.
Store your contracts to be searchable and accessible to all or specific members of your team.
Keep a calendar to track upcoming contract dates so your team stays on the same page and never misses a deadline.
Automatically extract key contract information such as effective and termination dates, auto-renewal dates, and more.
By addressing these time-consuming tasks, your software can speed up the process of contract development and management. It can also help to save staff time and increase productivity.
CLM Benefit 3: Easily Monitor Your Contract Processes
When you use CLM software, the progress (and holdups) of each contract can be tracked every step of the way. This tracking produces data and analytics you can use to make informed decisions and take necessary action as needed.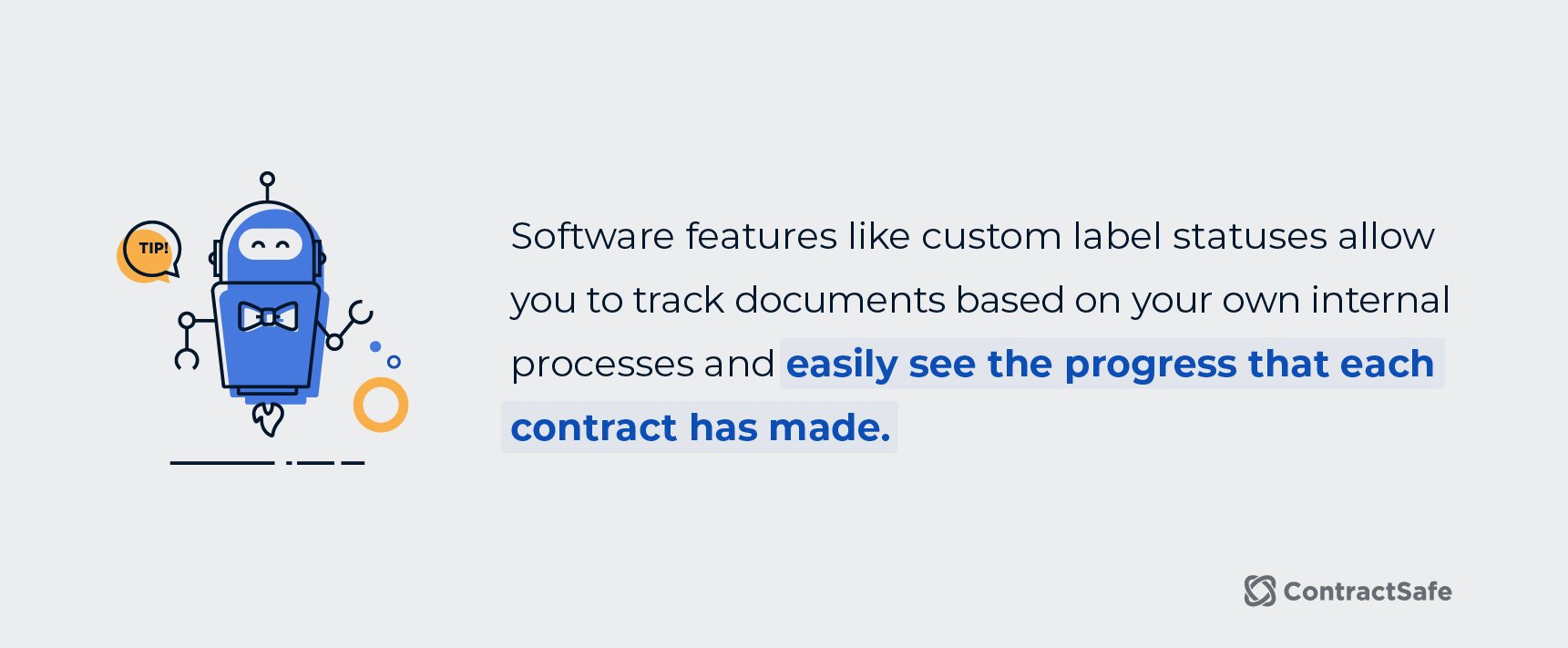 For example, software features like custom label statuses allow you to track documents based on your own internal processes and easily see the progress that each contract has made. You can identify the stage that the contract is in, and also see any holdups or delays in the process that may need your attention. Rather than having to sort through contracts individually and check in with a project manager for updates, you can configure your software to keep important information at your fingertips so you're always up-to-speed.
This type of data isn't just helpful when monitoring your current contracts, but can also improve the contract development process for all future contracts. By enhancing the contract development process, you can improve your relationships with your customers and vendors. You can also help avoid gaps in contract renewals or delays in contract execution that require you to rework agreed-upon deadlines and milestones. The result? Your business can operate more smoothly, your customers and vendors will be more satisfied, and you can promote better income flow for your business.
CLM Benefit 4: Increase Security and Avoid Lost Data
Keeping your contracts secure is vital. A comprehensive CLM platform will offer the enhanced security that you need.
A CLM platform that offers contract storage will usually also offer top-quality security measures like audited data centers, password and data encryption, daily vulnerability scans, malware and virus scanning, and more.
You'll also enjoy the benefits of an audit trail and data backups. An audit trail lets you review all of the actions that are taken on the site, so you can see which users made what changes to documents. Offsite file backups ensure you'll always be able to access your contracts, and know that those contracts are always safe.
CLM Benefit 5: Help Staff Work Better Together
When you have multiple staff involved in contract development and management (as well as in the execution of the contracted projects) it can be difficult to keep everyone working together smoothly. When trying to manage a lot of contracts, it's easy for staff to confuse roles and responsibilities. Stepping in and taking over a contract already in progress is also difficult, especially if the previous contract manager or supervisor didn't keep detailed notes.
Through a CLM software, you can also help manage user permissions of individuals on your team. This permissions functionality allows and restricts what can be seen at the user level so you can control who has access to which contracts. User management features also make it possible for you to quickly remove access, should the need arise, without having to change everyone's passwords.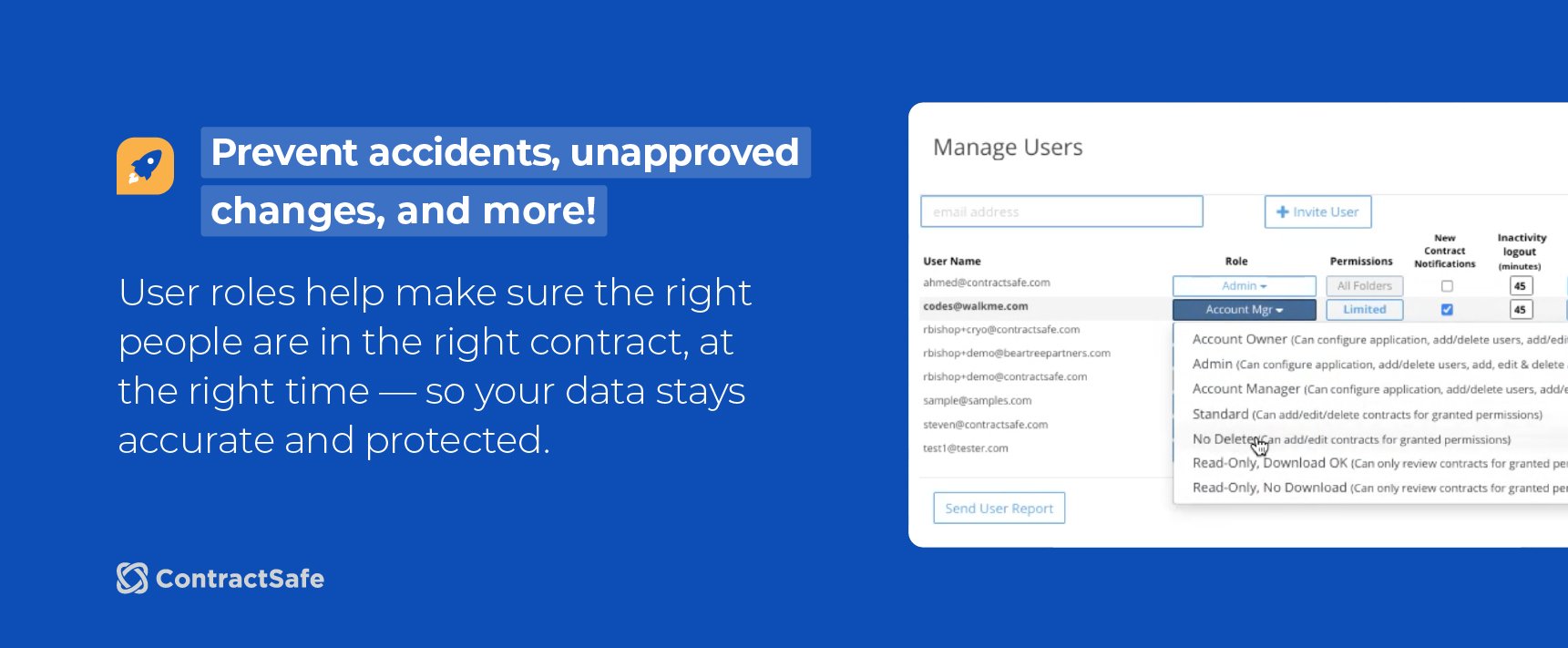 Software also adds a level of security and protection to your documents when you have multiple people developing and managing them. Depending on the CLM application you choose, you might be able to create different users and assign each user specific roles. These user roles help make sure the right people are in the right contract, at the right time — so your data stays accurate and protected. Roles can help prevent accidents, unapproved changes, and more.
>> Related Read: Features to Consider in a Contract Management Software (CMS) for Small to Medium-Size Businesses
CLM Benefit 6: Reduce Contract Noncompliance
Because CLM software simplifies and automates many aspects of contract management, it helps you avoid contract compliance risks like missed deadlines, missed payments, and more. Software also makes it easier to monitor your contractual obligations and ensure you're meeting your commitments. You can also monitor the milestones and commitments of vendors, so you can ensure they're upholding their side of the contract and you're receiving appropriate services for your payments.
Contract noncompliance can carry legal risks and financial penalties and fees. Relying on CLM software can help protect your business from both of these. Paired with best practices for effective contract management, it can also give you peace of mind that you're not overlooking important terms or deadlines that could cause serious issues down the road.
Features vs Cost: How to Choose the Right Software
Not only does software make it easier to manage your contracts, but it can help prevent expensive mistakes, streamline and speed up contract management processes, and potentially save your business money.
To help you determine which software solution is right for you, take a look at the different pre-signing and post-signing stages in the lifecycle of a contract, and assess which stages your business might benefit from when looking at CLM solutions. This article breaks this down for you in an easily digestible way.
For large companies with high contracting volumes and full contract lifecycle needs, a multi-faceted CLM that addresses the entire lifecycle of a contract might be needed. However, most businesses don't require all these capabilities and simply can't afford these larger solutions.
ContractSafe, for example, makes it easy to securely store and manage all of your contracts, add users and control their access, and search and find contracts quickly. All without a complex implementation phase or the need for extensive employee training. This, combined with a much lower investment (which starts at just $299 per month for 500 contracts), makes simpler software options like ContractSafe the preferred choice of small-to-mid-sized businesses.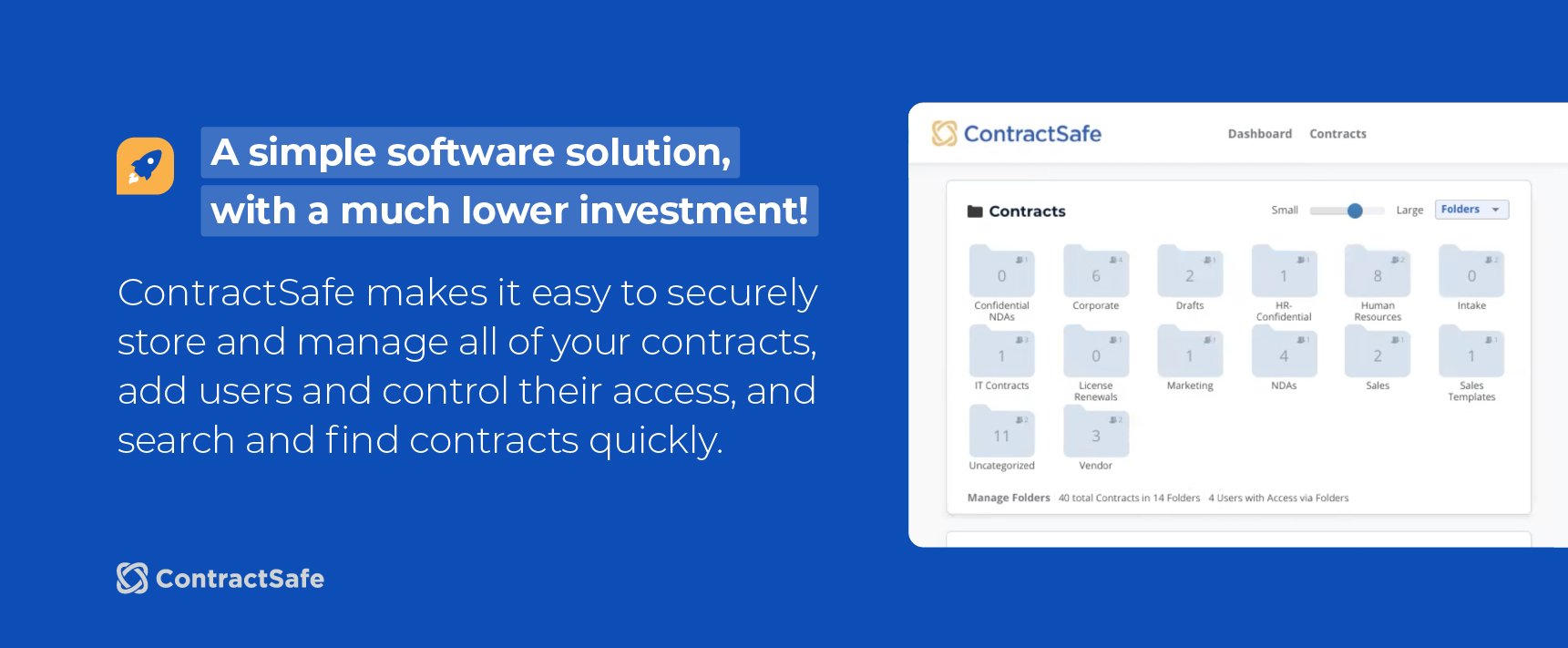 ContractSafe also makes it easy to speed search for everything — including scans — so you can quickly find important information from any contract. Learn more about speed search, or optical character recognition (OCR), capabilities and why they're a game changer here.
Subscribe to our blog to learn more about contract management for your business.
>> Related Read: How to Build a Business Case for Contract Management Software